Walking Tour: Jakarta, Indonesia
Jakarta is an enormous city and usually isn't high on a Western traveler's To-Do list when visiting Southeast Asia. Even though it may not have pristine beaches like other parts of the area, there are still parts of Jakarta that are rich in interesting history and worth a visit.
Just to give you an idea of the behemoth that is Jakarta, it currently ranks as the 2nd largest metro area in the world with 30+ million inhabitants: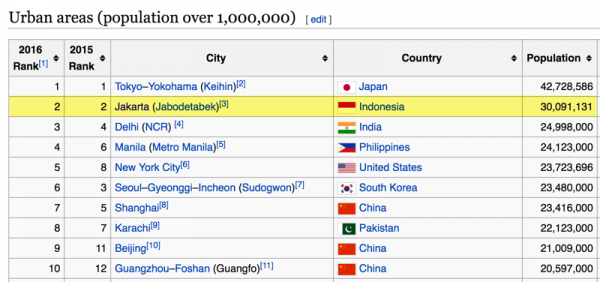 That being said, a trip to Jakarta can be as brief as you want to make it — we stayed for 2 nights as part of a stopover from Bali to Singapore and felt that we amply covered the highlights.
1. START: We have the tour starting at the Plaza Indonesia, Jakarta's upscale, luxury shopping mall. We stayed at Keraton at The Plaza, a Luxury Collection property by Starwood and thoroughly enjoyed it (full review here:Keraton at The Plaza, Jakarta – Hotel Review – Jakarta, Indonesia).
We listed most of the Western hotel chains on the map for 2 reasons: they are often bookable with points and Jakarta is the type of city where you might want to skip the Airbnb and go with the comfort and security of a global, Western brand.
2. From the Plaza Indonesia, you'll walk down one of Jakarta's major boulevards in the central business district, Jalan MH Thamrin. The thoroughfare participates in Jakarta Car Free Days, which means it is closed from 6:00am until 11:00am to traffic every Sunday. As you head north down Jalan MH Thamrin, you'll first see the large fountain and traffic circle that divides the road: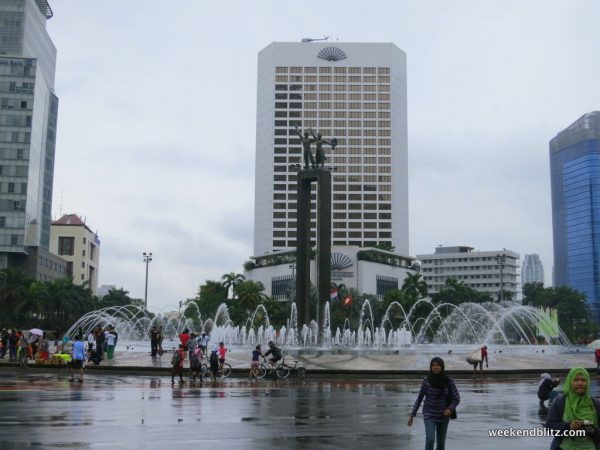 3. After about a 10 minute walk, you'll approach Jakarta's first modern department store, Sarinah. Built using Japanese war reparation funds, the multilevel store opened in August 1966. The Sarinah project was conceived by President Sukarno, who named it after his childhood nanny.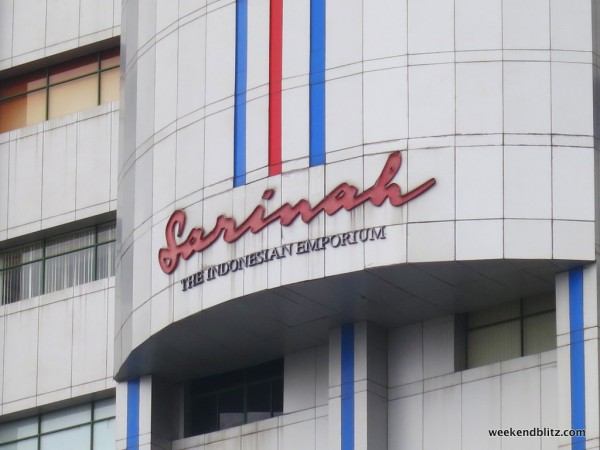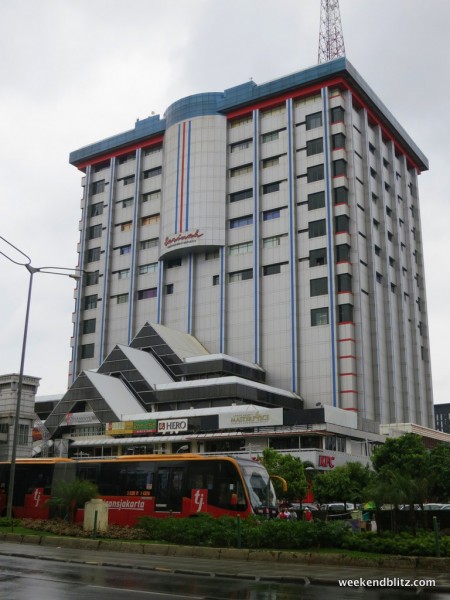 We recommend a visit to satisfy all of your souvenir shopping needs — the goods were all reasonably priced and seemed to be of good quality:
And, if you're feeling adventurous, you can go all in and purchase your own Batik wardrobe to fit in with the locals:
4. Once you've made your purchases, continue north on Jalan MH Thamrin towards the National Monument (MONAS); you can't miss it.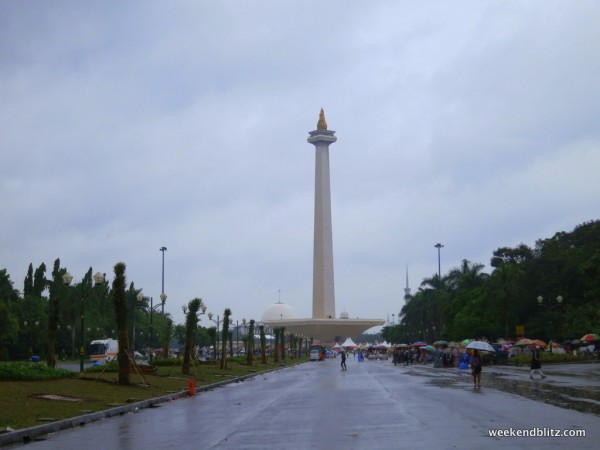 The National Monument is a 433 foot (132 m) tower in the center of Merdeka Square, Central Jakarta, symbolizing the fight for Indonesia. It is the national monument of the Republic of Indonesia, built to commemorate the struggle for Indonesian independence. Construction began in 1961 under the direction of President Soekarno. MONAS was opened to the public in 1975. It is topped by a flame covered with gold foil.
Despite visiting on a rainy day, Merdeka Square was filled with domestic tourists and plenty of street vendors trying to make a buck. You can even take a carriage ride.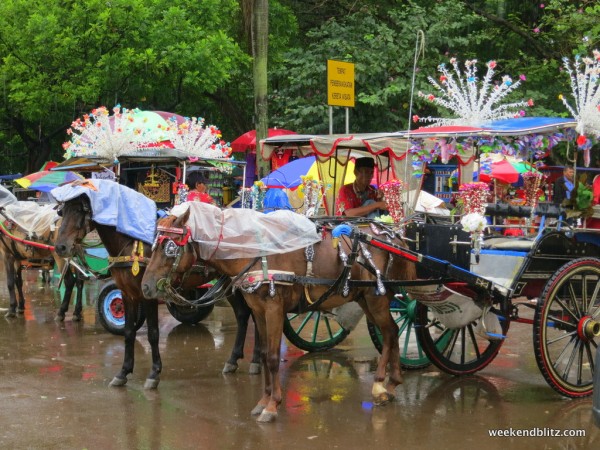 If you end up here on a nice day, there's an observation deck at the top that is worth a peak.
5. Next stop: the Istiqlal Mosque. This religious site is Southeast Asia's largest mosque which isn't surprising given that some 90% of Indonesia's 250 million people identify as Muslim, making Indonesia the most populous Muslim country in the world.
6. Leaving the mosque, head north again towards the metro station called Juanda.
Grab a ticket from the counter and head north to Station Jakarta Kota.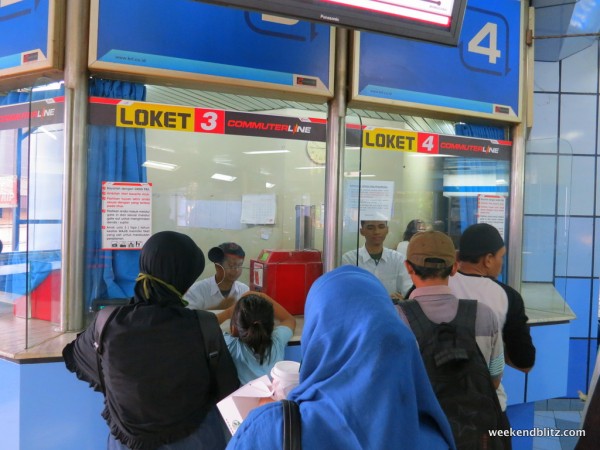 Jakarta Kota is a popular rail hub with tons of traffic:
7. Wander through the crowds at the transit hub onto the streets and witness everyday life for many Jakartans: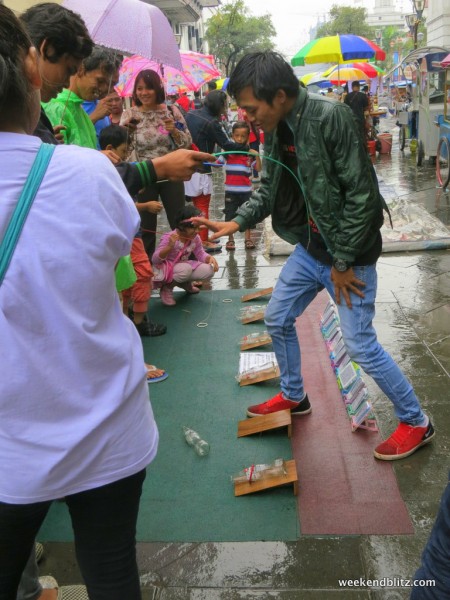 8. Continue north towards Fatahillah Square (Taman Fatahilah):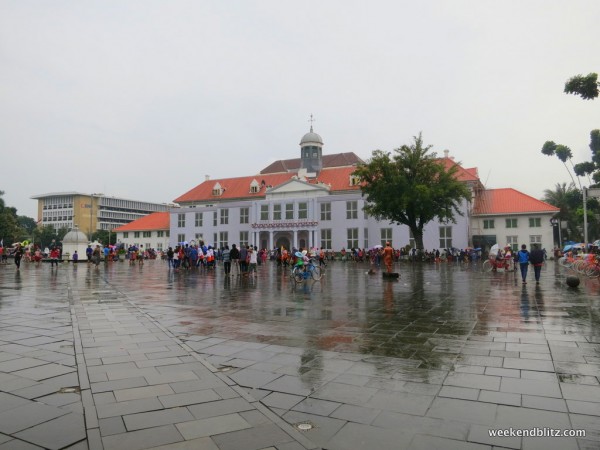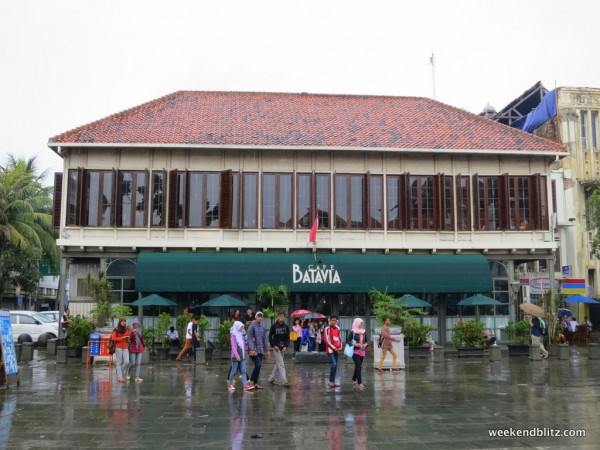 Formerly known as Batavia City Square (or Stadhuisplein in Dutch), it is the best and most famous place in the city to revel in the colonial Dutch history of Jakarta, or Batavia as it was called by the Dutch from 1619–1949. It is currently home to the Jakarta History Museum, Wayang Museum (puppetry) and Fine Art and Ceramics Museum. The plaza is named for Indonesian national hero Fatahillah.
Check out this map of Batavia from 1780!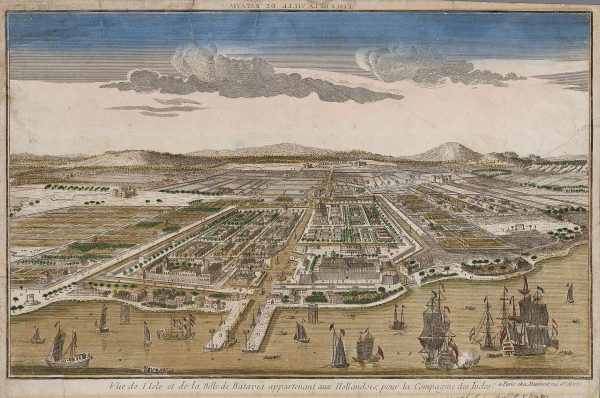 9. No trip is complete without a visit to Cafe Batavia. Set in a 200-year-old building on the northwestern corner of Fatahillah Square, Batavia Cafe is the second-oldest building in central Jakarta after the Fatahillah Museum. Come visit Cafe Batavia and step into 19th century Jakarta during the colonial era!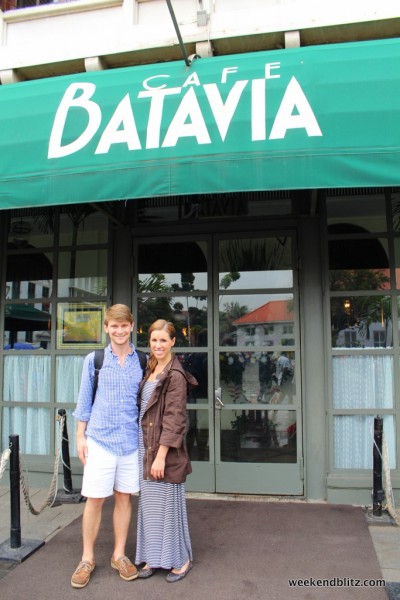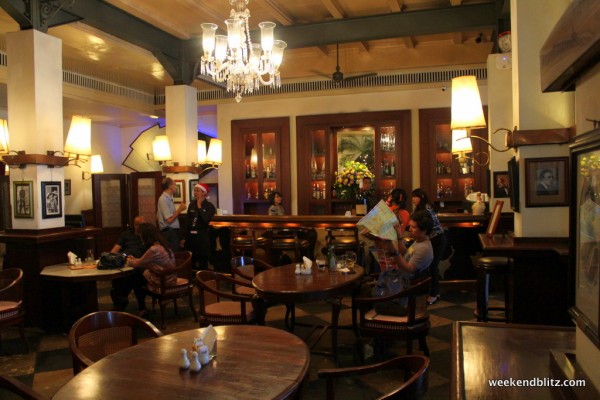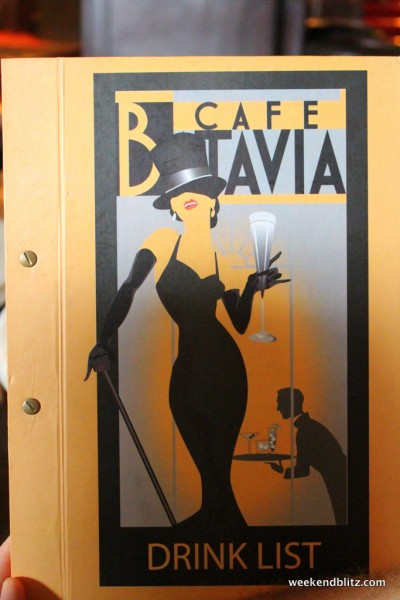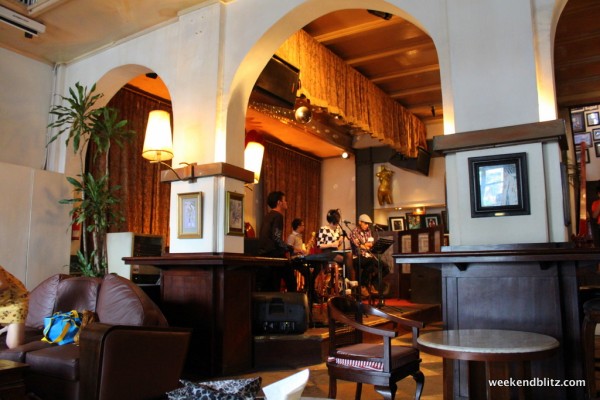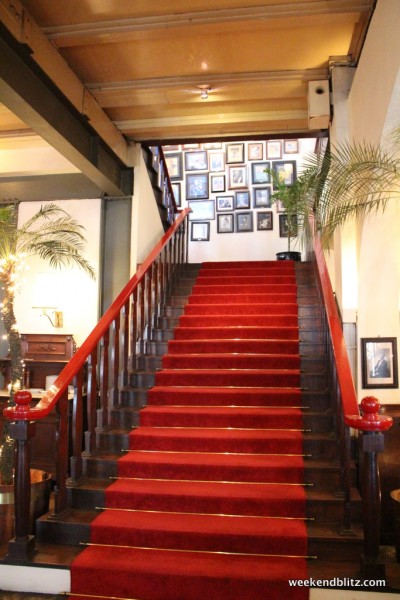 From here, we took a cab back to the hotel, but beware! Jakarta is famous for its traffic, so, while the cab ride was just 5 miles and cost only $3.50 USD, it took us nearly an hour!
Other notes & recommendations:
About 1 mile north of Fatahillah Square, you'll find Sunda Kelapa Harbor. This is the old port and hosts a few wooden sailboats that can be worth a look.
Close to the starting point near The Plaza is a store called "Alun Indonesia" where you can find handmade crafts from the region. You can visit them on the web here: Alun Indonesia.

Lara Djonggrang Restaurant "While many Jakartan restaurants lack atmosphere, that accusation could never be levelled at Lara Djonggrang – as you enter it's easy to think you've stumbled across some lost temple. One that serves perfectly executed and creatively presented imperial Indonesian cuisine from across the archipelago. They offer Makassar-style squid and crab, Alor-style tamarind shrimp, and lobster cooked like they do in Aceh, with two kinds of chilli. There's a good wine list and staff are well informed and efficient. Prices are quite affordable considering the quality. Oh, and the bar is in fact created from an actual 200-year-old temple, which was set to be demolished until it was deconstructed and rebuilt here."
Flea Market at Jalan Surabaya "This particular spot in Menteng is prominently known as a must-go-to place when visiting Jakarta.  The Jalan Surabaya or Surabaya Street Market stands attractively as one of the few surviving 'theme markets' which still retains its authenticity and pride after all these years of the 'modernization' wave. It is no surprise that the market still has its faithful customers and still attracting new ones. People constantly come here to either buy or sell anything considered as 'antiques'.For those who are not aware yet, the Jalan Surabaya Market is an 'antique' market, or in  harsher tones 'flea market'. It sells various items that usually attract collectors, historians, those who simply want an extra touch of authenticity in their living room. On the contrary, those trying to get rid of stuff that are not really considered hip since last century also finds the solution in Jl Surabaya. The Market started its business around 30-40 years ago and in the beginning consisted merely of several stalls selling China Porcelains. It then experienced expansion in terms of size and variety.  It enjoys a 500-meter length in the pleasant residential area and a colorful variant of stores for customers and sellers to choose from." More info at: StreetDirectory.com Jalan Surabaya Market: The Hunting Spot for Antiques.