Lufthansa Boeing 747 First Class – New York JFK to Frankfurt FRA (LH 405)
With our new itinerary and Lufthansa tickets in hand, we sped off to the Charleston-CHS airport. Our flight was scheduled for 4:30pm and landing at JFK at 6:30pm, which gave us plenty of breathing room for our 10:20pm departure on Lufthansa. But, the fact that we would need time to collect our bags in the Delta terminal then recheck them at the Lufthansa terminal still made it a "tight" connection.
When we got to the Delta check-in counter, I said we were flying to JFK and the agent asked me if that was our final destination, I sort of paused ehh, well…. yes, yes it is. "Well, actually it's Frankfurt, but we're connecting onto Lufthansa, so I doubt we'd be able to check all the way to Frankfurt." He seemed very optimistic that it could be done, while I remained skeptical. Why would Delta (a SkyTeam member) have an interline baggage agreement with Lufthansa (a Star Alliance member)? After a minute or 2 of searching on the computer, he confirmed that he was printing our baggage tickets all the way to Frankfurt, perfect! This made our lives much easier and worry of connection time and hassle all but vanished.
Fortunately, upon arriving JFK, we were only 1 terminal over–a short 5-10 minute walk.
CHECK-IN
We sped up to the Lufthansa check-in areas, which, at this point, were all virtually. Nonetheless, we scurried up to the First Class check-in area, red carpets and all!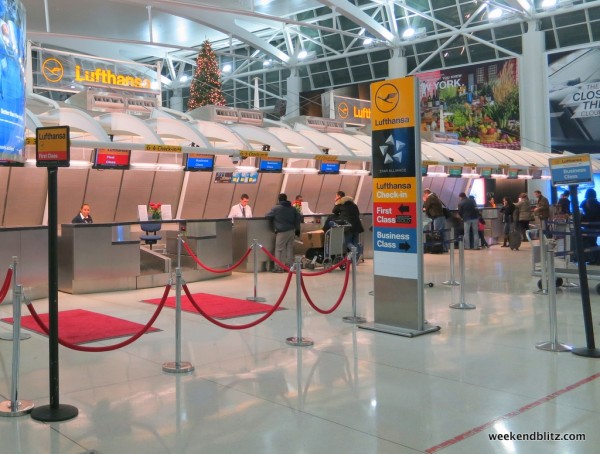 We handed the friendly agent our passports and she got to work and then handed me my boarding pass (First Class) and hesitated while handing McCown hers, clearly marked Business Class, immediately sensing there was a problem. I told her that this was all a very last minute change from just a few hours ago that United had arranged and both tickets were supposed to be First Class. She tried and tried and, once she appeared stumped, went to talk to her supervisor. Her supervisor called us around to her counter and explained that United had booked one of the tickets in First and the other in Business. She pulled up the computer to show that there were no more award inventory seats in First Class. We were both shocked and frustrated but knew that it wasn't her fault. She called United phone support to ask for someone to explain to me what had happened and how and to further relay that Lufthansa didn't do this. Completely dejected, realizing we had hit a final wall, we left the counter with the promise that she "would continue to check into it" and at some point I muttered to McCown something about "sorry for the bad start to the honeymoon" and the Lufthansa agent's ears perked up a bit as we walked off.
After clearing security, we headed into the Lufthansa First Class lounge: Lufthansa First Class Lounge – New York-JFK Airport
We were immediately hit with a wave of reassuring news:  upon check-in to the lounge, the front desk agent said, "oh you guys must be the honeymoon couple." This implied that the lady we spoke with pre-security had a reason to call and talk about us. She said she needed to hold our boarding passes while she worked on them and sent us on our way to the First Class lounge level on the third floor.
About mid-way into our meal she met us upstairs to deliver 2, count 'em TWO, First Class boarding passes! We couldn't believe it!
BOARDING
Trying to enjoy the First Class lounge a little too long, we scurried up to the boarding gate as some of the last First and Business class passengers.
Our aircraft for the ~7 hours trip was a Lufthansa Boeing 747-400. Lufthansa operates a huge number of B747s, exactly 32 to be exact (19 B747-400s and 13 B747-8Is). On the 747, the First Class is nestled in the nose of the top deck, with Business and Economy on the main level. We had seats 84 H & C and, to put it into perspective, the value of the tickets, if purchased appx 5 hours before takeoff = $11k one-way…!
THE SEAT – LUFTHANSA FIRST CLASS
There's a huge seat with leather arms, recliner and foot raise. Large TV and a very nice-sized bed next to the chair.
A staggering statistic is that Lufthansa operates the upper deck of the Boeing 747s with just 8 seats total, one of the fewest of the worldwide airline industry. Most carriers operate a Business Class cabin with at least 16 seats, but some have configured their 747s with economy up top. To put this all into perspective, Air France has Economy 60 seats in their upper deck vs 8 seats for Lufthansa–this means that, in just the space McCown and I are taking up, they could fit 15 Economy seats!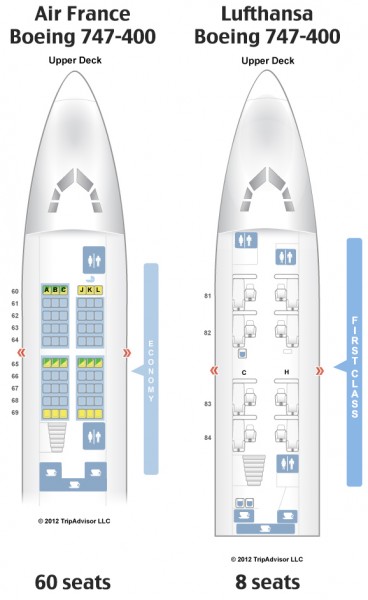 Soon, we were presented with a rose in the flower holder and offered a glass of champagne and cashews.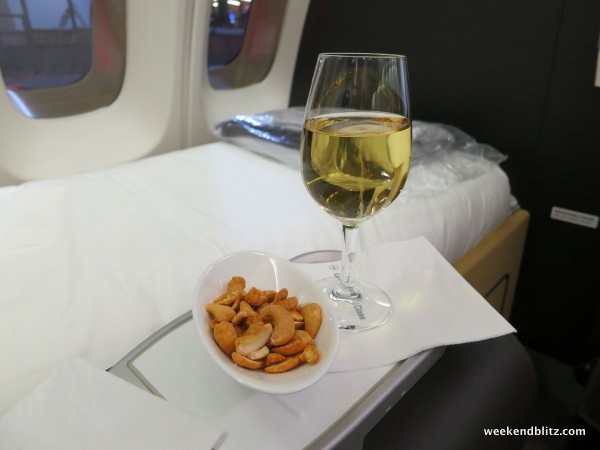 Not having done any research for the flight (remember, we booked it just hours before takeoff), I still couldn't get over the fact that we had a seat and a bed! Compared to United, Air France or Thai Airways premium cabins, Lufthansa was very elegant, sleek, minimalist feeling and also quite classy. Additionally, the cabin and seat looked and felt very new; I suspect that it had been recently updated.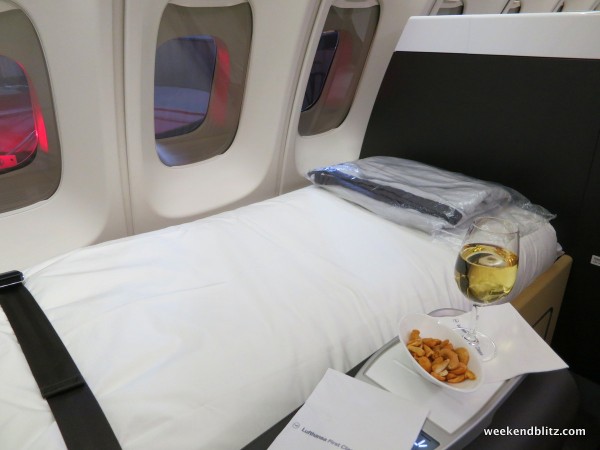 While rummaging though every nook and cranny of the seat, a few things struck me:  there seemed to be an infinite number of compartments to store things and this was the 1st premium cabin I have been in to offer authentic Bose noise-canceling headphones.
Still getting settled in, the lead chef/sommelier came back with both flight attendants that were dedicated to our cabin to present the menus and wine list. So, yes, we essentially had 3 full-time attendants between 8 people.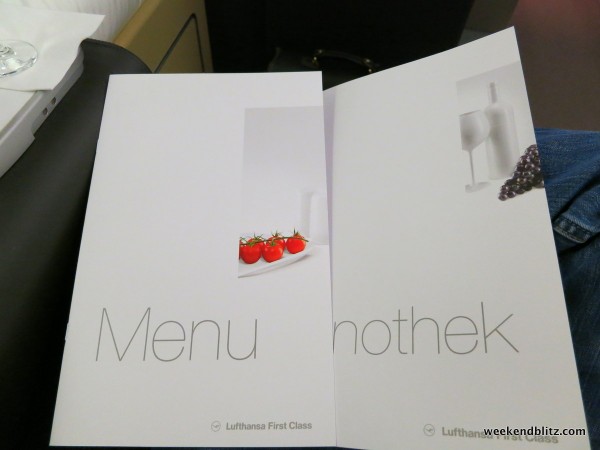 At this point, the captain came on over the PA system around 10:30pm (our scheduled departure was 10:20pm) to announce that 2 extra bags had been checked onto the plane and their owners had decided not to board the flight. So, for safety reasons, the ground crew would be forced to remove all bags, check for the perpetrators and load them back on, "it will take at least 10-15 mins".
All I heard? "Yada, yada, yada enjoy an extra 15+ mins of sipping champagne in First Class."
By 10:53pm, the operation was complete, all doors were secured and we pushed back from the gate. There was a bit of wait as we taxied to the runway and waited our turn in the queue but had a wheels-up time of 11:13pm–appx 1 hour after our scheduled departure.
ENTERTAINMENT SYSTEM
The good: Bose noise-canceling headphones:  amazing touch! Large LCD screens (maybe 15″?)
The bad: Movie/TV selection is pathetic, there were ~7 categories of movies with ~10 selections each and ALL are horrible…Sleepy Hollow, really? That's one of Johnny Depp's worst…! The appx 15" LCD screen (the old 4:3 format, not widescreen) was controlled by a seat remote, not touch, and the quality was far from HD.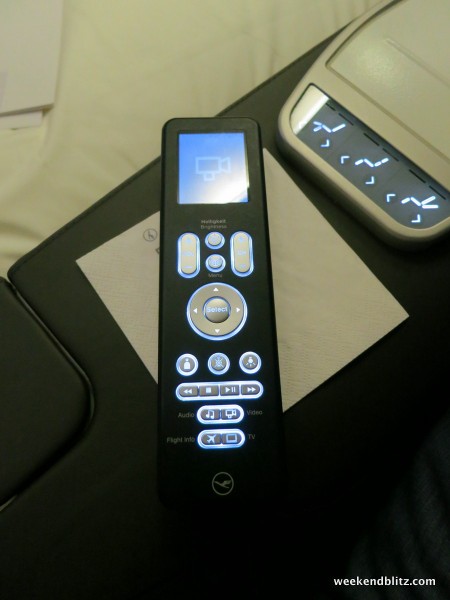 MEAL SERVICE
Within 30 minutes, we had reached a safe altitude and the meal service began. The FA came around and asked for our initial order, "cocktail 1st." I asked for a beer and she suggested a "Maibock" and returned with the Braufactum Darkon, a quite light and refreshing black beer.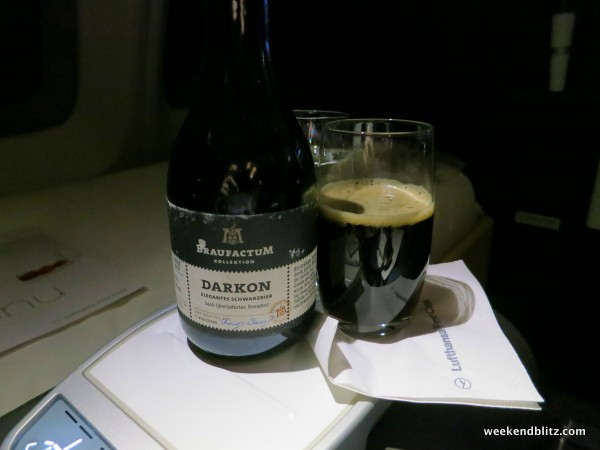 At this time, we were also served a light appetizer:  cucumber with smoked salmon and caviar.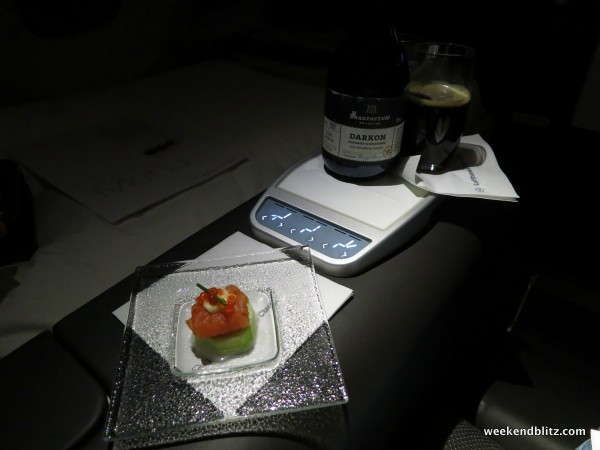 At 11:57pm, we put in our main course orders and were told that, if we wanted breakfast, to let her know so that she could wake us appx 1 hr 20 mins before arrival.
12:06am: our tables were set.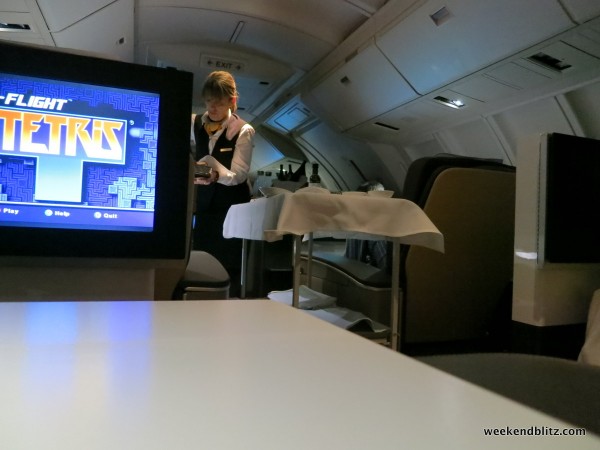 At 12:19am, the cart with starters came around, you could order as many as you wished.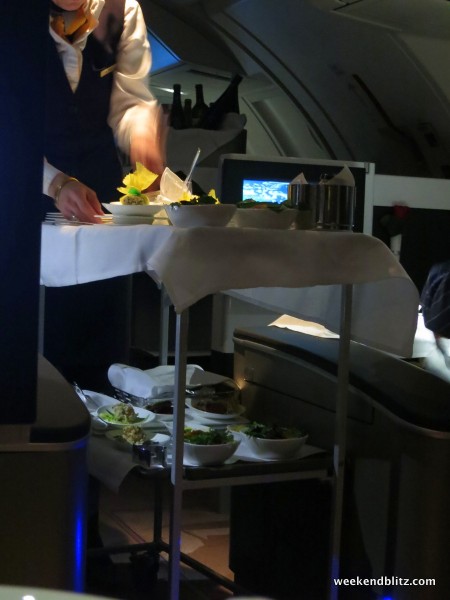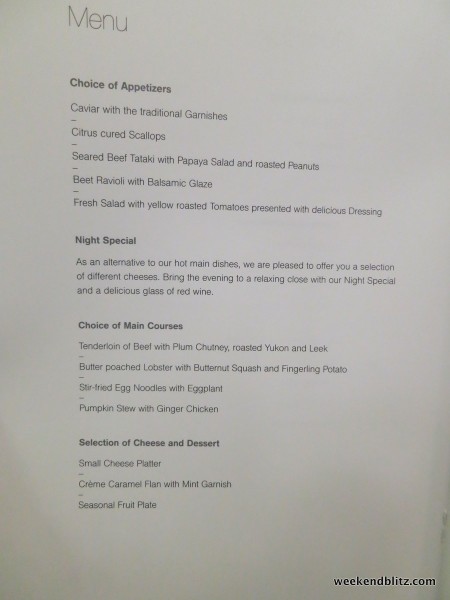 I ordered the "Caviar with the traditional garnishes" and the "Seared beef tataki with papaya salad and roasted peanuts."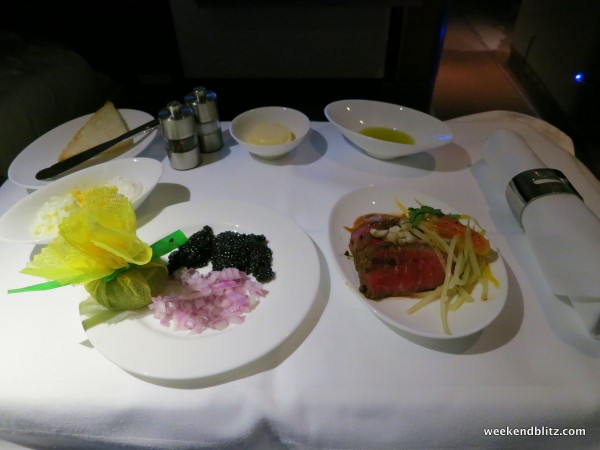 Similarly, McCown also chose the caviar for the first appetizer and then the "Citrus cured scallops."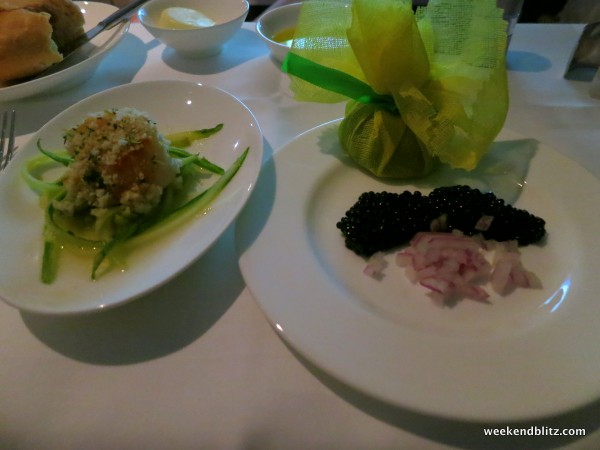 I asked for all for the garnishes with the caviar including egg whites, egg yolks, sour cream, onions and lime. It was all great tasting. The beef was also great, served chilled and cooked perfectly rare.
About 20 minutes later, it was "dinner time," despite having eaten dinner at numerous times previously in the night. Upon ordering the "Butter poached Lobster with Butternut Squash and Fingerling Potato," I confirmed with the FA that I was getting an authentic German meal, she laughed and replied, "Of course, Germany is especially known for it's lobster."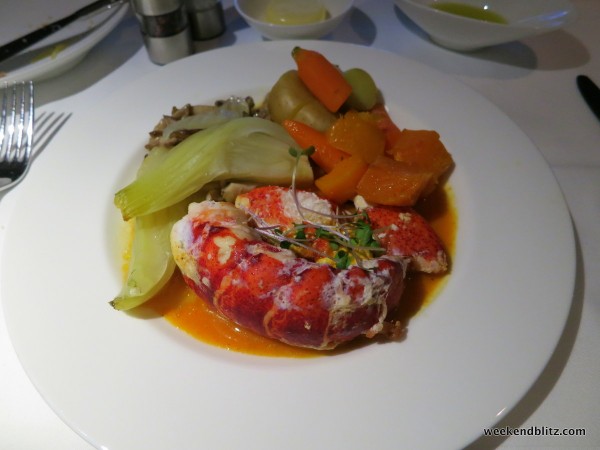 The lobster was tough but at least that much I had expected. Despite this, it was a good dish and was cooked in a Thai sauce that was surprisingly spicy with mushrooms, potatoes, cabbage and carrots. I'd give it a B+.
McCown went with the "Pumpkin Stew with Ginger Chicken." The broth was clear with chunks of pumpkin, chicken and brussel sprouts. It was good and warm, nothing exceptional and not really worth finishing since we'd already had plenty to eat.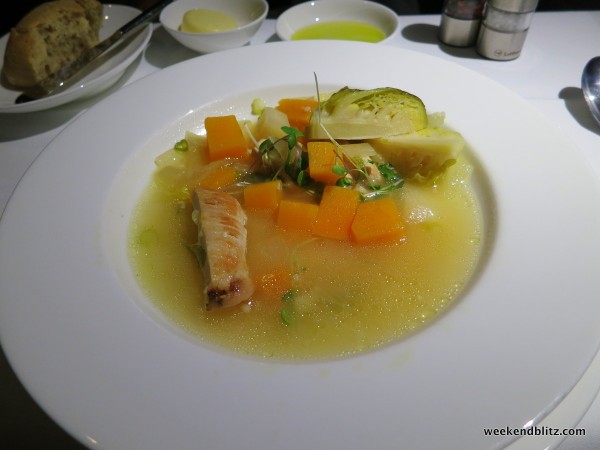 We had to skip dessert due to being completely stuffed and I was still clinging to the hope that I might be able to catch a few hours of sleep despite being completely overwhelmed with things to play with, take pictures of, etc… By about 1 a.m. (7 a.m. Frankfurt time!), our tables were cleared and stowed and it was finally time to turn in to bed: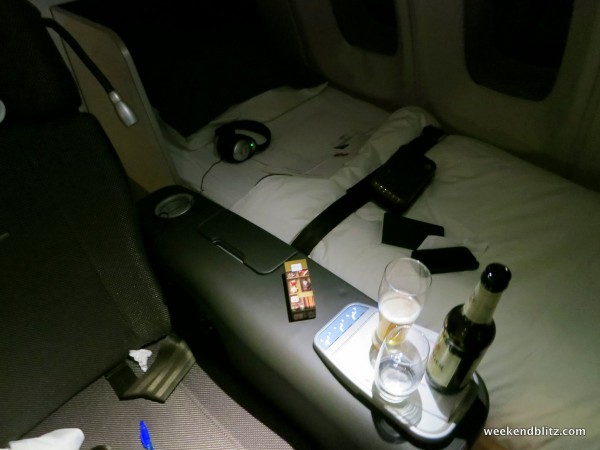 Must. Not. Stay. Awake. Watching. Movies. All. Night.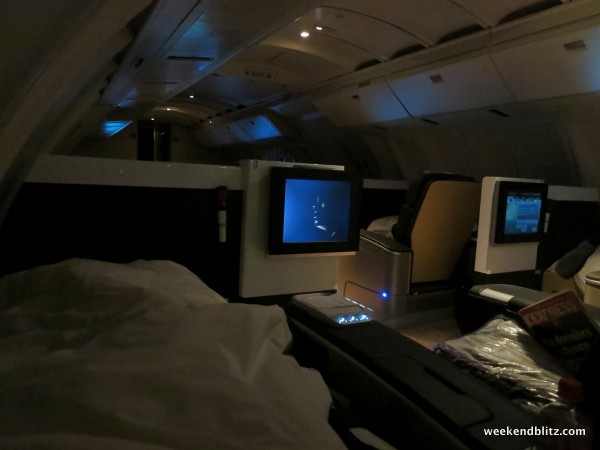 Finally somewhere around 1:30am (7:30am Frankfurt), I was out for the "night".
A very short 3 hours later, at 4:23am (10:23am Frankfurt) I was awakened by a tap on the feet, putting an abrupt end to the best sleep I've ever had on an airplane. But, alas, I refuse to turn down a meal in a First Class cabin.
Mysteriously hungry, I ordered the "American Breakfast": Coffee or Tea, Orange Juice, Fresh Fruit and Farmer's Frittata and, within 20 mins of the screeching halt of my glorious slumber, breakfast was served: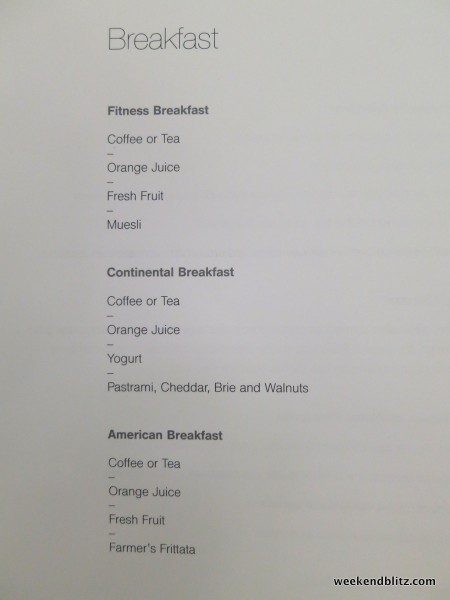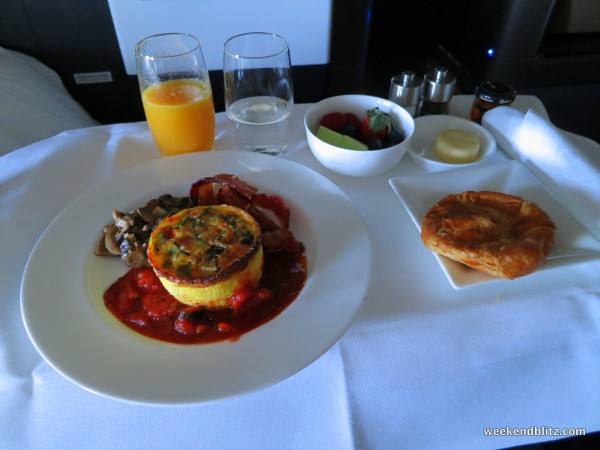 The result? Airplane bacon might be the best thing invented since, well, bacon. It was shockingly good, maybe even better at 30,000 feet. The Farmer's Frittata was also good, it was just too much food, too soon after dinner.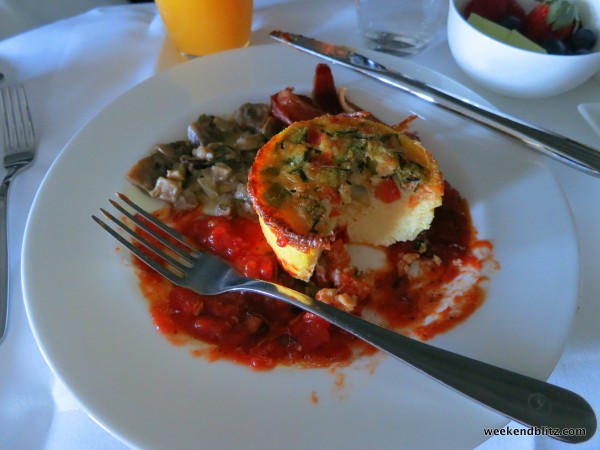 The best part of breakfast (and one of the most impressive parts of the whole flight) was the quality of the cappuccino. An actual real life cappuccino, not instant coffee– I guess they have an espresso machine in the gallery (or maybe just a Nespresso machine?). Either way, it was just what the doctor ordered after too little sleep.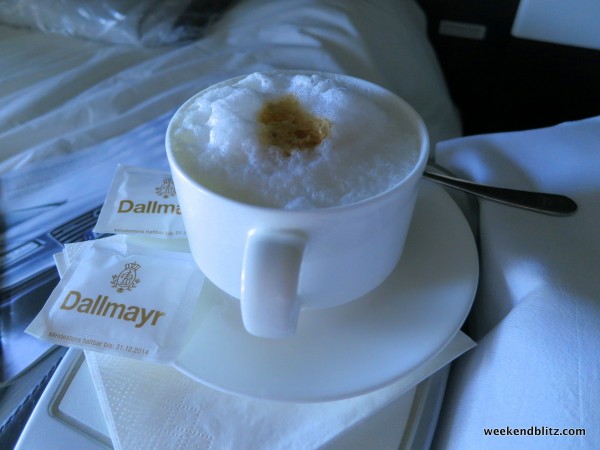 And then, as all good things tend to do, our over zealous pilots had to up and land the plane in Frankfurt, immediately bringing our awesome experience to an end. We touched down at 5:42am EST (11:42am Frankfurt time). Despite our late departure, we had managed to touch down appx 20 minutes in advance of our scheduled arrival time.
GROUND SERVICE
Upon landing, we didn't taxi to a gate but instead just a remote deplaning location on the tarmac. The pilots came over the PA mentioning something about there being a risk for ice at the airport and that the larger aircraft were prohibited from taxiing further due to risk of skidding and crashing into the terminal.
We gathered our belongings and took a few last pictures before deplaning: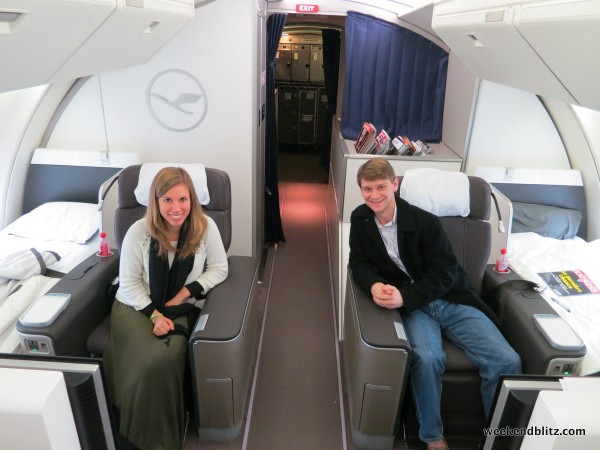 At the bottom of the stairs we discovered two Mercedes vans waiting for the First Class cabin– this is the "Limousine service" that Lufthansa offers as a ground service at their German hubs.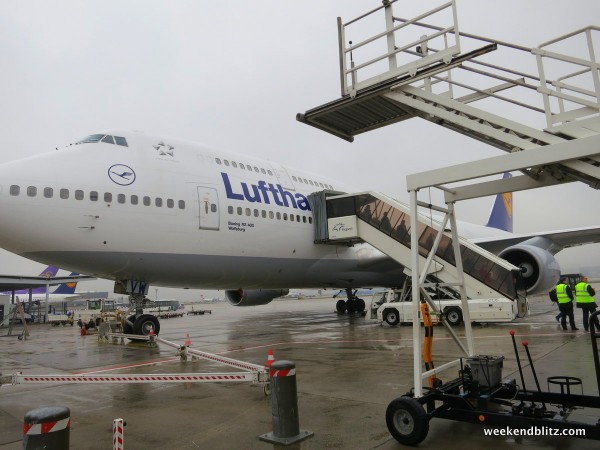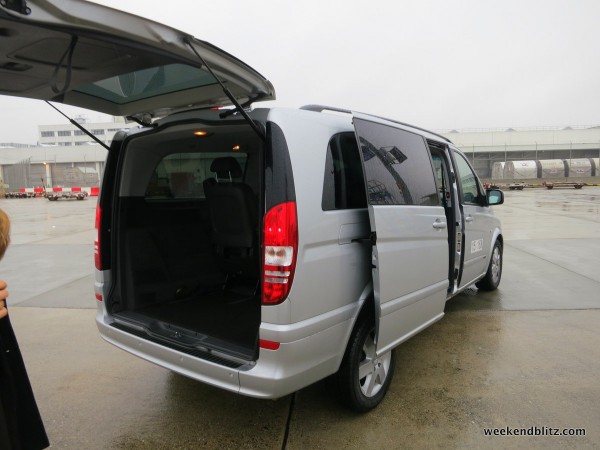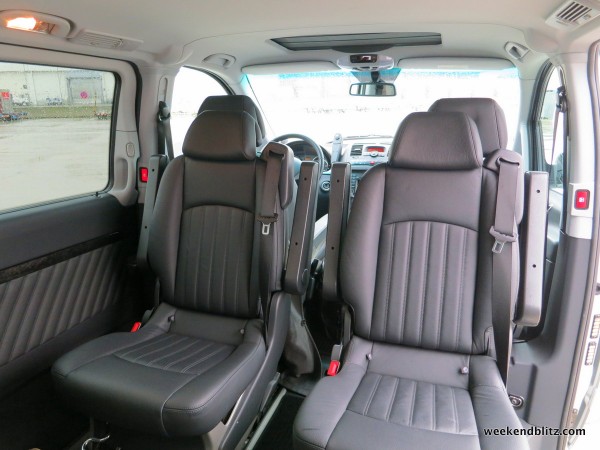 We were quickly whisked away to customs and were pleasantly surprised to find exactly 0 people in line ahead of us. This speed and efficiency was futile, however, because we had to wait for over an hour for our bags to be delivered to the carousel, presumably a delay that can be blamed on the abnormal deplaning location. The Frankfurt ground crew had a much greater distance to transport the baggage than normal.
SERVICE
The service was impeccable–a rose was placed at each chair & we were served champagne immediately. And, this was possibly the best first class cabin we've experienced (but was it because we weren't expecting it?).