ANA Flight NH1011 – Chicago-ORD to Tokyo-NRT – B777-300ER
Our first international flight of our first journey felt like it might never arrive when we booked it a few months ago, but, like all things time related, it was here in a flash. Our first segment, from Chicago-ORD to Tokyo-TYO was merely a stopover on our way to Yangon, Myanmar-RGN. Because ANA has only 1 daily flight to Yangon (around 11am), there's no international arrival from the US that would allow us to catch it.
As we headed to Chicago's O'Hare International Airport, we were musing that this was actually both of our first west-bound trip across the Pacific Ocean. We have flown Hong Kong to Chicago and Tokyo to Newark before, but never the opposite direction. The best part about flying economy on a long haul west-bound flight is that you're almost always better off not going to sleep at all, a plus when it would be uncomfortable if you felt like you needed to get at least a few hours.
Would it stay light the entire flight? We were scheduled to depart Chicago about an hour before sunset, so could we reasonably be able to keep up with the setting sun, chasing it all the way to Japan? Spoiler alert: this didn't happen. It stayed light outside for the majority of our flight, but somewhere over the Pacific, we witnessed the sunset for the final time and continued on in the dark.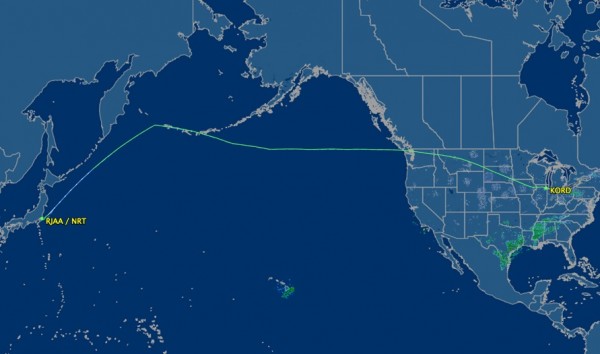 CHECK-IN
ANA departs from Terminal 1 at Chicago's O'Hare International Airport. They share a rather small area with Lufthansa and I could imagine how it could get quite cramped on busy days with full flights. Fortunately for us, our flight was probably at about 50% capacity and we arrived somewhat late–about 1 hour before boarding. The check-in agent was very helpful and even offered to change our seats so that we had a better chance to spread out a bit on the flight. Once he saw that our final destination was Yangon, Myanmar-RGN, he asked to see our visas and actually studied them quite closely to make sure that we wouldn't have an issue later. I'm thankful for this since I'm sure many people have been burned in the past due to not closely following the rules.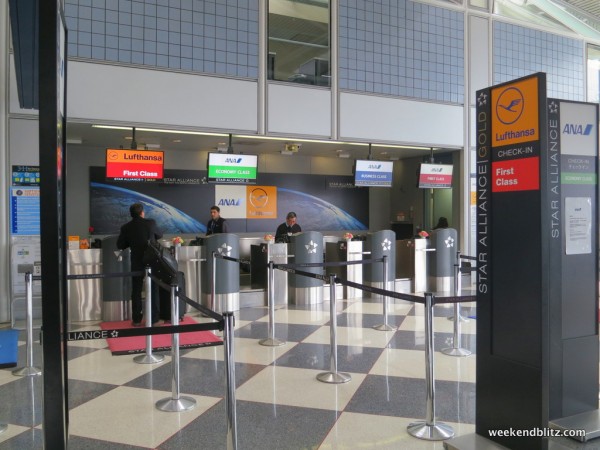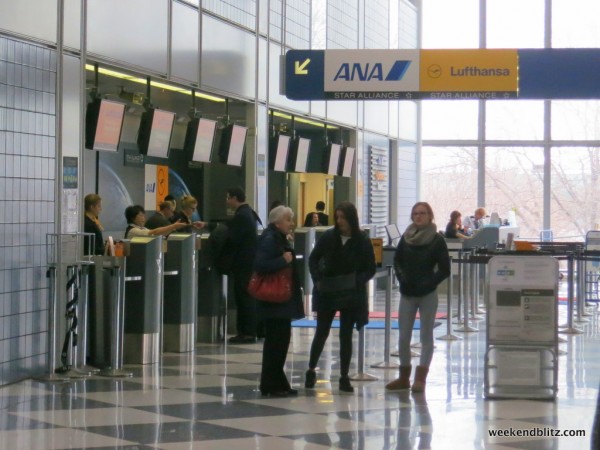 BOARDING
Boarding time was scheduled for 4:45pm, about 30 minutes before scheduled takeoff, and it began promptly.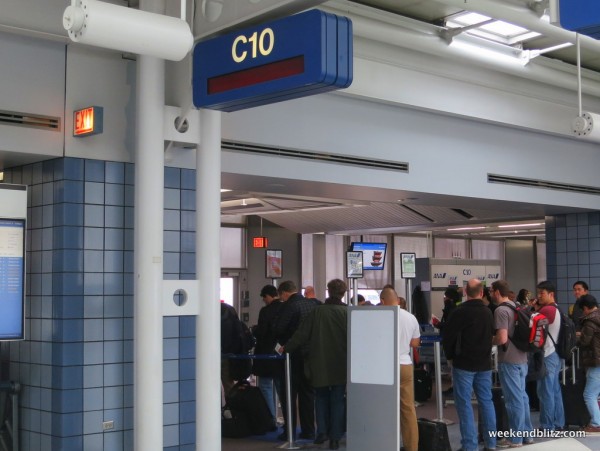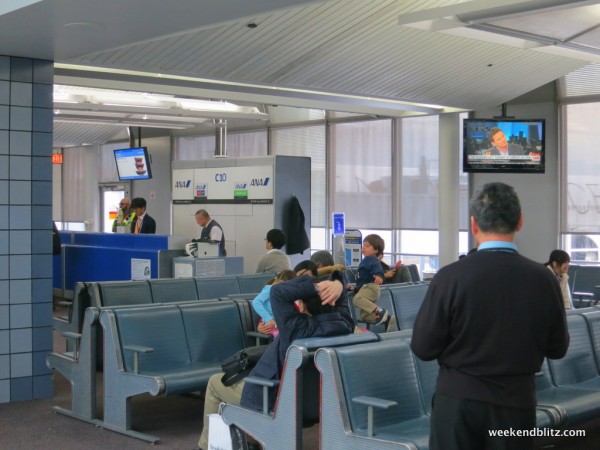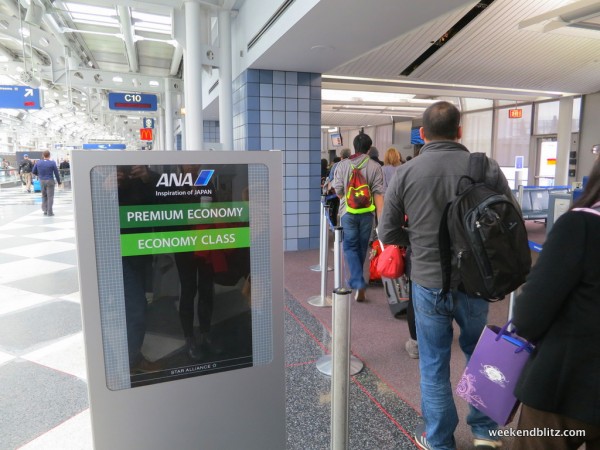 After boarding the aircraft, what we had already guessed from looking at the seating chart earlier in the day was confirmed: the plane was rather empty. There were plenty of open seats in the back and plenty of room to spread out. Actually, this was the emptiest international flight I've been on in recent years (ever?).
Boarding was extremely fast and smooth, likely a result of the passenger-light flight.
After settling into our seat, the overhead monitors displayed the horrible news: time to destination was a dreaded 13 hr 18 mins.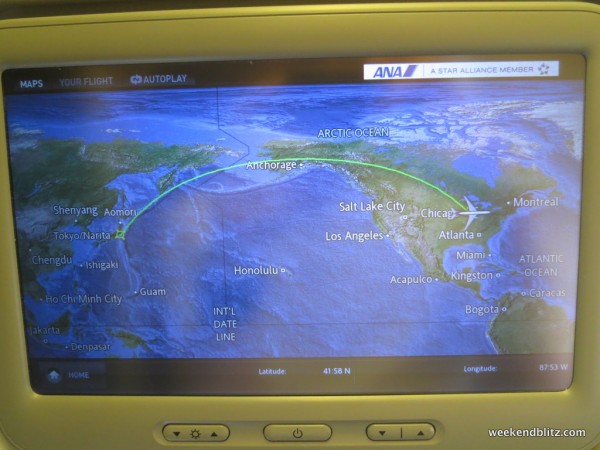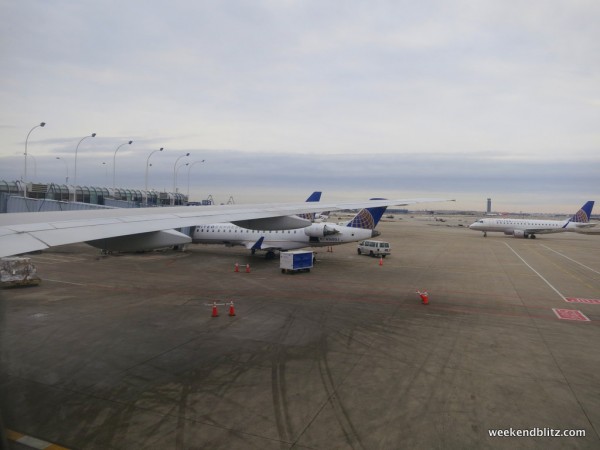 Our departure was delayed appx 15 mins due to runway congestion but we were off shortly and the time was easily made up en route.
And finally, blue skies: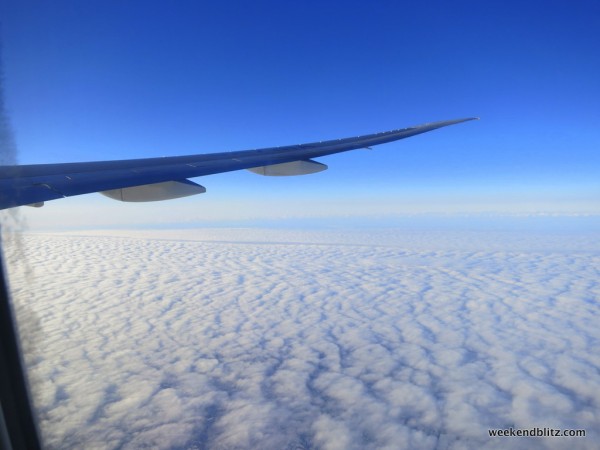 THE SEAT
The Boeing 777-300ER that we were on had 4 cabins, First, Business, Premium Economy and Economy:

One of 52 flat bed business seats: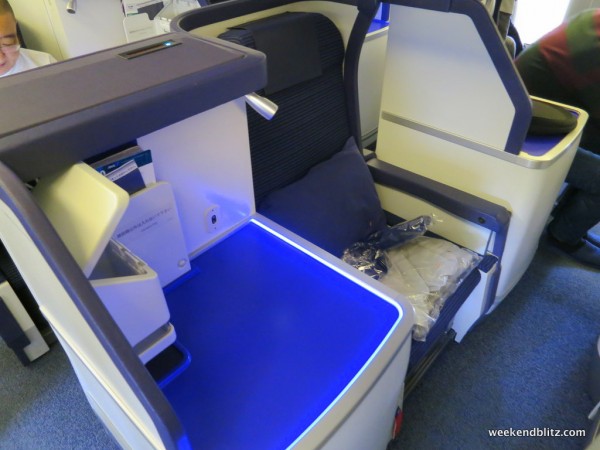 The premium economy seats looked significantly wider and more cushioned than where we were headed.
Economy was a slightly unusual 3x4x2 configuration, which actually isn't bad because it gives you a good option of securing a window and aisle if traveling in pairs; I probably like it more than the 3x3x3 that they could have done. Either way, we could have easily spread out and jumped on a full 4 seats each to ourselves,  but I strategically didn't want to get any sleep, so we settled on a 3 seater to get a little extra room to spread out without having to compromise a window seat.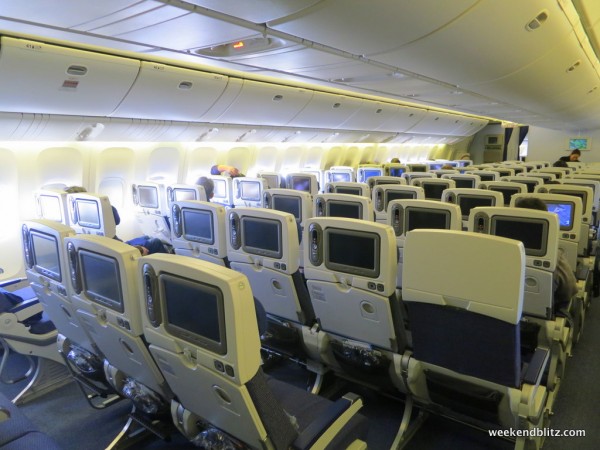 The best news of this plane: the fixed-recline seats. I think that most people are opposed to these because they limit your overall recline compared to a traditional seat and the amount that you're able to recline is taken away from your legroom. But I'm a huge fan of these. These seats allow you to recline without infringing on your neighbor's space and–most importantly–without anyone jerking back a seat in your personal space either. I'd rather have to suffer the consequences of my own recline than have the guy in front of me abruptly decide it's time for a snooze and knock out my knees, drink and laptop in the process.
Overall, I have no complaints about the seats — they didn't seem as cramped as other Asian carriers. But, maybe that's because the flight was essentially empty.
MEAL SERVICE-DINNER
A few minutes after reaching 10k feet, the flight attendants came around with hot towels for us to freshen up.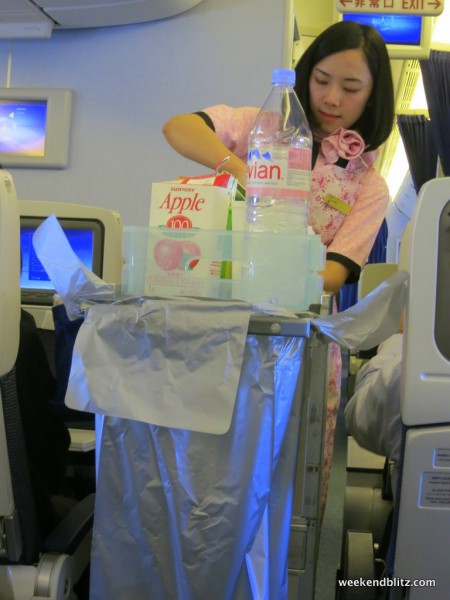 Next up: beverage and snack service.
For the dinner service, we had 2 types of choices:
– Vegetable curry and steamed rice
– Creamy seafood with saffron rice
McCown had the vegetable curry; it was served with a side of soba noodles (with a packet of sauce) and fruit (pineapple, cantaloupe). I thought the vegetable curry entrée with mushrooms, onions and butternut squash was great. It was actually somewhat on the sweet side.
I went with the creamy seafood route which came with a few pieces of roasted chicken breast, bell peppers and onions, and sides of charcuterie, mozzarella and tomato salad and a crab salad. This seems to have been the Western meal choice. The mozzarella was great and quite flavorful. The crab salad was ok — slightly intimidating to begin with since it's seafood on an airplane. As far as the creamy seafood entrée goes, I was pleasantly surprised. The shrimp, calamari and scallops were pretty decent and while the creamy sauce was a little disconcerting at first, it all came together quite well in the end. In all, the seafood was rather non-seafoody.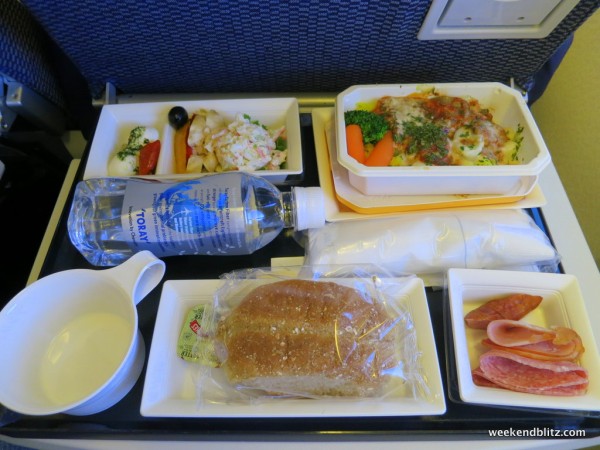 For dessert, about 1.5 hours after departure and while expecting some sort of stale pastry, the flight attendants whisked around passing out single-serving-sized Haagen-Dazs vanilla ice cream containers. Again, a nice surprise.
Shortly after dinner, the flight attendants came around asking everyone to completely lower their window shades. I guess no one else has the same strategy to stay up for the entire flight as me? I'm not really sure why not, it's about 8pm Chicago time and when we land in Tokyo it will be time for bed– doesn't seem like a great idea to sleep for 10 hours before landing.
ENTERTAINMENT-IFE
The fantastic selection of movies included many new releases that were Oscar-nominated in 2015 (The Imitation Game, The Theory of Everything, Birdman). The monitor featured a good-sized screen + a USB port to keep all the other gadgets charged up. There's also a regular power outlet under every seat, too. Control was by either a touch screen or remote.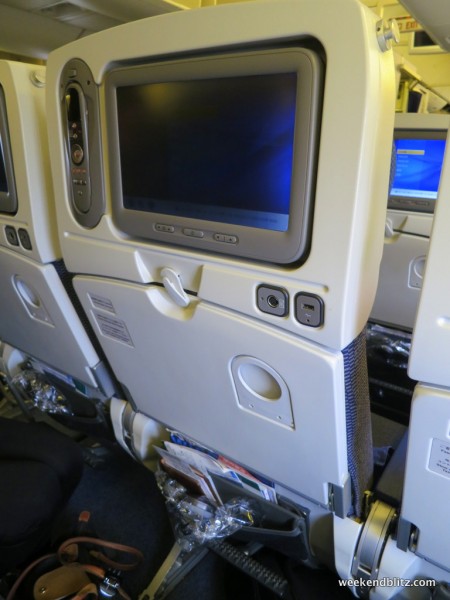 About 3 hours after departure, they flipped the last switched and totally dimmed the cabin, now it's really a challenge to fight the urge to sleep.
I knocked out no fewer than 5 movies before the lights were back on about 7.5 hours after dimming them.
MEAL SERVICE-"BREAKFAST"/REFRESHMENT
With the lights back on in the cabin, the flight attendants briskly made their way distributing hot towels as everyone work up for the "breakfast" service.
I'm more confused as ever to as what meal they're serving us here, while it's about 4am Chicago time, it's also about 6pm Tokyo time so not really sure why "breakfast" is the appropriate meal—eh, oh well, I'm fully prepared to eat it. The second most confusing part about this meal were the choices:
-"chicken mustard cream stew"
-"steamed cod with red bell pepper sauce"
I found it increasingly odd that neither seemed to be a direct "Western" or "Japanese" choice.
While both choices were edible but slightly sketchy, the one redeeming factor was that they were served with yogurt, sliced fruit and coffee. Guess it was "breakfast" after all?
SERVICE
The service was, as you might expect from an Asian carrier with a trans-Pacific route, fantastic. Everyone was polite, courteous and very attentive. This was why we actively sought to avoid United for the same route; the Asian carriers seem to provide a much more enjoyable experience.