Let's Go: Yangon, Myanmar
Yangon is a city in the throes of growing, busting at the seams with young locals eager to learn more about the world outside its borders and more tourists than ever before.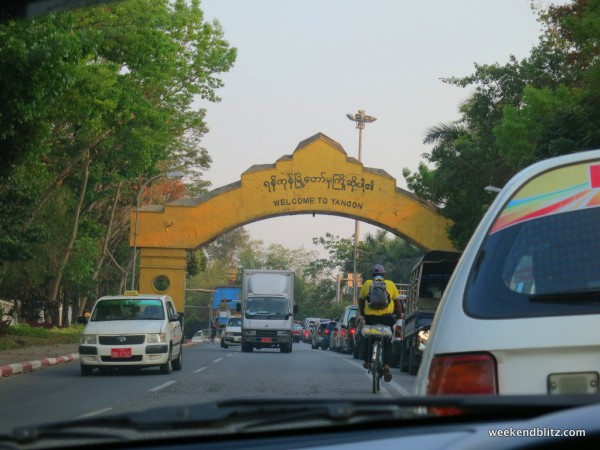 Myanmar welcomes about 1 million tourists each year and, compared to its neighbor Thailand's many millions of annual visitors, that's a drop in the bucket – but, only a hand full of Burmese cities and towns are set up for tourists and Western hotel chains have barely scratched the surface of the country (we think that's a good thing). So, while Thailand's many visitors are spread out among hundreds of secluded resorts, Myanmar's eager travelers are swarming Mandalay's U Bein Bridge – all together – while it bends at the weight of its newfound fame. Construction is ubiquitous everywhere in Yangon, though, so more hotels and tourist infrastructure are fast approaching. It's been said many times before, but Myanmar is changing rapidly, and we tourists are tripping over ourselves to be the first to see its evolution.
Because Yangon is the country's largest city, it is the most natural springboard for entering the country and one of the only cities capable of landing international flights. While most people land in Yangon one afternoon and are gone by the next morning, we spent four nights there (4.5 full days) and were able to see the main attractions as well as get to know city life in a little more detail than most.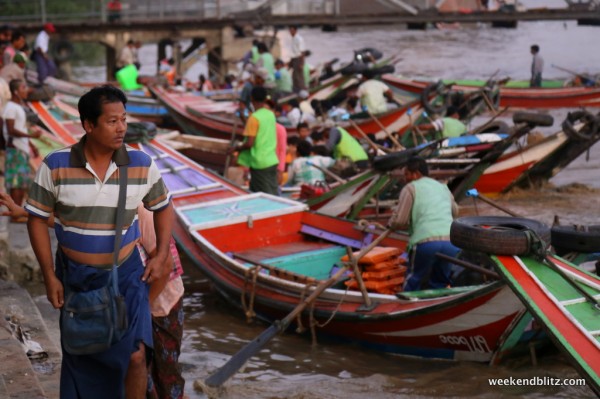 Myanmar's largest city is a good bit different than most other large Asian cities because the Western tourists are few and far between (they've all taken off for Inle Lake and Bagan ASAP) and Western culture has not taken its toll on the city's locals just yet. Although we did see a few T-shirts and jeans, the vast majority of Burmese (men, women + children) are still wearing traditional thanaka on their faces and sporting longyis.The thanaka ubiquitously worn on women and children's cheeks and foreheads is a yellow-white paste made from tree bark mixed with water. This paste is then rubbed into a circle or square on each cheek – or just hurriedly whisked on in no pattern at all –  and both protects the wearer from the hot sun as a sort of natural sunscreen and is seen as a sign of beauty. Longyis — maxi skirts to us Americans — are traditional Burmese clothing that keep you cool (and conservative) and, thankfully, Western trends haven't taken over just yet, so almost everyone you see is donning a longyi. It's a bit perplexing for a Westerner (given the 103 degree highs on most days) to see everyone wearing long, heavy-looking "skirts", but the Burmese are much more conservative and men, women and children all wear longyis or pants to their ankles. And, it turns out they are surprisingly cool with great air flow, so no wonder they continue to wear these beautiful garments instead of a much blander & duller jeans option.
Speaking of longyis, having grown tired of my own maxi skirts, I thought I'd wear a longyi one day to mix it up a bit (and I'd read that the Burmese appreciated travelers wearing longyis). Jeffrey had purchased a longyi when we visited the Shwedagon Pagoda, so I thought I'd just wear his instead of buying another one. I asked the front desk staff at our hotel to help me tie it (I'd noticed that men tie their longyis in a big knot in the front and women seem to drape theirs more elegantly). We barely made it a block down the street before just about everyone was laughing as I walked by. Finally, an older woman grabbed my arm and, in her best English, half-scolds, half-mocks me, telling me that my longyi was for men, not for woman. Yikes. Apparently, I had failed to notice that men's longyis were all plaid patterns of more masculine colors, while women's longyis were predominantly floral patterned and always brightly colored. I was committing a humongous faux pas and didn't even realized it until the muted giggles couldn't go unnoticed any longer. We dashed into the next shopping center and I was embarrassingly looking around for the stash of longyis. Before I could find them, the store employees (giggling, of course), called me over to tell me I was wearing a man's longyi, not a woman's. Double yikes. Finally, I purchased a women's longyi in a beautiful royal blue color and had help tying it on. However, after it inevitably loosened by lunchtime, the women at our restaurant giggled that I had it tied incorrectly. I just couldn't win with the longyis so, for the rest of our trip, only wore my longyi when visiting the pagodas.
The people, especially the little ones, are overwhelmingly friendly – they shout "hello!" as soon as they see you coming and flash the brightest, most genuine smiles of any city I've ever visited.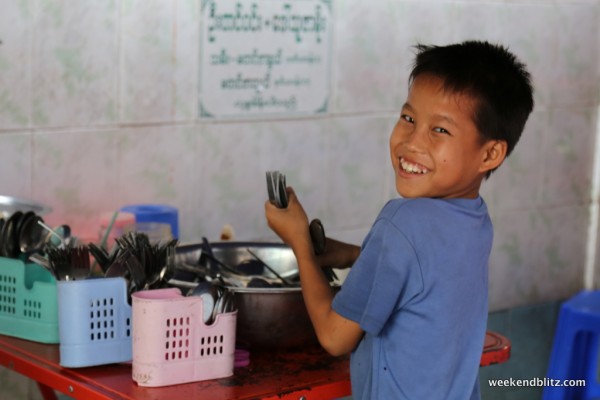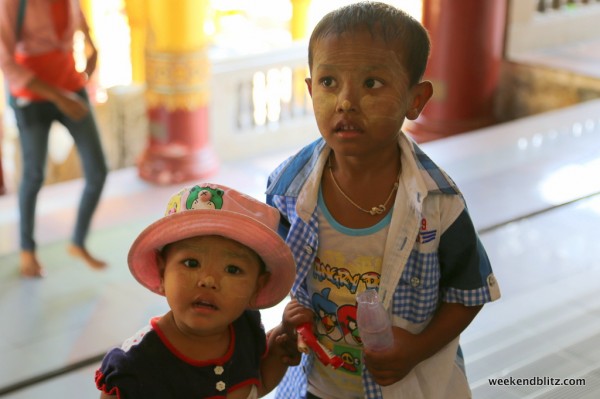 They are unabashedly so pleased to see you, making you feel very welcome. They're so eager to see you that many of them stop and ask to take photos with you – or some others just whip out their cell phones to catch you on video as you pass by.
Although Jeffrey and I usually rent a car no matter which country we're visiting, I've never been so thankful to depend solely on walking and public transportation than in Yangon. In plenty of places, we've been astounded by the crazy drivers and the gridlocked traffic, but Yangon takes the cake.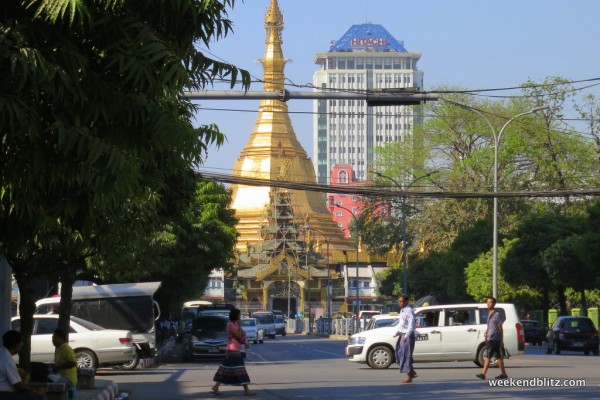 The city seems to be growing faster than the roads can keep up and, coupled with the change from driving on the left (US style) to driving on the left (British style) in the early 2000s (with road infrastructure staying the same…), every time I got into a taxi I thought it may be my last few minutes on Earth. In fact, we were even in a wreck with a taxi driver!! Since we've been here, we've also seen a motorbike wreck and a very, very close call between a motorbike and a pickup truck. There are hardly any traffic lights and no stop signs, so 4-way intersections are just an anything-goes game of chicken.
Take a look at the guide below for where to eat, drink and sleep while in Yangon, then be on the lookout for more detailed posts about Yangon's most popular attractions: the stunning Shwedagon Pagoda and the Circle Train.
Eat
It seems that, at every turn you take, there's another street food vendor cooking up a hot meal along the city streets of Yangon. I know some travelers are wary of street food, but we've found it to be the best introduction to a city and its people. We've tried street food in every city we've visited and almost always preferred the street food to the fancy #1-rated restaurant on Trip Advisor – and, the best part, never once gotten sick from something we've tried (knock on LOTS of wood).
BBQ is king on the streets of Yangon and each street peddler has a cart filled with all sorts of meats and vegetables on a stick. Once you pick out your choice, they'll grill it up for you right on the spot so its phenomenal smoky flavor is just as fresh as can be.
Our favorite street food, though, was found on 19th Street and was surprisingly a vegetarian dish, but filled with more flavor than even the smoky meat could offer. A woman was cooking up a dish of corn kernels, kidney beans and some mysterious spicy green topping that tasted a bit like an olive tapenade with a kick. Whatever it was, it added a glorious spice to an otherwise bland dish and we went back to her cart again and again for quick snacks each day.
While Yangon offers many restaurants and eateries in every corner of its city, we recommend getting your fill of street food while you're here. And, for the price of about 500 k – 1,500 k (less than $1.50!), you can fill up on local flavor.
If you're just not so into street food, no problem. 999 Shan Noodle House comes highly recommended so we had to give it a shot. Their noodles were the best we've tasted in Myanmar and, while it's very popular with tourists, the prices are shockingly low.
Drink
19th Street, again, is the best place to grab a Myanmar Beer and people watch. Every tourist in the city makes it here, but so do the locals so it's not a tourist trap but rather a place to see busy city life after sunset.
The street markets set up selling everything under the sun from umbrellas (although we didn't see a single drop of rain in the dry season) to fish heads to flip flops of all colors. If you're lucky, a man with a guitar will come past your table to serenade you, but he won't be as pushy as the table musicians you've met in the past.
Sleep
We really loved our hotel: Hotel Grand United 21st Downtown.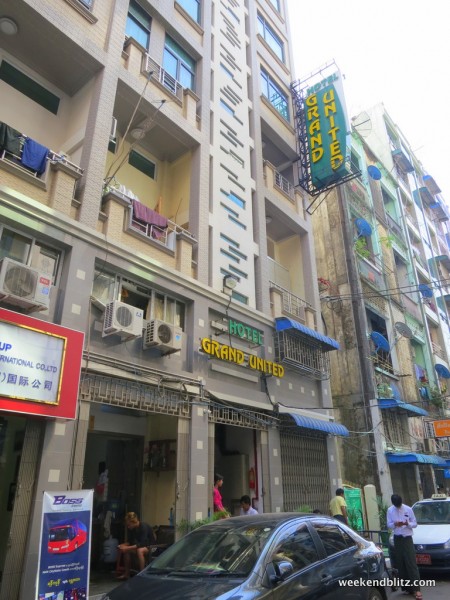 It's definitely not the nicest hotel in the city, but it was just what we needed to get a full night's rest before heading out on foot for another day of exploring. The location was fantastic– just steps away from the bustling 19th Street (the only "night life" in the city) and very close to the river which had scores of activity no matter what time of day you visited. Hotel Grand United has three hotels in Yangon and its original one (Hotel Grand United Ahlone) is a nicer hotel with a bigger gym and even a sauna but the location is not great at all. The hotel's rooftop, where breakfast, lunch and dinner were served, but guests were welcomed to spend the morning or afternoon there, too, was the best part of the hotel, with a fantastic view of the pagoda at nighttime and a bird's eye view of the bustling city streets and nearby port.
Another important factor was that our hotel's wifi, although by no means up to Western standards, worked just fine for us to be able to do the work we needed to complete.
If your idea of vacation is more relaxing-by-the-pool than hoofing-it-on-the-street, then… first of all, why are you in Yangon? There's plenty of better options for resort life in Myanmar (with a beach nearby!). Even so, the Belmond Governor's Residence was formerly home to the ruler of Myanmar's southern states.
The two-story, colonial-style mansion was built in the 1920s but today is a 5 Star hotel. The lush greenery, whirling fans, Dutch architecture and dark mahagony staircase add to its old-time charm while providing much-needed respite from the blazing afternoon sun, and hotel guests were lounging care-free by the pool. Prices there are 5 Star prices, too, a far cry from the street food prices just a few steps away.