Around Inle Lake, Myanmar: Part 1
We organized a day-long tour of Inle Lake using the only transportation possible: a boat. Although they say you can get a boat tour leaving from Nyaung-shwe for around $20 total, we decided to go on a private boat scheduled by our hotel for about $45 total – this way, we avoided the $20+ taxi ride to Nyaung-shwe AND (hopefully) our hotel bases their reputation and (more importantly) Trip Advisor stars on making sure our boat captain is top notch.
We were ready to go around 7:30am and walked to the end of the hotel dock to meet our captain. As you might have guessed by now, this guy was extra friendly, especially with not knowing a lick of English. Our motor boat was long with two lawn chairs in the front just for us. Luckily, there was a blanket in the boat for us (along with some water) – the wind on the water that morning was pretty chilly, so I was very thankful for the blanket!
Check out where we zipped around in Inle Lake…
In the morning fog, we couldn't see the mountains that were towering over us, but we could make out shadows of fishermen in nearby boats.
We headed first to the floating market—it changes locations each morning of the week but, wherever it's located, the locals (and tourists) find it and it's bustling every day. After tying up next to boats and walking across several of them to reach land, we passed right by the souvenirs and tourists and headed to the back of the market to the locals' area. We found all sorts of non-souvenirs for sale: live fish, dead fish, live chickens, dead chickens, vegetables, fruit, rice… anything you need to live, you could find it at the market because that is the only "store" they have. Efficiency at its finest.
It was a crowded, smelly, lovely place.
After wandering the aisles and smiling at the friendly vendors (one woman even insisted we sample whatever she was selling… some sort of egg-y dough), we headed back to our boat.
He zipped us all around—we visited the slightly-touristy-but-also-very-interesting craft workshops ranging from silver jewelers to silk weavers to cigar rolling. While we didn't make any purchases and felt a little overwhelmed by the sheer (I'm about to make up a word here…) touristy-ness of it all, it was still interesting given that, even though, yes, these craft workshops are built just for tourists (and sell just to tourists), they do harken back to the old days where it wasn't just for tourists. So, it does show a nice history of life on the lake.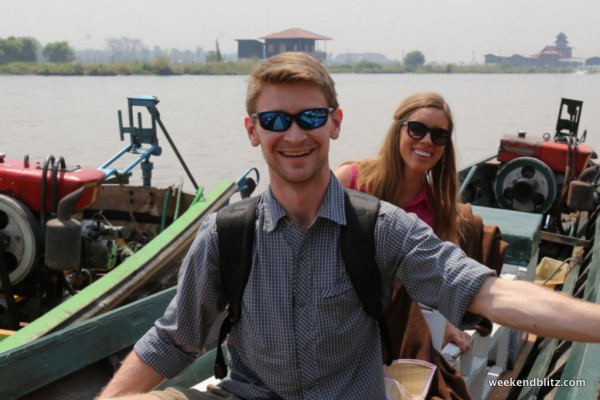 Next, we stopped was at the Phaungdawoo Pagoda.
It was your typical pagoda but this one was surrounded by water (it was in the middle of the lake) and was crawling with locals. The sun was beaming down, so we stopped for a snack and a break on the shady steps. We met the cutest little girl who was very eager to befriend us—again, we were so happily surprised at the friendliness of the locals and how they were always so enthusiastic to smile and chat.
My favorite part of the day came at the end—after lunch, we headed to the floating village and puttered through the empty "streets" paved with water. These houses are built on wooden stilts—and their residents descend their houses to bath in their boats and speed off to their nearby floating gardens.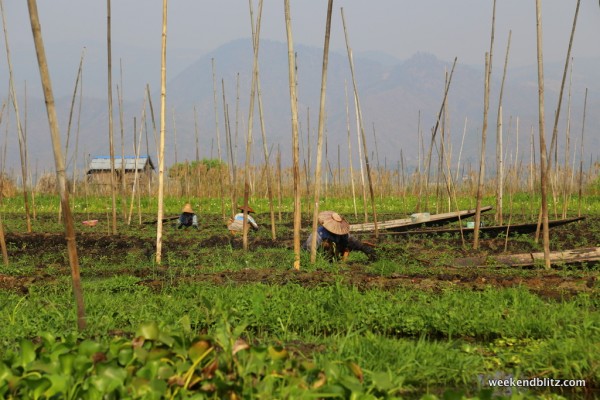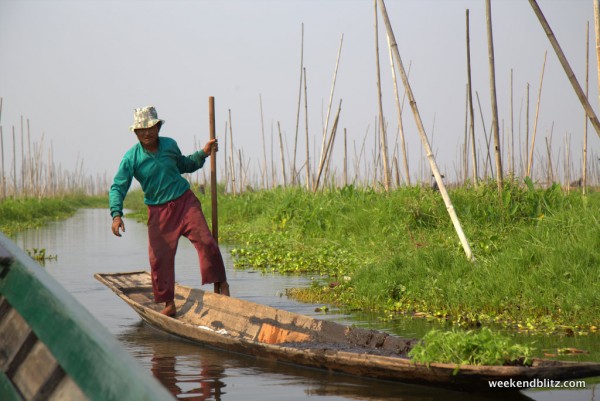 Their way of life is so different than mine that it is mesmerizing, but they know no different than living above the water. The part that stuck out the most to me was the prevalence of TVs that were peeking through windows in these stilt houses—with electric wires hanging above the water.
After our first day on the lake, it was no wonder that its Myanmar's most popular destination. It surely deserves a visit and is such a respite from the business of Yangon and the dust of Bagan.