ANA Flight NH 913 – Tokyo-NRT to Yangon-RGN – B767-300
All Nippon Airways Flight NH 913
Tokyo-NRT to Yangon-RGN
Dept 11:45am –> Arrv: 5:15pm
Boeing 767-300
Getting to the airport from the Radisson Narita (thanks for the free stay, Orbitz Orbucks!) was easy although it took a bit longer than expected. Nothing too outrageous, we just needed to plan for a bit more time than the 16 mins that Google Maps driving directions quoted. The Radisson only runs shuttles every 45-60 mins, so you might find yourself spending a lot more time at the airport than you wanted OR cutting it too close. Once we arrived at the airport, airport security boarded the shuttle bus to confirm that we had our passports and to do a general security check I suppose, then it was another few minutes inside the airport until we arrived at our terminal. Once at Terminal 1, we walked to the south gates (essentially another terminal) to check in for our flight.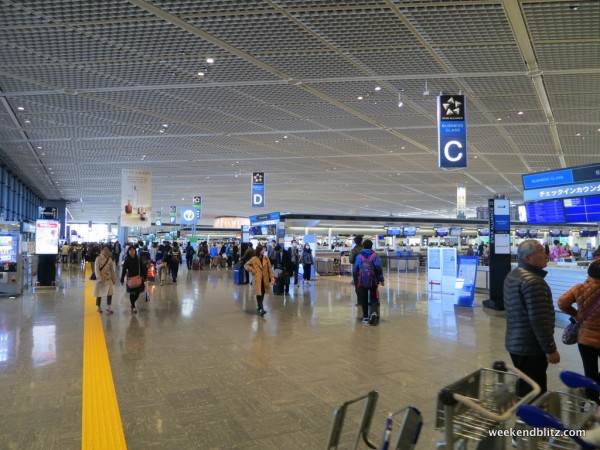 CHECK-IN
We approached an ANA representative and I was glad that I was able to pick up WiFi signal in the airport because we had forgotten to print off the flight booking confirmations and they needed a ticket number to check us in. When we asked about seats and switching to a row with 3 seats over the wing, they basically told us we'd prefer our current bulkhead seating and, when I tried to politely request that we switch, the language barrier was too great to overcome and bulkhead it was for us.
They confirmed that we were traveling to Yangon, Myanmar today and asked us to present our visas for checking. They seemed concerned that we did not have 2 passport photos each and gave us some instruction on where to have these made at the Narita aiport. This somewhat rang a bell but I was not convinced that we needed this. Our next visa-necessary country on this trip would be Vietnam, so maybe I was getting those requirements confused. Either way, I put some stock in the fact that these same women check visas and documentation for this exact same flight with 200+ passengers to Yangon everyday so they're probably correct.
We wandered up to the next level and found the passport photo-booth and had our photos made. While this proved to be unnecessary for Myanmar (as I had suspected), I'm glad we went because it was right next to the runway observation deck where we were able to take some great pictures.
Enough photos outside, time to head into the terminal!
Once we were past security, I checked my Priority Pass app to see which of the Tokyo lounges participated and found that, of the 6 lounges available in the program, 4 were land-side and the 5th was a United Club and thus ineligible, leaving the KAL Business Class Lounge as the only viable option.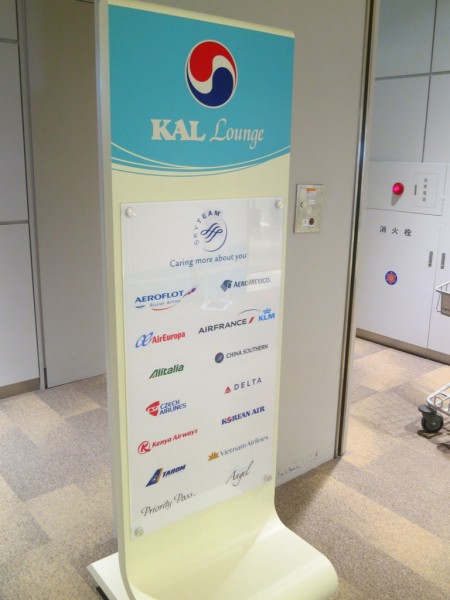 We killed a bit of time in here before heading to our gate.
More about our visit to the KAL Lounge can be found here: KAL Lounge Review – Tokyo Nartia-NRT Terminal 1.
We ended up at the same to-go sushi counter that we ate at on our Tokyo-Newark flight in December 2013 and the sushi was just as fresh and delicious the second time around. However, I suspect that sushi in Tokyo proper is (obviously) much better than airport food, so we are counting the days to return to Tokyo and taste "real" Japanese food – and explore the beautiful Japanese culture. But, if there's one place to break the no-airport sushi rule, it's in Tokyo (well, that and One Flew South restaurant at Atlanta's Jackson-Hartsfield International Airport where the sushi is phenomenal for an airport).
On the whole, we love Tokyo's airport as it is very well-done: very streamlined, well decorated and just a bit more upscale than most US airports.
BOARDING
In typical sensory overload from being in a new country, city and airport fashion, we were borderline late to the gate after rushing to try out the KAL Lounge, get the aforementioned sushi and then rush over to the gate.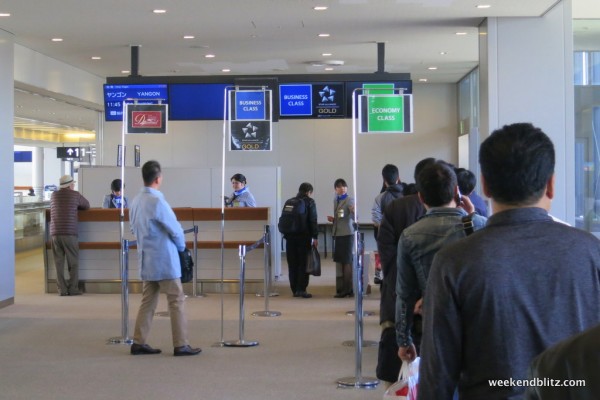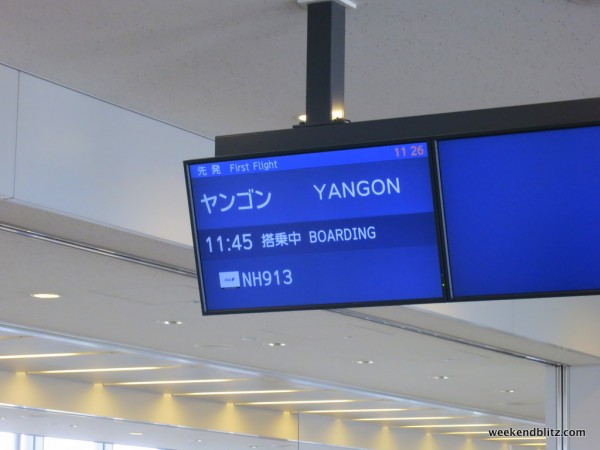 They called out the boarding order and, being in no rush, we took our time getting on the plane. While some might consider Americans and other Westerners forward and a bit pushy, for me I always have trouble adjusting to the amount of personal space that seems to be the norm in Asia. I often take this as pushiness but I'm sure this feeling is misguided as the amount of space they leave is normal for them. But, I digress. So, after taking our sweet, unstressed time boarding the plane, we made our way through Business Class.
As this was an intra-Asia trip and likely not a super high revenue route, the Boeing 767-300 aircraft was configured with 2 cabins. Business was broken into 2-1-2 seating configuration which seemed a bit weird to me as the seat in the middle of the fuselage was off by itself with double aisle access leaving the other 4 seats in the row with one aisle and one window per pair. It seems like it might have been more versatile to configure as 2-2-1 and maximize the aisle access?
We trudged on to the back of the plane with the other budget/non-expense account travelers and found our bulkhead seats right behind the exit doors, gallery and lavatories.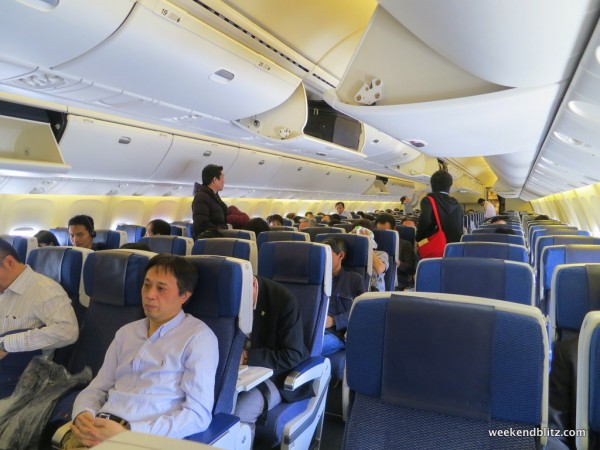 SEAT
This aircraft seemed to have less legroom in Economy than our last ANA flight which was on a 777-300ER, so were glad to have the additional exit row legroom.
Before long we were taxiing to the runway:
MEAL SERVICE
Around 12:35pm, just a few minutes after reaching a safe altitude from our on-time departure, flight attendants came by with rice crackers as a pre-meal snack and offered a beverage service.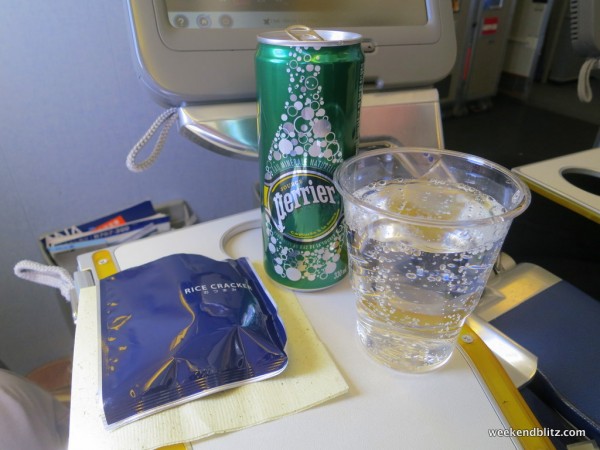 Our flight attendants circulated the cabin with a menu of the two options of the day: Simmered yellowtail over steam rice or Herb-flavored sautéed chicken with red wine sauce.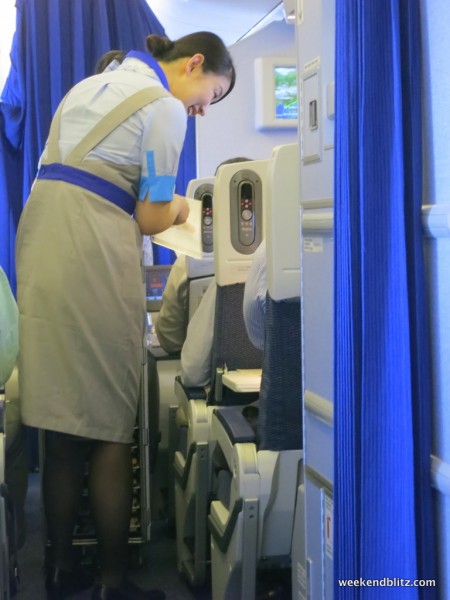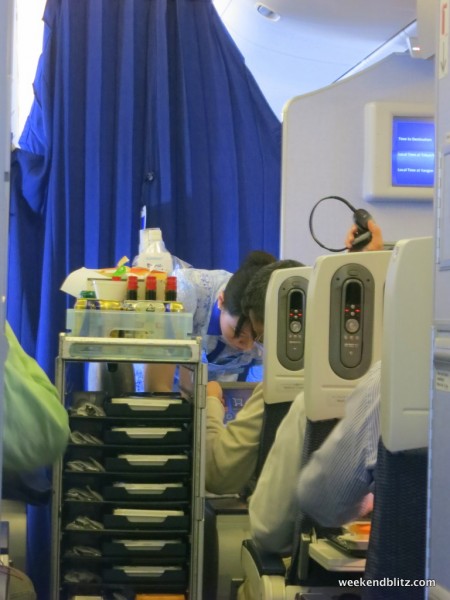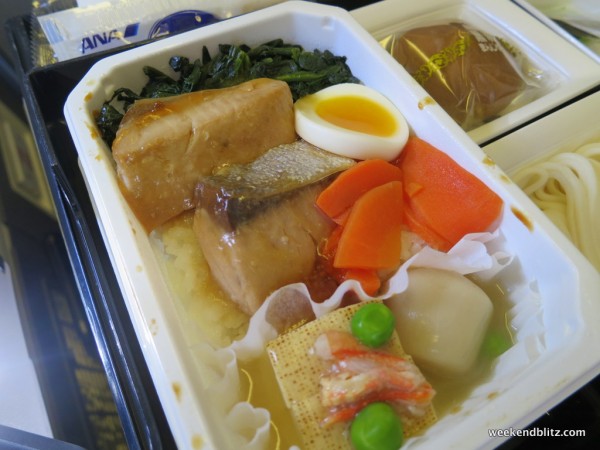 They were really talking up the simmered yellowtail, and I mean a lot, tons of bragging by the crew and the cabin literature about it being award winning. Guess I don't really have a choice in the matter! Turns out, they didn't oversell it at all: it ended up being a delicious dish. The fish was well cooked and tasty. The sauce was what really made it and included carrots and sliced hard boiled egg on top and also what appeared to be tofu and a scallop? Not completely sure. It also included Japanese noodles with sauce, Miso soup and a sweet bun for dessert.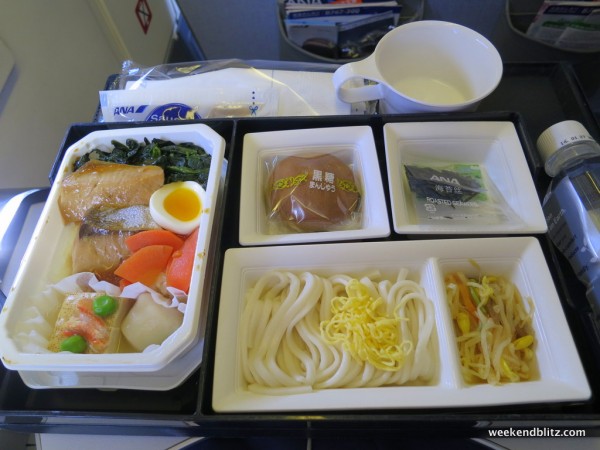 McCown took a stab at the much less acclaimed herb-flavored sautéed chicken with red wine sauce. It was basically dark meat chicken soaked in a red wine sauce– lots of good flavor and the chicken was good and tender. The saffron rice was flavorful, too, and especially good for airplane food. It was the Western dish, so it also came with a side salad (but had smoked salmon and capers on the side, so a nice extra touch), a roll with butter and cheese and a pineapple cream cake for dessert. I did prefer the Häagen-Dazs single serve ice cream passed out for dessert on our last ANA flight, but this pineapple cake was a good second.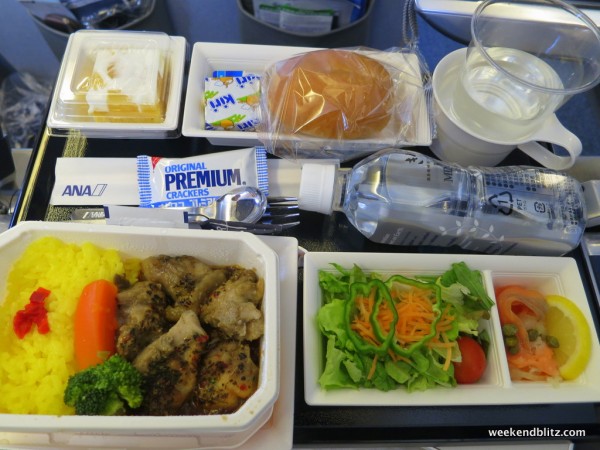 Once again, the flight attendants offered hot green tea, coffee and hot English tea as after lunch drinks.
IFE-Inflight Entertainment
Our LCD screens were a bit smaller than normal due to the bulkhead seating but, apart from that, the entertainment system was virtually identical to our 773ER flight from Chicago-ORD to Tokyo-NRT the previous day:
The fantastic selection of movies included many new releases that were Oscar-nominated in 2015 (The Imitation Game, The Theory of Everything, Birdman). The monitor featured a good-sized screen + a USB port to keep all the other gadgets charged up. There's also a regular power outlet under every seat, too. Control was by either a touch screen or remote.
SERVICE
Just as our trans-Pacific flight the day before with ANA, the service was well above average. The crew was very attentive and polite, really a top notch experience that I would recommend that others try.
The 7 hour flight passed quickly with the stellar movie choices and, before long, we were making our descent to Yangon-RGN.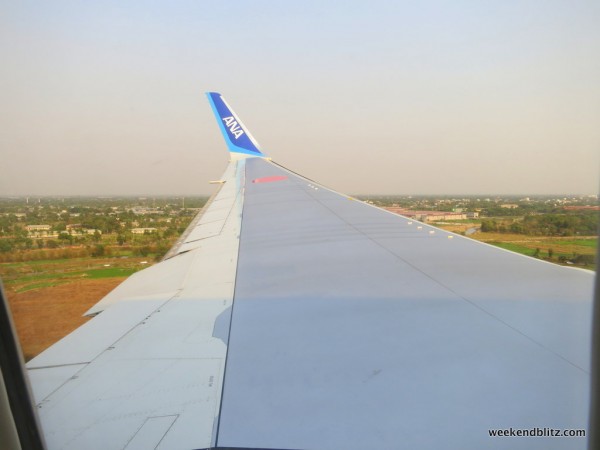 On time touch down and taxi to the gate: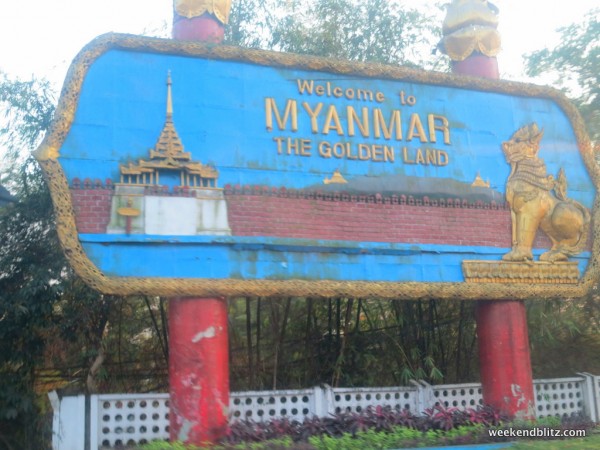 BOTTOM LINE: Another great long-haul flight on ANA in economy. From the service to the catering and in-flight entertainment, ANA proves to be a desirable airline to fly.