How-to: Booking a Train Ticket on Myanmar Railways
When faced with the decision on how to get around from city to city in Myanmar, the train seemed like a solid choice. On this trip, the only one like it in recent memory, we were doing our best to ditch the standard "Weekend Blitz" type of travel that we've come to embrace, feeling like we're going at 110% all of the time and trying to cram 25 hours into every day. For this trip, we had time on our side and a greater desire to jump into the local culture and see how everyday life is lived for the Burmese.
So, intent on taking the train while in Myanmar, we settled on the Yangon-Mandalay route. The times were appropriate for taking it overnight which would allow us to save money on one night's lodging and not burn too much daylight in transit.
It also seemed like a no-brainer when we knew we could get train tickets for under $30 each and an air ticket would cost $125+ each (not to mention possible baggage fees, taxi to/from the airport and the extra night needed in a hotel). So, the train it is.
Now, onto the "how to" part.
As we learned from various sources on the internet, but primarily the excellent resource at Seat61.com, booking for Myanmar Railways begins 5 days out from departure and must be done in person in Myanmar. There's no online booking service, but you could use a travel agency to book the ticket for you– in which case they'll simply tack on a margin for going to the train station in your absentia to purchase the ticket for you and deliver it to your Myanmar hotel.
A few downsides to the travel agency route: you have to give yet another stranger a copy of your passport and the prices they charge are quite ridiculous. We emailed a few places and had only 1 person write us back; they wanted $25 US per ticket and suggested we buy the whole cabin, 4 tickets for a total of $100. Interestingly, he didn't bother to mention the 2 person cabin or that tickets are only 12,750 MMK (~$12.50 at the time of writing, or = $6.07 at today's exchange rate) at the train station. In this case, my procrastination saved us $75+.
Finding the Myanmar Railways Advance Booking Location:
If you're booking for a same day departure, including the Yangon Circle Train, you'll want to go to the actual train station on the north side of the block. For advance bookings 1-5 days out, you'll be looking for the booking office on the south side of the block, just opposite the Sakura Tower main entrance: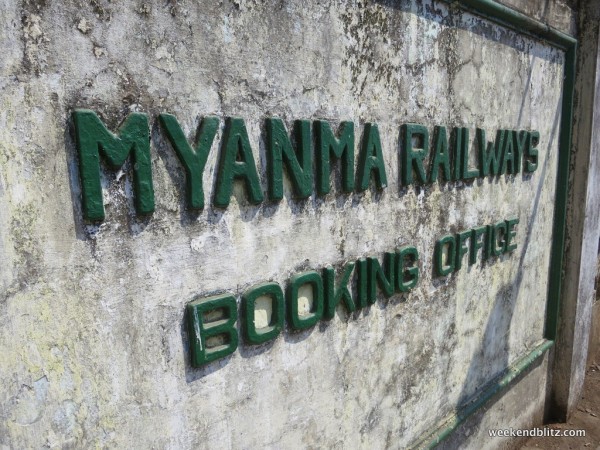 The booking office is huge, with tons of stalls and, as you can see from the photo below, quite empty. It's hard to imagine this place as ever full.
Once you get to the booking office, make sure to find the English version of the train you're hoping to take and confirm that the times and train numbers are the same as you expected to find.
We approached the only booking stall that appeared to have a human behind the counter: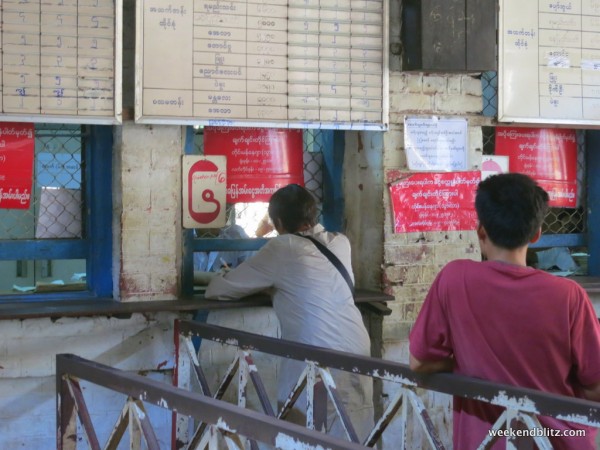 The booking clerk asked for passports and confirmed the price for our trip:
We asked how many seats are in a cabin and, through the broken English, were able to decipher that they were in fact going to place us in a 2-berth cabin. Perfect! This will save some cash as we were prepared to purchase all 4 tickets in a 4-berth cabin if necessary.
Success, 2 tickets for our trip to Mandalay:
Things you'll need to bring:
Myanmar kyat for the full price of your tickets (change money or withdrawal from the ATM across the street at CB Bank in Sakura Tower)
Passports
A firm idea of where you're going and when including train number, type of cabin etc…
We'll have a full report on the train ride soon, but here's a quick overview of the Yangon-Mandalay route:
Good luck booking!