Irrawaddy River Cruise: Mandalay to Bagan, Myanmar
BOOKING
We had seen some pretty awesome pictures of the ferry ride along the Irrawaddy and knew that we wanted to try it out but were disappointed to find out that the recommended ferry company was basically closed for the low season. After further prying, we learned that many of the companies shut down for a few months starting in March because it's both the hot and dry season which means fewer tourists and, also, from a logistics point of view, the river is much lower than the wetter and cooler months.
We had already booked our flight and hotels that centered around taking this ferry; in fact, we had really only included the trip to Mandalay so that we could ferry down the river to Bagan…
Ah-ha! A breakthrough! Convinced that we would be stuck taking the bus from Mandalay to Bagan, we frantically googled other ferry companies and started emailing them. I found a travel agency that confirmed that the RV Shwe Keinnery III would be offering a trip on our proposed travel date. Perfect! We're back on track.
We sent over copies of our passports to the travel agency via email –sending strangers copies of your passports has been a recurring theme in Myanmar– and they replied with a payment link via PayPal.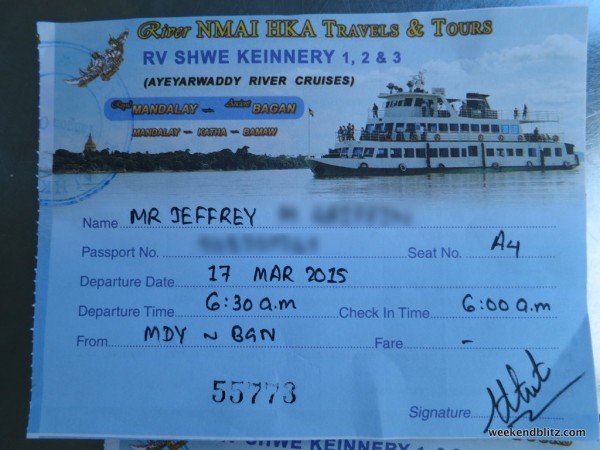 In total, we paid $40 each for the trip (+ a 5% credit card fee); this cost included the travel agency shipping the hard copy tickets to our hotel in Mandalay which we waiting for us when we arrived. I think it's highly likely that we could have booked the same ferry company in Mandalay and saved a few bucks, but, for a few extra dollars each, I was happy to have something confirmed.
CHECK-IN/BOARDING
We nearly missed the boat quite literally when we had a small mix up with the check-in time vs departure time. The hotel insisted that we could arrive at 6:30am but our taxi driver got a little turned around and that quickly turned into 6:40am. When we arrived, all other passengers were already on board and we noticed the placards stating a check-in time of 6am and departure of 6:30am–glad they were running behind today!
Like all other airports and train stations in Myanmar so far, the ferry business is no stranger to the luggage porter system. They had a few ladies with official-ish looking uniforms offering to carry our bags aboard; we were smart enough to decline this time but our fellow passengers that boarded right behind us fell victim to the scam. This was confirmed when we heard the women demanding some cash for their services–hey! this isn't how tipping is supposed to work!–and the tourists begrudgingly coughed up a few bills for what seemed to them to be an included service.
We popped down to our seats, mistakenly taking the wrong seat not knowing that they were assigned. A rather unpleasant couple from the US was very quick to correct our wrong so we found it extremely amusing when they didn't occupy the seats for even 1 minute of the trip, spending all of their time above deck with the other passengers in the first come, first serve seat….some people just can't hold their tongue!
THE FERRY
The ferry was actually a pretty large vessel, complete with 3 decks.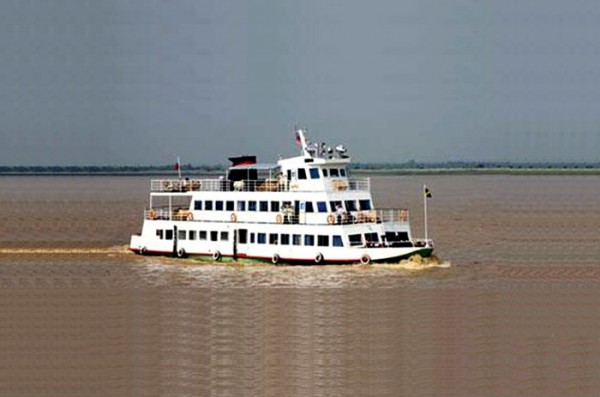 The first deck housed the enclosed reserved seating with a (slightly) air conditioned cabin. I say "slightly" because, at the top of the afternoon, the sole A/C unit was really struggling to keep up with the oppressive Burmese heat. All tickets have a reserved seat in the first deck cabin.
The second deck is primarily made up of the restaurant/cafe but also has some outdoor seating towards the stern that is covered. There are a few chairs scattered about on the bow, but it's mostly standing room only for sightseeing as you pass interesting landmarks.
The 3rd and top deck is much smaller than the previous two and houses the wheelhouse in the front with a large outdoor deck towards the back. This seemed to be the prime seating as people flocked here early and were careful to not leave their seats unattended for too long.
The 3 bathrooms were on the bottom deck: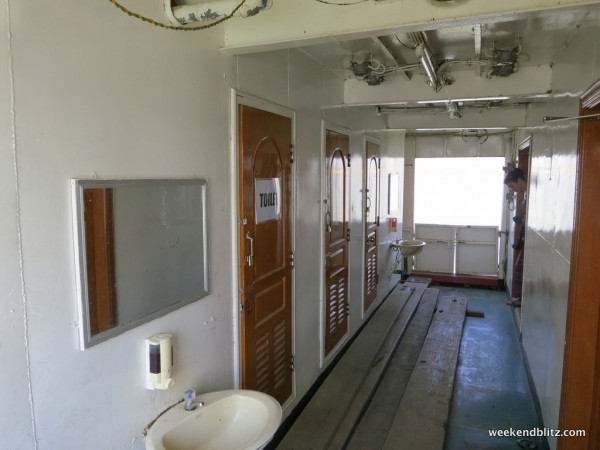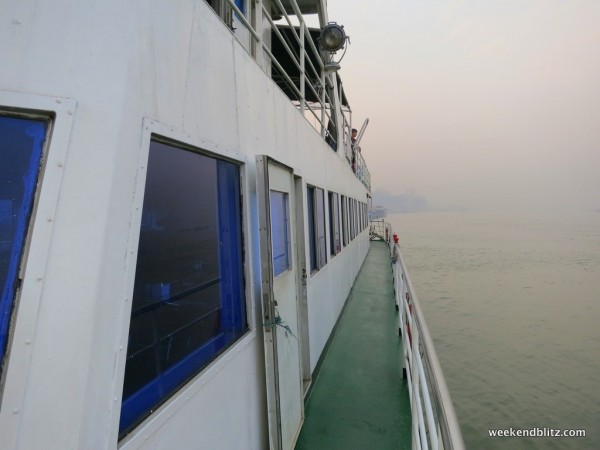 FOOD
Breakfast and lunch was said to be included with our ferry tickets but if we can offer once piece of advice: BRING YOUR OWN BREAKFAST! When discussing taxi arrangements with our hotel the night before, they offered to pack us a to-go breakfast box as the buffet wouldn't be open yet. In the hurry of trying to leave on time in the morning, we had forgotten to ask for this just as they had forgotten to give it. This was the worst as we watched other passengers munch on their delicious to-go boxes while we were queued up waiting for the ferry staff to mechanically slap 2 pieces of white toast and a hard boiled egg on a plate and send us off. It's how I imagine the Myanmar navy is fed (though with less Western components). This was much better than nothing and I was able to buy an extra hard boiled egg off the lady for 250 MMK. FYI–breakfast runs from 7am to 9am.
We posted up in the cafe with a great table with a view and got some work done on our computers.
Apart from the harsh criticism we're giving the breakfast, the cafe wasn't half bad and had the following options (all exchange rates are dynamically changed each day based upon the current rate; at the time of our trip, $1 USD was equal to about 1062 Myanmar Kyat (MMK)) :
Water = 500 MMK (~$0.24 USD)
Extra eggs at breakfast = 250 MMK (~$0.12 USD)
Chips
Sliced fruit = 1000 (~$0.48 USD)
Soft drinks
Beer
Cookies = 1000 MMK (~$0.48 USD)
Coffee = 500 MMK (~$0.24 USD)
Having eaten a not-too-filling breakfast at 7am, we were naturally the first ones in line for the lunch service which runs from 12pm to 2pm. Lunch was far better than breakfast and actually pretty good for any standards. We were served fried vermicelli noodles with vegetables, a fried egg and a hot sauce + a chili pepper mix with oil.
It was great and really hit the spot, but, while coffee or tea was provided with breakfast, lunch was served beverage-less. Want water? That'll be 500. Want coffee? That'll be 500. Beer? You guessed it, it'll cost you. Anytime I experience this (which is frequently on this trip), I consider it to be very cheap and tacky. If you're going to serve me a meal that's included, you had better serve it with fresh, potable drinking water otherwise you can consider the meal incomplete. Sure, charge for other beverages but don't make me pay for water.
THE TRIP/SCENERY
The trip and the scenery were great. As we first pulled out from the dock, we were once again reminded that the water level was low when we saw 2 guys on the bow of the ferry with sticks frantically poking downwards trying to gauge the depth of the water before we progressed. I guess the captain would reverse thrust if they started yelling? I can't imagine it would have ended well for the bottom of the boat.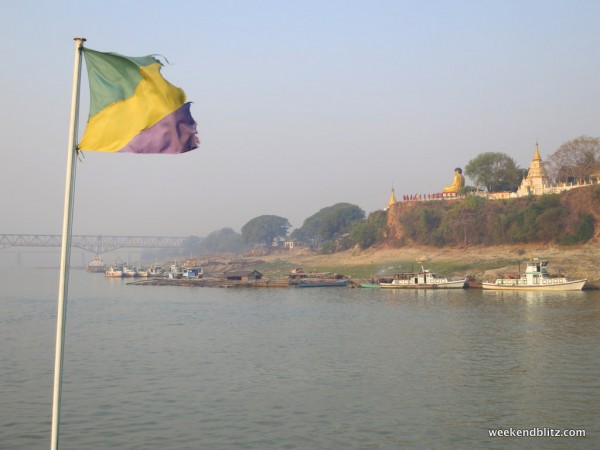 As we're zigzagging the Irrawaddy River, the wind is blowing as the heat creeps up on us. We pass many other tourist boats including a few that seem to be overnight boats with cabins that leisurely cruise the river for 2 days/1 night or 3 days/2 night.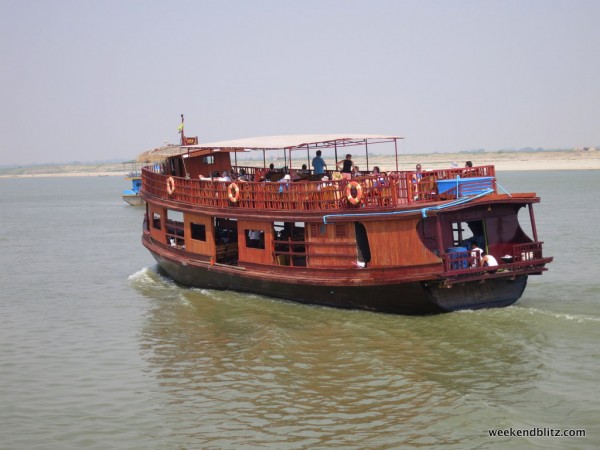 Here's a map of our route, proof that we were truly "zigzagging" this shallow waterway:
We also pass many little villages that seem to be very dependent on the river: lots of washing, bathing and fishing goes on on the banks of this river.
We stopped next to the Belmond station for a small crew change; one guy off and a new guy jumped on. We just nosed up to the banks as they ran up planks.
Despite being quoted at 10 hours in total, the journey wound up taking nearly 12 hours! We departed Mandalay at 6:45am and made it to the Bagan dock around 6:30pm. We averaged 10.2 mi/hour (16.4 km/hour) over a total of 119.67 miles (192.59 km):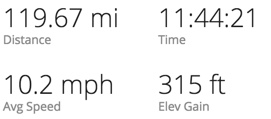 I actually don't think I can reasonably complain that the trip lasted a little longer than planned as we got to witness an amazing sunset that otherwise would have been missed: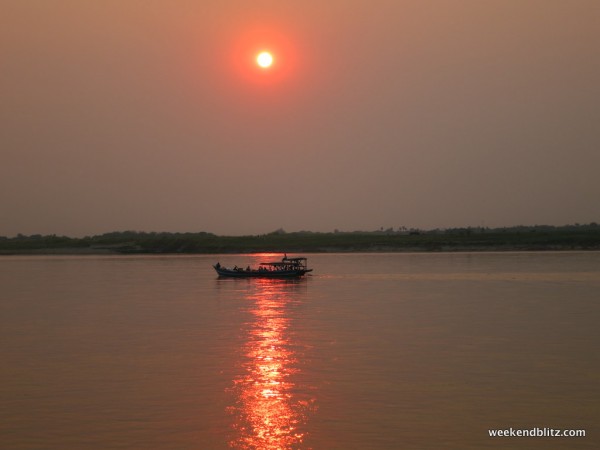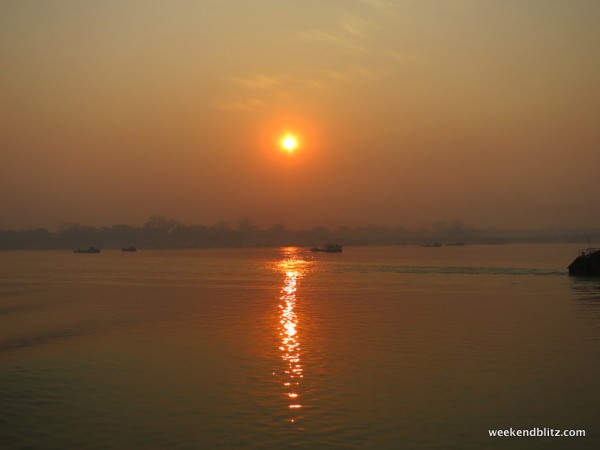 Around 6:30pm, with still a bit of daylight left, we arrived the Bagan/Nyaung-U dock. Be prepared to be literally bombarded by taxi drivers.
BOTTOM LINE: While it was more expensive and (marginally) longer than the train or bus, we highly recommend the ferry to Bagan. I wouldn't say there was 12 hours worth of sights to see along the river, but it was a great way to kick back, read a book and relax a bit.