Bangkok Airways Flight # PG 710 Mandalay-MDL to Bangkok-BKK
Bangkok Airways
Flight # PG 710
Mandalay-MDL to Bangkok-BKK
Dept: 2:15 pm Arr: 4:40 pm
Duration: 1 hr 55 min
Airbus A320
Having just landed from our connecting flight from Heho-HEH into Mandalay-MDL, we made our way to baggage claim which had a ton of carousels but was deserted for us.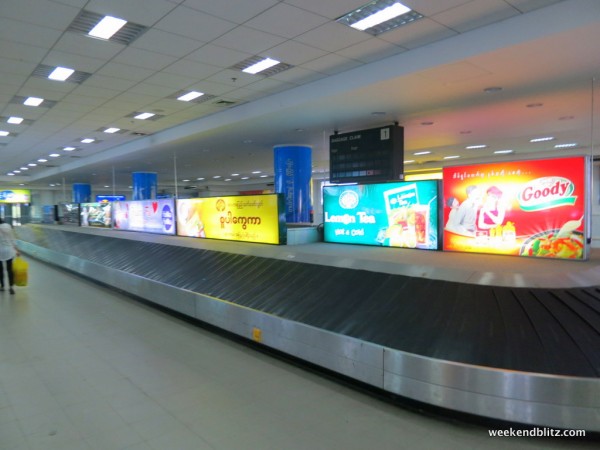 After grabbing our bags (from a domestic flight), we had to send everything through another security check… Mandalay airport is a bit bizarre in that you'll have to send your bags through no less than 4 security checks when connecting domestically: one in Heho to pass through security, one when we landed in Mandalay (this is the most unnecessary seeming), one to get through to the check-in aisles at MDL and one to gain access to the boarding gates prior to departing. These 4 security checks would typically be handled by 1 at any US airport, regardless of the connections. Either an extreme dedication to security or a way to keep lots of people employed…
We made it to Mandalay, with bags collected and into the main terminal by about 10 am with plenty of time to spare for our 2:15 pm flight to Bangkok. We had so much time to spare, in fact, that the check-in gate wasn't scheduled to open for another 2 hours, at 12 pm. But, be warned that check-in only lasts until 1:30 pm, so don't be late or you won't be flying!
We posted up at Cafe DeMandalar and ordered some lunch and coffee and spent the entire 2 hours trying to get online. While free WiFi was advertised everywhere in the cafe, the internet connection was so poor that we weren't able to send one single email. I like to continue to remind anyone considering visiting Myanmar to keep this in mind and just count on being disconnected for the whole trip.
CHECK-IN
After draining our phones and computers for no reason, the check-in area opened:
International departures only: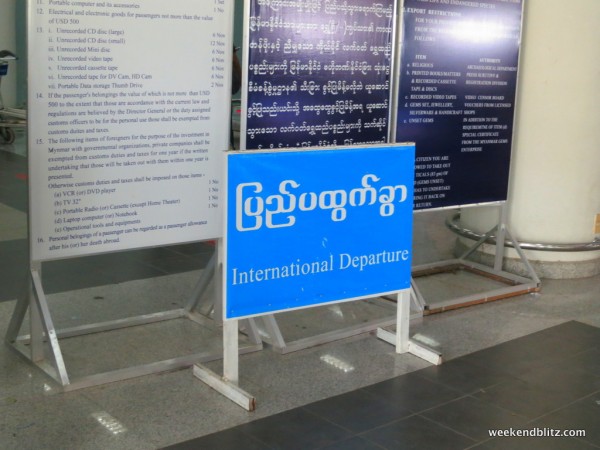 Quite the specific list of restricted items: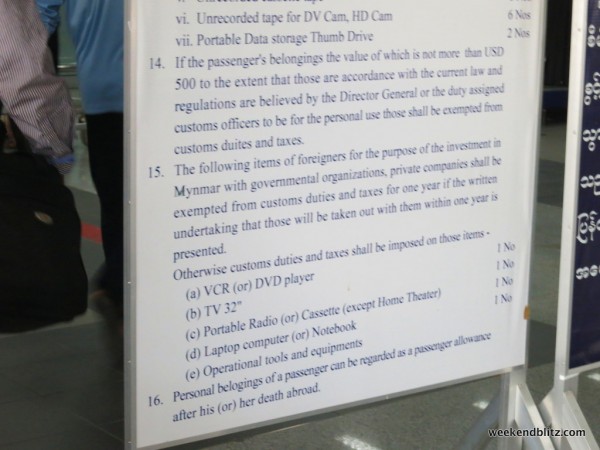 Once we made it past that line and security check, it turned into a game of hurry up and wait:
When we checked in, they stapled a coupon for Cafe DeMandalar for what I presumed to be entry to a departures lounge and then realized that it was a cafe (with the same name as the one before we went through security) and the coupon was for a free lunch–I guess this is what they mean when they say that lunch is provided on the plane?
LOUNGE
With our free food coupons in hand, it was time to scope out the cafe.
Our greeter outside the restaurant, she was smiling just for us: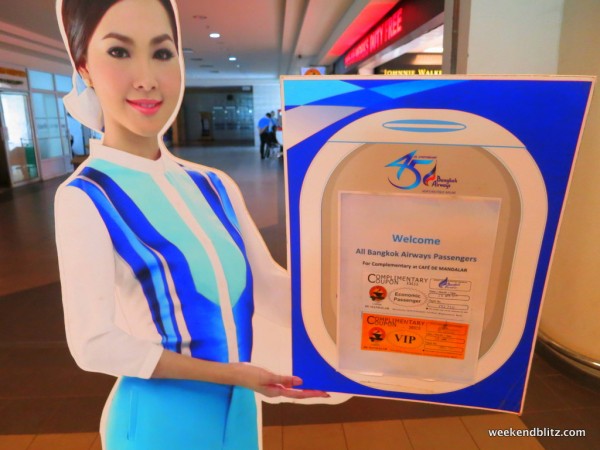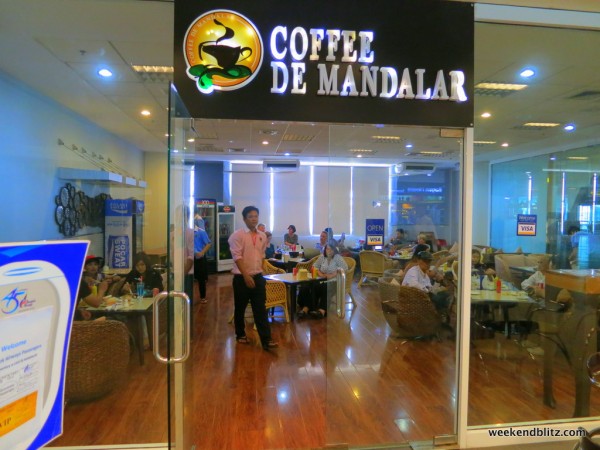 Once settled in, our server presented the menus:
And then the "VIP Set Menu," presumably for business class passengers:
The options were limited: either a tuna sandwich or a chicken burger. Both options were quite disgusting-seeming, but we each ate a few bites out of sheer hunger and, spoiler alert, I saw mine again on the plane.
We had better success with the coffees: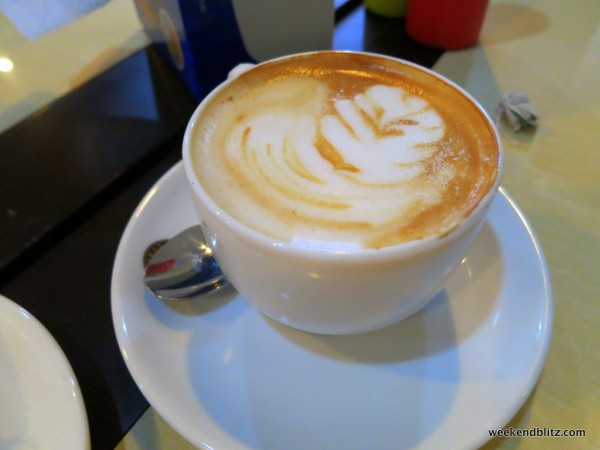 BOARDING
We left Cafe de Mandalar wishing that we hadn't wasted our time (on the food at least, the coffee was fine) to make our way to the gates.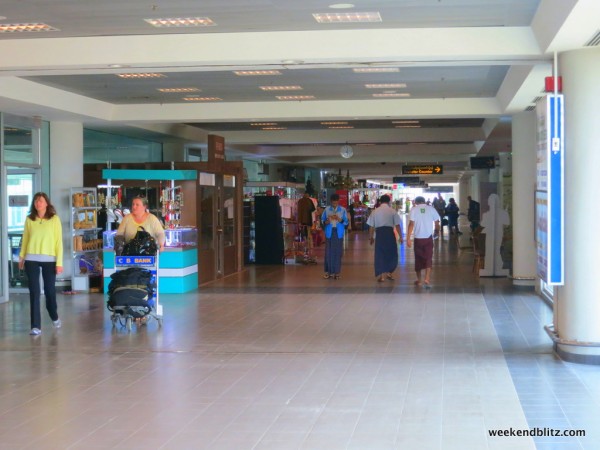 It wasn't long at the gate before a handwritten sign appeared announcing a delay from 2:15 pm to 2:50 pm.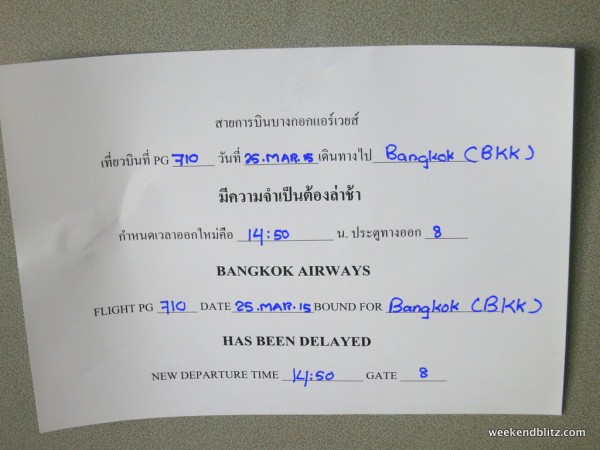 This was fine because it would give us some time to watch a few planes take-off and land.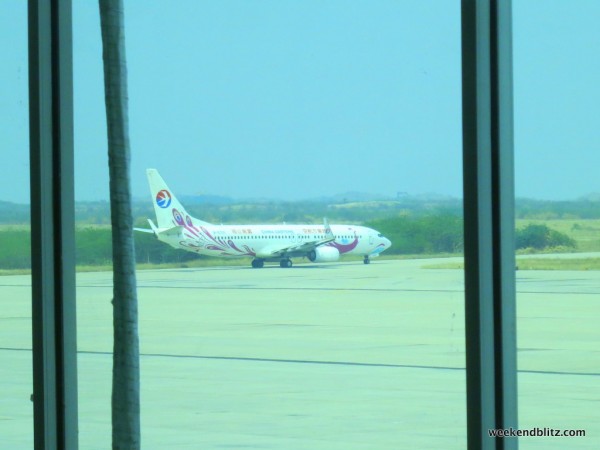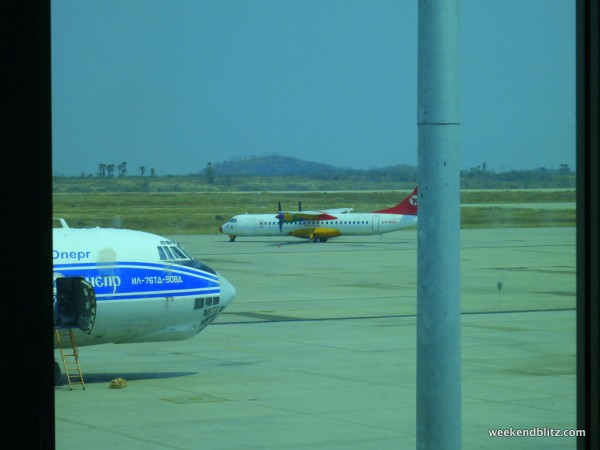 By far, the most interesting plane was the Russian freighter, a Volga-Dnepr Airlines Ilyushin Il-76TD-90VD:
Once boarding was announced, we made our way to the plane: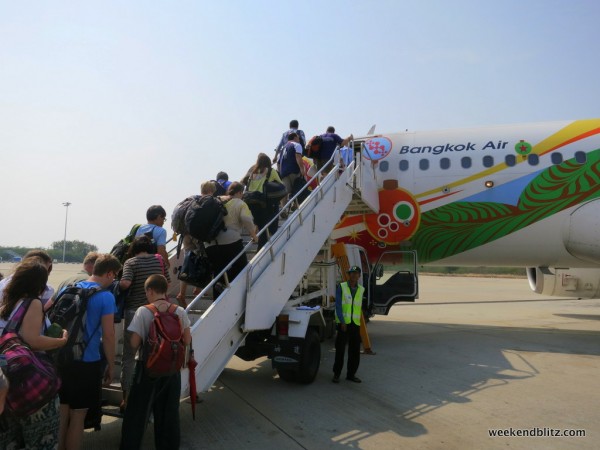 Quite a bright and colorful livery!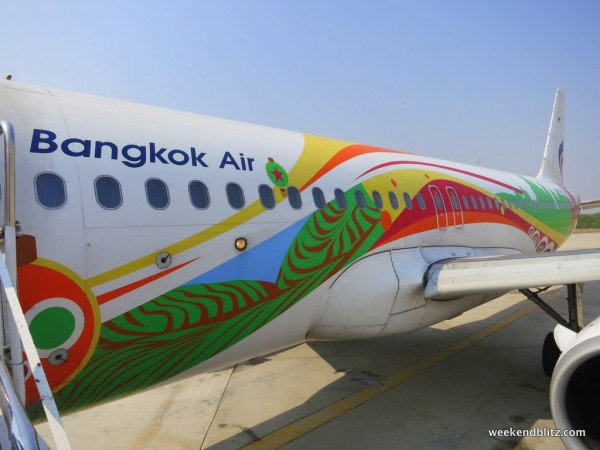 FLIGHT
We quickly found our seats, 16E and 16F, and settled in for the ~2-hour flight.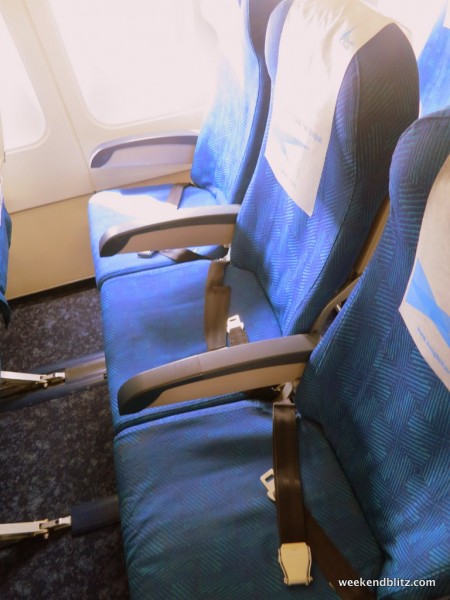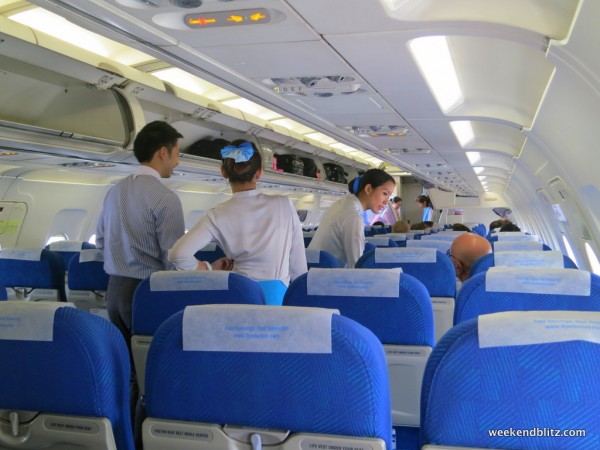 The flight was underway before long.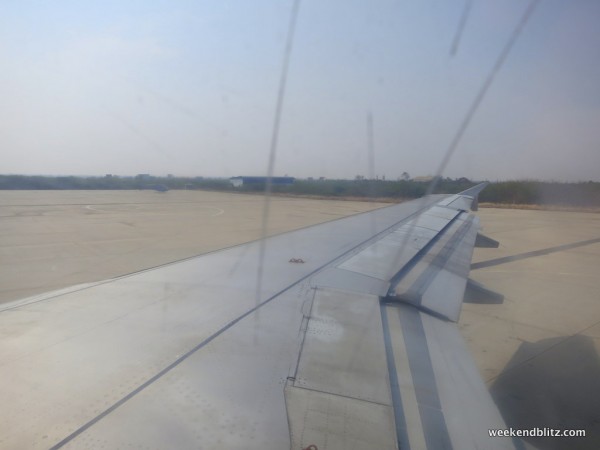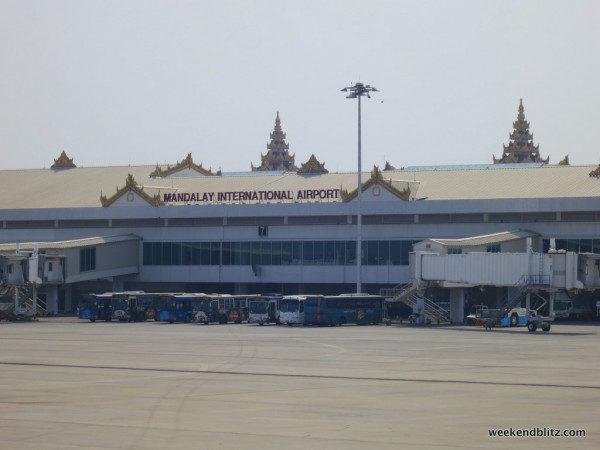 Take off:
Here's a quick shot of Bangkok Airway's 31 aircraft fleet, serving 30 destinations in Thailand, Bangladesh, Cambodia, China, Hong Kong, Laos, Maldives, Burma, India and Singapore.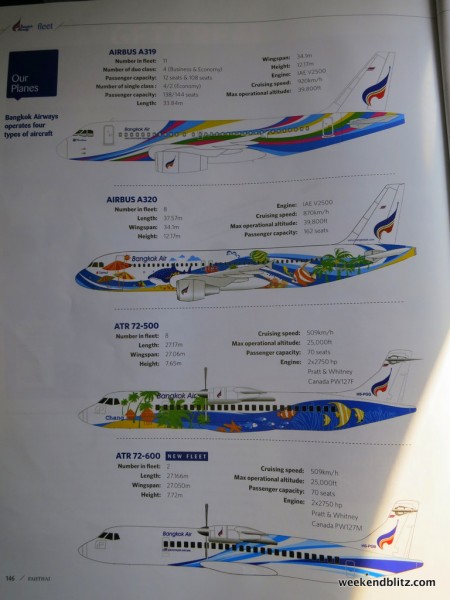 And their route map: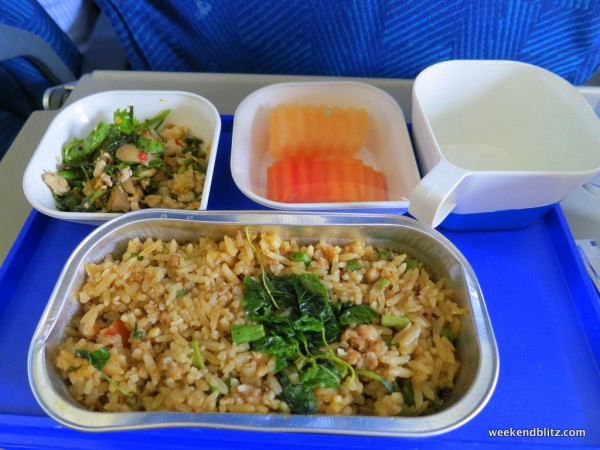 After a quick and uneventful flight, it was time for landing at Bangkok's Suvarnabhumi Airport.
Quick note from McCown: The flight was anything but "uneventful"… Jeffrey used his throw-up bag not once but twice on our short flight and barely had the energy to deplane. I thought he might not even make it past the Ebola fever-scanners at Bangkok's airport. It seems like the sickening amount of mayo they put on the chicken sandwich at Cafe de Mandalar really got the best of Jeffrey and made for quite the descent into Bangkok. This was, in fact, the most eventful airplane ride I've ever been a part of…
We made it to Bangkok less than an hour late and it was off to the city!
BOTTOM LINE: We were pleased with the service and comfort of Bangkok Airways. For just $125 each, we were able to fly from Myanmar to Bangkok, which included a hot meal on the ground in Mandalay, a meal in-flight and free checked baggage!