Top 8 Things to Do in Bangkok
Did you know…? "Bangkok" is just the short version because the city's ceremonial name is "Krung Thep Mahanakhon Amon Rattanakosin Mahinthara Yuthaya Mahadilok Phop Noppharat Ratchathani Burirom Udomratchaniwet Mahasathan Amon Piman Awatan Sathit Sakkathattiya Witsanukam Prasit" – a mouth-full, for sure.
There's about as much to do in Thailand's capital city as there are names for it… but, after spending some time in the city (and then determining that it's one of our top favorite cities in the world), we've come up with a list of our top 8 things to do in Bangkok.
So, without further ado…(and in no particular order):
1) Take a tuk tuk ride AND a taxi ride to anywhere in the city (but just make sure it's in the day time).
Public transportation is an experience in and of itself in this bustling city. We felt safe but quite uneasy during our tuk tuk and taxi rides… But haven't stopped talking about them since. Tuk tuks are a popular MOT in Bangkok:  small, three wheeled "vehicles" that are more or less mopeds with a few extra seats. These open-aired vehicles are a quick and easy way to get from one place to another, but just be VERY forewarned that the place you're going…may not be the place you requested. Same goes with the taxis. It sems these tuk tuk and taxi drivers all have a mind of their own and are just determined to take you where they think you should go…and definitely not anywhere close to where you say you want to go.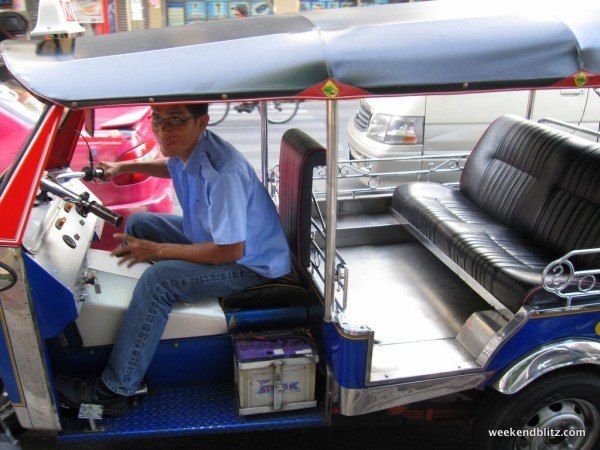 Our experience: we took a short tuk tuk ride and were very firm with the driver that we wanted to go to ONE particular place. He took us there with a bit of hesitation and disappointment that we didn't want to go where he wanted us to go.
We had to climb out of taxi that was way too intent to take us to Point B when we requested (and then demanded) Point A.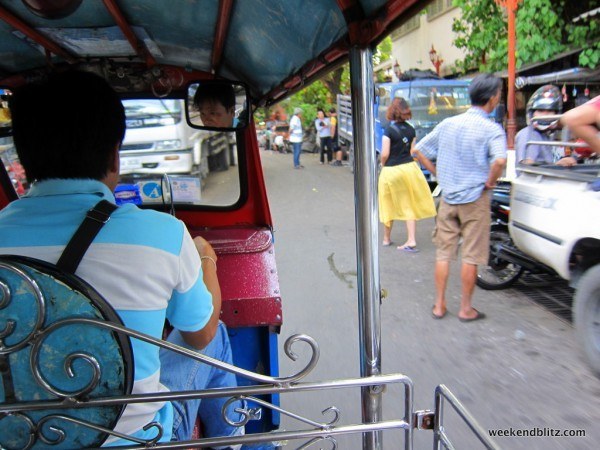 2) Grand Palace and Reclining Buddha (Wat Pho)
Splendor and riches. Need I say more? The jewels that adorn the outside of these buildings will make your jaw drop… and will make your friends back home jealous of your awesome #travel Instagrams. Dont. miss. this. stop. All the kings of Thailand have lived here since 1782 and wouldn't you if you were king of Thailand? Heck yes. Check out these grounds and don't miss any little detail. My favorite are the little statues (monsters?!) helping to "hold up" the temple. Like any other temple, women aren't allowed inside without a long skirt, but they sell cheap wraps right outside the palace grounds. So cheap (~$2) that, even though I was wearing pants, I bought a cute one to take home as a bathing suit cover up.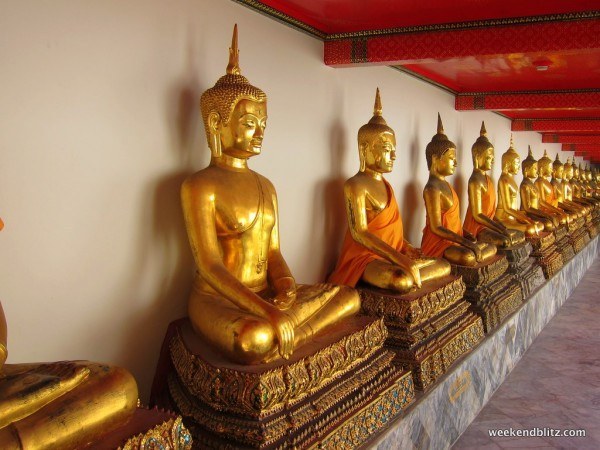 From the Grand Palace, walk up to the nearby Reclining Buddha (Wat Pho), politely avoiding eye contact with tuk tuk drivers and (probably) well-meaning guides trying to (inevitably) screw you out of some bahts. It's a very short walk. The reclining buddha is popular because of its sheer size:  160 feet! I mean, Yikes. This thing is huge. You can't get the entire statue in one camera shot.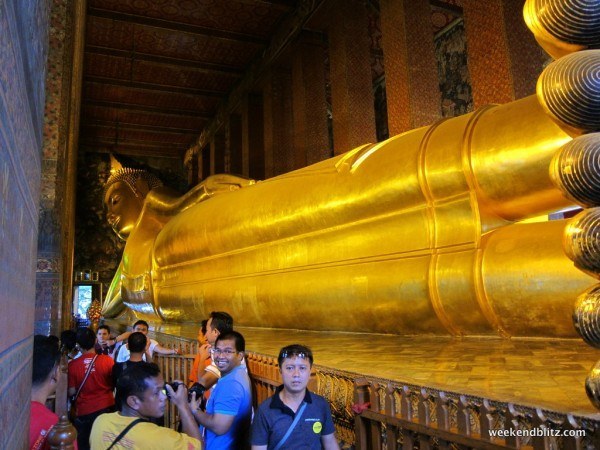 3) Street food on Sukhumvit Rd.
Jeffrey and I are still talking about Bangkok's street food. Think of the very best authentic ethnic food you've ever had. Multiply by 100. Then add in the fact that it costs less than $3. The options include rice dishes, pad thai, etc. etc. etc. AND fresh fruit. So many delicious, delicious options and all at the very cheapest price. We boycotted all street foods for our first few days in Bangkok (worrying about sanitation) and then, when we were especially hungry, Jeff took a chance on some fresh mango. From there, we didn't care if we caught scurvy or what-have-you, nothing was getting in the way of our eating all the street food we could find.
4) Soi Cowboy with all the Ladyboys
Ready for perhaps the most unforgettable night of your time in Bangkok? Head to Soi Cowboy, also made famous by Hangover 2. This is where the action happens and where the term 'ladyboys' come from. In this red-light district of Bangkok, walk but don't touch. Surely the diseases passed around these parts would make even the halls of ___ jealous. Catering mostly to tourists and expatriots, you can find just about anything you're looking for around here… that is, if what you're looking for happens to be a boy pretending to be a girl (for hire). Our experience:  we sat down at a table on the street and did some people watching. And, the highlight of our activity was watching an American man flirt with and then leave with a Ladyboy. Bet he regretted that decision in the morning?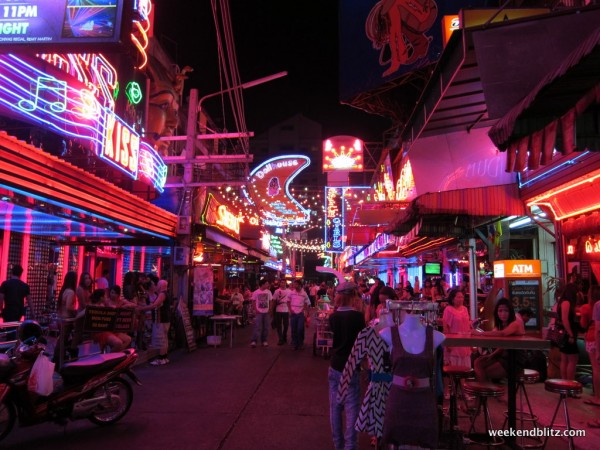 5) Eat in an alley way with the locals
This may sound a little sketchy but, if you're hungry and you see an alleyway, dart in! There's no better food in Bangkok than the street food that locals make for other locals. If you can find a residential alleyway that smells like food is cooking, head towards the smell, then politely ask if you can join (gesturing is fine because there's usually a big language barrier). They'll happily show you to a stool and will serve you the best meal of your life and then ask you for about $1. Win-Win.
6) Splurge on a sunset drink at the Sky Bar (the world's highest open air bar!)
Ok, so, forget everything you've ever heard about Bangkok being relatively cheap to visit. Now, head directly to Sky Bar, made famous in the Hangover 2 movie. It's the world's highest open air bar but also (arguably) Bangkok's most expensive cocktail. Once you get over the fact that you're paying for the view, the price of the drinks get much more bearable. This is a can't-miss opportunity because the skyline is something you'll never forget.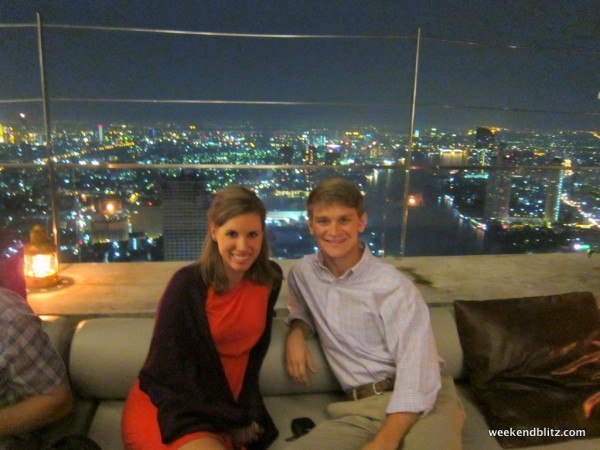 Our experience: When we asked our waiter to take our photo, he led us all along the restaurant/bar for a legit photoshoot. These Thai people sure aim to please and I could get used to this caliber of service.
Hint, if you're looking for a cheaper place to view the sunset while relaxing over a drink, try the River View Guest House. While it won't excel you high into the skyline of Bangkok, it's a fraction of the price and a much more casual atmosphere.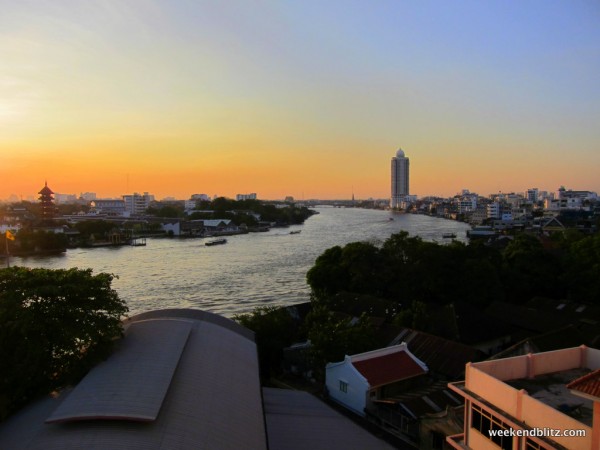 7) Climb to the top of Wat Arun
Bangkok is chock-full of temples. It seems that everywhere you turn you run into some sort of temple. Although admittedly hard to choose, our ultimate favorite temple is Wat Arun. First off, you'll have to take a ferry across the ___(river) to get to it. The ferry is fun by itself. But, then, you'll land on the other side of the 10 minute journey across the water and find yourself at a huge and very tall temple with an unusual shape and intriguing decoration. Spend some time exploring each level and take note: the very top level has the steepest stairs you'll ever be faced with climbing.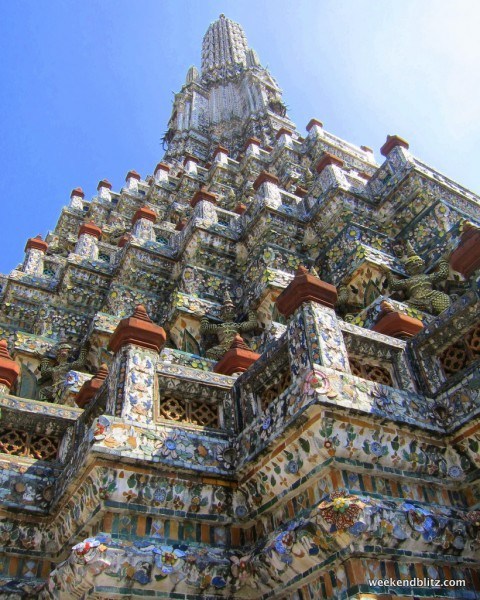 Loser Alert:  Although Jeffrey made it to the very top of the temple, I chickened out and couldn't bring myself to climb those last very-very steep stairs. I've regretted it ever since…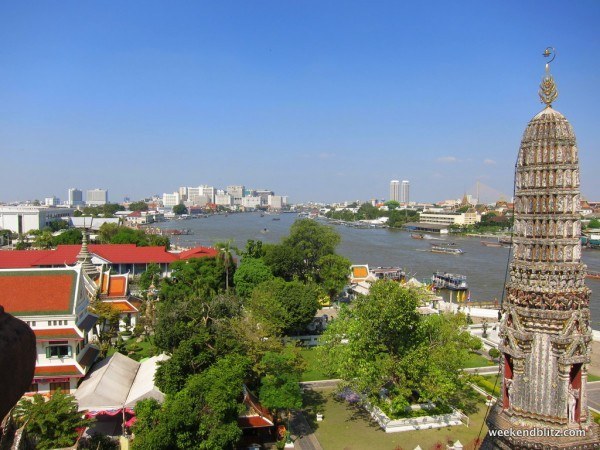 8) Chinatown
Haven't been to China? Neither have I (because I don't think Hong Kong really counts as mainland China). If you find yourself in Bangkok before you've had the opportunity to explore China, I imagine this is what it really feels like. Chinatown here is huge and much more of a cultural experience than Chinatown in New York (duh?) or Singapore. This place is awesome. Goods of all kinds are pedaled on the sidewalk and open air markets are found (and smelled) around every turn. In the rest of Bangkok, there are not nearly the sheer amount of people sharing the sidewalk with you — it truly is a unique experience in the city. And, the Chinese architecture, especially the gates, are worth seeing just on their own. Get lost in some alleyways. It may look a little daunting but it sure is fun.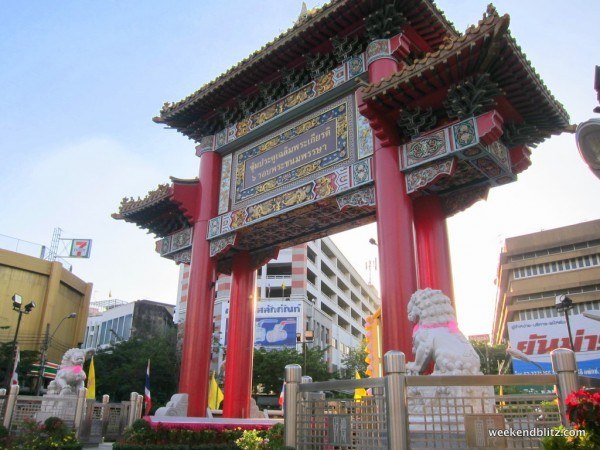 So, there you have it. Eight things to do in Bangkok. Whatever it is you decide to do, we think this will be one of your favorite cities to explore.