Thai Airways B772 Royal Silk Class – TG 431 Bangkok-BKK to Denpasar, Bali-DPS
Fresh off of multiple amazing flights (Lufthansa Boeing 747 First Class and Thai Airways A380 Royal First Class), numerous world class lounge experiences (Lufthansa First Class Lounge – New York and Lufthansa First Class Lounge – Frankfurt) and, most recently, a full spa and massage experience at the Bangkok lounge (Thai Airways Royal First Lounge and Royal Orchid Spa – Bangkok), we had been traveling for about 54 hours so far and were getting ready to reach our (first) final destination of Bali, Indonesia. That being said, we weren't entirely "over it" by this point, but getting pretty close, so, when the time came to board, we were more than ready to embark on our final flight to become one step closer to a normal bed and hot shower (not that we didn't enjoy plenty of hot showers in the lounges).
OVERVIEW
We booked this flight about 6 months before our departure date as part of our multi-country award ticket with United Airlines MileagePlus miles (more on our booking can be found here: Award-Booking Honeymoon trip with United miles…All in First Class).
By using United award miles, we were able to take advantage of its routing rules to have 1 free stopover, 1 free open-jaw and 2 long connections that allowed us enough time to explore the city (aka 2 more free stopovers).  It looked like this:
Depart New York-JFK on Lufthansa to Frankfurt-FRA. We arrived in Frankfurt, Germany and had an appx 23 hours layover; this allowed us to stay the night without it counting as a stopover.
Next flight was Frankfurt-FRA to Bangkok-BKK –> Denpasar-DPS (Bali). This was the beginning of our open-jaw.
After about a week in Bali, we purchased a cheap ticket on Air Asia from Denpasar-DPS to Jakarta-CGK and explored the Indonesian capital for 2 nights.
From Jakarta-CGK, we flew to Male-MLE in the Maldives via Singapore-SIN. The flight out of Jakarta concluded our open-jaw segment and we purposely picked an 8+ hour layover in Singapore which allowed enough time to explore the city for a few hours.
With the Maldives counting as our stopover, we stayed for a little less than a week and then began the trek home flying from Male-MLE –> Singapore-SIN –> Tokyo-NRT –> Newark-EWR. This concluded our United award ticket.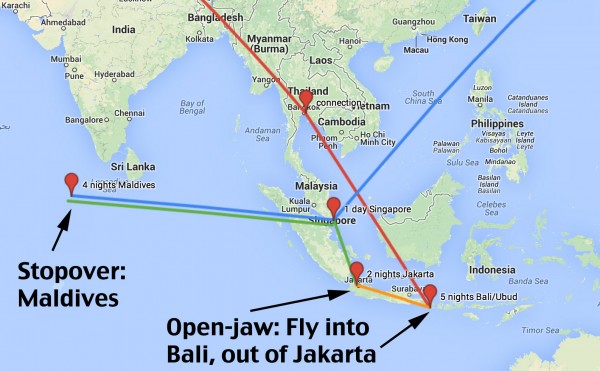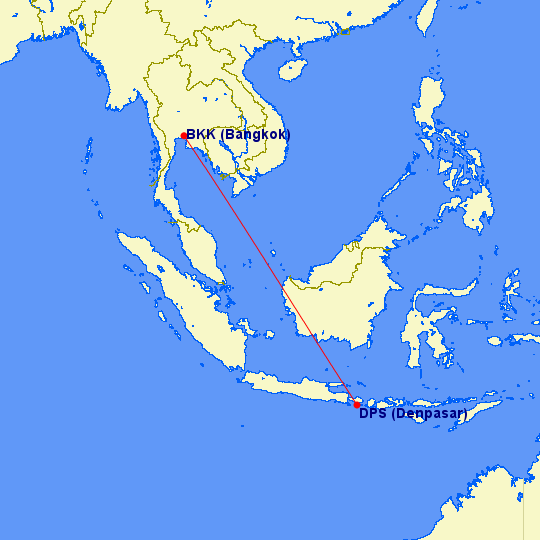 Airline: Thai Airways
Flight # TG 431 (THA431)
Aircraft: Boeing 777-200 (B777-200, B772)
Depart: Bangkok-BKK Suvarnabhumi Airport
Arrive: Denpasar-DPS, Indonesia Ngurah Rai International Airport
Cabin: Royal Silk Business Class
Seats: 12K, 12J
Distance: 1,832 miles (2,948 km)
Scheduled time: 4 hours 25 minutes
BOARDING
After enjoying hot oil massages in the Thai Airways Royal Orchid Spa, we were running rather tight on time for our 8:50am departure. I wrapped up a few minutes before McCown and had gathered our things and stood outside pacing back and forth for her to hurry up and meet me outside. We made it over to our gate, D1A, at about 8:30am, just moments before the final call and the closing of the boarding door: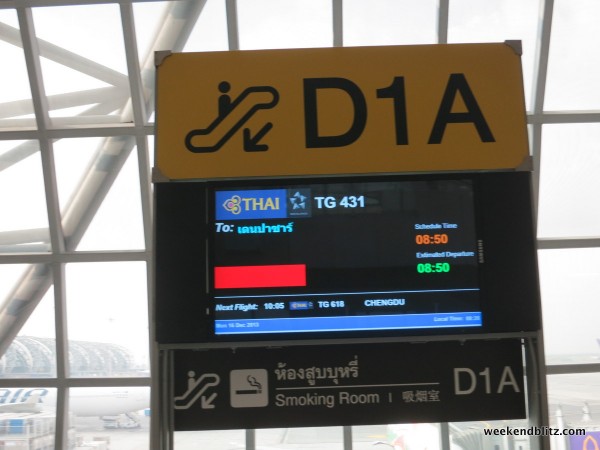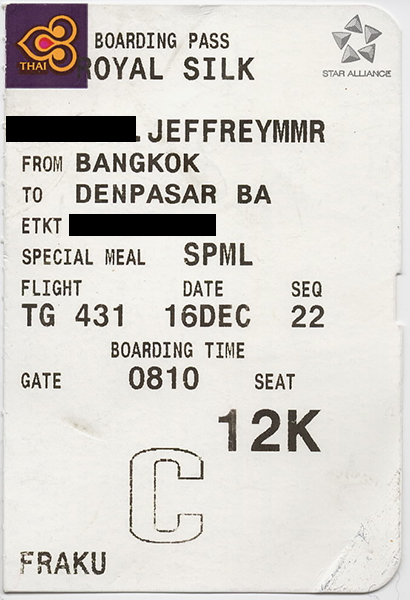 We scurried out to the bus that would take us to the plane after a decent little hike (maybe as much as 10 minutes? But who knows, we were both entirely dazed by this point):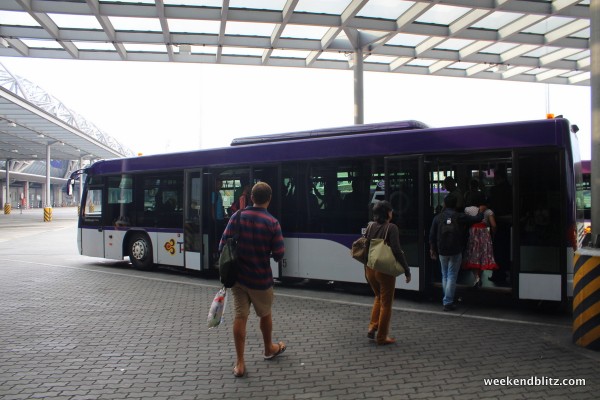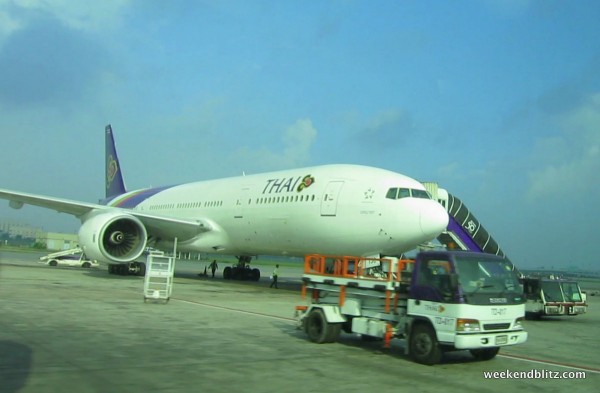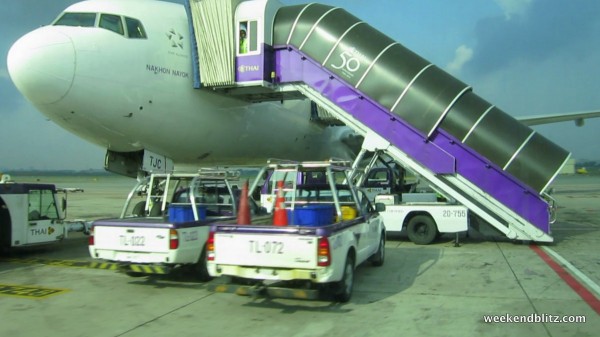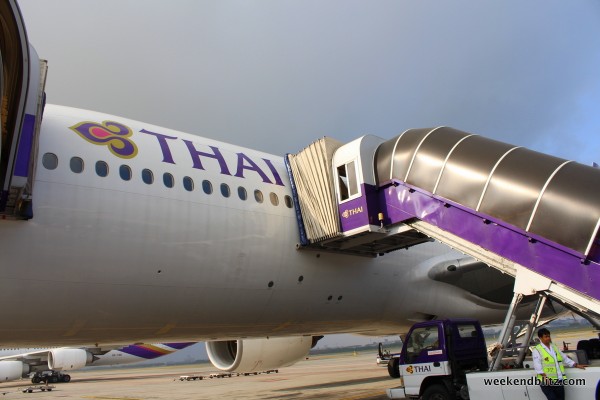 Despite being a far-from-full flight, the ground crew had 2 mobile boarding ramps deployed and ready for us.
We made it onto the plane and into our seats on the Boeing 777-200 Royal Silk cabin, 12K and 12J.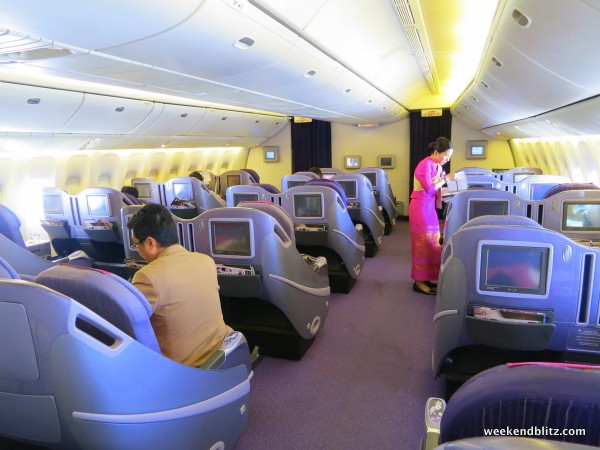 THE SEAT
The 30 passenger cabin was probably only around 30-40% full when the boarding door closed (just about as soon as the late bus, including us, boarded).
We had angled lie flat seats which turned out to be a little worn but still in good shape.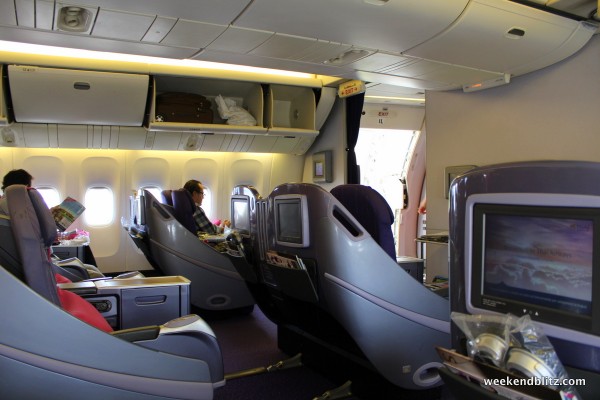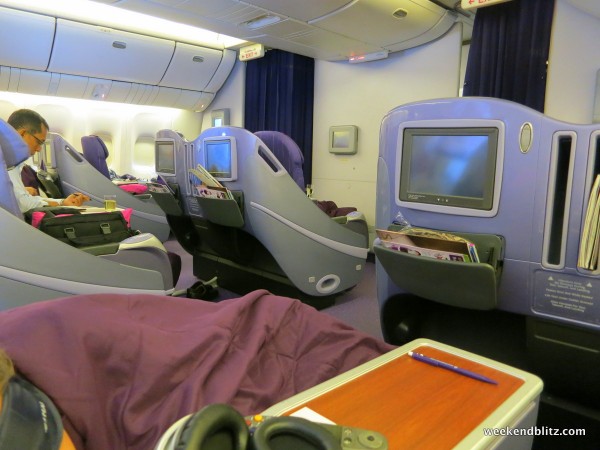 You might call me crazy or extremely spoiled by this point, but having just come off of Lufthansa First on a B747 and Thai Airways Royal First on an A380, the seats in this business class Thai Airways B777 cabin seemed rather narrow and much less comfortable: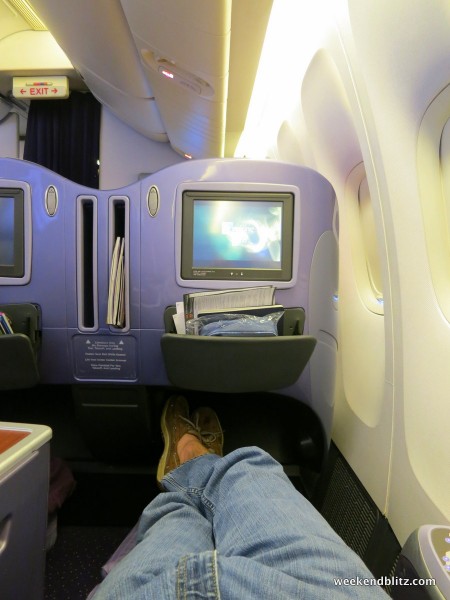 IN-FLIGHT ENTERTAINMENT
The audio-video units were probably around 10-12″ and controlled by a remote at the seat. The interface and media selection was virtually identical to that of the A380 flight. This included the awesome selection of programs! The entertainment selection –movies but especially the TV shows– were great. They had entire seasons of many popular shows: Mad Men, Breaking Bad, etc…
The controls were great; the handset remote was very easy to use and the screens were easy to navigate.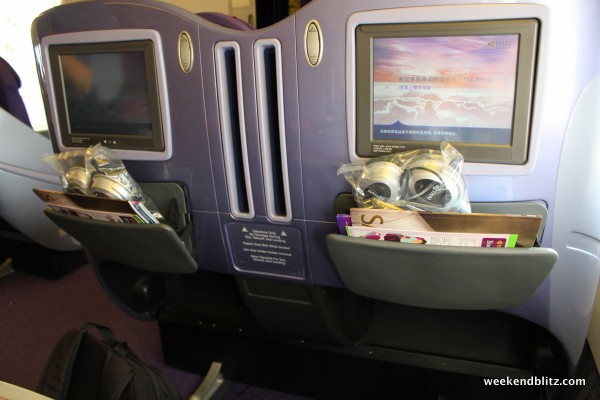 MEAL SERVICE
A few minutes after getting airborne, a flight attendant came over to confirm my "Personal Meal," the beef curry which I had ordered using the website in advance of the flight. I figured that it had been about 2 years since our last venture to Thailand and I didn't know when I'd be back so I wanted to get the most authentic Thai curry I possibly could (even if it was just airplane curry) during our short 3 hours in Bangkok.
After a few minutes, the cart came around with cashews and aperitifs: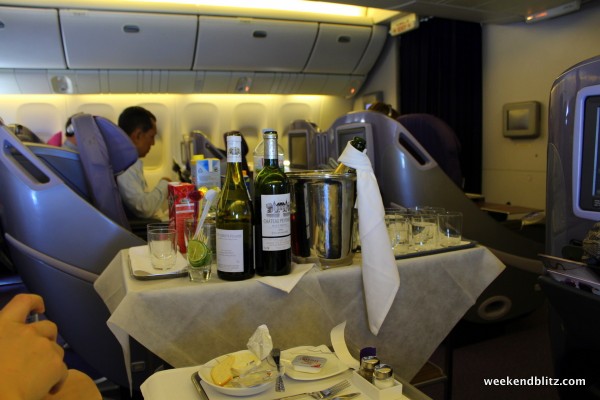 For the first course, we had Thai shrimp and scallops with a tomato and mozzarella salad.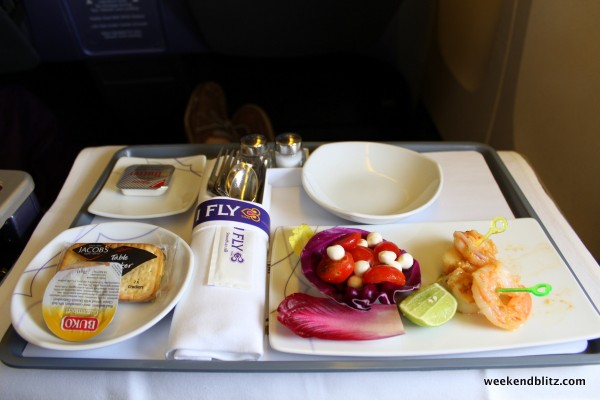 I ended up with a green beef curry with white rice and egg noodles, just to make sure I wasn't lacking in starches.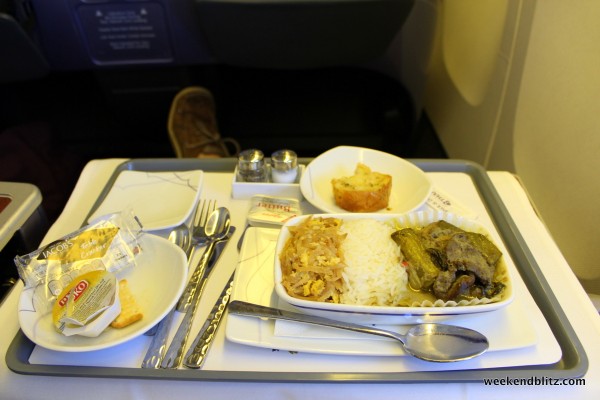 McCown ordered the Panang Chicken served with white rice. We'd have to say this was the winner of the 2; again, McCown out ordered me by just choosing from the regular catering menu and not ordering ahead. This red curry dish was much spicier than the green beef curry.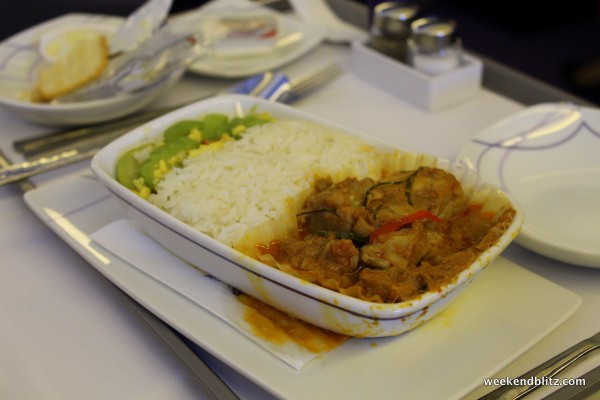 It would have been a shame not to pair this meal with a Thai beer: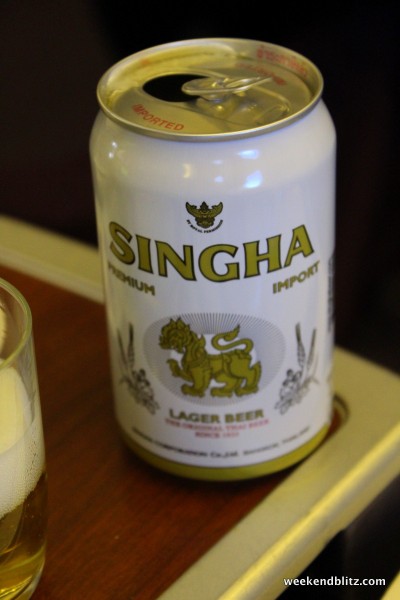 Rounding up the meal service on our 4.5 hour flight was a dessert of Strawberry, Vanilla and Chocolate mousse: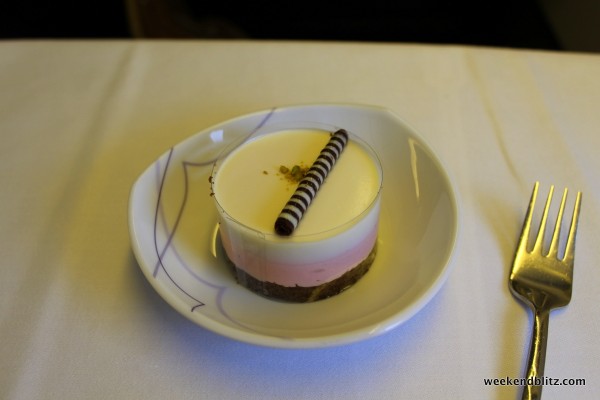 SERVICE
Again, we were absolutely spoiled over the past 2 days leading up to this flight but the service, as is usually the case with Thai Airways premium cabins, was perfect. Since our destination was the vacation destination of Bali, there was a pretty equal mix of vacationers, business travelers and families traveling on our flight. I think this relaxed tone of the passengers was noticeable among the airline staff as well. The flight attendants were attentive and professional but also relaxed and friendly. Either way, with a rather empty cabin, they were able to complete the meal service without too much effort and retreated to the galley as we tried to get a few hours of rest.
We experienced some great views as we departed Bangkok and approached Bali: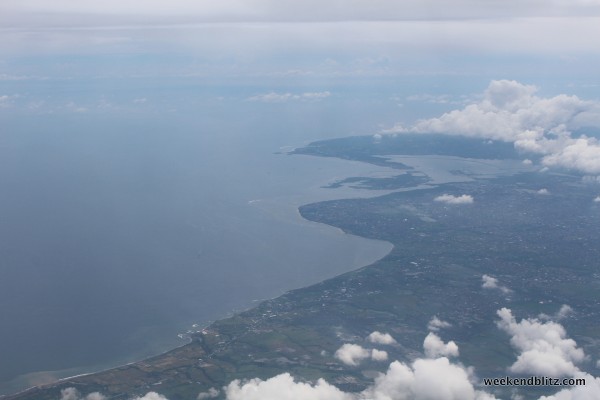 We had an on-time landing and taxied to the terminal: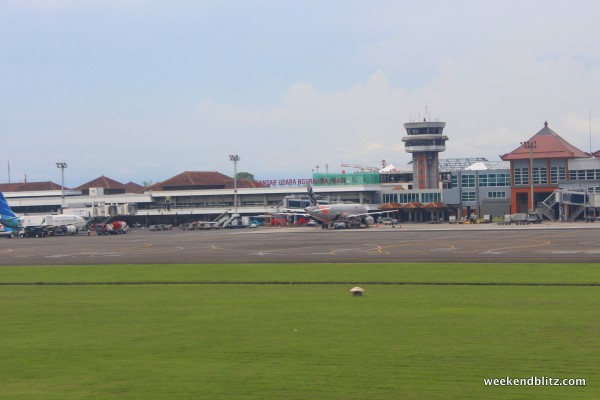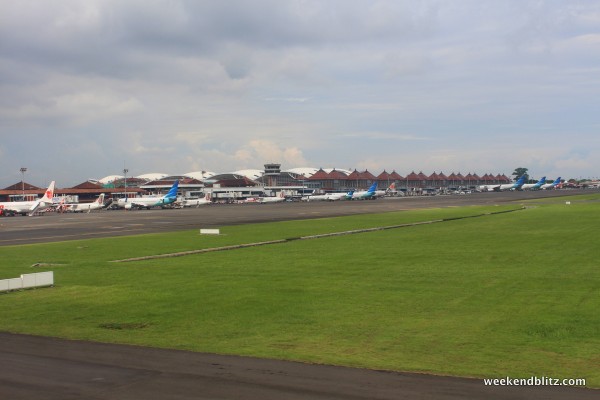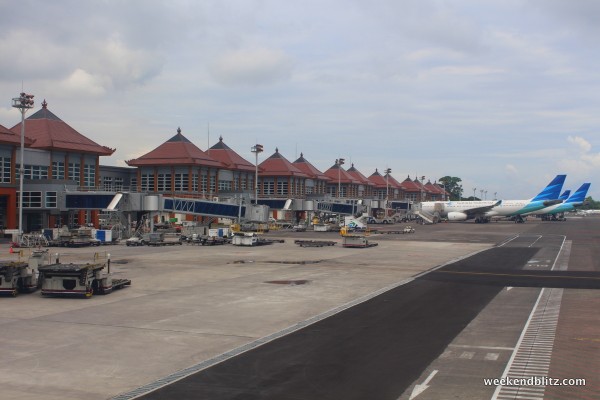 We decided to arrange a visa expeditor service through our hotel, the W Retreat & Spa, for an additional $30 US per person. We had a good experience with the service, although the terminal didn't seem that busy and many of the people that were on our flight who did the normal visa process were waiting beside us at baggage claim so it didn't really save us that much time.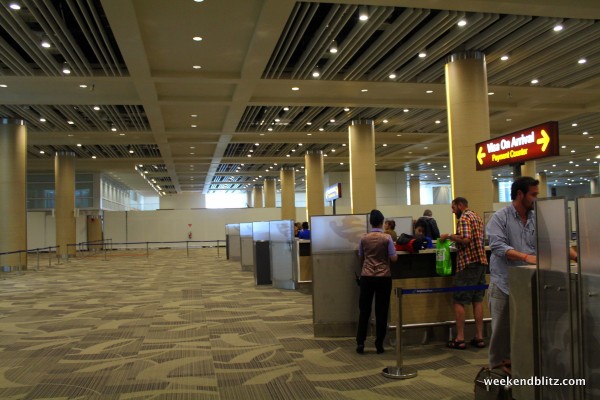 The terminal looked brand new and was in great shape: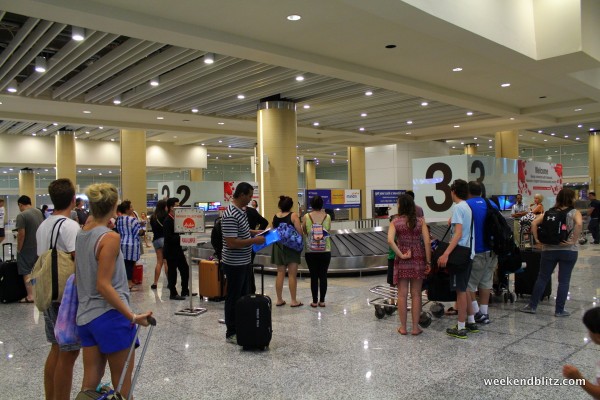 The VIP Immigration Clearance agent pushed our bags on a cart straight out to the hotel car that was waiting for us in the pickup area. All in all, this was a very painless process.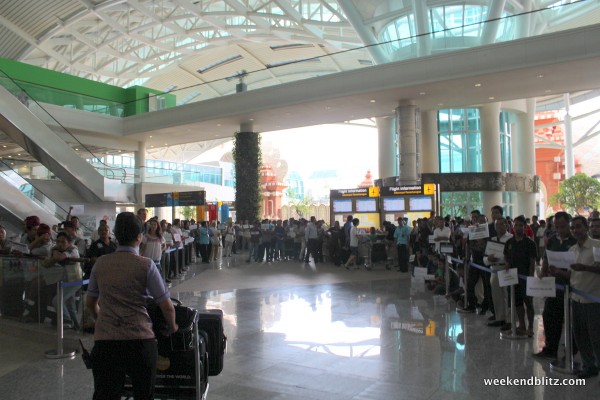 BOTTOM LINE: Whether international long haul in Thai Royal First or flying Royal Silk Business Class on a much shorter flight, Thai Airways maintains a great standard in service, meal quality and entertainment on all of their flights.