Keraton at The Plaza, Jakarta – Hotel Review – Jakarta, Indonesia
Our impression of the Keraton started long before we stepped foot in the hotel. Admittedly a bit wary about spending the next few days in Jakarta (thanks to our friendly hotel owner in Bali!), I was a bit on edge as we arrived at the airport — where we were the only tourists around. My thoughts of dread quickly turned around, though, when we were met with a hotel representative at baggage claim with our name and the Keraton logo on an iPad. He grabbed our luggage and escorted us out of the airport.
We came upon a huge fleet of Mercedes Kompressors and we jumped in one with chilled towels (with the Keraton logo) and a small snack waiting on us in the backseat. It was my fanciest exit from an airport to date.
Map: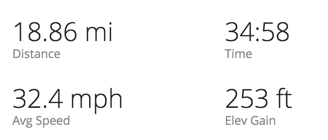 It was the first time we'd traveled by car at more than 30 mph that week (island time in Bali), so a "50 minute" ride to the hotel turned out to be more like 35 minutes. Of course, by that time, we'd grown used to the cars being checked thoroughly by security before driving onto the hotel grounds (still a little disturbing), but, once finished, we were driven up to the small hotel lobby. The check-in and concierge area was small but very nice, modern and clean.
The agent checked us in efficiently and accompanied us to our room. On our way up, she asked if we wanted the points amenity or breakfast. But, since the breakfast was for just one person, we opted for the 500 points.
Room
Our room (we were upgraded to a Junior Suite Executive, which is now called the Executive Room after some rebranding…) was very sleek, very large and very elegant — everything a business traveler from any part of the world would love.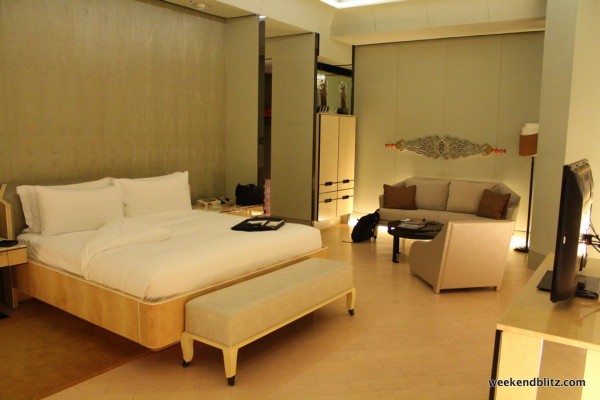 It was definitely a business traveler's hotel (not exactly homey; more like a penthouse NYC condo) and we were probably the very first honeymoon couple they'd ever seen, but we were more than happy with the decor and size. Jeffrey still talks about the room as his favorite hotel room ever, so that's kind of a big deal.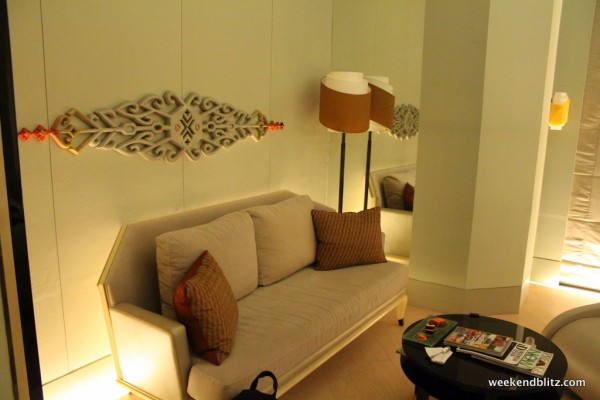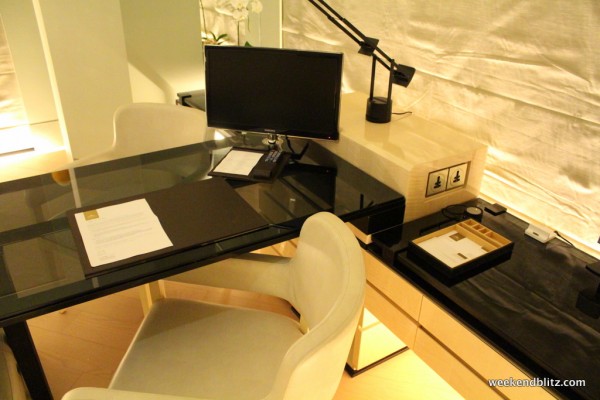 The ceilings were gigantic – probably 10-12 feet tall and the floor-to-ceiling windows (in a corner room) overlooking the city were the highlight of the room.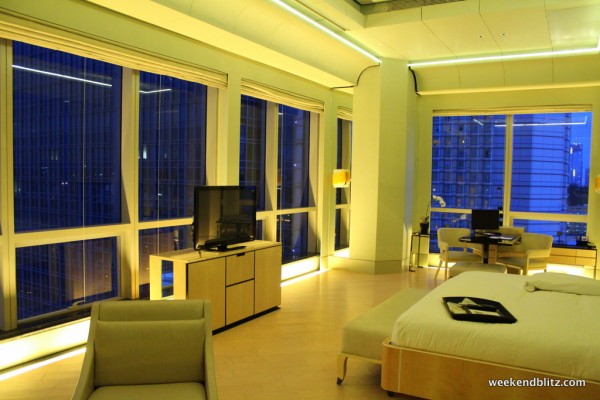 Well, I should say they were the highlight of the room for me. Jeffrey's highlight was the personalized stationery that he found waiting for him on the desk — yes, Jeffrey's name was printed on hotel stationery (letterhead, envelopes, and business cards). He was so impressed with himself that he even sent a letter home to his parents.
The bathroom area was quite nice, too, with plenty of room and a huge, rainfall shower, which is always a plus.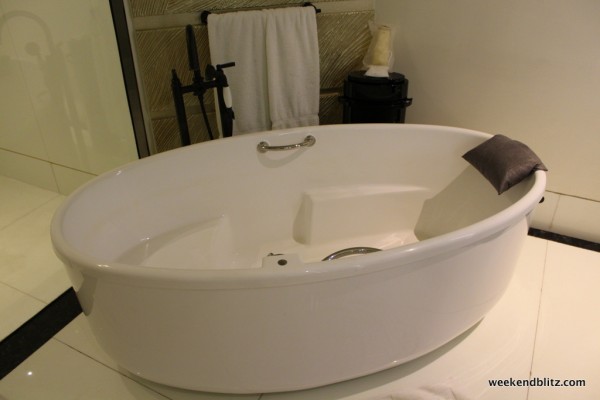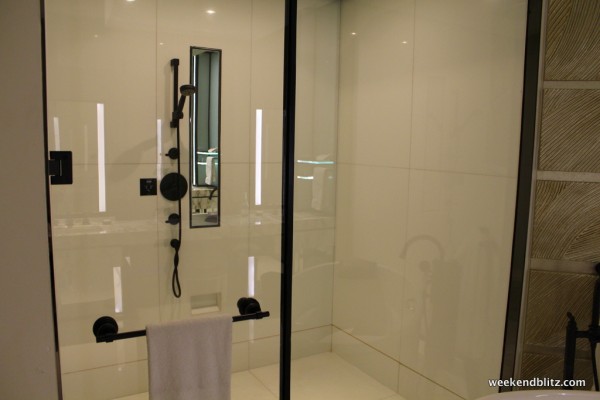 Similar to the St. Regis hotels, we were assigned a butler who will pack/unpack luggage and press up to two items daily.
The hotel's location along Jakarta's popular Jalan Thamrin street couldn't have been better – we were connected to Plaza Indonesia, a huge, luxury shopping mall (lots of Louis Vuitton, Gucci, etc.). The area is probably the most luxurious in the city and also a great jumping off point to explore other areas (we walked all over!). There are plenty of Starbucks just steps from the hotel, which is always a sign that you are in a very Western area, whether that's a good or bad thing…
Restaurant
Another cool aspect of the hotel is their lounge and full-service restaurant, Bengawan. With all the executive rooms, you get complimentary tea, coffee and soft drinks in your room.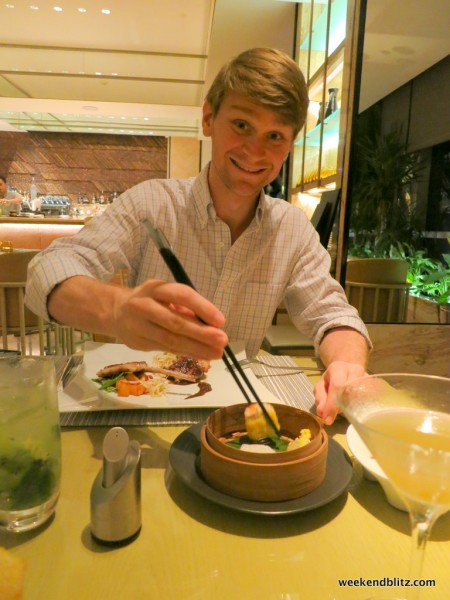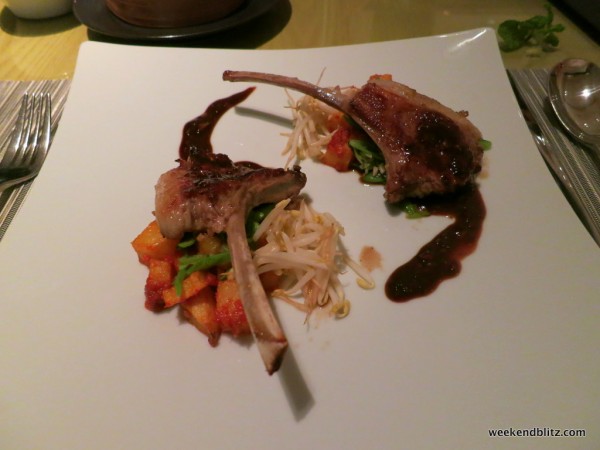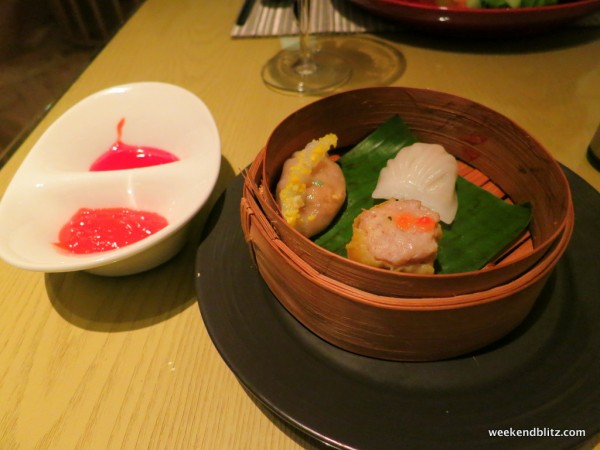 But, you also get complimentary evening drinks (5 hours of happy hour!) and an a la carte menu in their restaurant. We had dim sum, iga kambing bakar and nasi goreng. The food is delicious and it's a great way to try new dishes. And, talk about a good deal!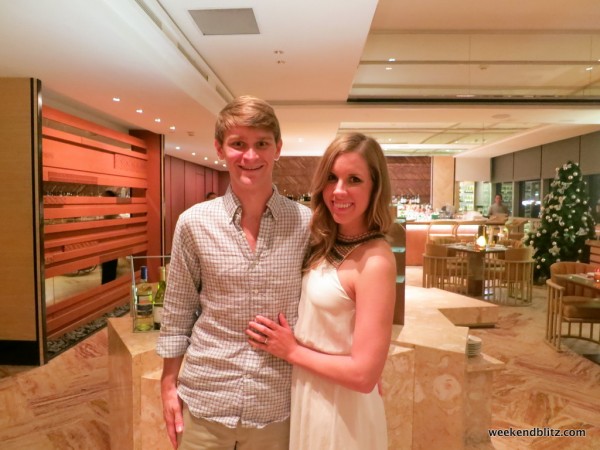 BOTTOM LINE: All in all, we loved our time at the Keraton at the Plaza and would definitely recommend it to anyone planning a stay in Jakarta. It's ultra fancy with all the special touches (even personalized stationery!) and a fantastic view from the huge windows.