W Retreat & Spa Bali Seminyak – Bali, Indonesia – Hotel Review Part 1
Stop One on our honeymoon was Bali, Indonesia and stop one of our Bali trip was a few days' stay at the W Retreat & Spa Bali Seminyak. Prior to our arrival, we had flown from Charleston – NYC, NYC – Frankfurt, Germany, Frankfurt-Bangkok, then finally Bangkok-Denpasar, Bali — arriving in Bali two days after departure. Tired doesn't even begin to describe us.
But, upon arrival at the W, our excitement quickly took over and we couldn't wait to explore the grounds and get to our private pool villa (say what?!) ASAP. I have always loved the fun, quirky atmosphere at W Hotels, but this W blew the others away by a long shot. Everything was done perfectly – from the outdoor reception area to the (standard) funky jams blaring through the speakers to just the right amount of young, hip hotel guests – everything about our first impression was a winner.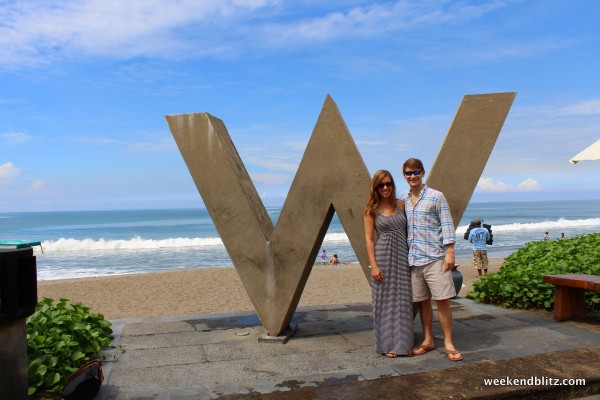 More details on the property are coming in a future post, so this one will stick to our booking/check-in process and our room.
But first, a quick peek at the entrance to the hotel and the long driveway down to the hotel's main entrance (to get you as far from the busy street as possible…. And, to build anticipation):
BOOKING
From Jeffrey: I knew that we wanted to go to Bali and I had an idea that I wanted to use some combination of hotel points given that I had been saving them up for this trip and that my hotel status can sometimes have value (free upgrades to suites, free breakfast, free internet etc…). The two programs that I had been using were Starwood Preferred Guest and Hyatt Gold Passport; I was happy staying with either program. Here's an overview of the Starwood and Hyatt properties in Bali: Ultimate Honeymoon: Which Starwood Property In Bali?
When I had it narrowed down, I emailed a few of the properties to see about making an award booking and then confirming a suite using a cash upgrade; most of the hotels were helpful:
My question: I see that I can book the "Wonderful Garden View Retreat" room for 20,000 Starpoints per night during these dates. If booked, can you advise if it would be possible to pay cash to receive an upgrade to a Suite or Villa?
W Bali Response: ….should you wish to have a confirmed upgrade, the extra charges for each night will be the following :
Upgrade to Marvelous Suite : extra USD 325 plus taxes per night
Upgrade to 1 Bedroom Villa : extra USD 225 plus taxes per night
After I pushed back a bit on the $225 upgrade price (I read about offers of $90/night online) I got the hotel to agree to an upgrade price of $175/night: "We are more than happy to offer USD 175 plus taxes per night as the extra charge for a 1 bedroom villa upgrade. Trust that it is the best offer we can do for that period. Please let us know once your booking is made, so that we can assign the villa accordingly."
So in the end, I was able to book the 1 Bedroom Villa at a rate of 13,000 Starpoints (thanks to a 35% off award booking coupon– normally, it's 20k Starpoints/night) + $175 ($211.75 after tax) per night. Normal rates for the "Marvelous One Bedroom Pool Villa" for this period were appx $726 per night, so I end up with a return of:
($726 – $211.75) / 13,000 Starpoints = 3.95 cents/Starpoint. I consider this a fantastic return on my Starpoints for a great room at a great property. If you were considering a booking and didn't have the 35% off award coupon, this would still be a pretty good use of Starpoints at 2.57 cents/Starpoint.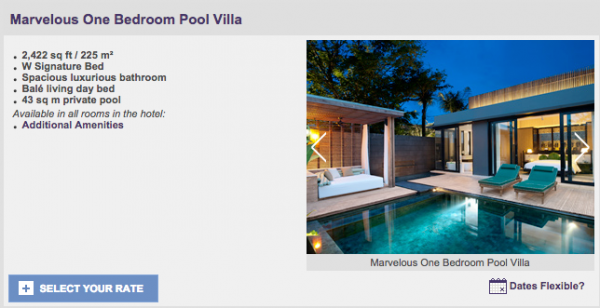 AIRPORT TRANSFER
At the time of booking, the hotel emailed me to offer a few extra services to help with our arrival: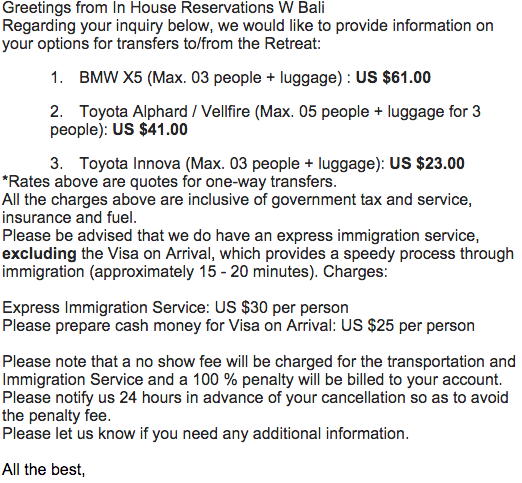 We ended up booking the Toyota Innova airport transfer for $23 + the Express Immigration Service for $30 per person and were pleased with both services.
CHECK-IN
Once the driver dropped us off at the outdoor "lobby", we headed straight for the check-in/reception desk that was just beyond the driveway.
We were immediately offered a tasty, exotic fruit juice and the process of check-in was fast, easy and painless. And, bonus: the check-in desk is right next to the bar and between the pool and hotel rooms, so we were able to get started people watching right away. I couldn't decide what I wanted to do first: pool, beach, private pool? My head was spinning.
At check-in, we were offered a few choices for a SPG Platinum amenity and chose the breakfast, which entitled us to the eat at any of the restaurants every morning.
We were taken (by golf cart) on a semi-winding route to our row of villas. While the pool/lobby area is loud and makes you feel like you're in the middle of an awesome party, they've done a fantastic job of keeping it quiet in the villas' area.
THE ROOM
On the narrow road to our villa: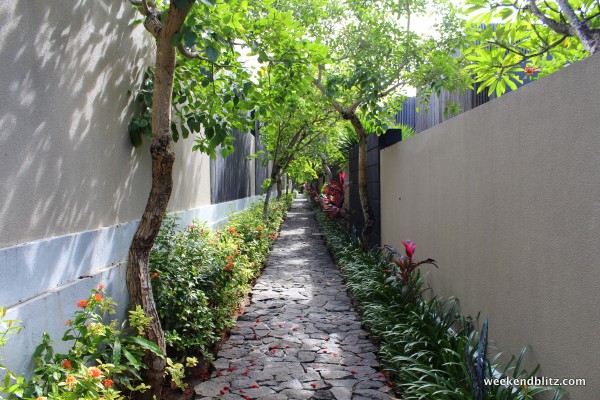 I've never had a hotel room with a private pool before and this was the most perfect start to our honeymoon. A private pool!?! I never wanted to leave. We ended up spending a good bit of time in our cabana and enjoying some quiet time by the pool. Although we really loved the big pool and being in the middle of all the activity going on there, it was nice to have an escape and rest while still enjoying the beautiful weather outside.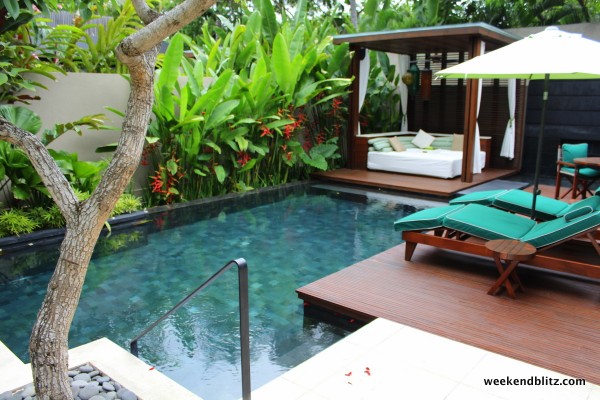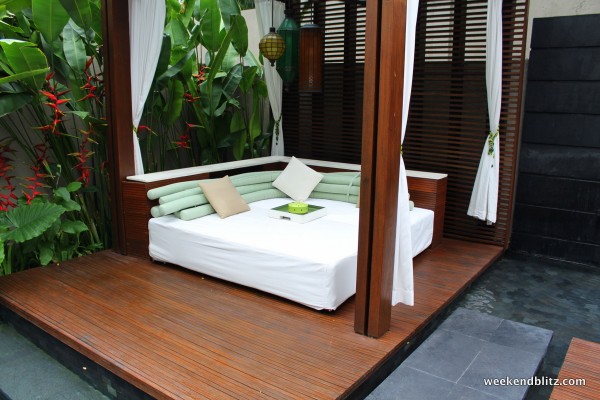 After oohing and ahhing at our very own pool, we were led inside the villa and shown around. The inside was almost as large as our apartment at home – and way trendier.
The door from the pool area opened up to our "bedroom" with the bed facing towards the pool. To the right was a sitting area with a welcome amenity waiting on us. The bathroom area was to the left with a dividing wall. The bathtub was nestled in the corner with a view of the pool area and cabana. There was plenty of closet space and sink space to really settle in and make ourselves at home.
The studio feel made the villa seem even bigger, but the dividing wall between the bathroom and bedroom areas gave plenty of privacy and tons of extra closet room. And, even though the villa was basically a studio, there was plenty of separation, which helped Jeffrey to catch up on some work at times without me staring over his shoulder.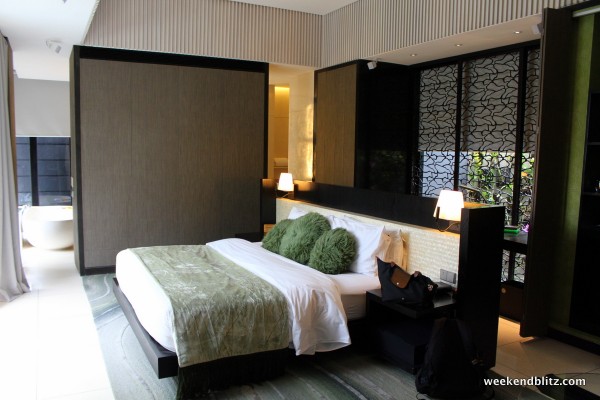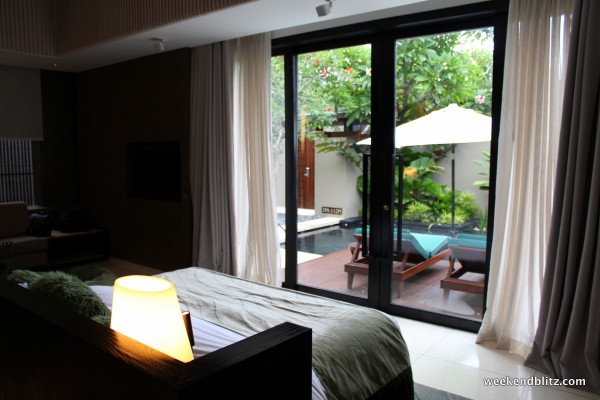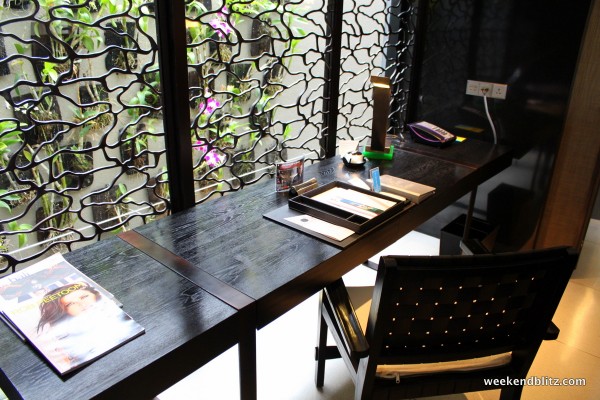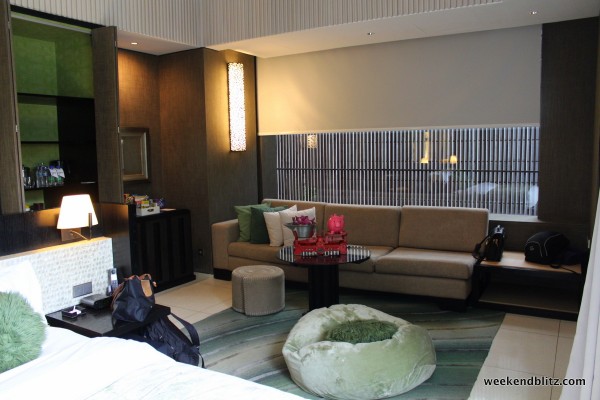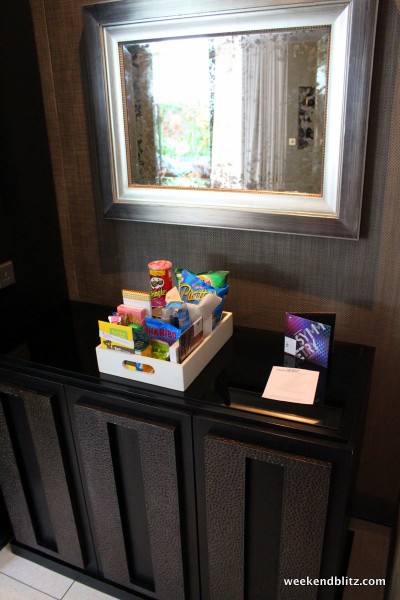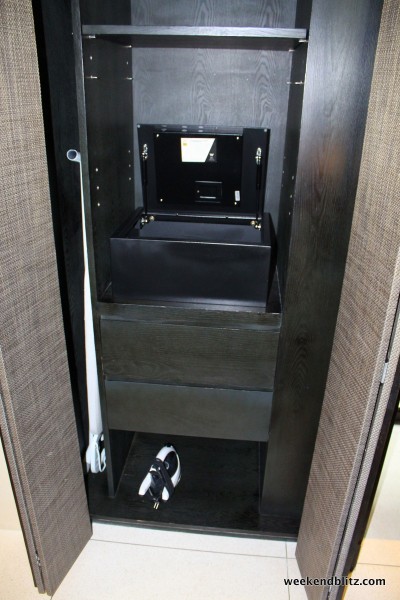 THE BATHROOM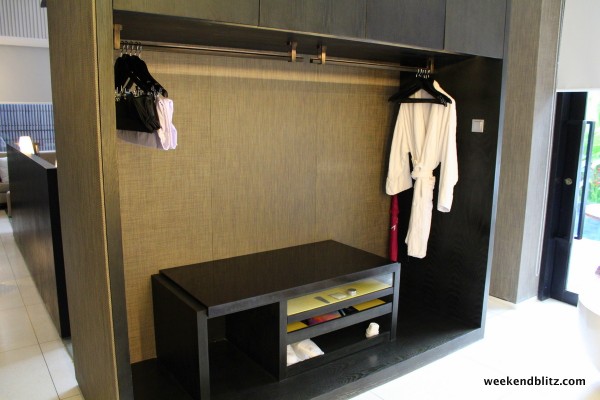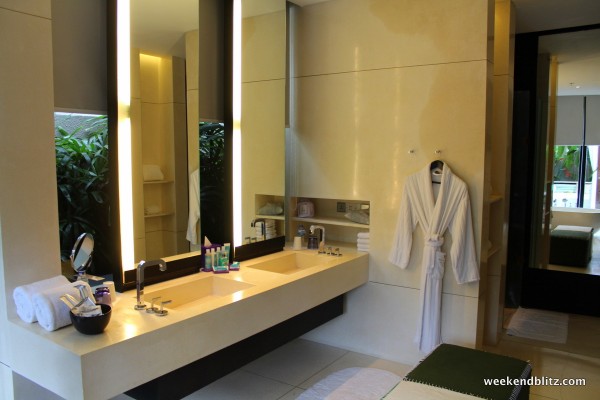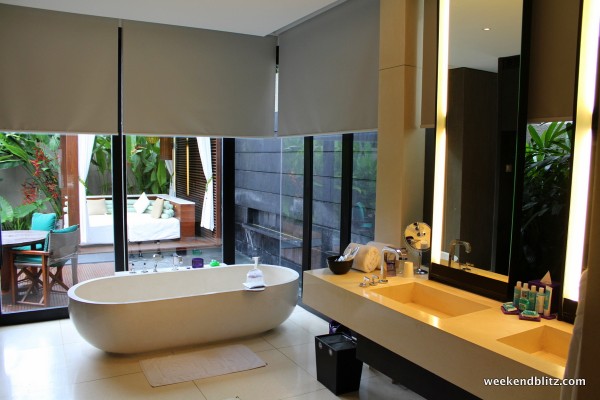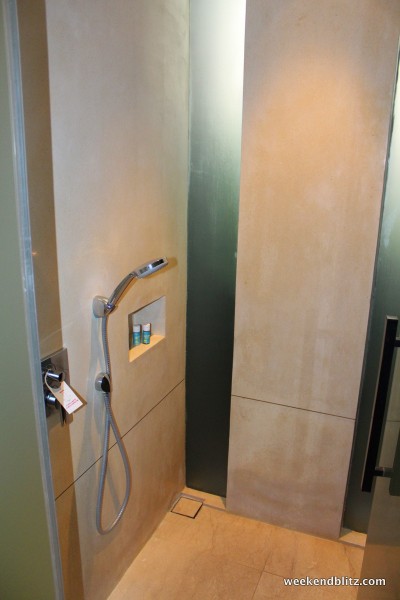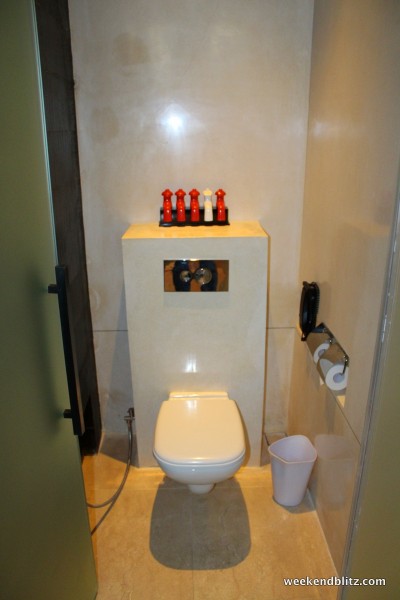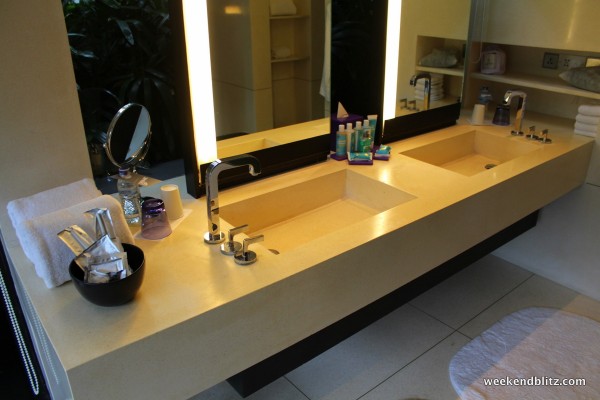 And, for a final personal touch, we were greeted with a celebratory package of (what looked like homemade) chocolate candies and pomegranate martinis — intricately displayed with a pig and a scale. While we're not sure the meaning of the pig (or the scale…?), it was quirky and cool, just like the W.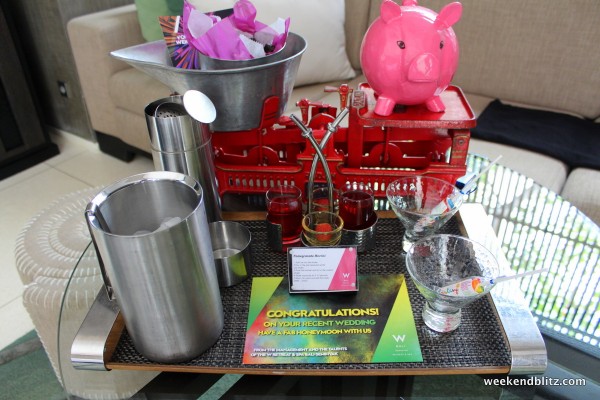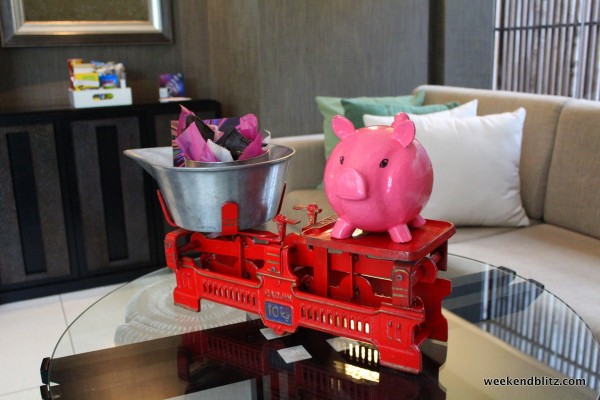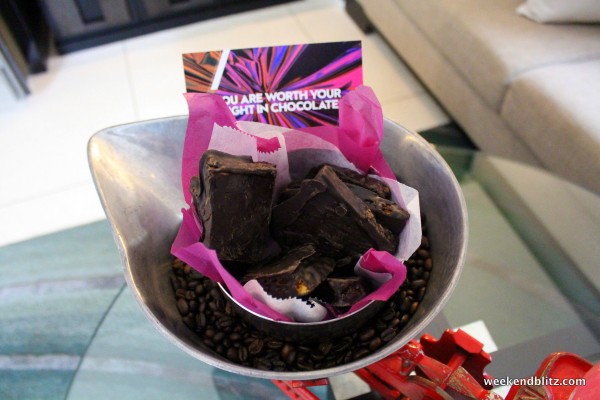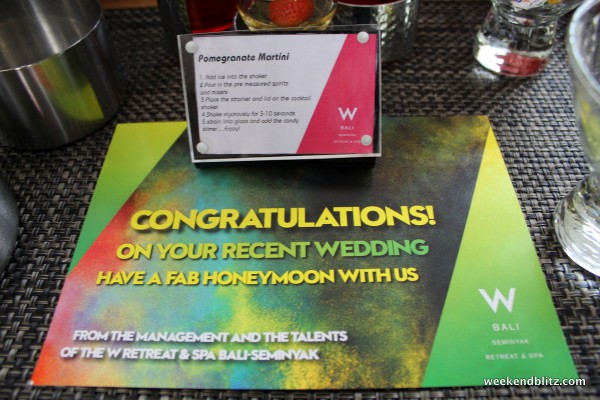 BOTTOM LINE: If you're interesting in celebrating a special occasion in Bali, the W is the perfect destination. Filled with young, trendy vacationers, this place has both a party atmosphere and fancy restaurants as well as plenty of private space to rest and relax. And, these private pool villas are hard to beat.