Westin Grand Frankfurt Hotel Review – Frankfurt, Germany
While in the Lufthansa First Class lounge in New York-JFK, we had to scurry and find a place to stay in Frankfurt the following night. Since we had just switched our flights hours before take off, we didn't have very much notice but were very glad to have an opportunity to visit Frankfurt–a new city!
Booking
Because I have Diamond status with Hyatt and Platinum status with Starwood, I preferred to book a property at either one of those chains. When I jumped online, I found that my only Hyatt option for "Frank…" would be Franklin, Tennessee: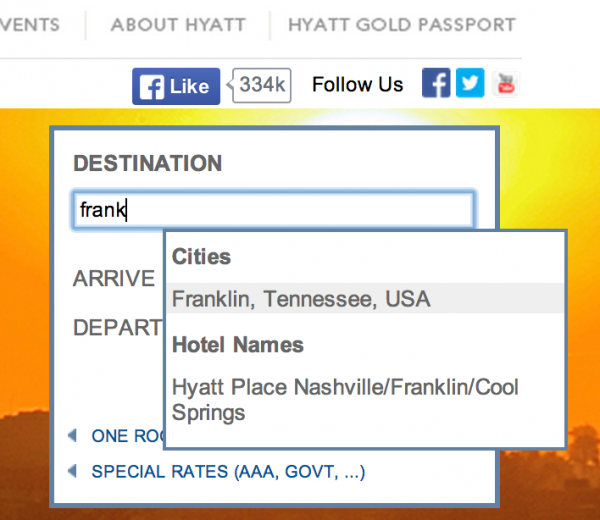 The good news is that Starwood has a few more options:
I found that the 2 properties with locations in the central downtown area of Frankfurt (The Westin and Le Méridien) had options for SPG Free Nights or Cash & Points:

A quick TripAdvisor search revealed that Le Méridien Parkhotel Frankfurt had a 77% rating and was ranked #41 of 262 hotels in Frankfurt. The Westin Grand Frankfurt, however, was ranked much higher at 84% rating and #13 of 262 hotels in Frankfurt. For the extra 1,000 Starpoints and $35, this was a pretty easy decision.
Check-In
Finding the hotel was easy from the airport:  it's just a short 15-20 min train and then less than a 5 minute walk to the Westin. We got to the hotel around 2pm after our transatlantic flight from New York. The hotel's location was really the biggest selling point of the hotel — as soon as you walked out of the front door, you were catapulted into downtown Frankfurt, just minutes away from the busiest street with stalls and stalls of Christmas Market festivities.
The lobby is very large by European standards, with check-in desks to the right, a large open area and then stairs up to the second level (and Westin Executive Club).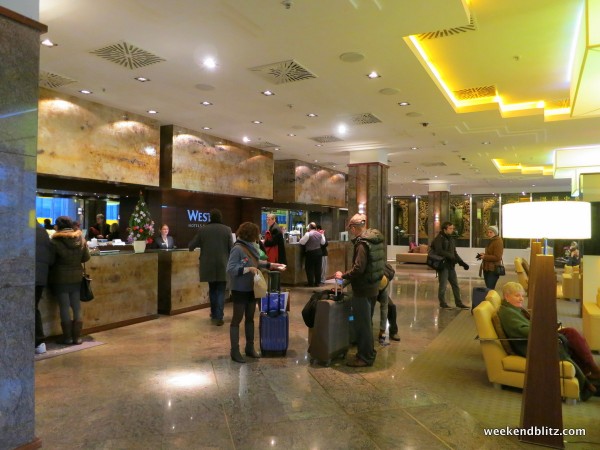 The Room
The hallways are extremely long and not very well lit:
Our room, although quite cozy, was nice and pretty much on par with US Westin standards (which is saying a lot for a hotel in the downtown area of a large European city). All of the amenities we've grown to love were there…most importantly the Nespresso machine! When we see one of those, we know we've picked a good hotel.
And, best of all:  an in-room Nespresso machine!
The Bathroom
This is one area that was far and above superior to a typical Westin:  the all marble bathroom. And, it was much bigger than many European hotel bathrooms, so another big win here.
Executive Club
As a Starwood Platinum member, we had access to the Westin Executive Club: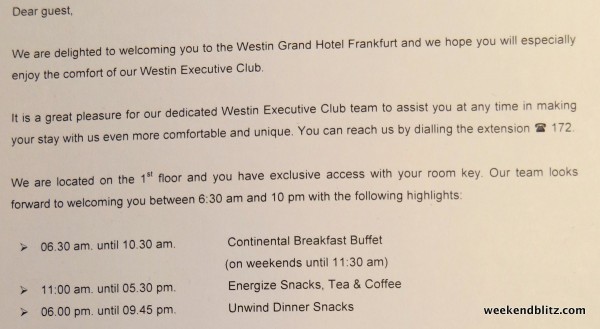 Overall, the Executive Club was great; if you were traveling in Frankfurt on a budget, you could easily supplement your meals here as all of the offerings were quite substantial. We found ourselves stopping in the club on our way to and from the hotel for a quick cup of coffee or snack. It was a nice benefit and we took full advantage. The snacks and drinks changed depending on time of day but there was always something tasty and you could get quite the filling snack (especially if you wanted to take a break from the street-side brats).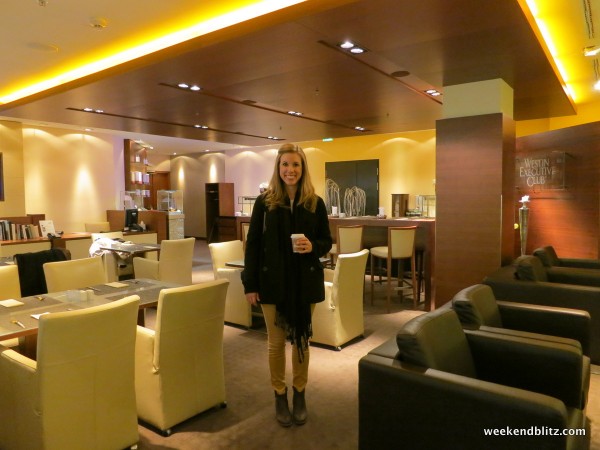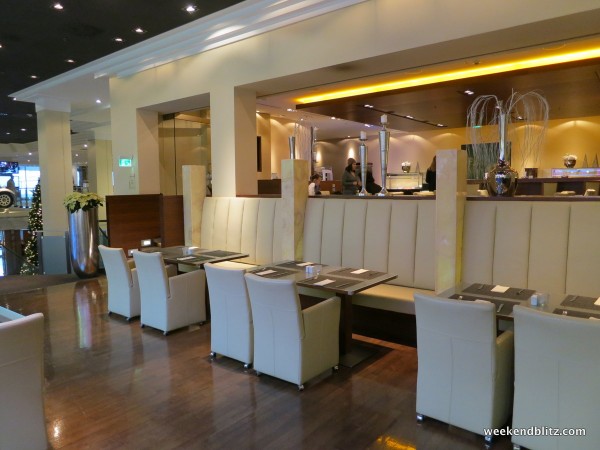 BOTTOM LINE: Given that it was very short notice, we were very please with The Westin Grand Frankfurt–the 12,000 Starpoints or 6,000 Starpoints + $110 ended up being a good value for us. The location is excellent, right in the thick of Frankfurt sightseeing and the Executive Club was one of the best Westin lounges I've seen.