Bali Day Trip: Tanah Lot/Taman Ayun
We were having the best time just hanging around our hotel (W Retreat & Spa Bali) during the first part of our honeymoon, but finally felt like we should venture out and explore more of the island. After speaking with the hotel concierge about how to best leave the property and see some cool sights in the area, we settled on hiring a car and driver by the hour. The W had a few prescribed routes for sightseeing, but the beauty of being able to rent a car + driver is that you can easily custom tailor it to what makes sense for you.
We weighed our options and ultimately decided to leave in the morning to visit the temples Tanah Lot and then Taman Ayun –with a few more options in the back of our minds, depending on how much time we had and how ready we were to get back. Although visiting the temples was, of course, the highlight of our day trip, it was also quite interesting just riding around Bali. The resorts are super-luxurious, but when you're driving around a non-resort area, it is (of course) quite a contrast from the luxe hotel pools + club music. We passed rice fields on the sides of roads with workers up to the waists in water using their hands — not machines — to harvest the rice. Plenty of stray dogs (and kids) were roaming around and we drove by beautiful, unkempt temples everywhere. Again, quite the contrast from the modern, hip W Hotel. It is so nice to get out of resort-land when you're traveling and get to know the real culture and island– it's always surprising when you see a $200 dress for sale in the touristy area and yet you can buy a giant water bottle for only 10 cents.
First Stop: Pura Tanah Lot
We headed first to Pura Tanah Lot, Bali's most popular temples. In local language, it means "Land in the Sea" because it was built on a very small island just off the coast of Bali. Legend has it that a man named Dang Hyang Nirartha built the temple during the 16th century as a shrine to the sea god of Balinese mythology, Dewa Baruna. Before entering the temple, you must walk through Balinese souvenir shops and pay 30k/person plus 5k for car parking (about 65k for 2 people), which equals about $5 USD.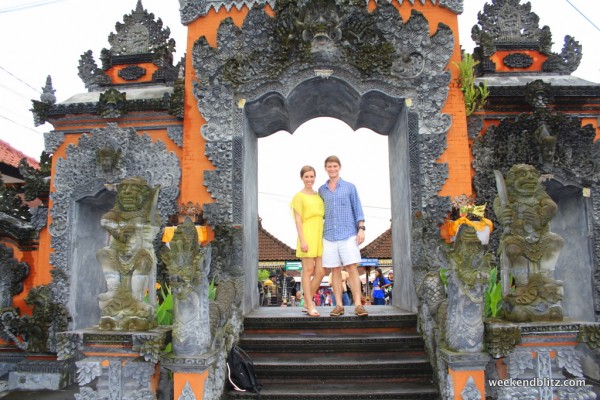 When we arrived, there were tons of tourists flocking to the temple…
Our driver let us out in the parking lot, then we walked through the souvenir shops to get to the temple. Although there were plenty of tourists, they all seemed to be Indonesian. After talking to a few who insisted on taking photos with us, we found out that most of the tourists were from the nearby Indonesian island of Java, visiting Tanah Lot on their school break. For some reason, they found American tourists much more interesting than the temple itself… and, lucky for us, we were the only American tourists there… There's no telling how many Indonesians have a picture of my face now…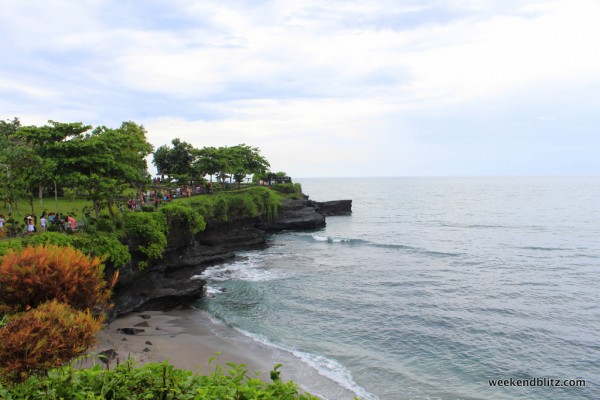 Because it was raining, we opted not to cross through the water and actually get up close to the temple (as non-Balinese are not allowed entrance to the temple itself), but we stayed on the cliffs and viewed the temple from about 50 feet away. As the tide rises, the temple is actually surrounded by water, so you can't even walk up to it.
Second Stop: Pura Taman Ayun
After leaving Pura Tanah Lot, we headed to our next temple: Pura Taman Ayun. This temple was built in 1634 by the Mengwi Kingdom and is surrounded by a moat. Now, it's considered a public park of sorts and town events are held in the extensive courtyards. It's got much fewer tourists than Tanah Lot and is a much more enjoyable place to wonder. The courtyards and lotus-blossom-filled pools makes it peaceful and calm. We even were able to climb to the top of one of the temples and see around the city.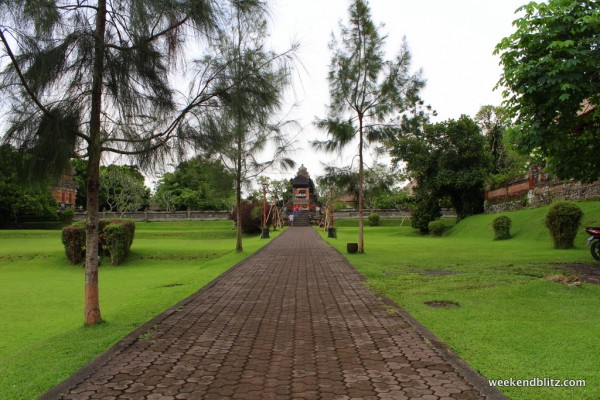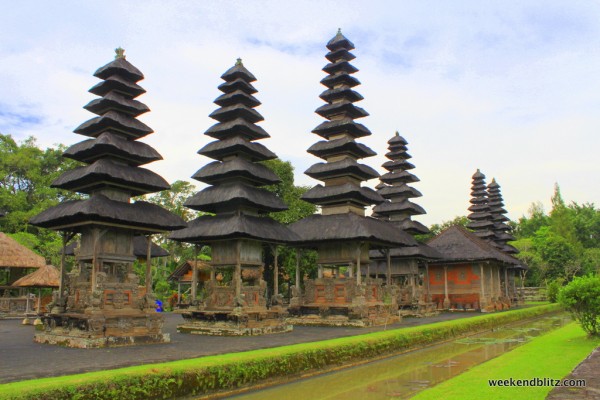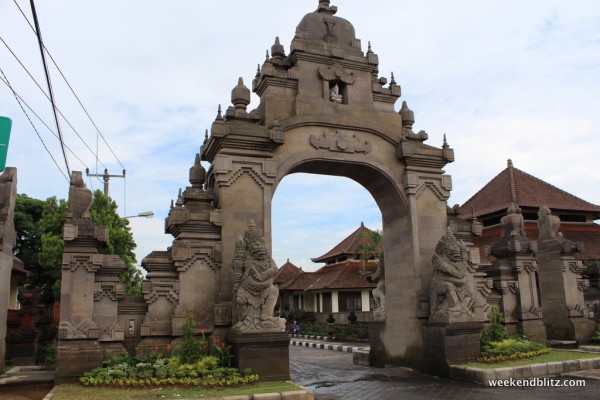 The thing I most remember about visiting this temple is the sheer number of roosters they had collected around the temple and caged. Soon, we learned that the roosters were actually used for cockfighting and we stumbled upon the large cockfighting arena on the grounds. Although the cockfighting is sometimes done for religious ceremonies, it is used mostly for gambling.
Bottom Line: After our day of driving around and visiting the two main temples, we were ready to get back to the W for more beach and pool lounging. We really enjoyed exploring some of the island and learning more about Balinese culture from our kind driver. One of the most interesting things we learned was about the Balinese naming system: regardless of gender, each Balinese is named one of four names based on birth order. The firstborn is "Wayan", second is "Made", third is "Nyoman" and fourth is "Ketut".  Pretty intriguing… and confusing! Our day of exploring the south end of Bali was well spent and it was worth going to both temples to see the very different architecture and landscape at both.