Finagling our way into Lufthansa First Class with VERY last minute changes
We booked our United MileagePlus award ticket appx 6 months in advance so, to say the very least, we were VERY eager and ready to take our trip. So, we originally had 2 flights on Air Canada booked, both of which were very carefully picked and planned:
New York, LaGuardia-LGA to Montreal-YUL — nothing special here
Montreal-YUL to Paris-CDG — made sure this was a newly renovated Boeing 777-300ER Executive First Class cabin

So, when I got a call just a few hours before our departure from Charleston-CHS to New York-JFK that our flight for the next day from LGA –> YUL had already been canceled (nearly 24 hours in advance), I knew we had a problem. A winter storm was bearing down on the New York area and the first wave of preemptive cancellations had already taken place, which is typically a harbinger for huge amounts of cancelations.
When I called the Air Canada rep back (based in Florida?), he said he found us a flight from New York-LGA –> Ottawa-YOW at the same time on Saturday and then would put us on an Air Canada flight from Ottawa-YOW –> Frankfurt-FRA. At the time, this sounded great:  we could skip the hassle of the Paris-CDG –> Frankfurt-FRA leg. But then, remembering that I had picked our flights very specifically to get the newest cabins, I asked if the aircraft was the same as the original Montreal-YUL –> Paris-CDG route and he sort of brushed away the question and said, "sure, they're both Exec First cabins." After I agreed to the change, I check SeatGuru.com to find that the Ottawa-YOW –> Frankfurt-FRA flight was on a Boeing 767, an older plane with an older, non-renovated Executive First cabin. This was disappointing because, again, I picked the Air Canada flights based on being in a newly renovated Boeing 777-300ER Executive First cabin. And, to top it off, how could we be sure that the LGA-YOW flight wouldn't be canceled? It seemed smarter and better to just avoid NYC all together on Saturday.
Because we had a separate, paid flight booked on Delta for later that day from Charleston-CHS to New York-JFK from 4:30pm to 6:30pm, I jumped on FlightAware to search same-day routes from JFK-FRA. There are many flights from JFK-FRA but, because we booked with United miles, I had to narrow down to Star Alliance partners and found a departure around 9pm on a Lufthansa Boeing 747 non-stop to FRA–this might be our answer!
I'll go ahead and point out that booking flights in Lufthansa First Class with United miles is very difficult. And, as such, is one of the most coveted award redemptions out there. When you catch a glimpse of their First Class cabin (complete with it's own standalone bed), you'll see why everyone wants to fly in Lufthansa First: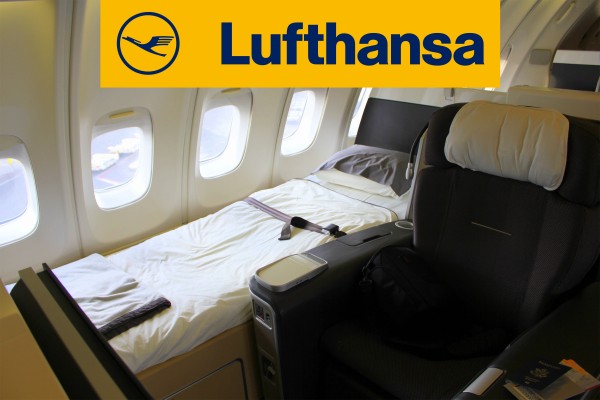 Lufthansa releases very few award seats in its business class cabin and even fewer in first class. For example, looking for a sample booking 5-7 months out shows absolutely 0 seats available in business or first:

However, if I check for flights departing within 4-48 hours, I find much better availability:

This clearly makes it hard to plan for; most people are not able to book their travel plans for same-day or next-day departures but instead plan many months in advance. So, if you're looking to book flights in Lufthansa First Class, the trick here becomes to book your award trip like normal but so that the Lufthansa flights are easily able to be swapped in. For example, if you're traveling to Frankfurt-FRA in a few months, you could book one of the many United flights from Newark-EWR to secure your seats in the premium cabin. Then, a few days before departure, start checking the United website to see if any of the flights from JFK-FRA on Lufthansa opened up. If you see seats available, you can attempt to call United to change them. They'll be much more likely to help and waive the fee if there has been a schedule change, which, over the course of a few months, is pretty much inevitable. But, just call them and explain your situation and see what they can do.
I called United, realizing my chances to change the flights this dramatically might be tough. After 15 mins on hold and a few reps, I found a person that could actually get things done! I explained that our flights from New York to Montreal had been canceled and that we thought it best to leave a day early because of the storm, and she said, "sure, we can do that!" Then she said, "before we ticket, let me make sure we can't do any better for you," and did research with me on hold for about 30 mins. She checked in periodically to ask questions, but, after exploring a few different options, it was decided that the JFK-FRA route would be best and she ticketed it. At this point, I had spent the past 2+ hours on the phone trying to get flights changed and was borderline going to be late for our flight. I hung up and spent about 10 minutes to finish packing before speeding to the airport.
In a bittersweet moment, I had to call Hyatt to cancel our reservation for the night at the Andaz 5th Avenue since we wouldn't be visiting New York anymore. But, I also had to jump on Hyatt and Starwood to see where I could book an award night in Frankfurt, Germany! We would now have a full 24-hours to explore the German city. Again, it was somewhat disappointing to not be able to visit New York, but the fact that we'd be able to explore a new city and also fly on a Lufthansa Boeing 747 in First Class seemed like a win-win trade. Not to mention that this would be a much better shot at actually arriving to Bali on time because we'd avoid the bad weather in NYC.
Next stop: our Lufthansa flight out of New York.