Bratwursts Galore! Sightseeing around Frankfurt, Germany
After planning our honeymoon for months, we were totally shocked when we found out that we'd be spending our 24 hour layover in Frankfurt, Germany instead of New York to begin our trip because of the snow storm hitting the North East. Luckily, we'd packed heavy coats for New York, so we were all prepared and excited to begin our honeymoon exploring a brand new town (and, bonus:  we got to check out Lufthansa's First Class Lounge at JFK and Lufthansa First Class).
Although we were excited, every German person we met who found out we were spending a night in Frankfurt was shocked that we'd actually be staying there and not immediately taking the first train out to a "nicer" German city. Red flag, but I guess we'd respond the same way if people told us they were coming to the US only to visit Charlotte, NC — it's just not a city that tourists frequent very often.
So, with high hopes, we set off to explore Frankfurt. Knowing that it wasn't a super touristy town (and sort of relaxing a bit since we weren't even supposed to be there), we focused on eating delicious German food and just walking around the city's main streets instead of setting off to find the best tourist sites.
The train into the city from the airport was easy to find and cost 4.50 euros (each way) for a 15-17 minute subway ride. Plan on about 45 minutes from airport to city — with the actual train ride + a 15 minute wait in case you just miss the last train + a 10 minute walk from baggage claim to the subway.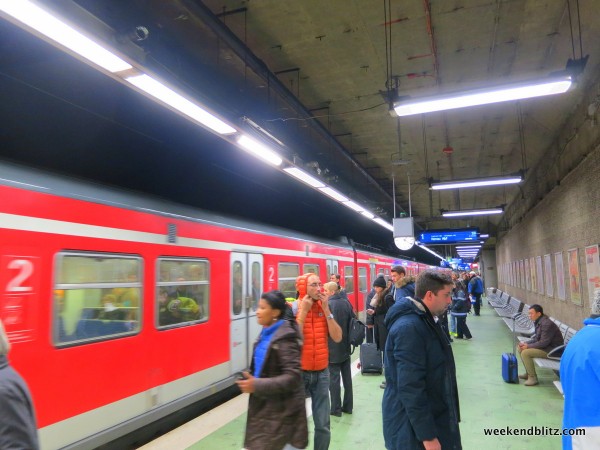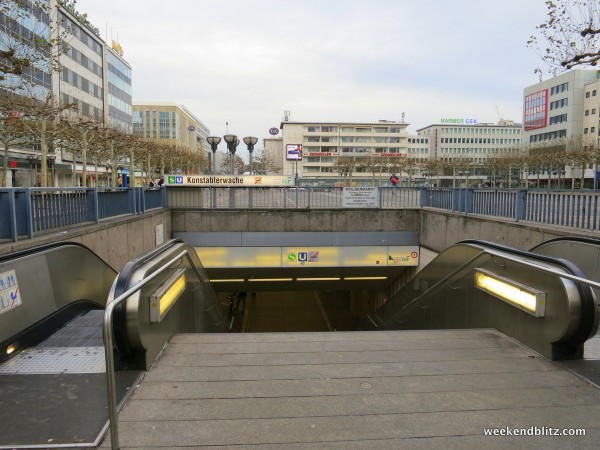 As soon as we stepped up into the street from the subway on Saturday morning, the German holiday spirit hit us full force. We had walked right into Frankfurt's Christmas Market, which seems to span the length of one of the city's main streets – a year-round pedestrian-only street. Luckily, our hotel was right around the corner, so, we quickly dropped our bags, freshened up a bit and headed back out for some bratwurst.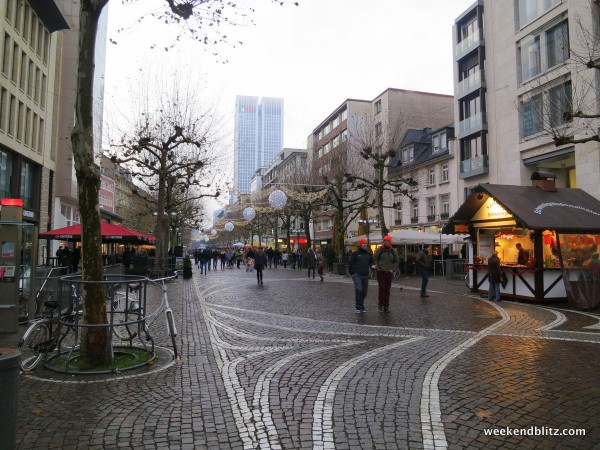 Along with the likes of international stores like Zara, many sidewalk cafes and stalls are selling bratwursts everywhere you look. We looked around for the "best" bratwurst, and finally settled on a bratwurst sandwich from the stall with the longest line. For just 2 euros, the sandwich was served on a light rye roll and you could add your own mustard from the 10kg bucket they had sitting on the counter. Germans love their mustard and we had to wait in a longer line to add the mustard than we did to actually order the brat. Then, 15 minutes later, we passed another popular stall and decided to try some currywurst (sausage chopped up with curry ketchup and curry powder) for 3.50 euros after noticing the food on many locals' plates. No wonder it was such a popular dish:  it was delicious. The whole street was just a real sausage fest… Do these Frankfurters really eat brats all of the time??
But really, at every turn, every German stereotype was fulfilled- much more so than in other parts of Germany. Maybe because of the lack of tourists or maybe because they go all out for the holiday season… either way, let's just say that you knew without a doubt that you were right in the middle of Germany.
The Lufthansa flight attendants softened their blow of "Frankfurt? Why Frankfurt? That's terrible!" with an "At least there's the Christmas Market," so we were really looking forward to what seemed like a great festival. The main street is decorated with Christmas lights (all over!) and lined with vendors with… you guessed it… mainly brats for sale. Are you supposed to give brats as Christmas gifts?!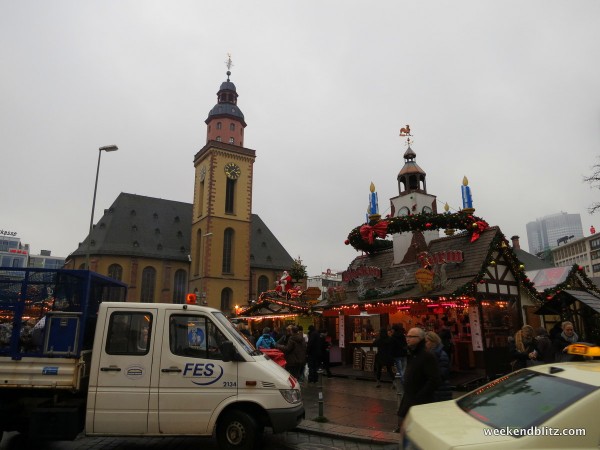 It turned out that the best part of the town to explore was the pedestrian-only street, but, after walking around and seeing all we could see of the Christmas Market, we walked around exploring other neighborhoods and, of course, we made a special visit to the main train station.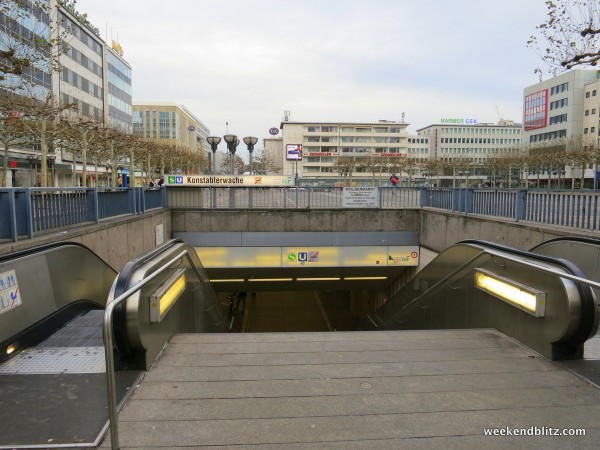 Then, Jeffrey found the best rated coffee shop on Trip Advisor, a place called Wacker's, and we headed there for an afternoon pick-me-up. The place was packed- you could barely find standing room outside!
After exploring the town, we headed out to find dinner and found a little restaurant nearby called Solber Fässje Haxenhaus.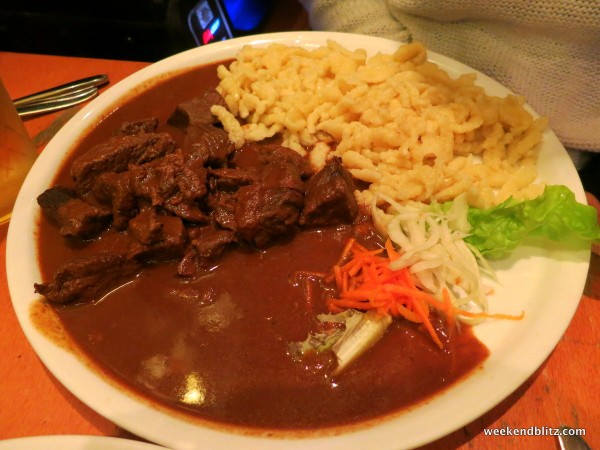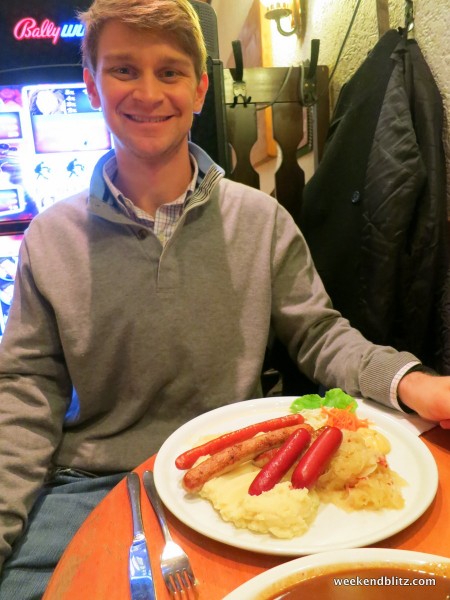 After dinner, we headed back to The Christmas Market because it was the most popular nightlife. We tried some hot wine with whipped cream on top and hung around under the lights with the locals.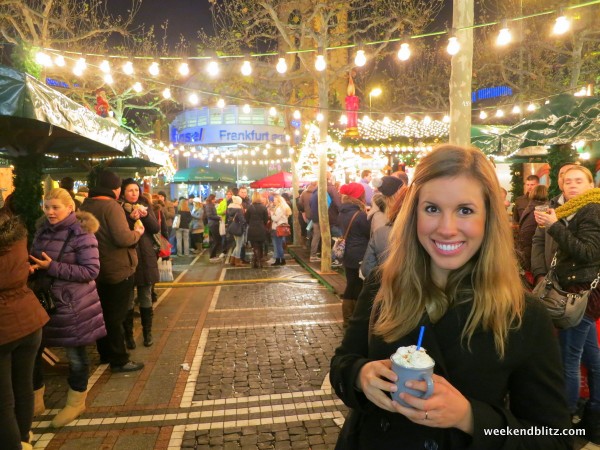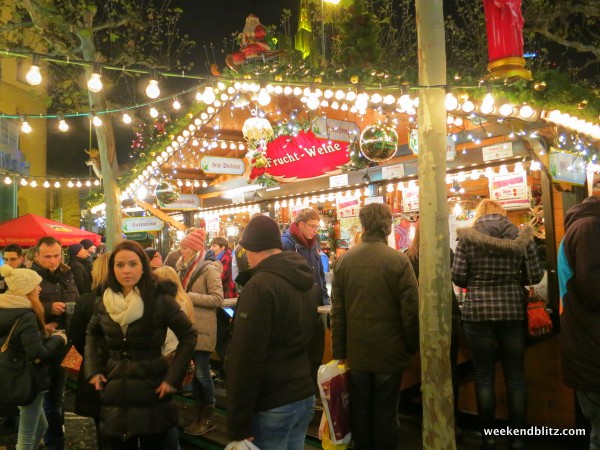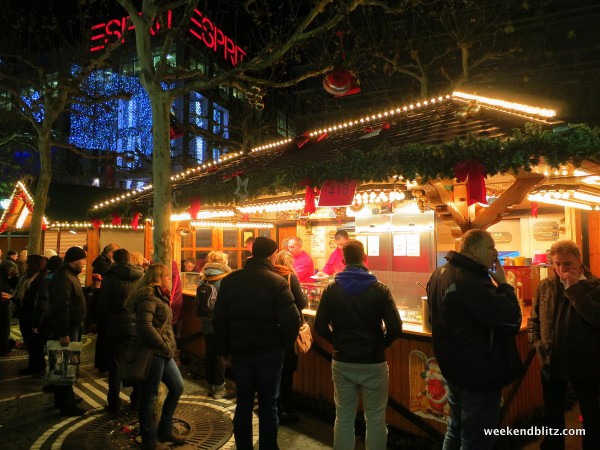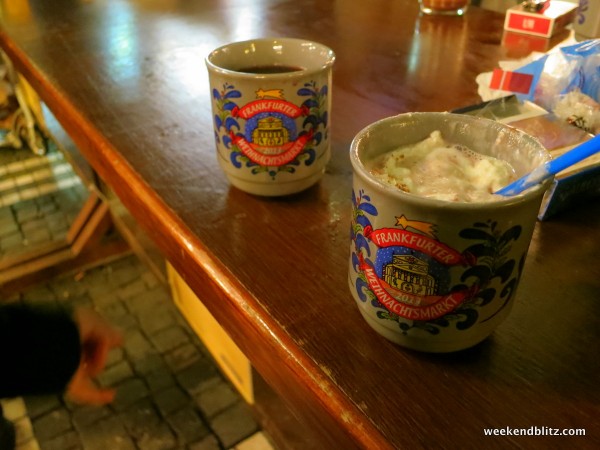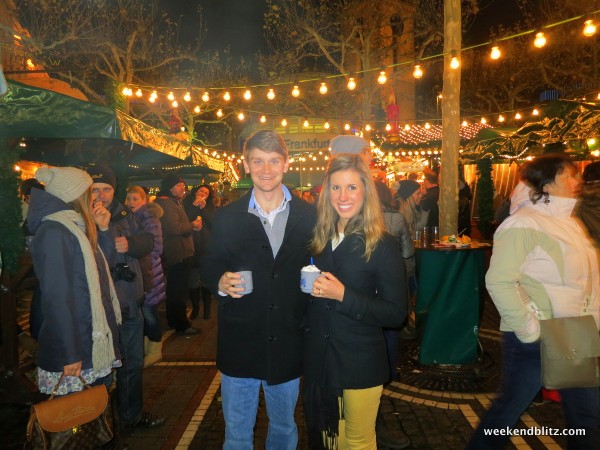 When we left our hotel at 10am on Sunday morning to head back to the airport, the streets were dead. A few shopkeepers were out cleaning up, but everything was closed and no one was walking on the streets. The Christmas Market was packed up and revelers weren't bumping into you at every turn.
I'm glad our stop in Frankfurt was on a Saturday because I think we got to experience the best of Frankfurt in those few short hours.
BOTTOM LINE: Frankfurt was a fun city to spend 24 hours, but there's probably not much more to see after the first day. We left thinking that many Frankfurters are just giant caricatures of every German stereotype, from the food to the dress to the decorations in every store/restaurant. Although I'd make Munich or Berlin my first stop on a trip to Germany, Frankfurt has plenty of cool things to see and it was a fun surprise to experience the Christmas celebrations in a new town and country.