Award-Booking Honeymoon trip with United miles…All in First Class
To me, one of the most fun parts of planning a nice trip is researching really awesome First Class cabins and nice resorts that we can fly on/stay in for cheap or free.
Before planning our honeymoon, I strategically signed up for 2x Chase cards a few months prior to booking that yielded me 100,000 bonus points so, those points (combined with the other points we had been patiently earning and hoarding over the last few years) came out to just enough for two round-trip tickets in First Class using United MileagePlus miles. The total points we used to book were 280,000 miles, 140k each. As a side note, United has massively devalued their currency and now the same trip would cost 260k miles each, 520k miles total.
We started this one off by basically just planning where in the world we wanted to go and cross-referenced it against where in the world we could go with our award miles balance. When using Delta SkyMiles, United MileagePlus miles, etc… you always want to make sure you take advantage of their 1 free stopover and 1 free open-jaw. This would cost you big on a paid ticket but is absolutely free when booking with miles, so it would be foolish to not use it. As a result, we typically try to think of fun city pairs when booking award travel; in the past, we've done Bangkok/Phuket (Thailand) paired with Hong Kong; Istanbul, Turkey to Lisbon, Portugal and Paris/Bordeaux/Nantes, France paired with Florence/Venice, Italy, etc… Where you can go will largely rely upon which carrier you're booking through and which Alliance it's a part of. We started with a list of 5-10 places we'd love to go on our honeymoon and I got to work seeing what was feasible. In the end, we chose Bali and the Maldives… with plenty of stops along the way: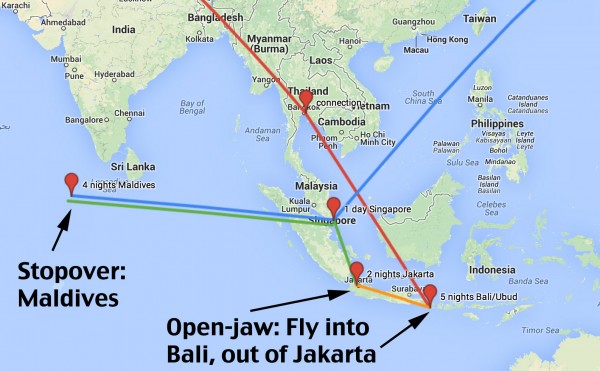 The crazy part is that our itinerary started off looking like this: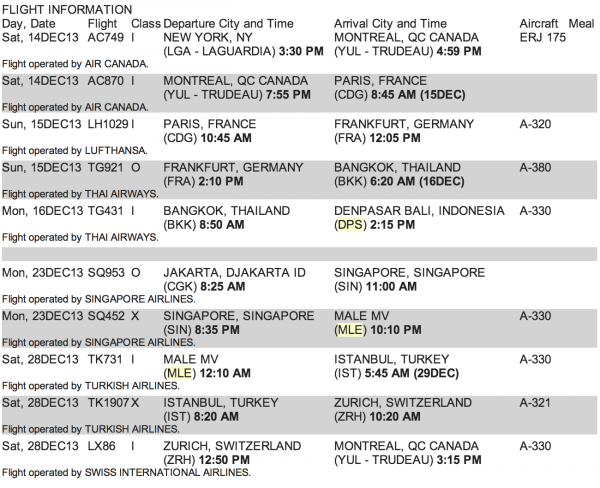 …But it morphed repeatedly and, at times, drastically. I had the original itinerary all worked out to look like this:
Our 24,606 mile trip will take us to 10 countries (including connections) over 16 days:

Bali/Ubud, Indonesia

Our award ticket starts in New York as we fly out of New York-LGA and, appx 33 hours later, land in Denpasar, Indonesia-DPS, better know as Bali.

The trek begins with an Air Canada flight from New York-LGA to Montreal, Canada-YUL. We'll then connect to Air Canada's Montreal-YUL to Paris-CDG.

After a short hop from Paris-CDG to Frankfurt-FRA on Lufthansa, we'll be ready for the longest flight of the trip: 10 hrs 10 mins from Frankfurt-FRA to Bangkok-BKK on Thai Airways' Airbus A380 in "Royal Silk" class:

I'm sure the A380 will leave us spoiled for our next flight…on Thai Airways' from Bangkok-BKK to Denpasar (Bali), Indonesia-DPS.

A short stop in Singapore

We've got a pretty short 1.5 hr flight from Jakarta-CGK to Singapore-SIN on Singapore Air.

Our 8 hr layover, while it is pretty short, should give us at least a few hours to check out Singapore.

The Maldives

After a few nights in the Maldives, we start the trek back to North America.

The first leg will take us from Male, Maldives-MLE to Istanbul-IST on Turkish Air.

We'll connect on another Turkish Air flight from Istanbul-IST to Zurich-ZRH and then pick up our second-to-last flight on SWISS from Zurich-ZRH to Montreal-YUL.
For the most part, that is how the flights worked out — but, not without a few last minutes changes (for the better).
Now, are you ready to go? Try our tutorial on redeeming United miles for award travel:
Unlike Delta.com, the United website is actually very good and should make searching for availability a breeze. As a result, I would start your search by simply inputting your desired dates as a one-way search and see what pops up. You'll want to search as a one-way to start with because booking the stop-over and open jaw can get slightly tricky and it's helpful to have already found your award space to start with (so you know which flights are available).
Taking a 4-month sampling, I'm already finding much, much better availability than Delta offers. If you're booking a simple round-trip, you can use the search as-is on the United site. If, however, you're interested in taking advantage of the stopover/open jaw, you'll want to search for your flights with the one-way tool, find your dates and insure availability and then enter the exact dates and routes in the "multiple destinations" search:
Select your predetermined flights and then cross your fingers that everything prices out correctly:
Success! Just as expected, my itinerary comes out to 65k miles/person in Economy.
Your next step is to ticket it if you have enough miles in your account — or, it gives you an option to hold the reservation until midnight the following day.
This reserve feature can be very useful if you're still trying to tweak your award, so I would almost encourage not having enough United miles in your account so you have the option to reserve–it just gives you a little extra flexibility. You'll then need to call in and have the award ticketed once you transfer the miles to your account.
If you have more questions, email us or comment below!