Air Asia Flight QZ 7529 – Denpasar/Bali-DPS to Jakarta-CGK Indonesia
Air Asia QZ 7529
Dept: Bali (DPS) 3:35 pm
Arrv: Jakarta (CGK) 4:15 pm
We knew we needed to fly fro Bali to Jakarta for weeks (if not months), but for whatever reason never booked a flight. We were partly putting it off having heard not-so-great things about Jakarta and I guess we were a little nervous to go. In fact, up until the day before our flight, we were still deciding whether we should extend our stay in Bali/Ubud or fly to Singapore early or bite the bullet and go to Jakarta. We finally ended up booking our Air Asia flight the day before departure for $156.67 USD total (for the two of us).
CHECK-IN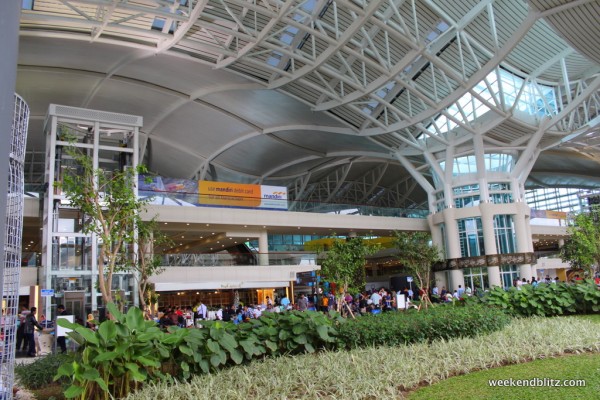 We made it to the Domestic Terminal of the Bali airport in Denpasar a few hours early and were immediately greeted by a confusing process. We had to flash a copy of our itinerary at the ticket window to gain access to the terminal, although we just kind of waved a generic email from our iPhone and it seemed good enough for the ticket checker. We found the domestic check-in counters and began the part of the trip that made us most nervous about the Air Asia flying process: the checked baggage policy.
At the time of booking, we paid for one 25 kg bag each, figuring it would be more than enough. When we loaded the bags up, the first 2 weighed in at 46 kg, so good to go, right? Well, not quite. We had a 3rd bag that we had planned to carry on but the agent said that we would need to check it, meaning it had better weight 4 kg or less. Once it was clear that we would be a few kg over, she told us about the Air Asia policy that every 1 kg over limit costs 117k rupiah, or about $10…. per kilo! Crazy! After looking sufficiently shocked, we scrambled to pull a few items out of the checked baggage and switch it to our carry-ons (it's always the worst to be those people at the check-in desk). We were still a bit over but she let it slide.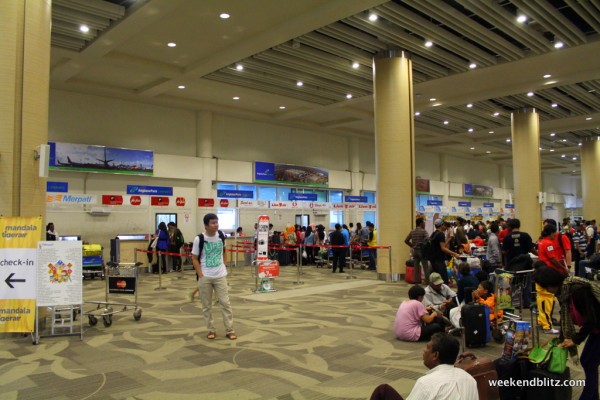 Done with the check-in, we continued on towards the gates. We had to pay a 40k rup/person exit tax. Why not just add this to ticket fee?! And, the most puzzling part was that it was literally one agent taking money at a desk and then, behind him, an agent scanning the ticket you just purchased…why that operation takes 2 people, I do not know. #employment?
At the second (and supposedly more thorough) security screening, our 3+ bottles of water made it through just fine.
As were wandered through the Domestic terminal, we quickly realized that we were two of the very few Western tourists that had this idea. It was literally packed with Indonesians. And, they didn't waste any of those tourism tax dollars flooding into Bali on an A/C unit here, making it quite hot and full of natural human smells.
BOARDING
The Air Asia boarding process was one that was unfamiliar to me for an airport but felt much more similar to a bus. In fact, the whole terminal feels more like a bus station than an airport. We killed a bit of time in the Sanur Executive Lounge: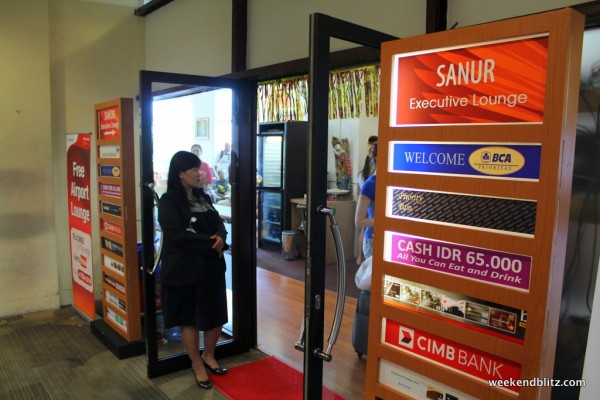 The flight was finally called at 3:10 pm and everyone gathered in the area made a mad rush for the shuttle.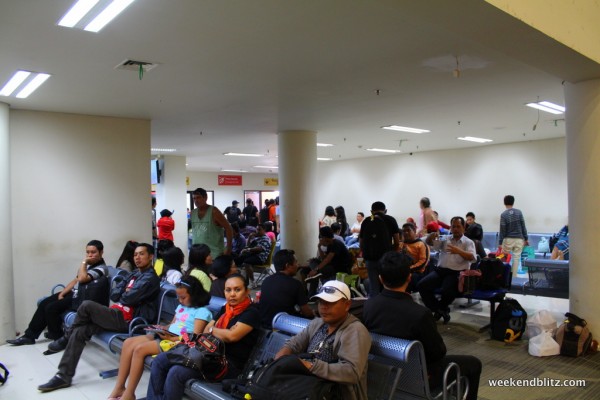 No scanning here, just glance and rip their part of the ticket, then we were crammed onto bus. No real surprise here as being a budget airline often means you skimp on those expensive airport gates and just bus over to the plane.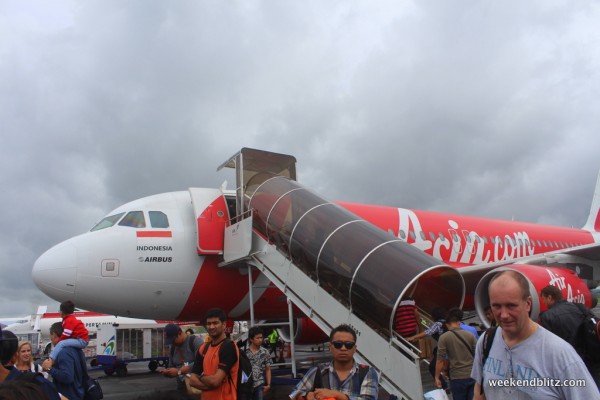 Air Asia was obviously not messing around when it comes to turning the aircraft around. When we arrived on the shuttle bus, they were still deboarding the in-bound flight. We stayed on the bus for 4-5 mins after the final passenger deplaned and the flight crew gave the thumbs up–ready for the next batch! So, maybe a 4-minute cabin clean/turn on the ground.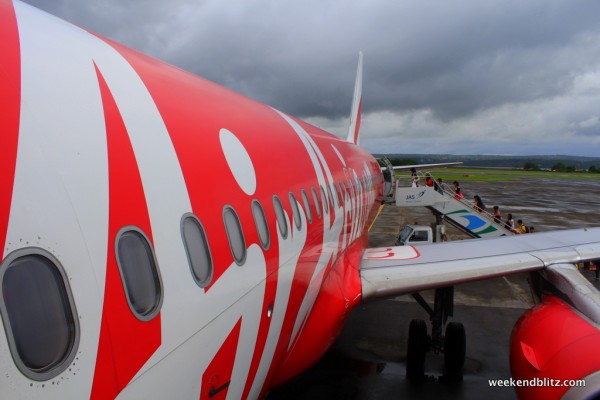 SEAT
Jumping on the plane, we saw that the first five rows appeared to be premium seating, but I'm not sure if that actually meant more legroom or just faster deplane.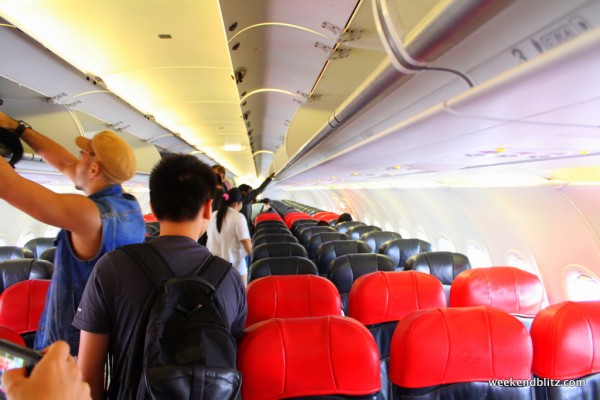 We had row 14, seats A and B, a "premium" exit row with more legroom but still VERY little room compared to a Delta exit row.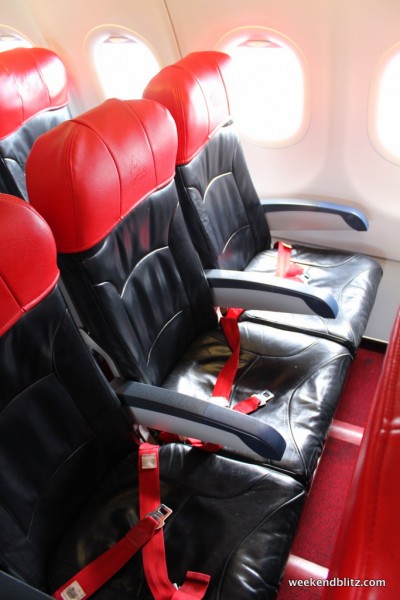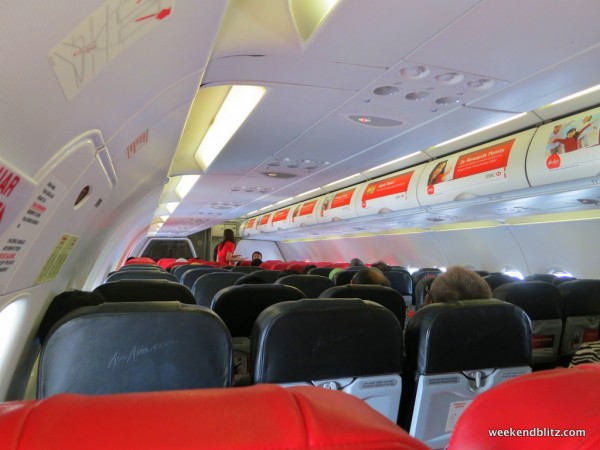 Getting ready for take-off: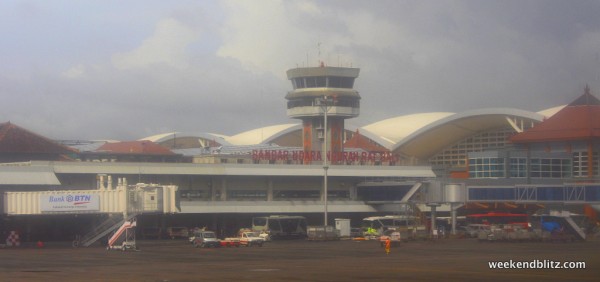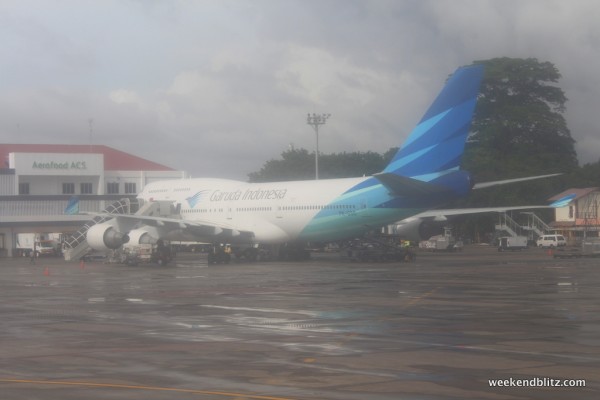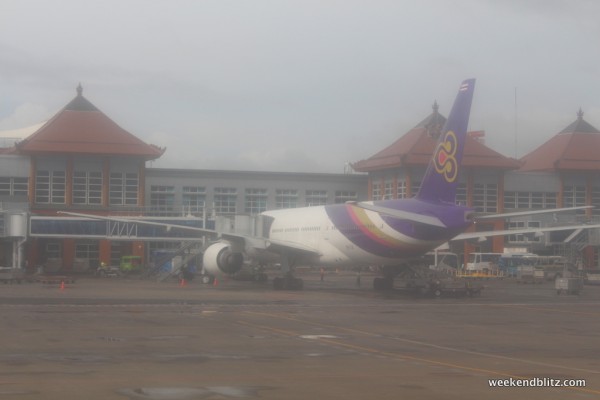 MEAL AND SERVICE
Not wanting to miss any sort of new cultural airplane experience, I couldn't pass up trying the meal options. All things considered, the choices were quite affordable: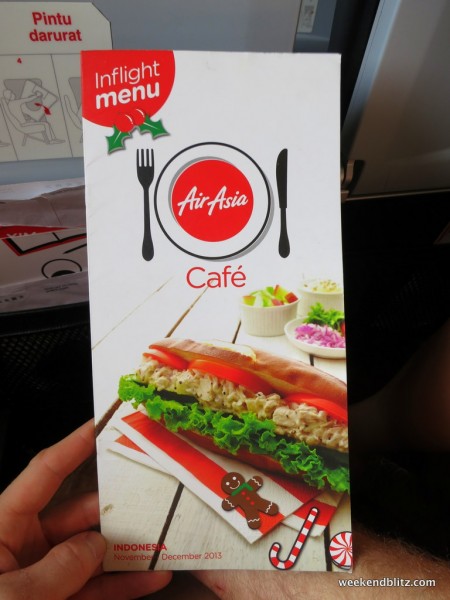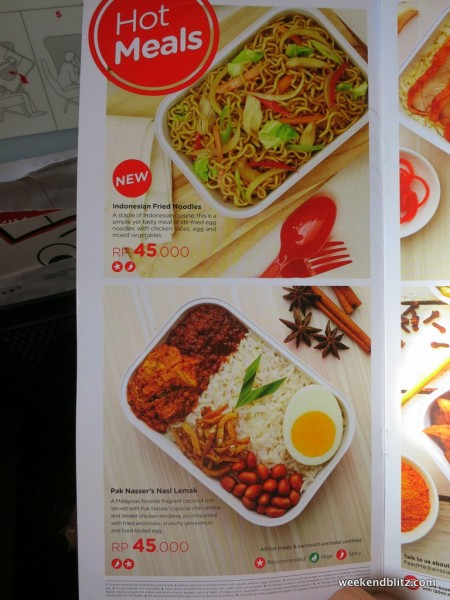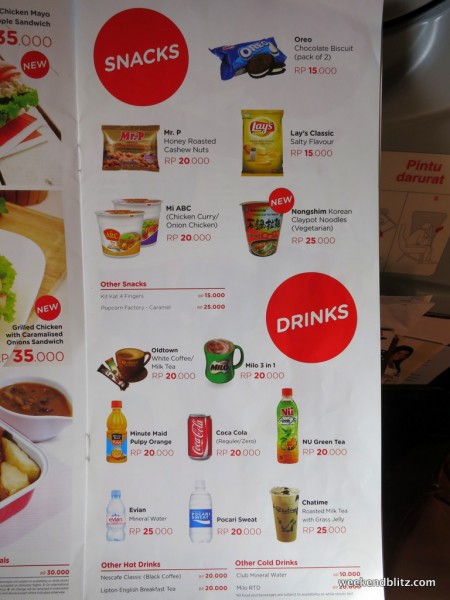 I ordered the Pak Nasser's Nasi Lemak: "A Malaysian favorite fragrant coconut rice served with Pak Nasser's special chili samba and tender chicken rendang, accompanied with fried anchovies, crunchy groundnuts, and hard-boiled-egg."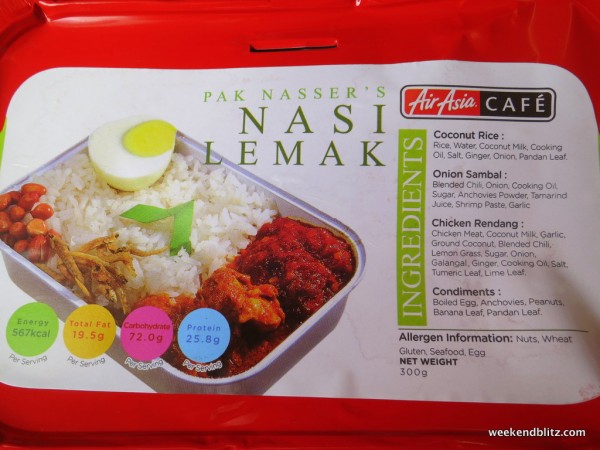 The food wasn't half bad! Good luck being able to purchase a tasty hot meal on a 90-minute flight on a United or Delta flight!
The in-flight service was all around good. The flight attendants were upbeat and friendly and easily switched between Indonesia and very articulate English.
Flipping through the Air Asia magazine provided me much entertainment –check out this digital weight scale which can be bought in-flight:
And reading up on Ala Farah Quina, Indonesia's NOT photoshopped "Celebrity Chef"–I wonder what qualified her?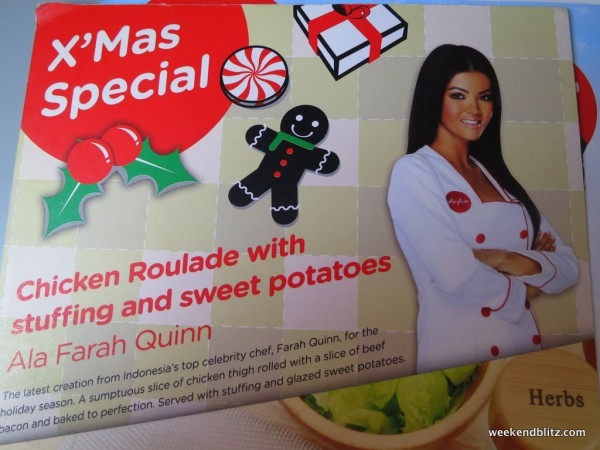 But, by far the most entertaining was reading the detailed article about a plane crash, while in-flight on a plane! This seems like a topic that should be off limits, no?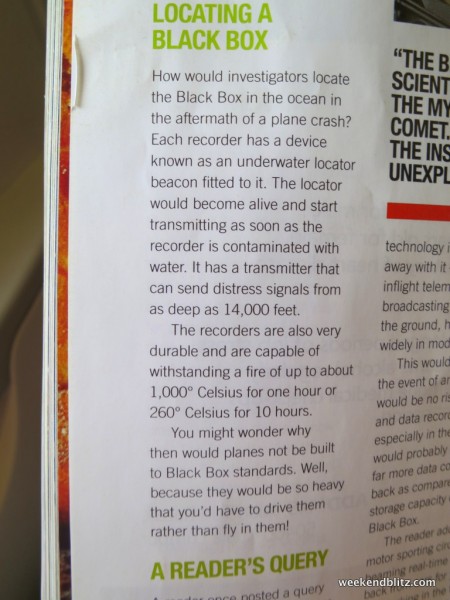 With the flight nearing an end, we stored our tray tables and raised seatbacks on the approach into Jakarta-CGK.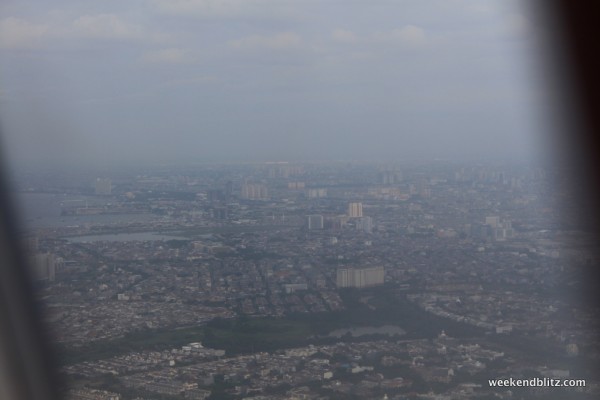 Landing in Jakarta, we saw 2 big plane graveyards. There were lots of 747s, the few that still had clear enough paint to read were those of Batvian Air.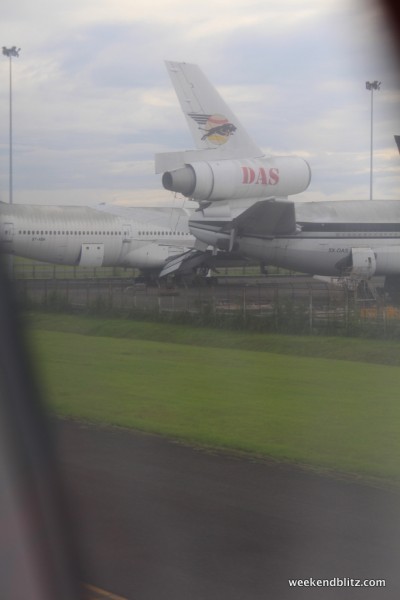 Once we landed, it was a pretty quick deplane into a hanger-looking type facility. As soon as we were back in the A/C, the baggage carousel was right there. The terminal for domestic arrivals like ours was rather small.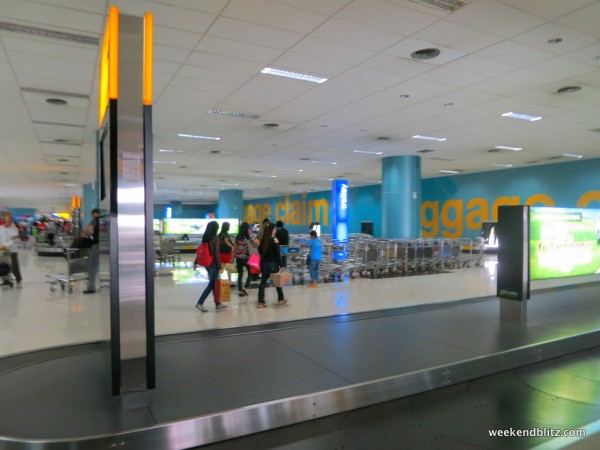 Our bags were off pretty quickly and we headed out to find our driver meeting us from the Keraton Hotel.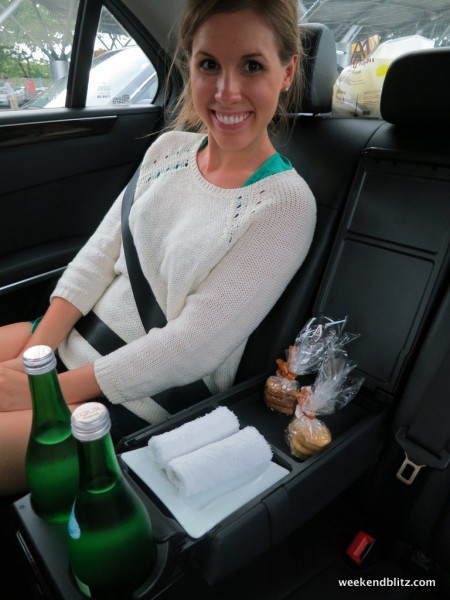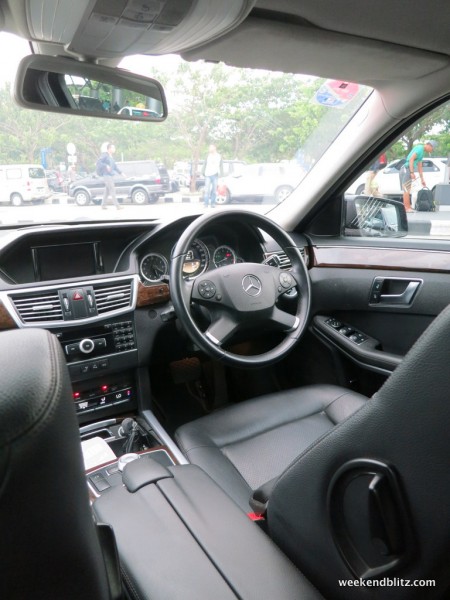 BOTTOM LINE: Despite being tripped up by the checked baggage weight limit, we were pleased with this low-cost Asian carrier and would fly them again–on a short flight only though, the legroom left much to be desired.