Secret Travel Trick: Free Hotel Layover in Istanbul with Turkish Airlines
Here's a pretty cool travel "trick":  Turkish Airlines will either put you up in a hotel for the night or give you a free tour of the city if you have a long enough layover in Istanbul-IST. Here's how to get the free hotel room:
The Deal
Turkish Airlines will provide free lodging if you meet the following requirements (can be a paid or award ticket):
You're flying Turkish Airlines into and out of Istanbul
You're just passing through Turkey, your origin and destination is international
Your layover is 10+ hours for economy or 7+ hours for business
The 10+ hour or 7+ hour layover is forced based upon Turkish Air's flight schedule, i.e. you don't have the option of taking an earlier flight if you want to
How to Get It
The list above might have seemed strict but there are plenty of instances that would qualify for this deal. For example, if you booked the following flight from Washington, D.C.-IAD to Bordeaux, France-BOD, you would qualify: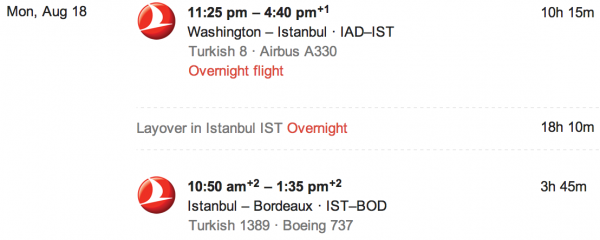 You'll be "stuck" with a 18 hour layover in Istanbul which might typically dissuade you from booking, but, knowing that you'll get a free night in Istanbul might actually encourage you to book this routing. This works because there is only 1 flight per day to Bordeaux.
Let's take a look at this flight from Washington-IAD to Athens-ATH:

On the surface, it appears that it would qualify:  you've got a 15 hour layover in Istanbul-IST which is well within the limits of the 10 hour minimum but, upon closer examination, I found that there was actually a connecting flight to Athens-ATH that would have worked: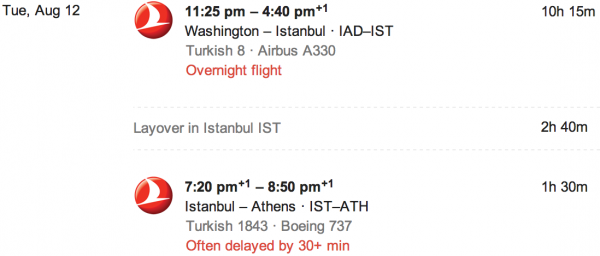 Because the flight gets into Istanbul at 4:40pm and there's a doable connection to Athens at 7:20pm, I wouldn't be able to get the free hotel layover in Istanbul on this itinerary, even if I booked the longer layover that leaves at 7:40am the next day.
Terms and conditions: A complimentary hotel accommodation (maximum 2 nights) will be provided to our valuable passengers when there are more than 10 hours (for economy cabin passengers) and 7 or more hours (for business cabin passengers) waiting during their international connecting flights due to Turkish Airlines' schedule structure. This service is not applicable when there is a shorter connection available within the time frame mentioned above. The first and the connecting flights must be with Turkish Airlines. All passengers must hold a confirmed reservation for the first and the connecting flights. Complimentary accommodation will be arranged with Turkish Airlines' corporate partners and will be provided through the "Hotel Desk" located after the customs' check point at the arrival. Passengers must check for any visa requirements when entering Turkey. In the event where a visa is not granted, Turkish Airlines assumes no responsibility for providing complimentary hotel accommodation. For further information, please call +90 212 4440849.
Beware, though:  you could get stuck without a room if Turkish Air adds flights to their schedule between the time of booking and date of travel. To comply with the "this service is not applicable when there is a shorter connection available within the time frame mentioned above" rule, this is checked by an attendant at the Turkish Airlines Hotels desk by simply checking the current flight schedule. If there's a flight to your destination within the 10 hour/7 hour window, then you're out of luck.
If you want to confirm if you qualify, you'll want to check the Turkish Airlines flight schedule. For future flights, the easiest way to do this is to search Google Flights. To confirm closer to your departure date that Turkish Airlines hasn't added any new routes, I suggest searching the route on FlightAware.com:

Types of hotels to expect:
Here are some of the reported hotels that Turkish Air might put you in– as you can see, it's a pretty mixed bag (although most are international, Western-style chains).
Marriott Renaissance Polat Istanbul Hotel (72% TripAdvisor–most common)
Akgün Istanbul Hotel (44% TripAdvisor–common–far from the airport)
Wow Airport Hotel (56% TripAdvisor–common)
DoubleTree
Wyndham İstanbul Petek (92% TripAdvisor)
Radisson Blu Conference & Airport Hotel (53% TripAdvisor)
Hilton Garden Inn
Courtyard by Marriott Istanbul International Airport
Gonen Hotel Istanbul
Where to Go
When you get to Istanbul, you'll have to clear customs and immigration (and, if you're a US citizen, pay $20 US in cash for a visa). Once out of customs, you'll be on the Arrivals floor, turn right and walk to the end and you'll find the Turkish Airlines Hotel Desk right next to Starbucks.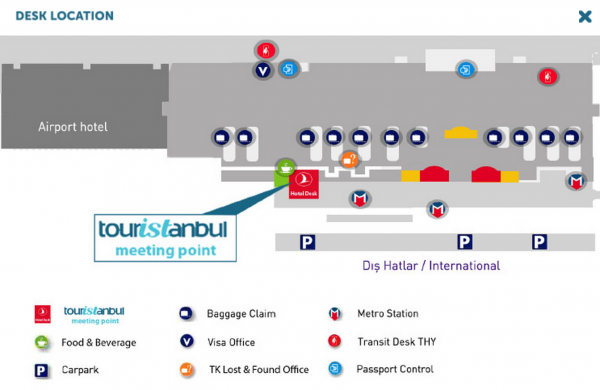 The staff will present you with a hotel voucher; this voucher should include breakfast if your stay includes that time window. Additionally, transport to/from the hotel is included.
Details:
This is available for both paid and award bookings.
You could get stuck without a room if Turkish Airlines adds a flight between the time of booking and travel, they check the rule on the day you show up asking for a room.
Unfortunately, you cannot pre-book the hotel. You have to be physically present at the Hotel Desk.
Contact info for the Hotel Desk is +90 212 463 63 63 / ext. 12426-15532 or touristanbul@thy.com and hoteldesk@thy.com.
If you get really creative, you could possibly stay for 2 nights on both the outbound and return flights for a total of 4 nights in 1 roundtrip flight.
BOTTOM LINE: Want a free night in Istanbul, maybe even 2? Carefully book your transit to connect through Istanbul and stay within the connection windows and you'll extend your trip by up to 2 nights for free! Don't forget that Turkish Airlines is a Star Alliance member so you can use United miles for this trick, as well.
Featured image source: http://lslconsultancy.com/wp-content/uploads/2014/06/Istanbul.jpg