Trying Out a real Turkish Bath – Istanbul, Turkey
While we were in Istanbul, we were bound and determined to get the full experience of visiting an authentic Turkish bath. We began researching the different options after we'd arrived in Istanbul and quickly found out that the true Turkish baths have separate male and female sections (that makes sense… not trying to be ogled by strange men). But, after scouting out TripAdvisor and a few other websites, we gathered that many of the "true" Turkish bath visits involve excessively awkward experiences, compliments of lots of old-person nudity.
Throw in a language barrier, and we (hesitantly) opted for the more conservative route with a much more touristy hamam.  Lame, I know, but there were a few very graphic TripAdvisor reviews that we had no intention of encountering for ourselves – the most memorable review described, "he try to put his thing in my mouth while washing." Ehh, we're all for new cultural experiences but this was where we drew the line.
The one we ended up choosing, Süleymaniye Hamam, was nonetheless an old, authentic building that had been a bath since the 15th century. The Sultan himself had bathed there on numerous occasions and, thankfully, the hamam had plenty of great reviews.
We arrived and were given small garments to wear (mine were similar to a very skimpy, mesh bikini) and shown to wooden stalls to change.
From there, were were led to a huge sauna/steam room for about 40 minutes. Because the building is so old, it looks nothing like a typical sauna we've visited in the states – it's a large room made entirely of marble with a huge, round slab in the middle where you can sit or lie down.
After sweating out all the impurities in your body (and living out what felt like the longest 40 minutes of my life), they finally came in to greet us and lead us to an alcove off the main sauna room. Two young men entered and scrubbed our entire bodies and then washed us. The very best part was when they dumped ice cold water on us because it was beginning to feel like I hadn't seen water in 40 years instead of 40 minutes.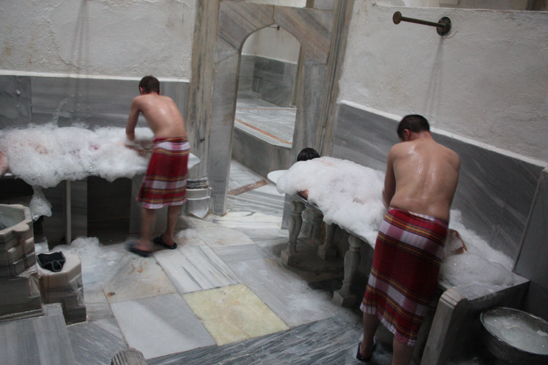 Our hamam visit was quite invigorating and, more importantly, gave us a small perspective of the times past where the hamam was not only a place to get clean but also a central meeting place for socializing. Although it was still pretty awkward at times (with strange, 18-year-old men caressing my body), I was thankful many times that Jeffrey was right near me, because I would have felt super uncomfortable if I'd be all by myself.