Award booking with United miles to Istanbul/Cappadocia, Turkey and Lisbon, Portugal
Award booking with United miles to Istanbul/Cappadocia, Turkey and Lisbon, Portugal
Piecing together United Airlines (or any other airline) awards are always tough. It is near impossible to piece together a perfect itinerary. This post will give you an idea of how to take advantage of schedule changes to perfect a United MileagePlus award ticket.
Original Booking
We made this booking on May 22, roughly 3.5 months before departure. This schedule required 3x flights on inbound and the purchase of 2x paid flights in Turkey:
Far from ideal, but we booked this at 60k miles x 2 people = 120k United MileagePlus miles in economy.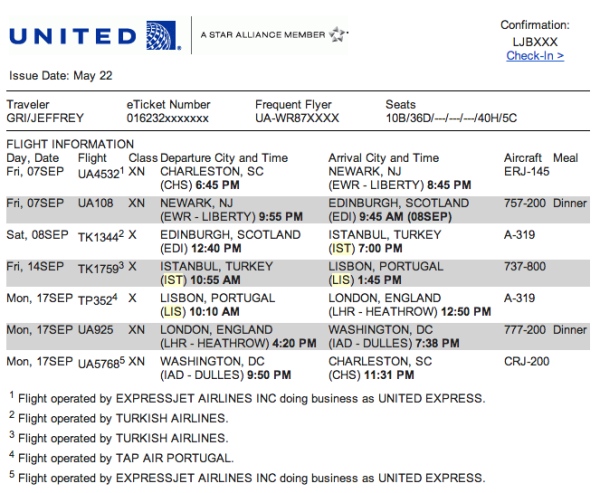 Second Booking
A little more than 1 week after the original booking, we had already received a schedule change notice from United: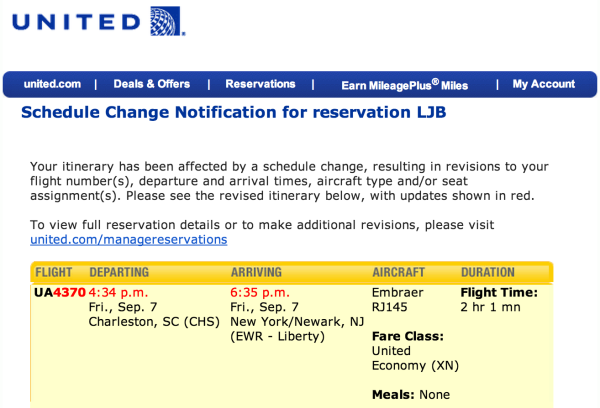 At the time, this was highly frustrating–United had moved our flight departing Charleston up by 2 hours! This would mean we'd have to go from not missing any work on Friday to having to take a large chunk of the day off. While these schedule changes are generally annoying, they bring with them huge opportunities when it comes to booking awards. United typically charges $75-$100 per ticket for changes no matter how minor; a schedule change throws the ball in your court and gives you the opportunity for a free change. I jumped back on United.com and found that, in the past few days, award space had opened up on the direct flight on Turkish Air from Washington-IAD to Istanbul-IST! The schedule change was a blessing in disguise as we now no longer had to make an additional connection in Edinburgh-EDI…and, because of United's schedule change, we didn't have to pay the change fee. So, here's what we're working with now:
FLIGHT INFORMATION
Day, Date
Flight
Class
Departure City and Time
Arrival City and Time
Aircraft
Meal
Fri, 07SEP
UA37491
X
CHARLESTON, SC
(CHS) 7:04 PM
WASHINGTON, DC
(IAD – DULLES) 8:30 PM
CRJ-700
Fri, 07SEP
TK82
X
WASHINGTON, DC
(IAD – DULLES) 11:25 PM
ISTANBUL, TURKEY
(IST) 4:40 PM (08SEP)
A-340
Fri, 14SEP
TK17594
X
ISTANBUL, TURKEY
(IST) 10:55 AM
LISBON, PORTUGAL
(LIS) 1:45 PM
737-800
Mon, 17SEP
TP3525
X
LISBON, PORTUGAL
(LIS) 10:10 AM
LONDON, ENGLAND
(LHR – HEATHROW) 12:50 PM
A-319
Mon, 17SEP
UA925
X
LONDON, ENGLAND
(LHR – HEATHROW) 4:20 PM
WASHINGTON, DC
(IAD – DULLES) 7:38 PM
777-200
Dinner
Mon, 17SEP
UA57686
X
WASHINGTON, DC
(IAD – DULLES) 10:07 PM
CHARLESTON, SC
(CHS) 11:42 PM
CRJ-200
1,6 Flight operated by MESA AIRLINES doing business as UNITED EXPRESS.
2,3 Flight operated by TURKISH AIRLINES.
5 Flight operated by TAP PORTUGAL.
This route is near perfect but it still leaves us having to buy 2x tickets to get to and from the Göreme/Cappadocia region.
Third (and final) change
Somewhere in between June 2nd and late August, there was another (very minor) schedule change. We were still trying to figure out the flights to central Turkey, so this prompted me to jump on United.com to see if it would be possible to take advantage of the schedule change and add on an extra flight. With the current booking, we weren't fully taking advantage of our 1 open-jaw since we were flying into AND out of Istanbul. With some research, I found that award space had opened up from Kayseri-ASR to Istanbul-IST:

I called into United and they added this leg on for free! Here are the mechanics of why it was allowed:
By adding this additional segment, the open-jaw is utilized by flying into Istanbul-IST and then flying out of Kayseri-ASR to Lisbon-LIS.
By adding this flight to our award itinerary, it was one less that we would have to pay for out of pocket… providing a savings of $200+ between the 2 of us.
BOTTOM LINE: Booking award flights are tough, award space is scarce and you have to take what you can get — but, don't miss out on opportunities to make free changes to flights as space opens up.
Ready to go? Tutorial on redeeming United miles for award travel
Unlike Delta.com, the United website is actually very good and should make searching for availability a breeze. As a result, I would start your search by simply inputting your desired dates as a one-way search and see what pops up. You'll want to search as a one-way to start with because booking the stop-over and open jaw can get slightly tricky and it's helpful to have already found your award space to start with.
Taking a 4-month sampling, I'm already finding much, much better availability than Delta offers.
If you're booking a simple round-trip, you can use the search as-is on the United site. If, however, you're interested in taking advantage of the stopover/open jaw, you'll want to search for your flights with the one-way tool, find your dates and insure availability and then enter the exact dates and routes in the "multiple destinations" search:
Select your predetermined flights and then cross your fingers that everything prices out correctly:
Success! Just as expected, my itinerary comes out to 65k miles/person in Economy.
Your next step is to ticket it if you have enough miles in your account — or, it gives you an option to hold the reservation until midnight the following day.
This can be a very useful feature if you're still trying to tweak your award, so I would almost encourage not having enough United miles in your account so you have the option to reserve–it just gives you a little extra flexibility. You'll then need to call in and have the award ticketed once you transfer the miles to your account.