A Visit to the Blue Mosque – Istanbul, Turkey
We headed to the Blue Mosque first thing one morning to try to avoid the crowds as much as possible. Luckily for us non-morning people, the famous mosque was only a few blocks from where we were staying.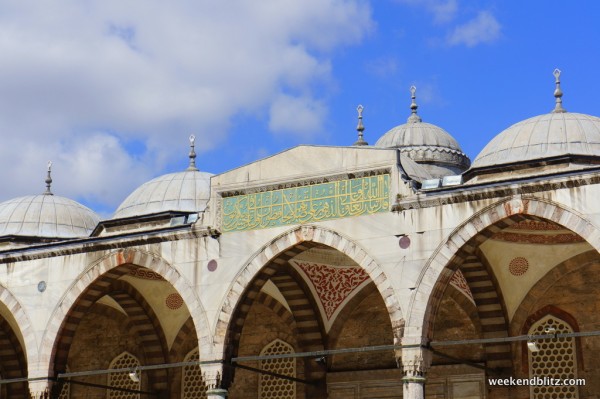 The Blue Mosque (also known as the Sultan Ahmed Mosque) was built between 1609 and 1616, and made bigger and higher than its across-the-street neighbor, Hagia Sophia (then a church, currently a mosque), in an effort to show Islam's dominance over Christianity. The Blue Mosque's facade is relatively plain-looking, with the type of architecture we've come to expect in a mosque: a huge dome with a number of minarets and spires surrounding it. The inside, though, is why it's known as the Blue Mosque: because the drawings and designs are mostly blue. It was really pretty– I especially loved the attention to detail inside all of the buildings (covering the ceiling and dome). There are more than 20,000 ceramic tiles on the ceiling.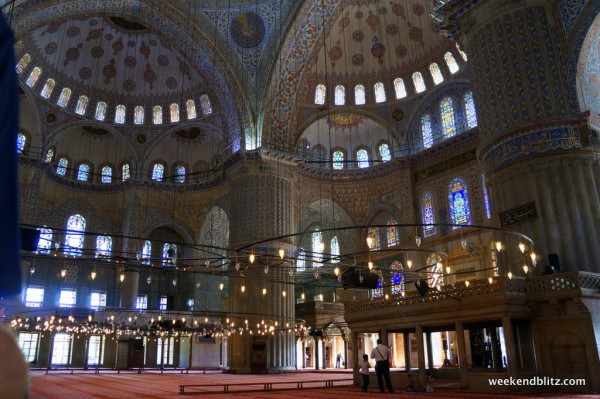 This was both Jeffrey's and my first time visiting a mosque. The floor plan is a large, open, carpeted area covering most of the interior, with a small, fenced-in area along the back for women and non-Muslim visitors. Because the Blue Mosque is a little different than less-touristy/less famous mosques, the area open to visitors was much larger and the guards weren't quite as strict on appropriate attire: many women tourists did not have their hair covered and, though signs told us it was very much required, those women weren't harassed until they covered up.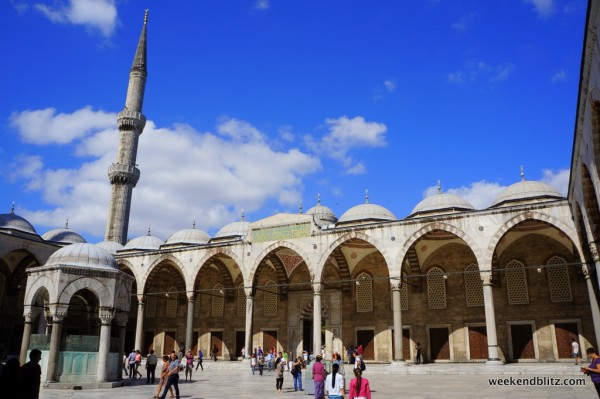 The Blue Mosque is one of Istanbul's most visited sites and is definitely worth a visit if you find yourself in the beautiful, historic city.