Top 16 Longest Emirates Fifth Freedom Routes: Coming to a City Near You
Other posts in this series:
Emirates has been more and more aggressive with Fifth Freedom routes (read more on Fifth Freedom routes here:  What are "Fifth Freedom" Airline Flights and Routes?)– probably the most active of any other airline in recent times. But, that just might be our skewed perception from all of the recent press; within about a year, Emirates:
was approved for a Fifth Freedom route from Milan-MXP to New York-JFK – Early 2013
began operating the route – Oct 2013
had an Italian court take action to remove Emirates' right to fly it – April 2014 (although it's still being operated)
…Not to mention, Emirates' often outspoken CEO, Tim Clark, isn't shy about his ambitious plans.
Back in June 2013, Tim Clark talked about adding more and more routes:  "Emirates President Tim Clark said plans would hinge on transporting passengers on a fifth-freedom basis using Open Skies agreements the United Arab Emirates had signed with the US, Singapore and Thailand and a more liberal bilateral air services agreement with Japan" (CH-Aviation.com).
In another article, the CAPA discussed Emirates' plans for even more trans-Atlantic Fifth Freedom flights:  "Emirates for some time has spoken of 'connecting the dots' and offering greater fifth freedom services. The most recent talk is from northern UK to the US. Emirates' rationale is similar to Milan-New York:  traffic is being routed through connecting cities and it could serve the market directly" (centreforaviation.com).
But, all of the hysteria aside, Emirates doesn't operate that many Fifth Freedom routes, after all. In fact, nine of 16 of their Fifth Freedom routes have at least one point touching Australia or New Zealand.
Anyway, let's get to it; here are Emirates' 16 Longest (and complete) Fifth Freedom Routes:
1. Sydney-SYD <–> Bangkok-BKK currently holds the title of Emirates' longest Fifth Freedom route in the world. EK Flight # 419 (UAE 419) departs SYD at 6:45pm, arriving BKK 9 hr 25 mins later at 1:10am. The Boeing 777-300ER covers 4,662 miles (7,503 km) on this portion of the trip. After a 1 hr 30 min layover at BKK, the EK 419 continues with a 6 hr 05 min flight DXB. The trip doesn't begin at SYD though …skim down to #10, where you'll find its true origin; it's like 2 Fifth Freedoms in one!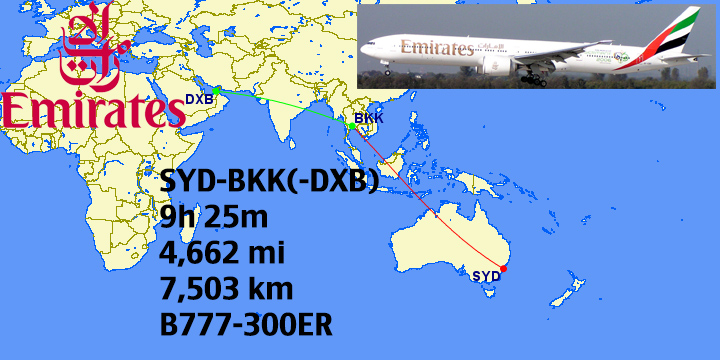 2. Milan-MXP <–> New York-JFK comes in at second place with a 9 hr 0 min flight that covers 3,995 miles (6,429 km). EK Flight #205 (UAE 205) begins with a 7 hr 05 mins flight from DXB to MXP before continuing onward to JFK. This has been the most contentious of all of Emirates' Fifth Freedom routes lately. They began service in October 2013 after receiving approval from both US and Italian authorities (read more on Fifth Freedom routes here: What are "Fifth Freedom" Airline Flights and Routes?), but it didn't take long for the domestic carriers to file formal complaints. The Italian group that represents Alitalia and other Italian airlines "argued that the right to use Milan as a stopover cannot be granted to a non-European Union carrier or to an airline from a country that isn't the point of departure or the destination" (USA Today). The gist is that Emirates is added competition and also delivers a better product, so Alitalia's sales are hurting as a result. Although an Italian court moved to block the route in April 2014, it's still bookable and continues to be flown, so we'll have to see how it shakes out.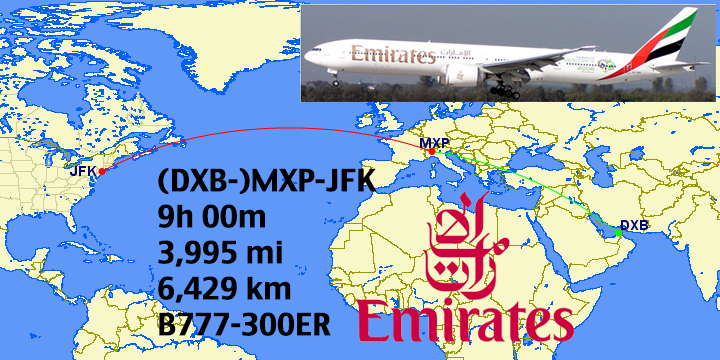 3. Melbourne-MEL  <–> Kuala Lumpur-KUL is one of the many Australian Fifth Freedom routes and comes in at 3rd longest. The 8 hour 5 minute flight covers 3,918 miles (6,305 km) on a Boeing 777-300ER. EK Flight # 409 (UAE 409) continues to Dubai with a 6 hr 50 mins flight from KUL to DXB.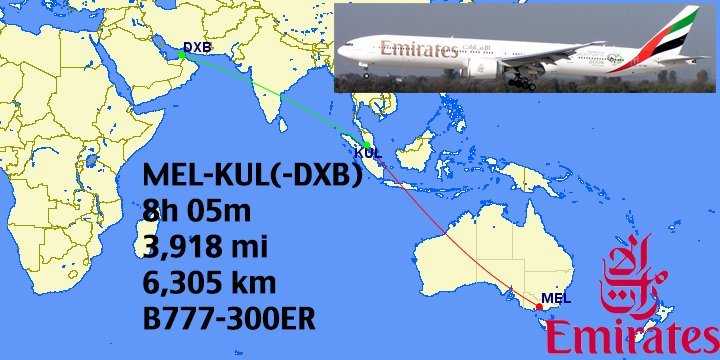 4. Brisbane-BNE <–> Singapore-SIN is scheduled to take 7 hr 45 mins to cover the 3,816 miles (6,141 route). EK Flight # 433 (UAE 433) is operated using a B777-300ER.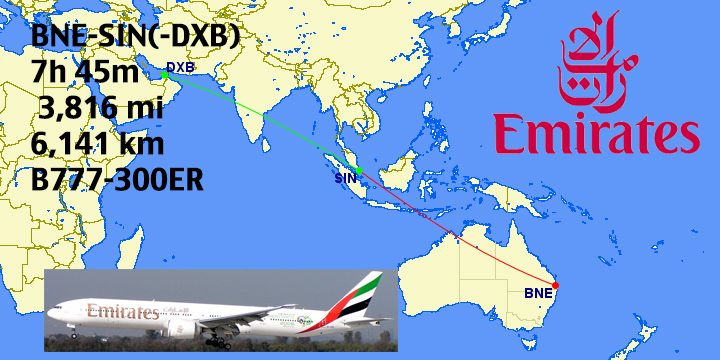 5. EK Flight # 405 (UAE) between Melbourne-MEL <–> Singapore-SIN is flown aboard a Boeing 777-300ER and, although tied for 3rd based upon scheduled flying time, it is actually ~150 miles shorter at 3,744 miles (6,025 km) — over 8 hours 5 minutes. From SIN, the flight takes 7 hr 10 mins to return to the Dubai-DXB hub.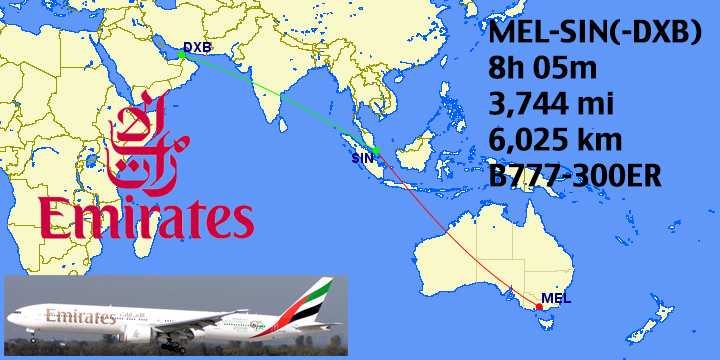 6. Colombo, Sri Lanka-CMB <–> Singapore-SIN covers 1,709 miles (2,750 km) in 4 hours 0 mins aboard an Emirates B777-300ER. EK# 348 (UAE 348) begins with a 4 hr 15 min flight from DXB-CMB, and then continues onward to SIN after a 1 hr 25 min stop at CMB to change passengers.
7. Auckland-AKL <–> Melbourne-MEL beings the series of the Australia to New Zealand routes. The flight from Auckland to Melbourne takes 4 hours and 10 minutes on an Airbus A380-800. After a short layover at MEL, the flight then continues onward to Dubai-DXB for another 14 hours 0 minutes of flying.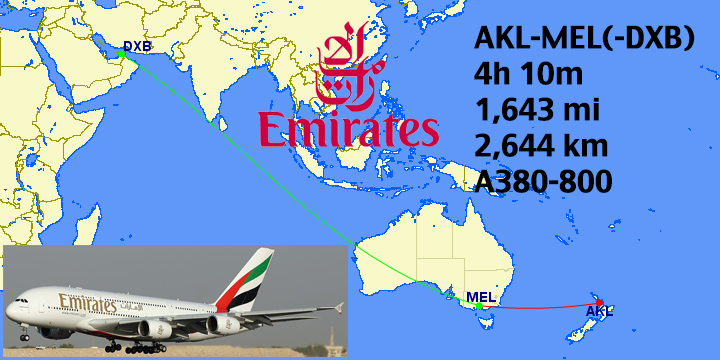 8. Auckland-AKL <–> Brisbane-BNE is the second longest Trans-Tasman Fifth Freedom flight operated by Emirates and the second to be operated by the Airbus A380-800. Its scheduled flying time is 4 hr 0 min and covers a distance of 1,428 miles (2,298 km). EK Flight # 435 (UAE 435) continues onward to Dubai with a 14 hr 20 mins flight.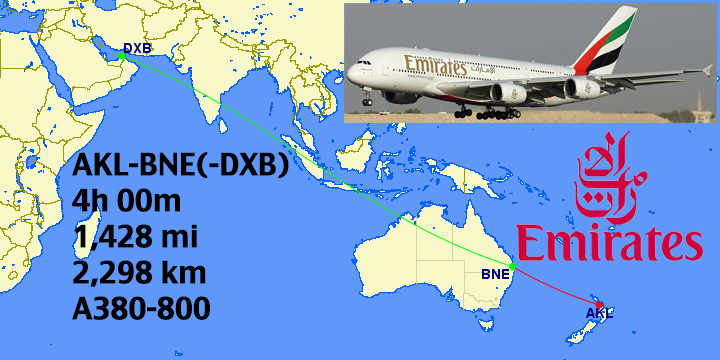 9. Auckland-SYD <–> Sydney-SYD is the 3rd and final city that has A380 service between Auckland and Australia, and EK Flight #413 is the shortest of the 3 at only 1,345 miles (2,165 km) and a flying time of 3 hr 30 mins. But, if you're continuing on to Dubai, this won't necessarily save time as it has an increased time between SYD and DXB of 14 hr 30 mins in the air.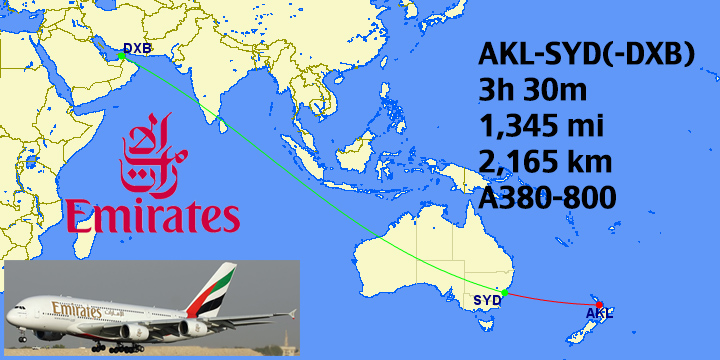 10. Although number 10 on this list, Christchurch-CHC <–> Sydney-SYD is by far the longest flight based upon total flying time. Starting in Christchurch, EK Flight # 419 (UAE 419) has a pretty quick 3 hr 20 min, 1,323 miles (2,129 km) hop from New Zealand to Australia. It then begins Emirates' #1 longest Fifth Freedom flight (see above) before continuing on to Dubai. All told, this flight (if taken from Christchurch to Dubai) would take you 21 hr 50 mins due to all of the layovers.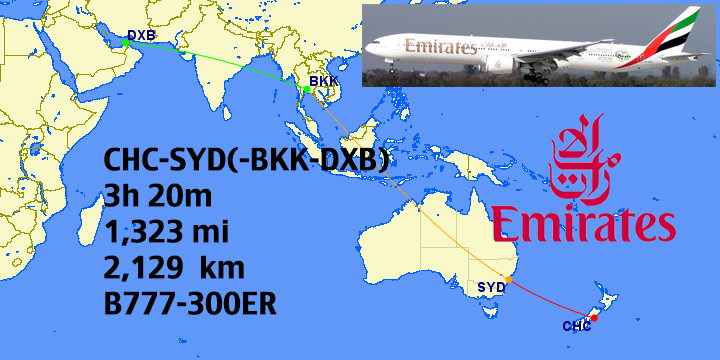 11. Rio de Janeiro-GIG <–> Buenos Aires-EZE is the airline's only Fifth Freedom flight in South America. EK Flight # 247 (UAE 247) beings in Dubai-DXB with a 14 hr 20 min flight to Rio de Janeiro before continuing onward to Buenos Aires with a 3 hr 30 min flight. Total distance covered on the B777-300ER:  1,240 mi + 7,384 mi = 8,624 mi (13,879 km).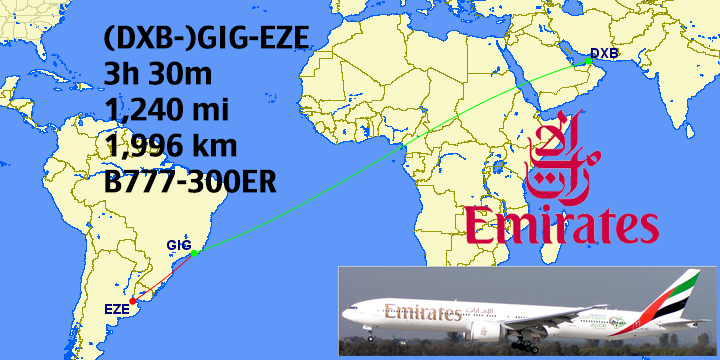 12. The Larnaca, Cyprus-LCN  <–> Malta-MLA flight takes 2 hr 55 min, covering 1,082 miles (1,741 km). This is one of the few Fifth Freedoms that is operated by a regular Boeing 777-300 (not -300ER).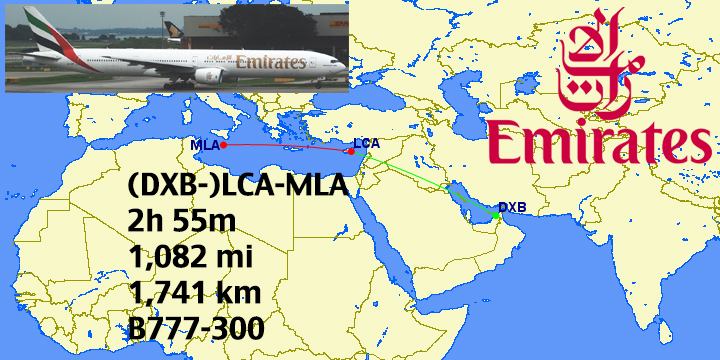 13. Hong Kong-HKG  <–> Bangkok-BKK covers 1,049 miles (1,688 km) on an Airbus A380-800. The 2 hr 55 min flight is just one of the very many Fifth Freedom flight routes operated out of Bangkok-BKK.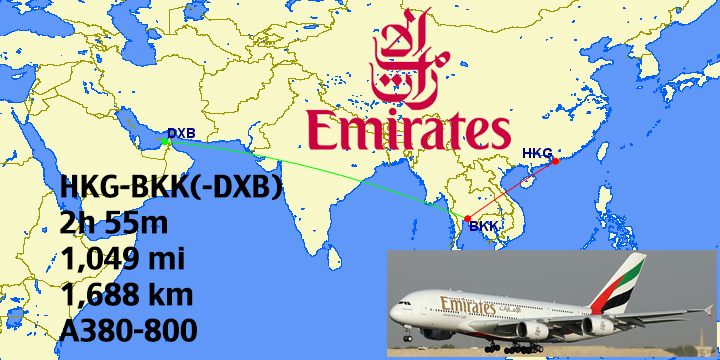 14. Colombo, Sri Lanka-CMB <–> Male, Maldives-MLE is flown on a Boeing 777-300ER and covers 483 miles (777 km) in 1 hr 30 mins.
15. Abidjan, Côte d'Ivoire-ABJ <–> Accra, Ghana-ACC is the first Emirates' Fifth Freedom route operated in Africa. Although it's coded as Emirates Flight # EK 787 (UAE 787), don't get your hopes up for Dreamliner service, it's flown using a B777-300ER. The very short hop from ABJ to ACC takes a mere 1 hr 05 mins, a distance of 260 miles (418 km).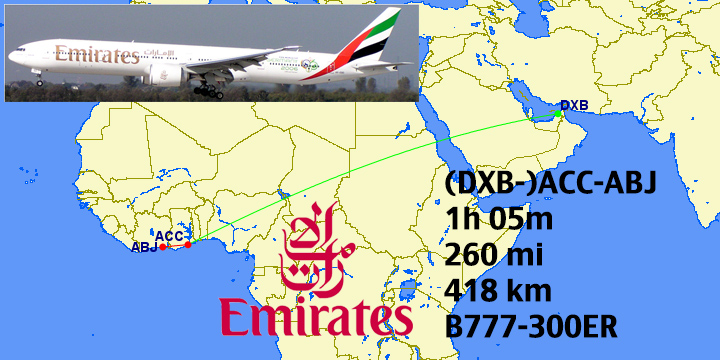 16. Finally, we have Emirates shortest Fifth Freedom route:  Harare, Zimbabwe-HRE  <–> Lusaka, Zambia-LUN. With a scheduled flying time of 1 hr 10 min, the Airbus A340-300 covers 250 miles (402km). From Lusaka, EK Flight #713 (UAE 713) will take you another 7 hr 10 mins to reach the Dubai-DXB hub.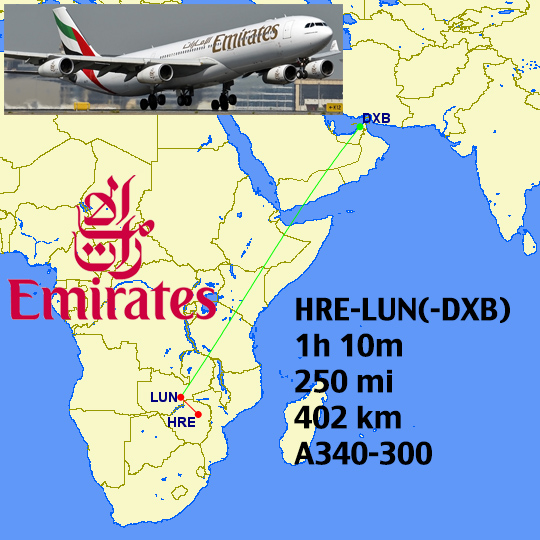 Notable mentions
 – Conakry, Guinea-CKY –> Dakar, Senegal-DKR is flown in just the one direction but doesn't have Fifth Freedom privileges, meaning you're not allowed to book just the CKY-DKR route but can fly CKY-DKR-DXB.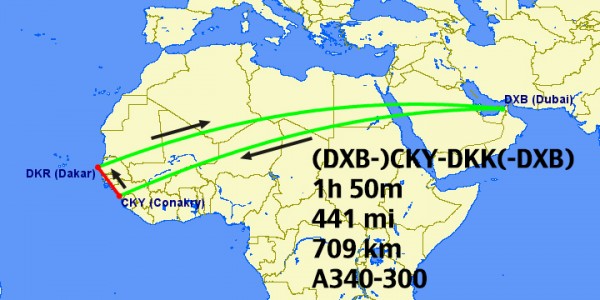 – Malta-MLA –> Tripoli, Libya-TIP is the same as the above flight–it can operate but isn't allowed to pick up passengers in Malta and carry them to Tripoli. The most likely explanation? The route is already well served:  both Air Malta and Libyan offer daily non-stop service. In total, the native airlines are capable of carrying ~350 passengers daily between the 2 cities; they likely decided that swamping the market by doubling capacity with an additional 360 seats (8 first, 42 business and 310 economy) would have been horrible for their businesses and voted against it.