Our Credit Card Sign-up Bonus Spree: 375,000 miles and points
After burning lots of miles and points over the past few months (read: All about our Honeymoon trip: Bali, Jakarta, Singapore and the Maldives), it was time to start racking up them again for the next trip. Here was our haul:
Our Haul
McCown:
AAdvantage World MasterCard / Citi Platinum Select = 50,000 American Airlines AAdvantage Miles + $0 annual fee 1st year
US Airways Premier World MasterCard = 40,000 US Airways Dividend miles + $89 annual fee
Starwood Preferred Guest® Credit Card from American Express = 30,000 Starpoints + $0 annual fee 1st year
Jeffrey:
AAdvantage World Elite MasterCard / Citi Executive = 100,000 American Airlines AAdvantage Miles + $200 fee 1st year (but it includes 1 year of lounge access)

US Airways Premier World MasterCard = 

40,000 US Airways Dividend miles

 + $89 annual fee

Starwood Preferred Guest® Credit Card from American Express = 

30,000 Starpoints

 + $0 annual fee 1st year

Club Carlson Premier Rewards Visa Signature Card = 85,000 Gold Points + $75 annual fee
Totals =
230,000 American Airlines/US Airways miles for $378, ~0.16 cents per mile
60,000 SPG Starpoints for $0
85,000 Club Carlson Gold Points for $75, ~0.09 cents per point
While most of the annual fees are waived for the 1st year, we're still paying a few of them. I don't really mind eating the annual fee for a big signup bonus because I just view it as buying points at a really good price. For example, the 230,000 AA/US miles we got for just $378 means we're essentially buying miles for 0.16 cents each; this is an amazing rate since the typical price to purchase miles is in the 2.1 to 2.5 cents/mile range. We'll reassess in about a year before the annual fees begin to hit (or renew) and likely cancel most of the cards, or drop them down to no annual fee versions.
The rationale / how far we can go
American Airlines / US Airways
We've never had the US Airways or American Airlines cards, so the thought was to each apply for both of them and, hopefully by the time we're ready to use the points, American and US would have fully merged their programs or at least begun allowing the transfer of points between the 2 programs. This will yield us a total of 230,000 American points to work with and could get one of the following:
4 roundtrips to Japan or Korea (off peak) = 50,000 miles rt each
9 roundtrips within the domestic US or to the Caribbean/Mexico (off peak) = 25,000 miles rt each
3 roundtrips to the South Pacific (Australia, New Zealand, French Polynesia) = 75,000 miles rt each
2 roundtrips to India = 90,000 miles rt each
3 roundtrips to China, Singapore, Thailand, Vietnam etc… = 70,000 miles rt each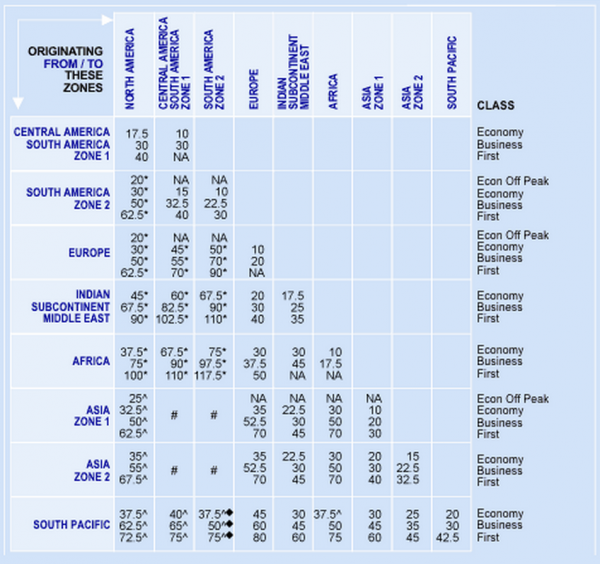 SPG: Starwood Preferred Guest
We both jumped on the 30,000 Starpoint offer since it is usually a promotion that they run once per year (the normal bonus is 25,000 points).

How far can 60,000 Starpoints take you? Using the 5th night free award with Starwood, 60k points can get you 10+ nights at a category 3 property. Examples include: Sheraton Krabi Beach Resort, Sheraton Nha Trang Hotel & Spa.
If you want to take it to the extreme, you could stay at a category 1 property for 22 Nights with 60,000 Starpoints. For example, the Sheraton Senggigi Beach Resort, Indonesia would qualify: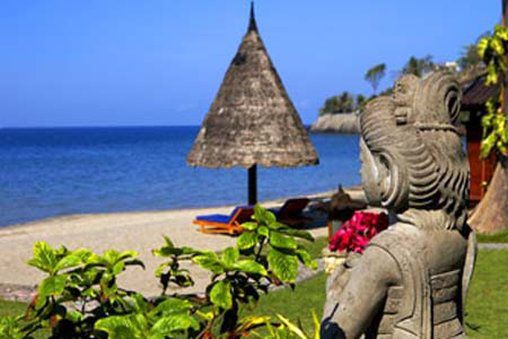 Club Carlson
To start, you'll want to read this post about when I discovered how awesome this deal is: Blitz Deal: ~20 Free Nights with 1 Credit Card Bonus. Club Carlson hotel redemptions start at 9,000 points/night but, if you have their credit card, you will get the final night of any award redemption for free. This means that if you stay at only Category 1 properties and stay there for only 2 nights (you pay 9,000 for the 1st night, the 2nd/last night is free) you'll pay only 9,000 points total = 4,500 points/night. So, the 85,000 Club Carlson points will yield us up to 18+ free nights.
Part of the "catch" is finding Category 1 properties that qualify for the 9,000 points/night redemption. Here's a map of the current choices:
What about my credit score?
As we've written about before, getting new cards can often times boost your credit score in the long run (although they may take a 1-3 point ding per application in the short term. Read up more about getting in on the miles and points game here:
BOTTOM LINE: The quickest way to earn miles and points is still large credit card signup bonuses; we just loaded up and now's a good time for many to do the same before the US Airways offers disappear.