How to: Get a Vietnam Tourist Visa for U.S. Citizens
As part of our planned Myanmar trip for sometime in 2015 (see related post here for best use of award miles to Myanmar), McCown and I also hope to visit Vietnam. As a result, we had the question that most people have when traveling to a new country: "Do U.S. Citizens/Americans need a visa to travel to Vietnam and, if so, how do you apply?" We found that ALL US Citizens traveling to Vietnam do, in fact, need a visa! Here's what we learned from the research– hope it helps other travelers!
A. Apply for a Visa in person at a Vietnam Consulate or Embassy

Cost: ~$100 (rates vary by embassy/consulate and are not posted online!)
Processing time: 2-3 days but must apply in person
This is the official, prescribed route to obtain a tourist visa that is outlined on the Vietnam website.
Steps:
Go to the Ministry of Foreign Affairs of Vietnam – Visa Application page.
Head over to the "Fill Form" tab to beginning completing the online Visa Application.
You will first need to indicate your purpose of entry; 99% of the time it will simply be "Tourism":
If you're a U.S. Citizen in the United States, Vietnam provides 3 locations for you to choose from when applying in person: New York, San Francisco or Washington, D.C.:

Once you're done filling out the application, you will get a popup reminding you that you must appear in person at the chosen location to apply.
Items you must submit with the application:

Application form completed online (make sure it lists your Application ID and Application code)
Your current passport
A passport photo taken within the past 12 months
Visa Approval/Reference number (if you already have one)

The processing time is described as "NG1 and NG2 visas are issued

within 1 working day

from the day the Vietnam diplomatic mission abroad receives valid and complete visa applications and visa authorization granted by the Immigration Department (Ministry of Public Security), Consular Department or Ho Chi Minh city Department of Foreign Affairs (Ministry of Foreign Affairs)."
Pros: Quick turn around in cases of emergency, visa will be in hand so no waiting in long airport lines in Vietnam
Cons: Must travel to Washington, D.C., New York or San Francisco, more expensive than Visa-on-arrival
---
B. Apply via mail using the Vietnam Embassy of the United States

Cost: ~$100 + return USPS/FedEx shipping with tracking number service
Processing time: 5 business days in hand at the Embassy for regular service, plus 1-3 days transit to and 1-3 days return transit = 7-11 business days turnaround time, door-to-door. Expedited service is quoted at 1-2 days, plus 1 day for overnight shipping there and 1 day back = 3-4 business days door-to-door.
Steps — You may consult the detailed steps outlined by the Embassy of Vietnam in the United State here: How To Apply For A VISA To Vietnam
The Embassy of Vietnam doesn't publish its Visa fees online, so I would personally begin by emailing vnconsular@vietnamembassy.us or calling them at 202-861-0737 ext. 118/121/122/123/125/ 129 to get a current price for the type of visa you require. For example, a tourist visa for:

30 day single entry
30 day multiple entry
90 day single entry
90 day multiple entry

Go to the Ministry of Foreign Affairs of Vietnam – Visa Application page.
Head over to the "Fill Form" tab to beginning completing the online Visa Application.
You will first need to indicate your purpose of entry; 99% of the time it will simply be "Tourism".
Under "Place of visa submission" and "Place of visa collection", select "Viet Nam Embassy in the United States of America".  It will be the 7th choice from the bottom of the list:


Once done with the form, print it out and attach a 2″ x 2″ passport photo to the application.
Confirm that your passport will be valid a minimum of 6 months past your planned departure date from Vietnam. Make a copy of your passport for safe keeping as you will have to mail it off.
Prepare a money order or cashier's check payable to the Embassy of Vietnam with the total price that has been quoted to your for your services from Step 1.
Include a prepaid return envelope using either USPS or FedEx (you can determine the shipping speed on your own but make sure it has a tracking number).
Pros: No need to appear in person, expedited service can be as fast as 3 business days door-to-door total
Cons: Must mail passport to Vietnam Embassy, most expensive option of the 3
---
C. Obtain approval for a Visa-on-arrival
Cost: $20 for visa letter paid to online agency + $45 for 30 or 90 day single entry visa = $65 total. Express service or multiple entry visa will cost more. See more detail below.
Processing time: The $20 quote above is the average price for "normal" service– 2 business days turn around to process a 30 day single entry visa. You'll then need to wait in line in immigration when you arrive in Vietnam to pick up the visa.
From reading the official Vietnam visa website, I initially thought that I didn't qualify for a visa-on-arrival but, after further research, there appears to be an entire industry centered around providing letters that qualify you for this much simpler form of a visa.
7. Visa-on-arrival (Article 6, Ordinance dated April 28th 2000 on Entry, Exit and Residence of Foreigners in Viet Nam) Applicants are eligible in the following cases :
– To attend the funeral of family member or visit a family member in critical condition;
– Arrival from a country where there is no Vietnamese diplomatic mission/consular office;
– Visit Viet Nam on tours organized by Vietnamese international travel agencies;
– To provide emergency technical assistance for construction works, projects; emergency treatment for critical patients or accident victims; emergency relief in cases of natural disasters or epidemics in Viet Nam;
– Other cases of emergency.
So, there are basically a number of tourism agencies that will prepare a letter on your behalf that all of the sudden makes you eligible for a Visa-on-arrival using the "Visit Viet Nam on tours organized by Vietnamese international travel agencies" method listed above. Since we will just be traveling through Vietnam by ourselves and will not be using a tour guide, I initially didn't think we would qualify but the loophole is that the companies that prepare the visa-on-arrival letters are licensed travel agencies in Vietnam and can essentially be your "sponsor" for your travels to Vietnam. It's a perfect loophole that should save everyone time, energy and money.
Here's more detail on the cost breakdown with the range of what you should expect to pay for this service:
| Visa Type | VOA Agency Fee | Visa Fee | Total |
| --- | --- | --- | --- |
| 30 day, single entry | $15 - $19 | $45 | $60 - $64 |
| 30 day, multiple entry | $22 - $26 | $65 | $87 - $91 |
| 90 day, single entry | $26 - $29 | $45 | $71 - $74 |
| 90 day, multiple entry | $33 - $60 | $95 | $132 - $155 |
Here's a list reputable service providers with a list of their prices:
Other details to consider when using visa-on-arrival:
Privacy concerns

: just about all of the visa-on-arrival letter processing companies send their letters to the Vietnam Immigration Department in large batches. For example, the letter than I received below had 44 other visa applicants on the same letter over 5 pages. Our names were listed on the 5th page and we were only sent that page but we were able to see the FIRST and LAST NAME, DATE OF BIRTH, PASSPORT NUMBER, NATIONALITY and DATES OF ENTRY/EXIT to Vietnam of 4 other travelers that were processed in our same batch. This means that these 4 other people also gathered this data on us. Is this a big privacy concern? Yes, there is some but more me, I felt it was minimal and decided to do it anyway. Is it possible that these other travelers are potential identity thieves? Sure, but I'd really be more concerned with the Vietnamese visa-on-arrival letter processing companies or even the immigration department than the other travelers. Also, I'm not sure how much could be done with just name, date of birth and passport number, anyway.

Longer immigration wait times

: Since you'll just be receiving a visa approval letter with the ability to collect the actual visa when you arrive in Vietnam, the lines are said to have the potential of being quite lengthy at times. Other Flyertalk members (view thread here) cite typical wait times are around 10-20 mins but they could grow to be an hour + when multiple flights land at the same time.
I used Vietnam Visa Corp and, within ~55 hours of applying online, we had received an email with our approval letters: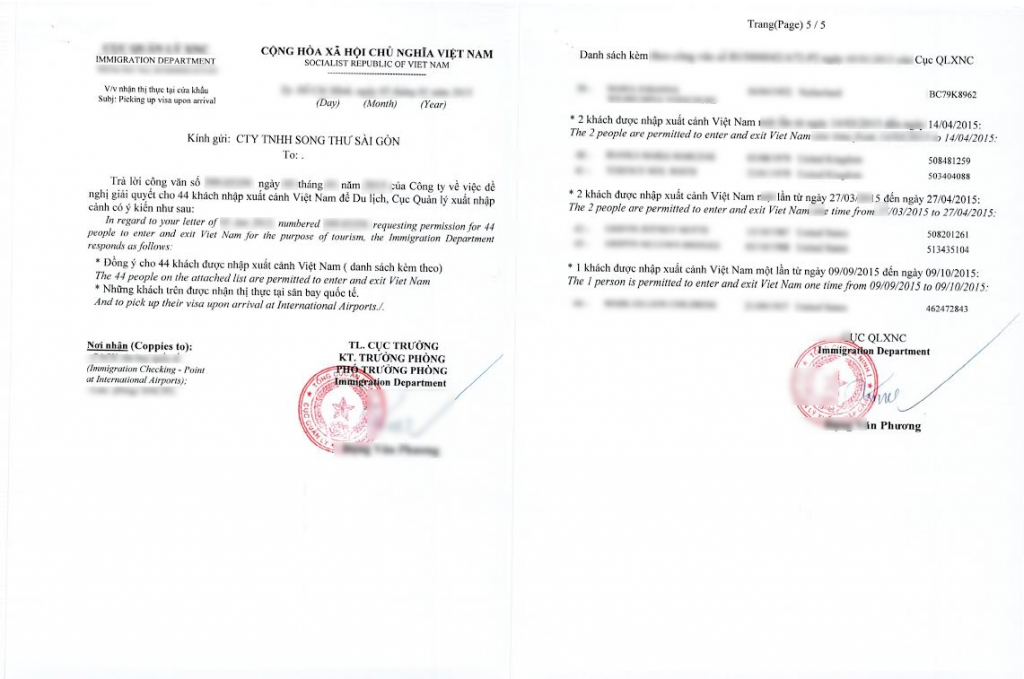 While I can not personally vouch for Vietnam Visa Corp (yet), I can say that they were quick and provided excellent communication via email and customer service. They provided what appears to be a legitimate visa approval letter from the Vietnam Immigration Department but I will only be able to confirm that once we've traveled to Vietnam.
Things you'll need to enter Vietnam with a Visa-on-arrival letter:
Visa-on-arrival approval letter, this will be emailed to you (see example above)
Cash in $ USD for your visa type (typically $45 for a 30 day, single entry visa)
Vietnam Immigration form (attached here)
2x passport style photo (for the Vietnam Immigration form)
Pros: The cheapest and easiest of the options; total for us was $17 for the letter + the $45 we will expect to pay when we arrive in Vietnam = $62 total
Cons: Visa collection lines could be long at the airport when arriving in Vietnam; those that applied using method A or B above don't have to wait in this line; privacy concerns relating from sharing personal info with other travelers
---
General Visa Considerations When Applying
When using any of the methods above, consider the following:
Be careful when listing your entry/exit dates on your application! You can always enter after your stated entry date but not before. You must exit Vietnam by your exit date. For example, if you're taking a 10-day trip to Vietnam and need a 30-day single entry visa, I would suggest giving yourself maybe 5 days on the front end and use the remaining 15 days on the back end, just in case. So, for a planned trip of June 5-June 15 I might say my visa entry date is June 1 and visa exit date is June 30. This allows me to take full advantage of the 30 days– who knows, a travel disruption could force me to use it.
Many Visa-on-arrival companies will only process entries into one of the following 3 major international airports: Ho Chi Minh, Hanoi and Danang. This means that this likely won't be an option for those arriving by car, bus, train, boat etc…
BOTTOM LINE: Using an online agency for a visa-on-arrival letter is by far the way that I would recommend; entry to Vietnam for US Citizens for tourism can be as low as $60.
Sources: Much of this data was complied from numerous websites, most notably a FlyerTalk forum, the Vietnam Embassy in the U.S., and the Ministry of Foreign Affairs of Vietnam.
Featured image source: CC BY-NC-ND 2.0 – Creative Commons – Golden Hour Ha Long Bay by Renate Flynn – https://flic.kr/p/i5yzMS