Etihad Airways Flagship First Class Lounge – Abu Dhabi-AUH
A trip to the Etihad Airways First Class Lounge in Abu Dhabi was the warm-up to the main event: flying the Etihad First Apartment from Abu Dhabi to Melbourne. It was essentially the only reason we had chosen to route from the US to Australia via the Middle East. And a visit to the brand new lounge was nearly as exciting as flying the A380 since our trip was just about 3 weeks after the May 30th grand opening–talk about timing!
As a result, we were purposely very, VERY early arriving at the airport for as much lounge-time as possible before heading to our gate. We checked in quickly and were welcomed into the lounge which is located immediately after going through security.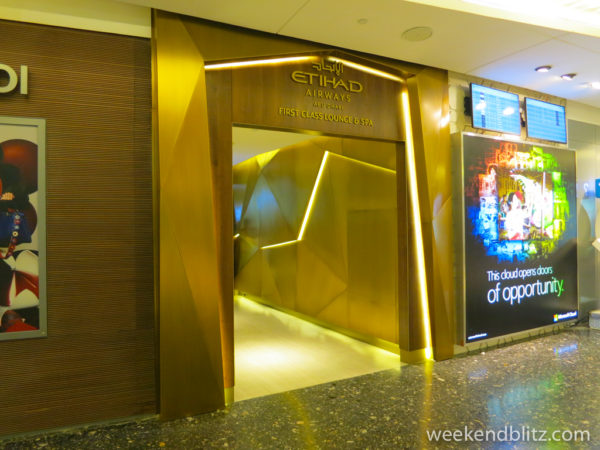 CHECK-IN/ACCESS
We were greeted at the entrance and, after checking our boarding passes, she ushered us onto an elevator. One of the best parts about this lounge is the exclusivity, access cannot be purchased at the gate and there are very few ways to gain access. Here's a list of ways in:
Etihad guests of The Residence
Etihad First Class guests
Etihad Guest Platinum member + 1 guest
Etihad Airways Partner airlines platinum members + 1 guest
Virgin Australia Velocity Platinum members + 1 guest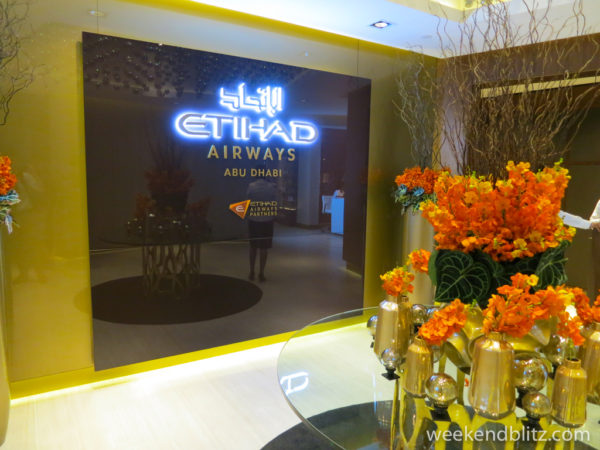 First thoughts: the lounge is absolutely huge! It is apparently nearly 1,700 sq m (18,000+ sq ft) and has more than 16 "zones", i.e. distinct areas that help break up the lounge and make it feel very private, even if you're one of 100 guests.
FOOD & DINING
After arriving in the lounge, we kept up with the standard procedure of our trip thus far: eating a meal while not hungry in the least. A server showed us to a nice window seat and we began the quite elaborate dining process. In fact, I imagine this is how most people kill their limited time in the lounge. Our start-to-stop dining experience was nearly 1.5 hours.
–> FULL-SERVICE DINING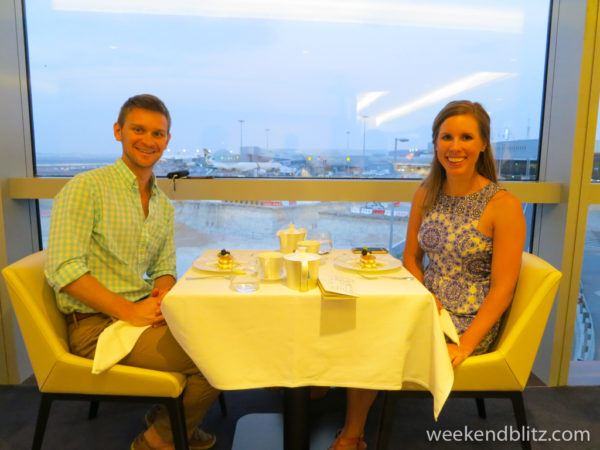 Our server didn't have to do too much arm twisting to convince us to try the 5-course Emirates Palace tasting menu.
The multi-course feast consisted of the following: starter (dates), foie gras de terrine (a course that we added from the a la carte menu), soup, scallops, lamb and then a great dessert.
The first course was a simple date filled with yogurt and crumbled pistachio. The sweet and delicious snack definitely left us wanting more.
We added on a course of the Foie Gras Terrine, because, why not?
The chicken & barley soup was also good but we didn't eat it all to save room for the next courses.
The next dish, Scallops Mughrabia was by far the highlight of the meal. Mughrabia is a traditional ingredient in Lebanese cuisine and is essentially a type of wheat-based pasta, about the size of a chickpea and not unlike orzo. We were told everything was made at the in-house kitchen and certainly believed it after tasting this dish. The rich, flavorful saffron sauce was amazing.
As for the main meat dish, we sampled the Lamb Medfoud. The slow-cooked lamb dish was a perfect portion, perfectly tender with amazing flavors. It was served over a bed of saffron rice which was also very tasty.
For dessert, we tried the Batheatha, which was prepared with layers of special dough made of dates, saffron (they love cooking with this stuff!) and cardamom and filled with fresh cream. It was decadent and we were certainly unable to finish the whole thing!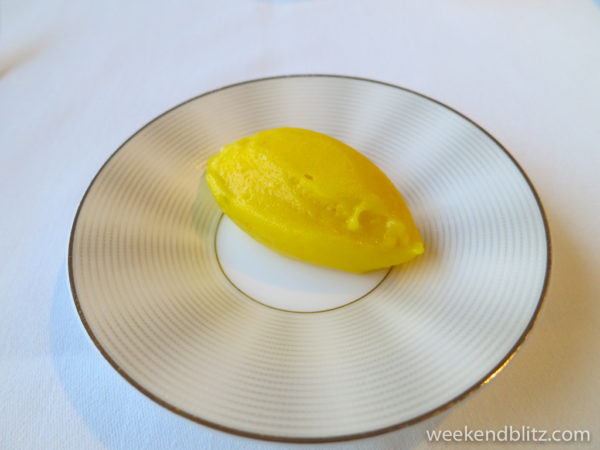 We finished off with some mint tea.
Each course was unique and had a vast contrast of flavors; all-in-all, it was a phenomenal, top-notch dining experience that I would easily expect to pay at least $150 per person for in any western city. All ingredients are sourced from within the UAE and cooked in their local kitchen.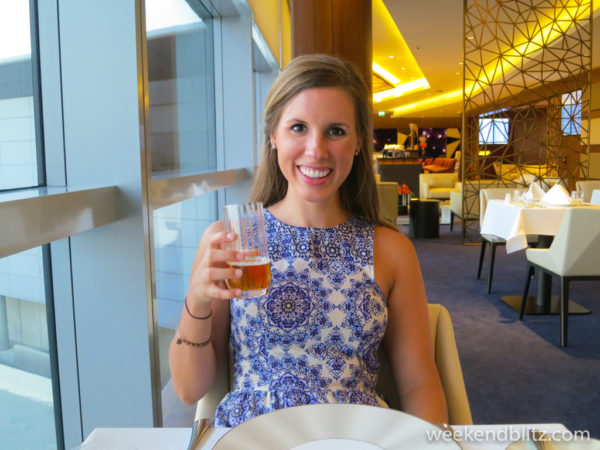 –> SELF SERVE DINING
If you're tight on time or simply don't want to spend 1 to 1.5 hours having an elaborate meal, there are plenty of quicker options to enjoy for food.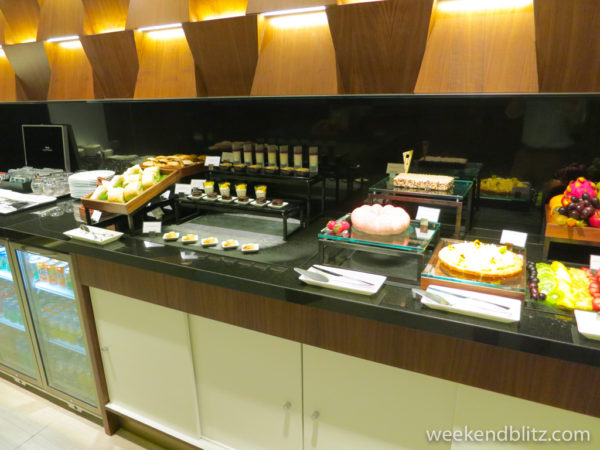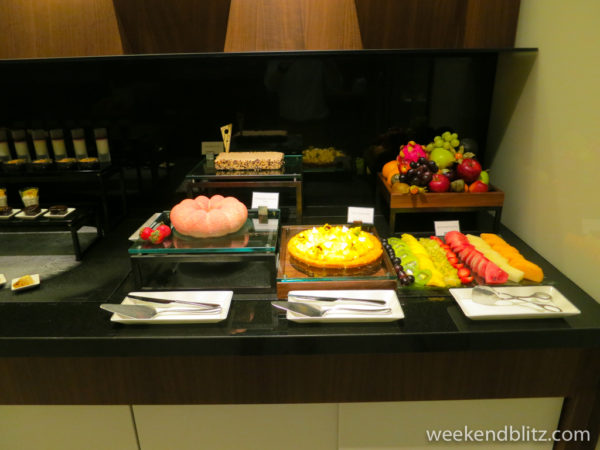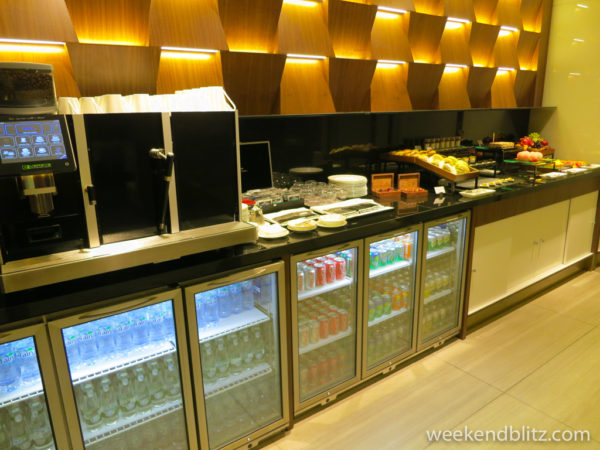 BAR & DRINKS
The bar–arguably the most important part of any airport lounge–was closed until sunset due to Ramadan. It opened somewhere around 7:15 to 7:30, depending on whoever is officially in charge of announcing sunset (but seriously, could that be someone's job?). They had a few special cocktails that are only available in the Abu Dhabi lounge (they have special cocktails that are unique to each lounge around the world).
After sunset, we tried a few of the cocktails from the drink list.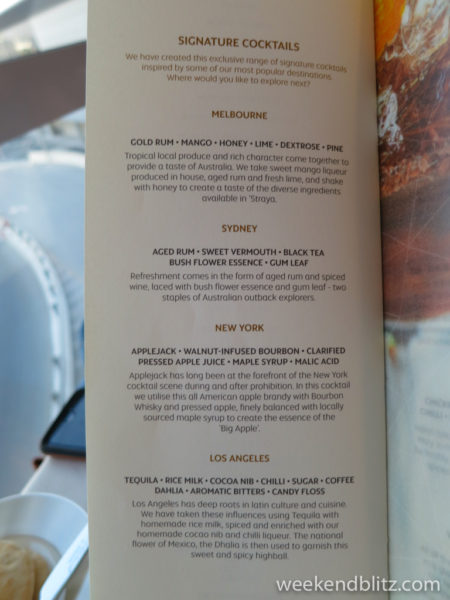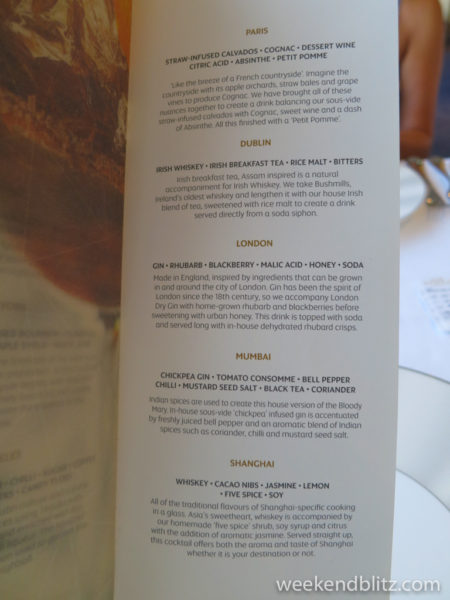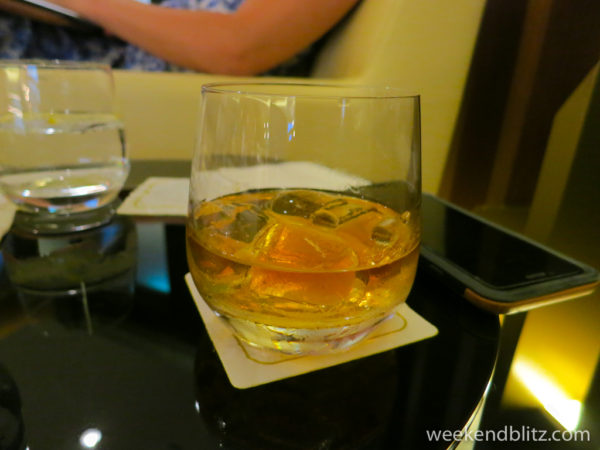 STYLE, SPA & SHAVE
Passengers flying in First Class with Etihad are entitled to one free 15-minute treatment: either an Express Salon treatment (Express Clipper Cut or Express Wet Shave) or any of the 15-minute spa treatments from back to head to foot massage or even a facial or jetlag body treatment.
–> Six Senses Spa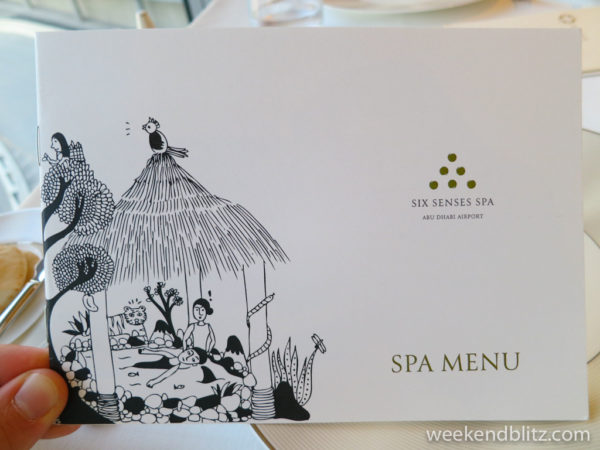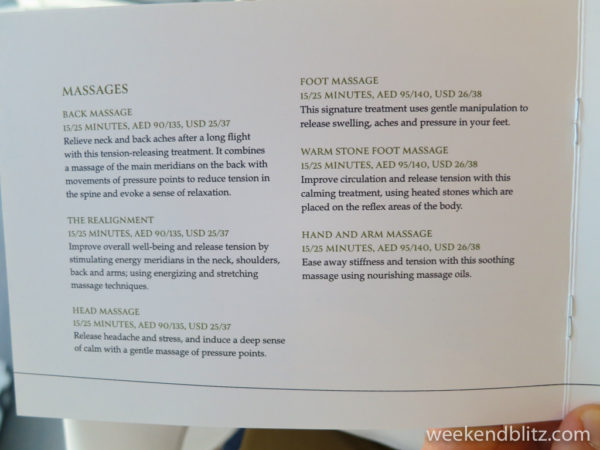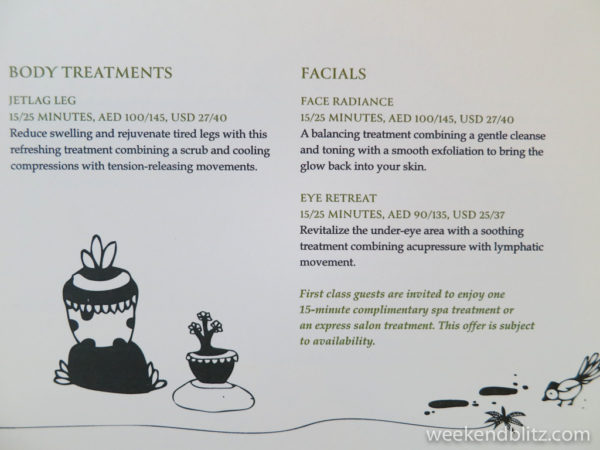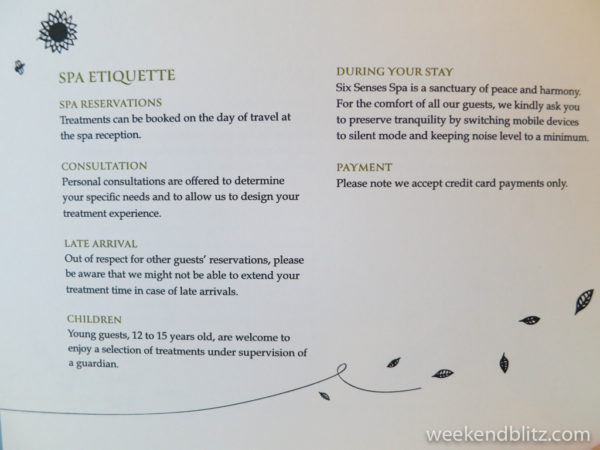 We both made an appointment for a massage. We found it to be a VERY intense back massage, nearly painful at times. But I guess that's what you get when you say you're fine with a lot of pressure. It was a chair, not a table, and you basically sat backward with your feet wrapped under you– interesting, instead of lying down.
The massage lasted 13 minutes and was very well done. They poured some strong aromatic scents on a towel for you to smell at the very beginning and then rang a gong to end it. The room was private and they separated the genders into different sides with relaxing music playing- you couldn't hear anything going on outside.
–> SHAVE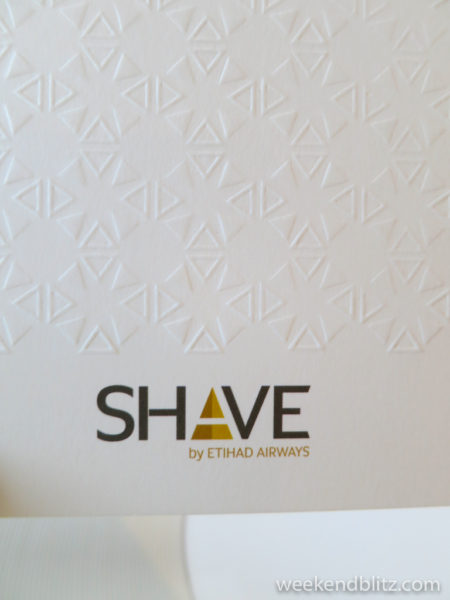 I paid an additional $15 US for a wet shave after the back massage. The guy that performed the service was great and it was truly a unique experience as it was my first time having this done and quite cool to have it done at an airport none the less.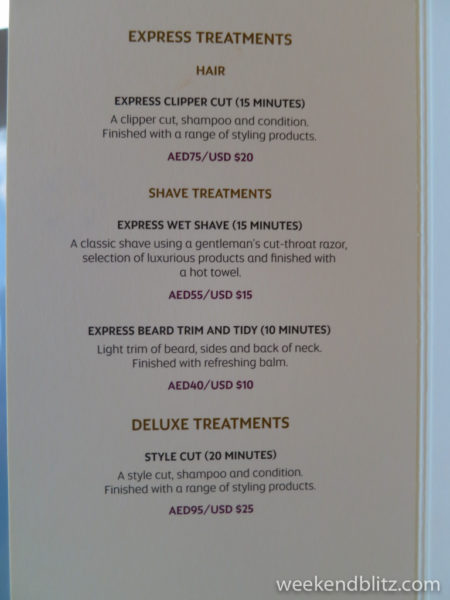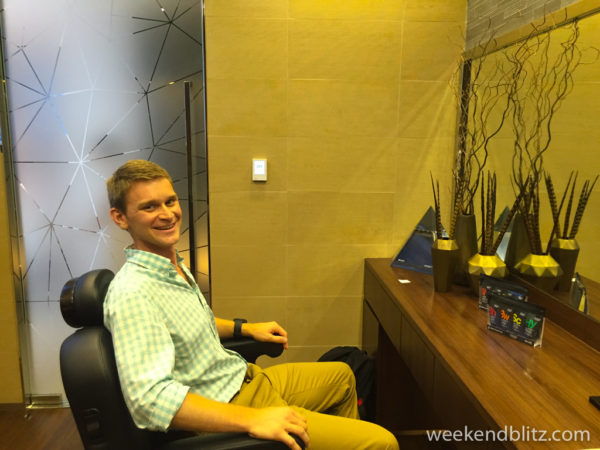 GYM
I had the guy that performed the wet shave show me around the gym. It had a treadmill, elliptical, etc… Also a dumbbell set with weights you must change yourself. There's a shower inside, as well.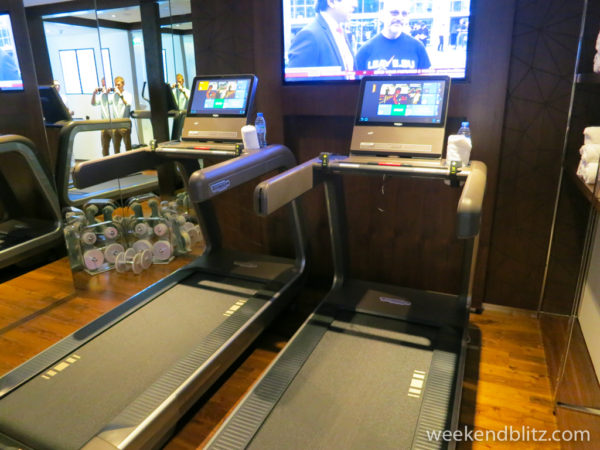 I can't imagine that the gym gets much use, especially for people that are originating their journey in Abu Dhabi. Maybe for connecting passengers who want to stretch a bit after a long flight. But you'd really have to plan ahead for this and probably pack your workout gear in your carry on. Again, I can't imagine that this will get much use but it's cool nonetheless.
OTHER LOUNGE FEATURES
–> Relax and Recline Room
"If you need to use this time to gather your thoughts, visit our Relax and Recline Room. Recline on our comfortable Poltrona Frau leather chairs and enjoy a sensory experience with a combination of soothing sounds and imagery on our video wall. Any sounds from the main lounge will fade so you can lose yourself for a few minutes, or maybe longer."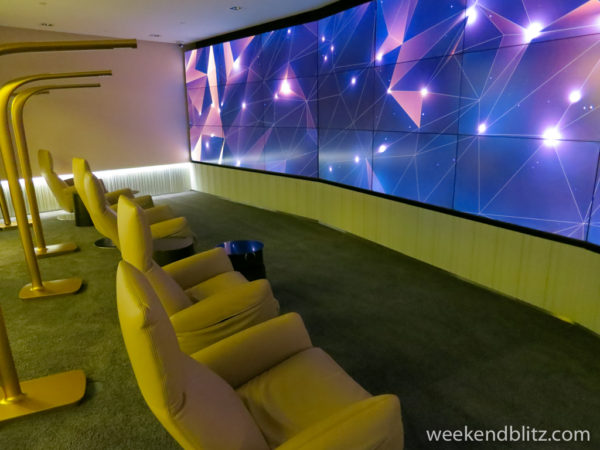 –> Play Room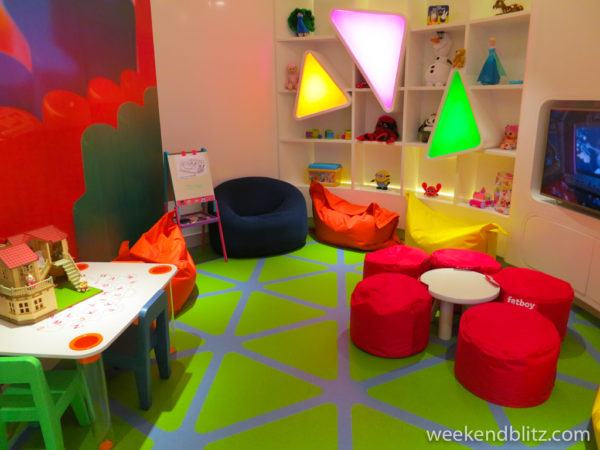 –> Smoking Room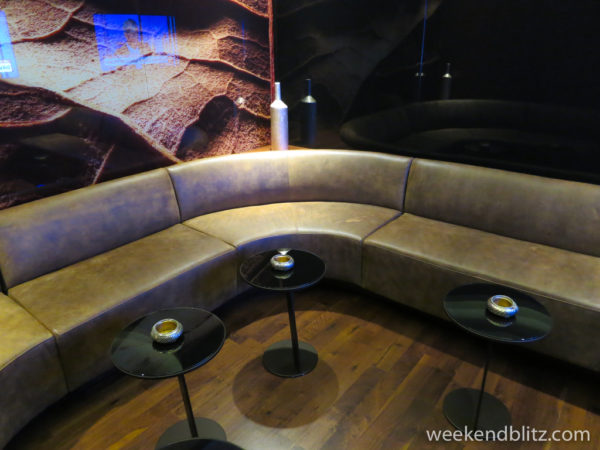 –> TV Room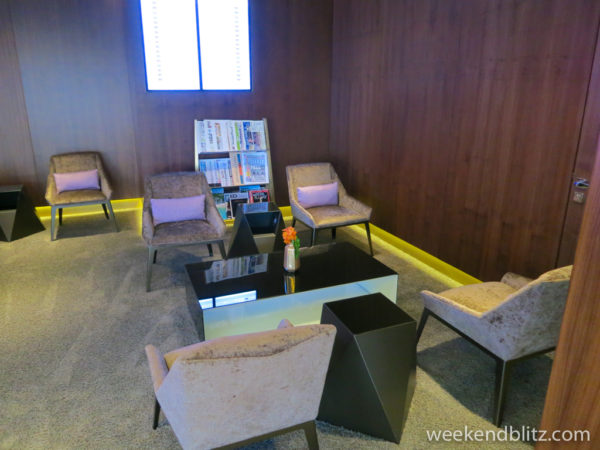 –> Private Family Room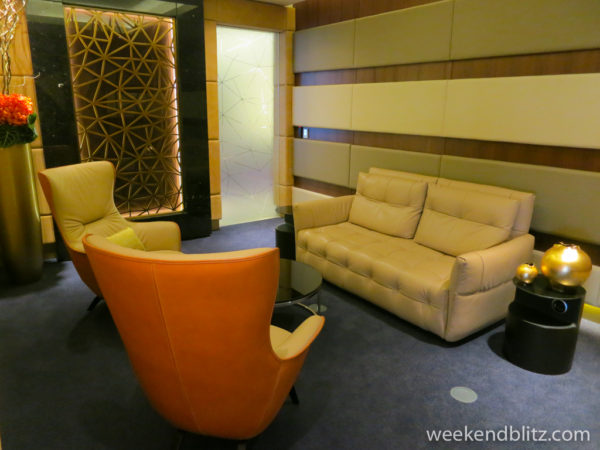 –> Cigar Lounge
Enjoy one of nine best-in-class varieties of cigars and a large selection of single malt whiskies and Cognac.

–> Bathrooms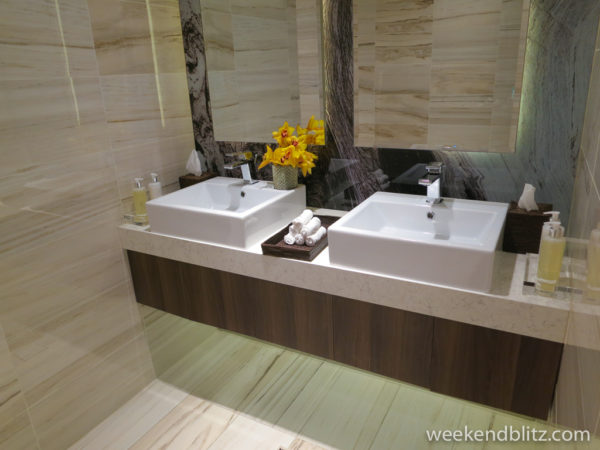 SERVICE
The service was fantastic — while I was waiting off on the side, the lady walked over and addressed me as Mr. Griffin. She had not met me before and did not have my boarding pass. They must have a description for all current guests in the lounge. Magic.
After talking to our waitress in the dining area, we found out that many of the Food and Beverage Managers from planes had been pulled to work at the lounge for 3 months. We found that pretty intriguing that the airline decided to pull tried and true employees for the opening of the lounge instead of hiring new people (and, I guess, train the new hires while working). You could tell that these people had plenty of experience and it was really top-notch service.
Also, we found it quite interesting that there were no Emiratis working in the lounge; everyone we met was from a country pretty far away from the UAE. The people who we encountered were from India, South Africa, Trinidad & Tobego and Serbia– quite the eclectic and global group (and, all very good looking).
BOTTOM LINE:
It sounds like this lounge was under construction for quite some time but we agreed that it was definitely worth the wait. It is truly a world-class experience and we would have loved to have spent even more time in the lounge. It is worth the flight to Abu Dhabi and by far the best airport lounge we've ever been to. Kudos to Etihad for making this lounge an experience by itself.