Park Hyatt Dubai Hotel Review
BOOKING
The Park Hyatt Dubai is a Hyatt Category 5 property, meaning award nights will cost you 20,000 points or 10,000 + $125. Booking with points didn't make much sense, though, as we were able to book a special 3-night minimum Ramadan rate of about ~$150 US/night + tax. Best of all, when booking with cash or Points + Cash, you can apply a Diamond Suite Upgrade which will land you in a suite and get you access to the minibar for free. More on that later.
CHECK-IN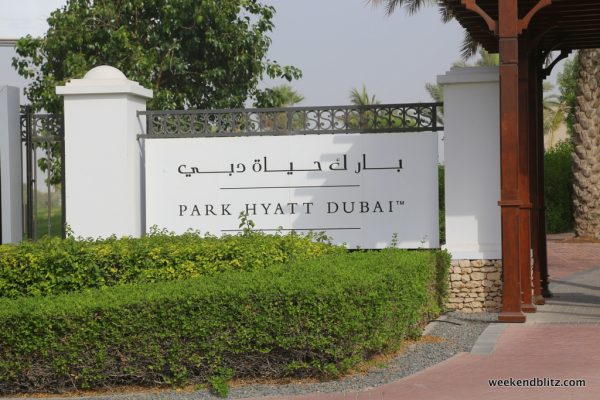 We arrived at the Park Hyatt Dubai around 9:30 pm on a Thursday night during Ramadan after a very long travel day from the US (see Etihad B787 "Business Studio" EY 130 Washington-IAD to Abu Dhabi-AUH). So, being a bit dazed, we were still very impressed with the hospitality and professionalism that we've come to expect at Park Hyatts around the world (it's our favorite hotel chain!). The check-in process was quick and efficient and we were promptly escorted to our room. 

PARK SUITE ROOM
Having originally booked a Park King (52 m²/559 ft²), my Diamond Suite Upgrade landed us in a Park Suite (109 m²/1173 ft²) for our 3-night stay.
The Park Suite was enormous and featured a living room: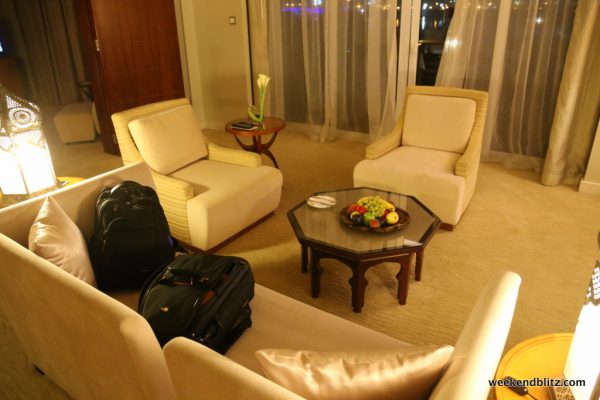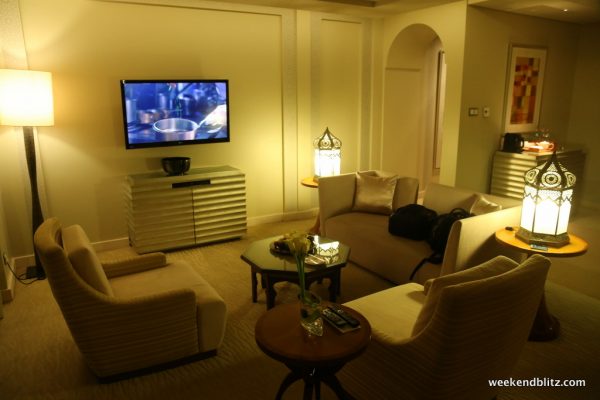 A half bath was right off of the living room: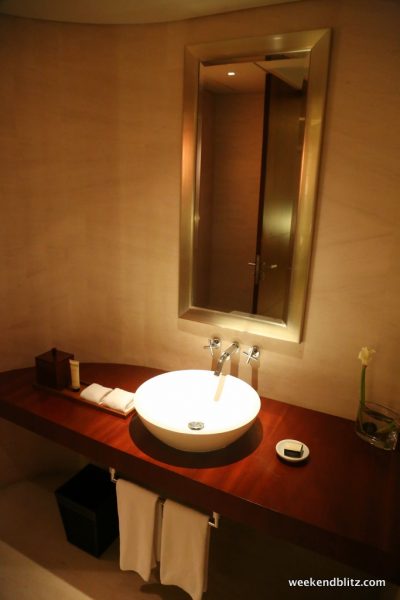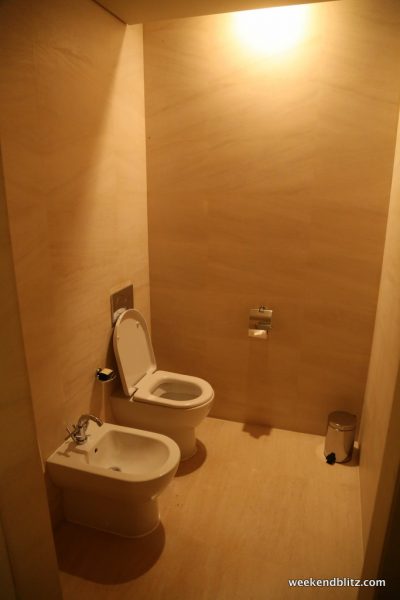 A large desk and mini-bar area: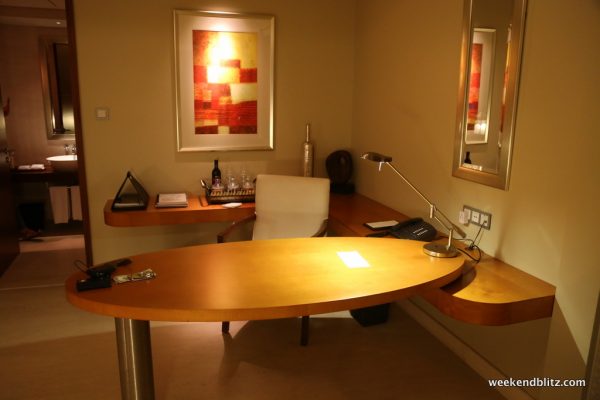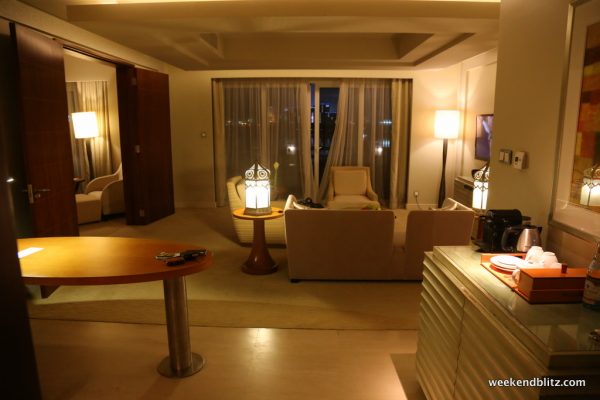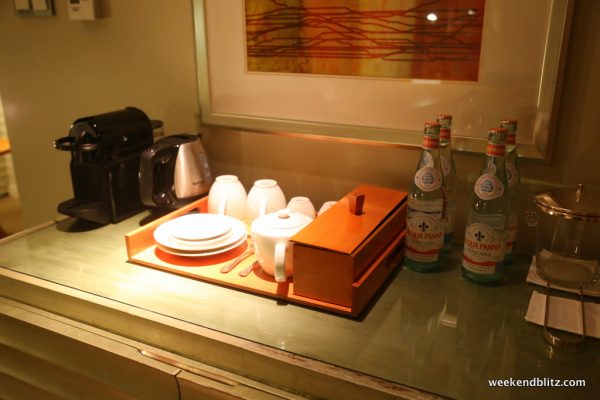 –> BEDROOM
The bedroom was also quite spacious and had a king bed and another TV: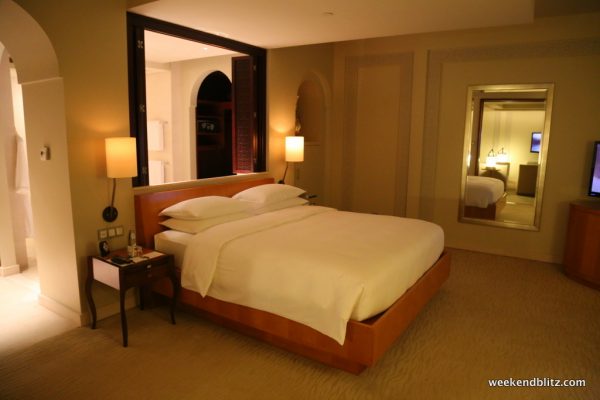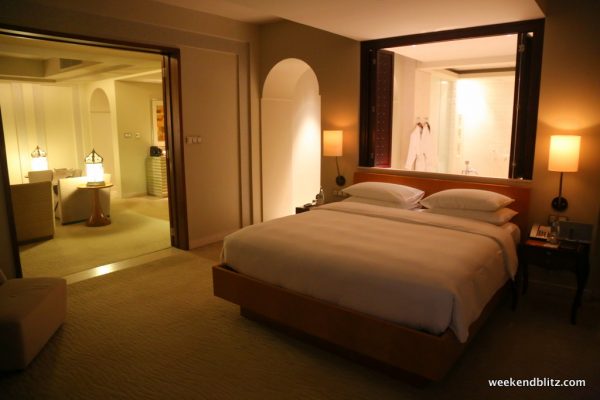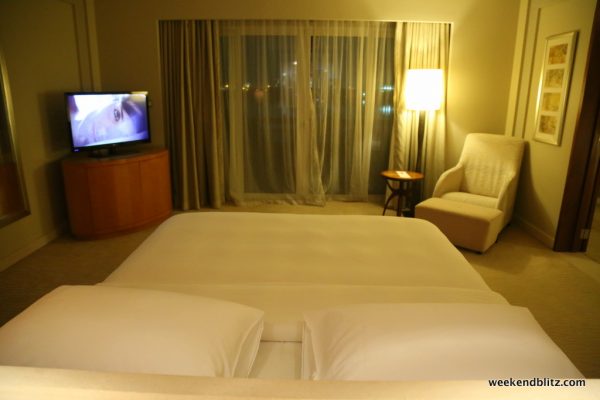 –> BATHROOM
 The bathroom was about as big as the bedroom and had a full shower, tub, giant luggage area/closet and a partition that opened into the bedroom: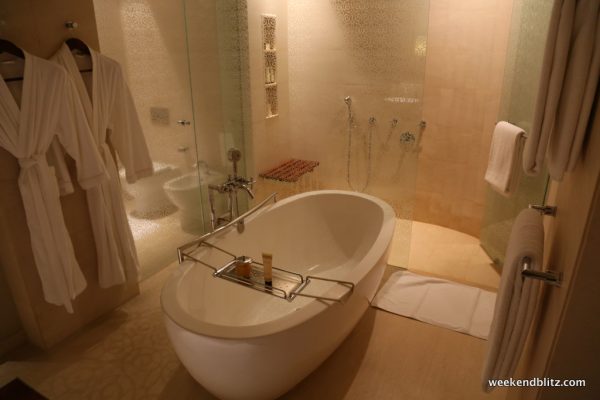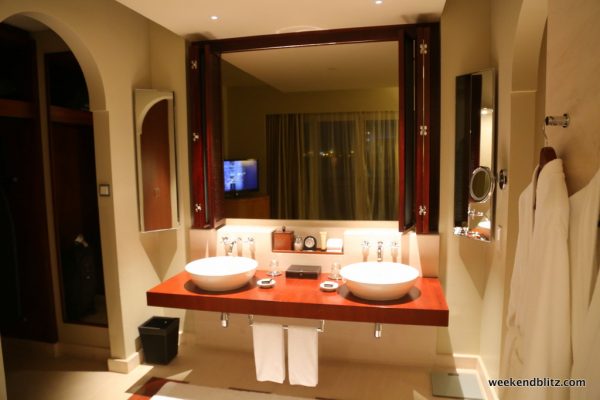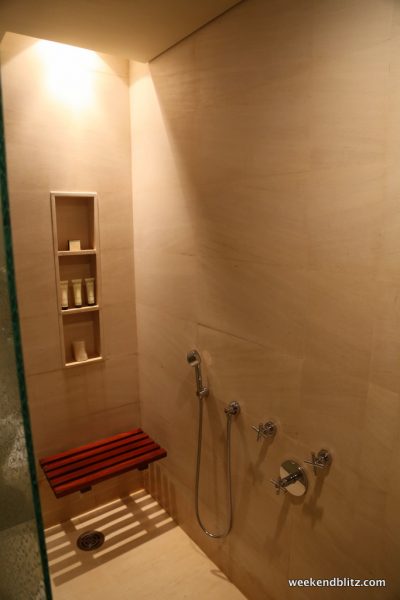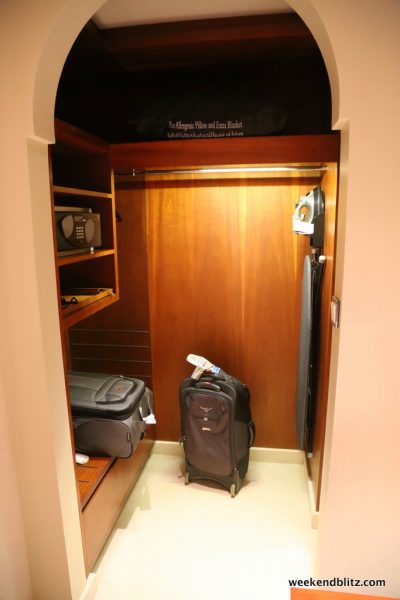 –> MINIBAR
Possibly the best part of upgrading to a suite at the Park Hyatt Dubai is the free minibar access, especially if you're traveling with a few people and plan to have a few drinks when on vacation.
The minibar was restocked 2x daily and included the following:
9- assorted mini bottles (Johnny Walker Black Label, Jack Daniels, Ciroc Vodka, Beefeater Gin, Bacardi Rum)
2- 375ml of wine (1 red, 1 white)
4- beers (Corona and Stella)
Plenty of sodas, tonic and fruit juices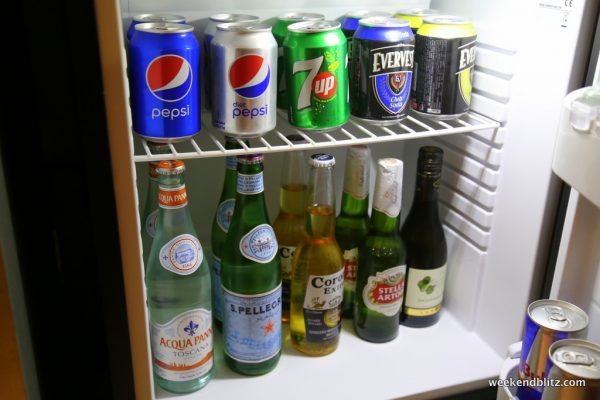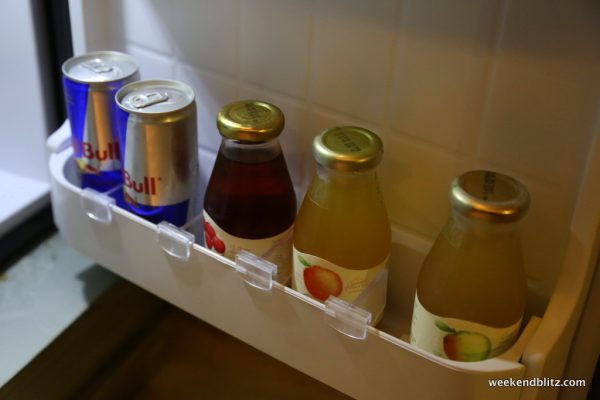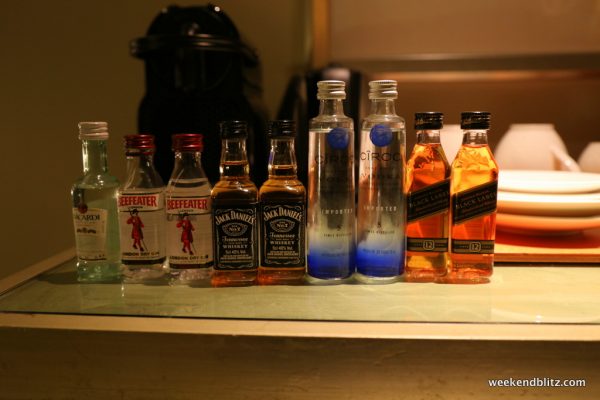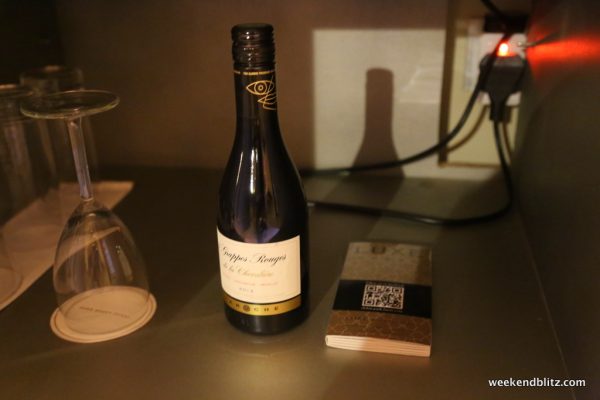 All of this basically ensures that you won't have to buy a single drink here/in Dubai on your stay.
Did we mention there are chips, candy bars, cookies, and a few other snacks?!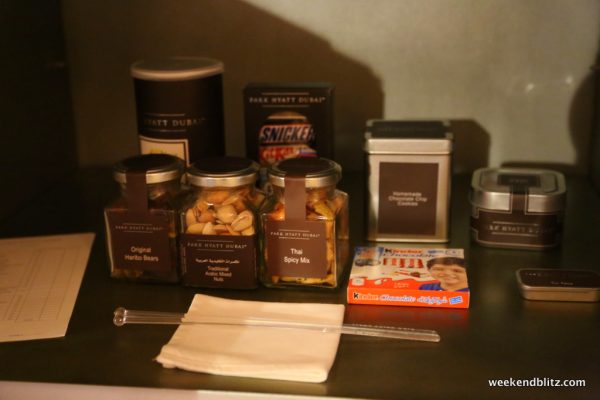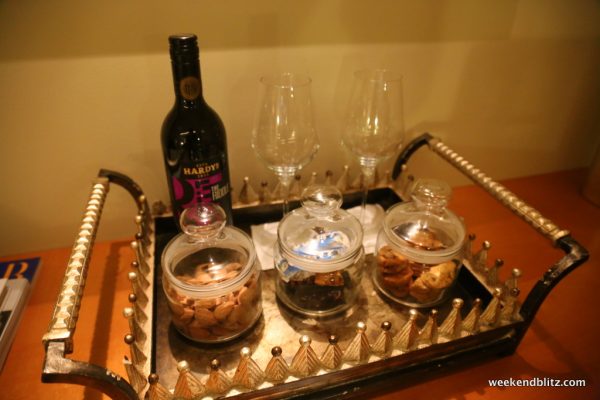 The suite had 2 balconies that extended the length of the room and looked onto Dubai Creek: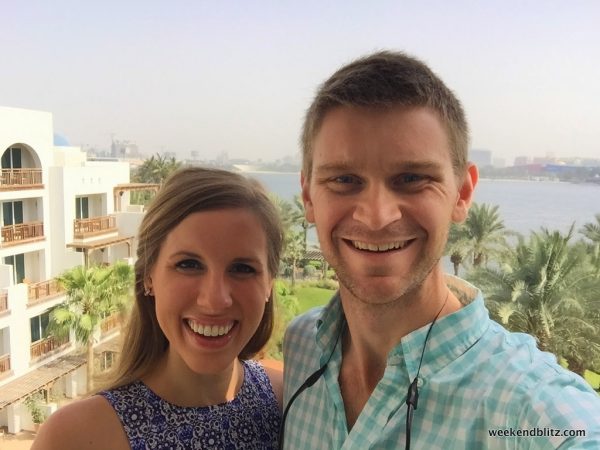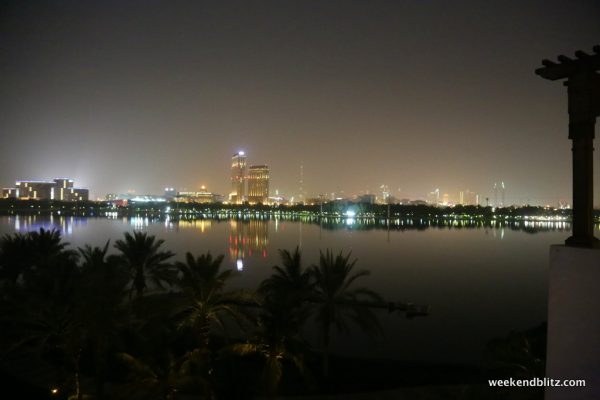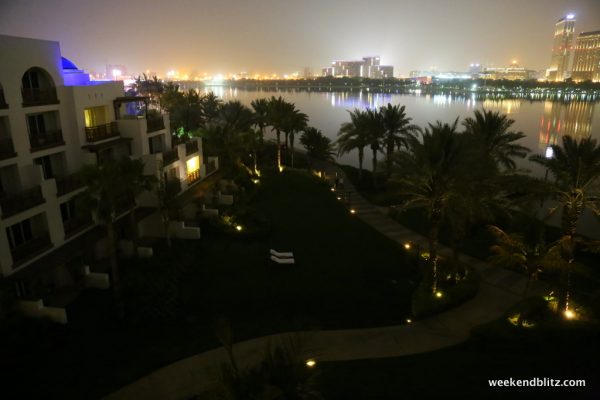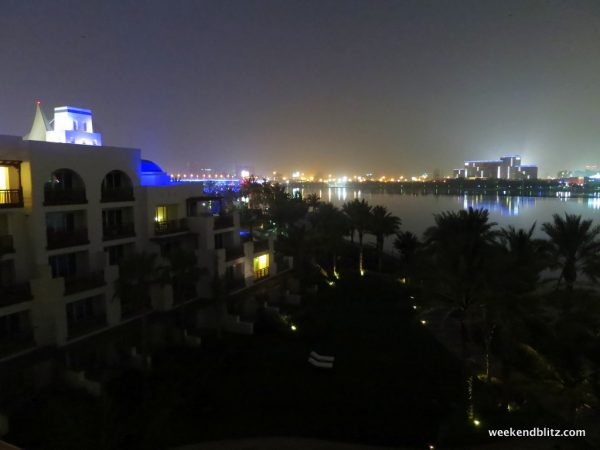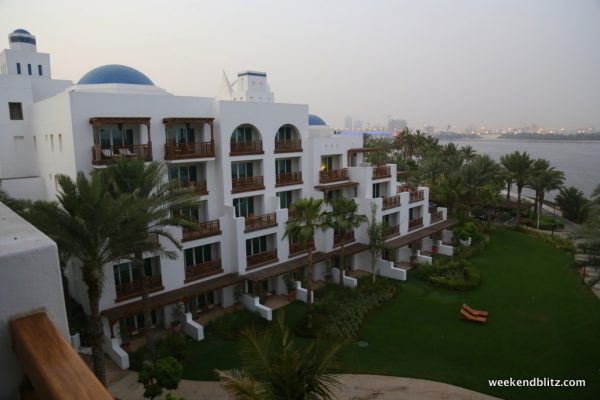 ON-SITE DINING
The property essentially has 8 restaurants so you will not want for food while here (even during Ramadan!):
Traiteur
The Lounge
The Terrace
Cafe Arabesque (breakfast buffet)
The Thai Kitchen
Pistache
Shisha Lounge
Pool Bar
CAFE ARABESQUE – BREAKFAST
As part of my Hyatt Diamond status, breakfast was included, so we certainly made sure to take advantage of it.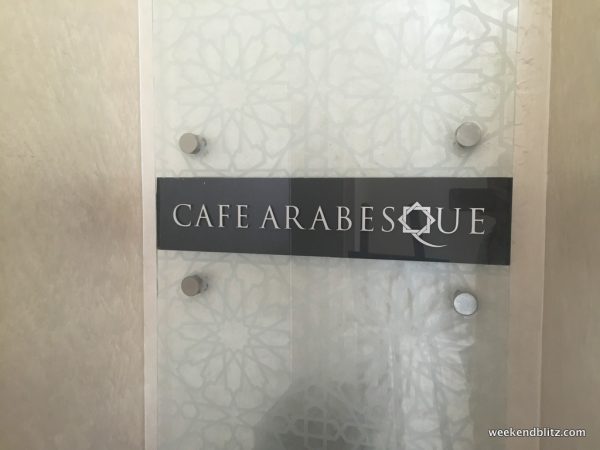 The main breakfast restaurant was Cafe Arabesque and they had service until 11 am daily, which allows for a lot of flexibility when relaxing on vacation.
The buffet spread was huge. There was a large pastry station with a cool oven warmer: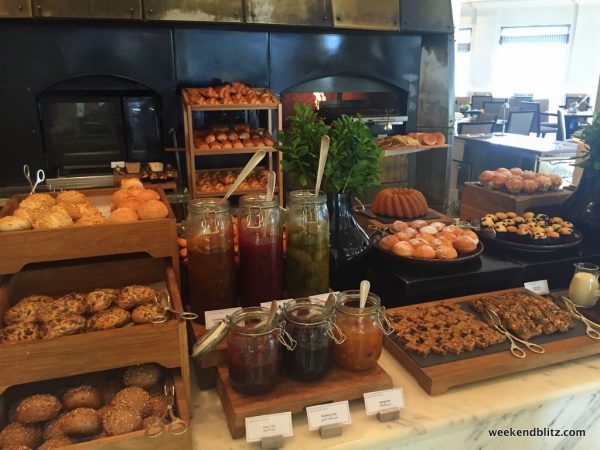 A fruit station, cold cuts with smoke salmon and trout: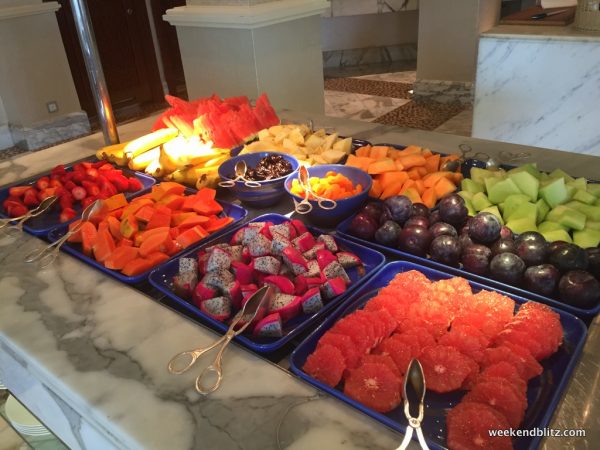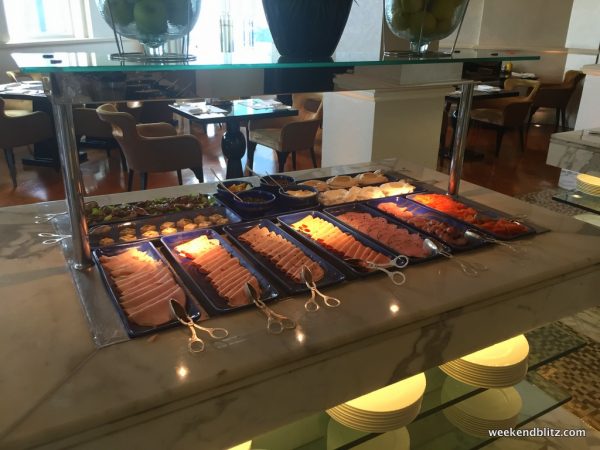 Fresh self-serve juices: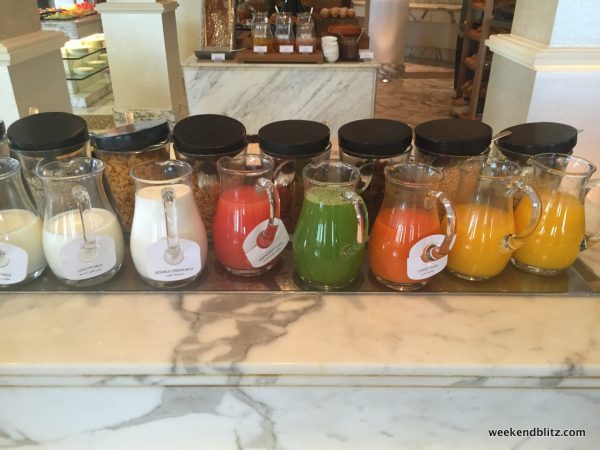 There's also a pretty extensive hot dish choice that is included with the buffet and seems to be unlimited. We tried the Turkish Menemen, Shakshuka with Feta Cheese, Idil & Sambar, Foul Medames, etc…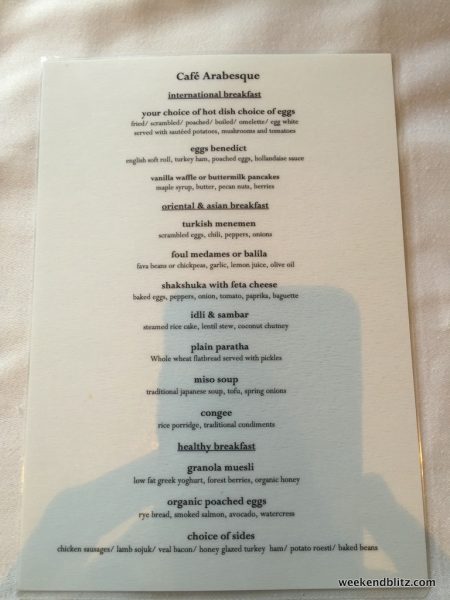 While we never actually saw a bill, it looks like the cost was around 150 AED/person, or $40 US.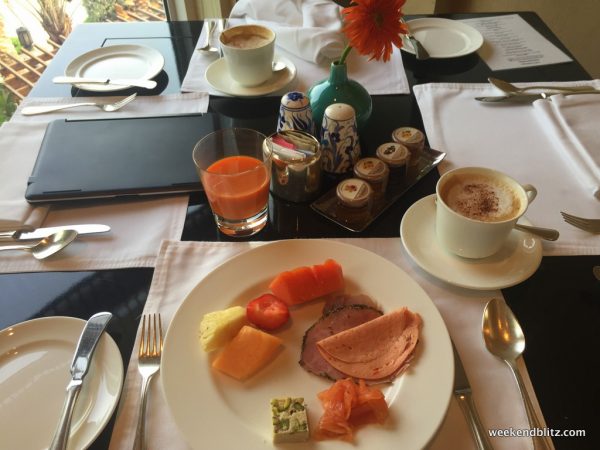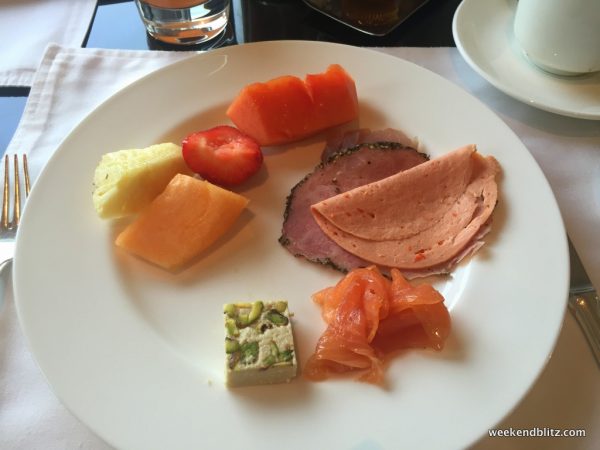 THE THAI KITCHEN
We enjoyed dinner at The Thai Kitchen on our last night in town because it was close and convenient.
We found the restaurant to be well-decorated with a good ambiance, although it was rather empty at the time of our visit: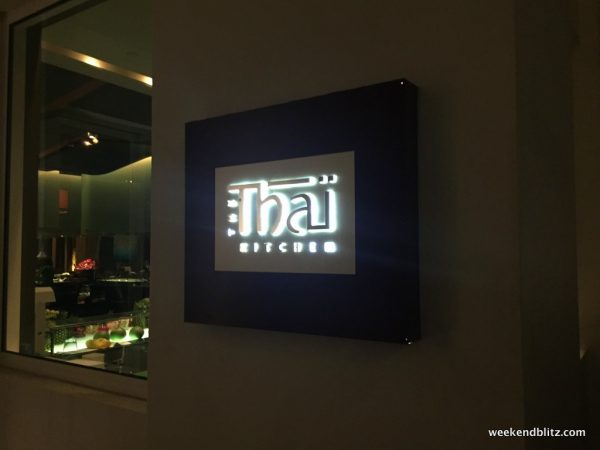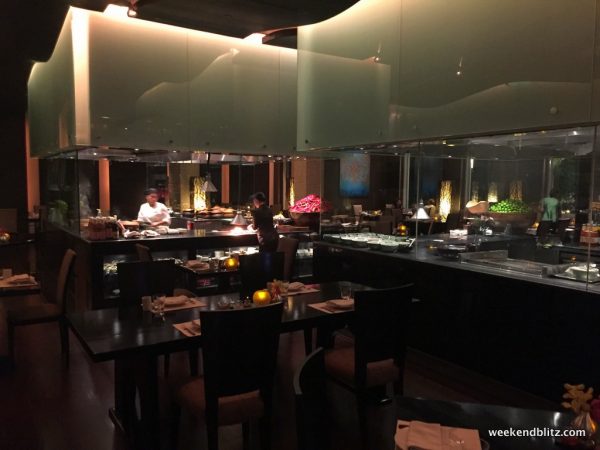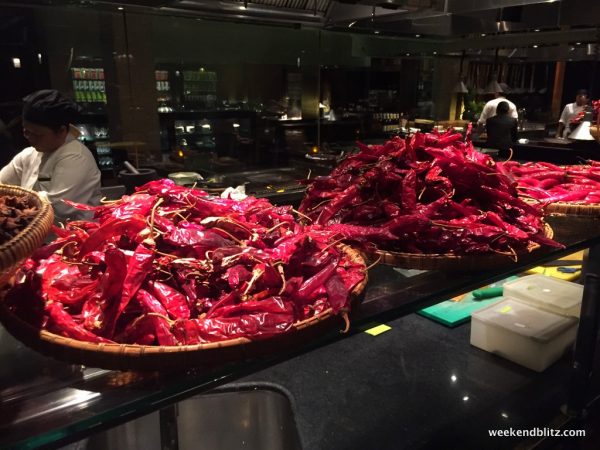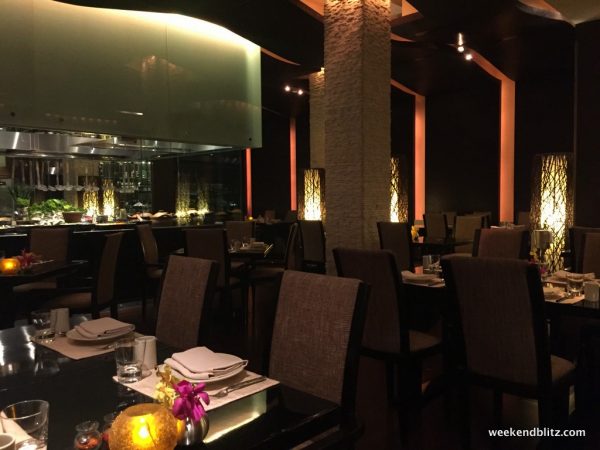 While we were waiting, the server brought us a complimentary order of Fried Taro with a tasty sauce: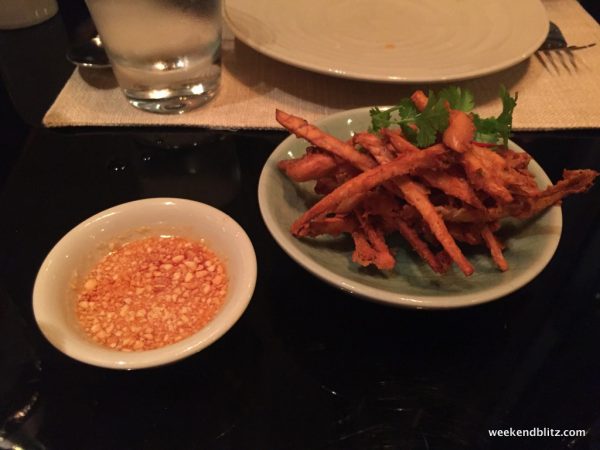 We split the Green Papaya Salad and the Red Duck Curry and found both to be delicious: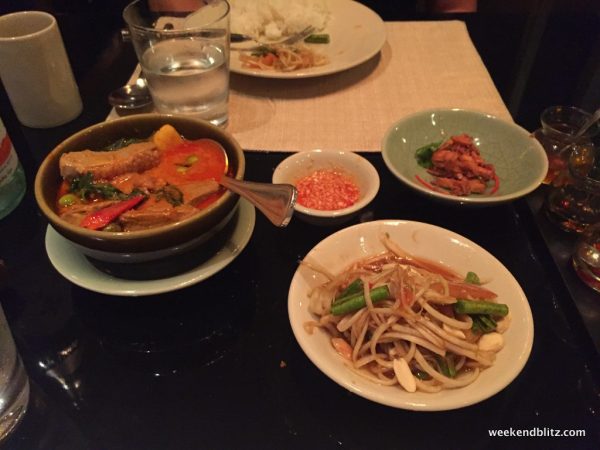 The food was well priced at about 42 AED (~$11.43 USD) for the curry and 38 AED (~$10.35 USD) for the Papaya Salad, but the drinks were way overpriced. A bottle of Diet Coke cost 27 AED (~$7.35 USD).
PROPERTY
The property is really quite expansive and very private, secluded and safe feeling. While it's not beachfront like many of its competitors, the Park Hyatt's location on Dubai Creek and surrounded by green golf courses and a giant pool make it feel like quite the oasis.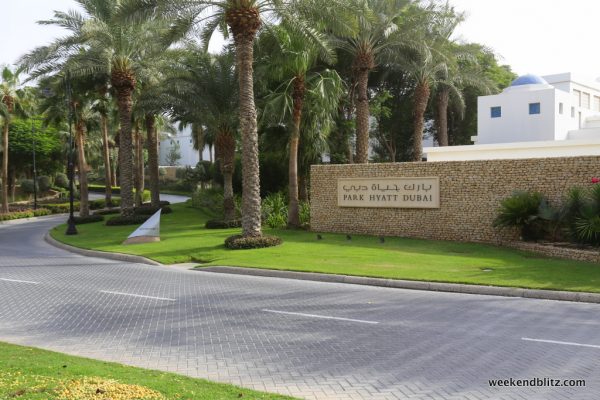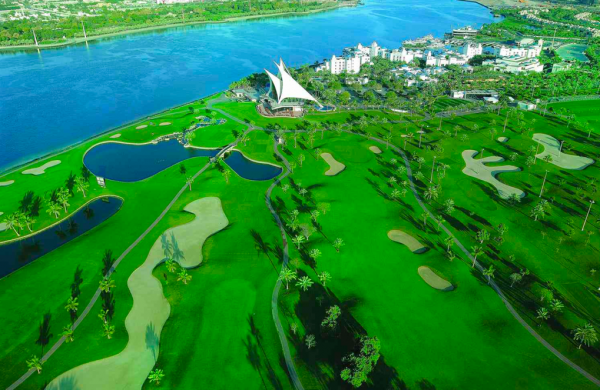 POOL
No stay in the Middle East would be complete without a mention of the main method to cool off and keep your sanity in the blistering heat and the pool at the Park Hyatt is the perfect place to do just that: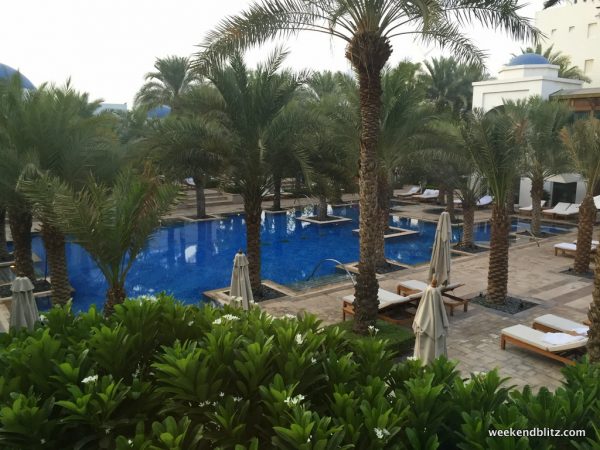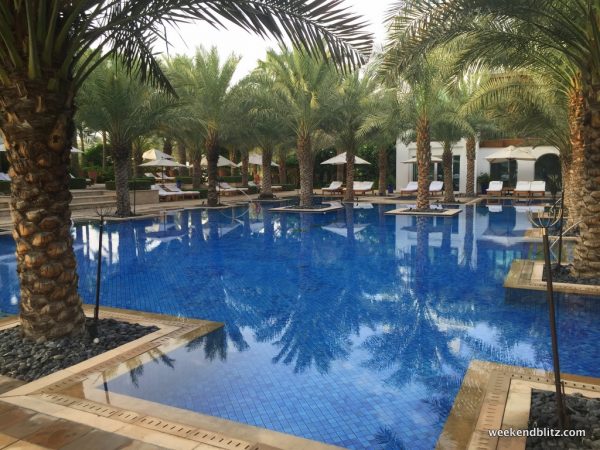 GYM
The gym is well appointed and has everything you'd expect + a bit more like a TRX, foam roller, punching bag etc…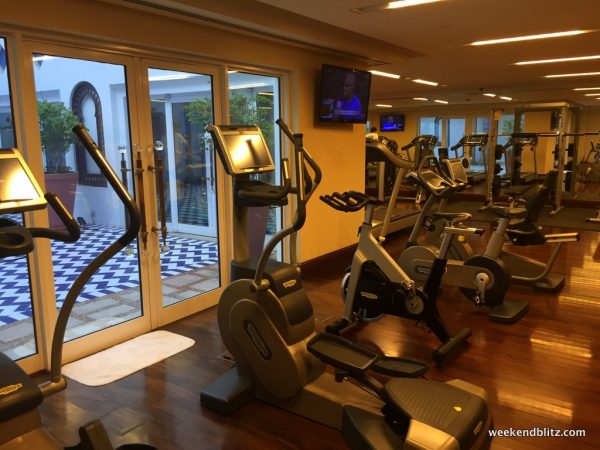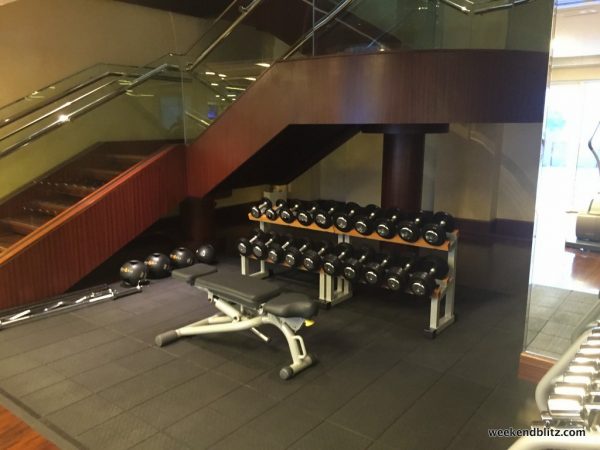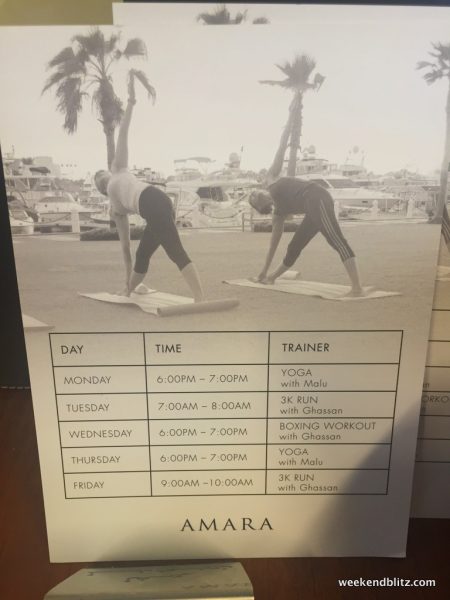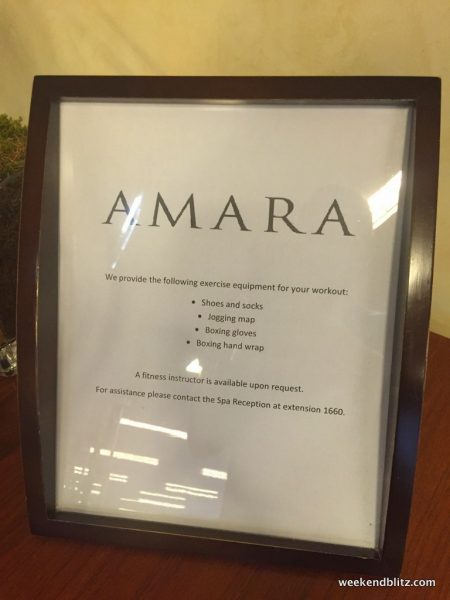 SERVICE
While we didn't have extensive contact with the staff at the property, we certainly experienced excellent service at every step of our stay, from check-in to breakfast to poolside drinks.
BOTTOM LINE:
The Park Hyatt Dubai lives up to our expectations from other Park Hyatts we've stayed at (Maldives, Sydney, Vienna, Washington D.C., New York etc…). The real trick here is booking with an inexpensive cash rate (around ~$150 USD) and upgrading to a Suite for free minibar access; it will save you a small fortune in drinks.