Etihad B787 "Business Studio" EY 130 Washington-IAD to Abu Dhabi-AUH
As part of our quest to fly on Etihad's A380 in their "First Apartment" from Abu Dhabi-AUH to Melbourne-MEL, we had to find a way to position to AUH for the flight over. We decided it would be fun to spend some time in the UAE (we quickly regretted this decision as soon as we stepped into the desert in 117°F heat) and found award availability from Washington-IAD direct to Abu Dhabi-AUH. Best of all, it was operated by one of their new 787s and featured their "Business Studio" class of service.
Here's a map of our route for the 13 hr 10 min flight that covers a distance of 7,088 miles (11,407 km):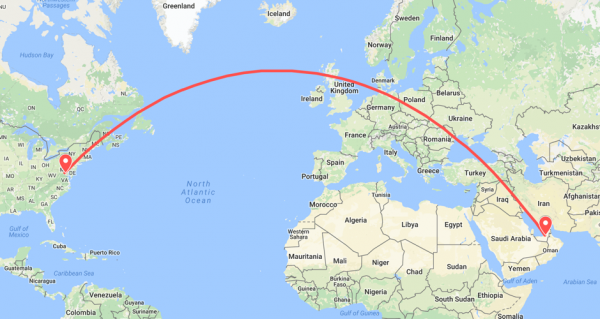 CHECK-IN
We landed on our American Airlines connecting flight at Washington's Reagan-DCA airport, quickly grabbed our bags and then called an Uber to make the trek over to Washington Dulles-IAD. We decided to try UberPOOL for the first time as it was offering a flat rate of just $28 to transfer between the airports.
We stopped about half way and picked up a man and his daughter who were headed to the airport to get a rental car. While it was a bit crammed in the Honda sedan, it was certainly interesting chatting with our co-commuters.
Fortunately, we didn't hit any Friday afternoon D.C. traffic and made it to Dulles in under 45 mins!
When we got to Terminal A it seemed rather deserted (a bit like the D.C. area traffic).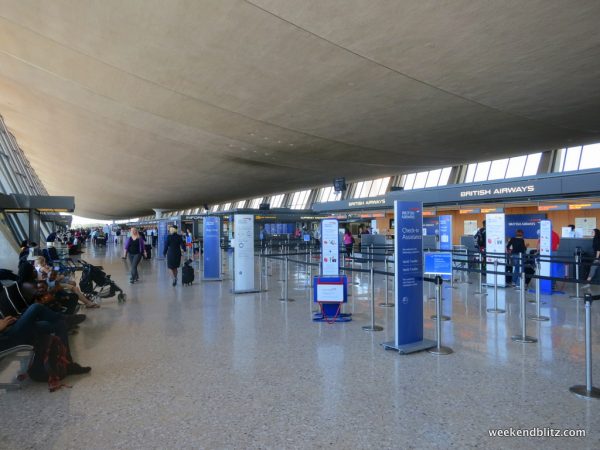 Following the signs for Etihad, we looped back around to the rear lobby.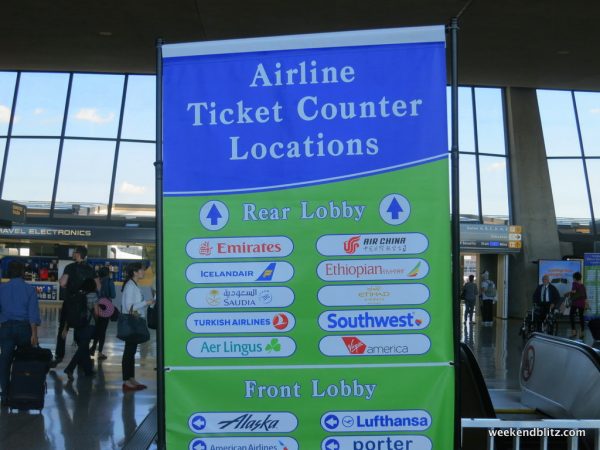 We found a completely empty check-in area and soon learned that the Etihad counters don't open up until 4 hours before departure (their website says 3 hours, but we confirmed it was 4 hours from a volunteer at IAD). That meant that we'd have a bit of time to kill until 6:05pm when we could check-in for our 10:05pm departure.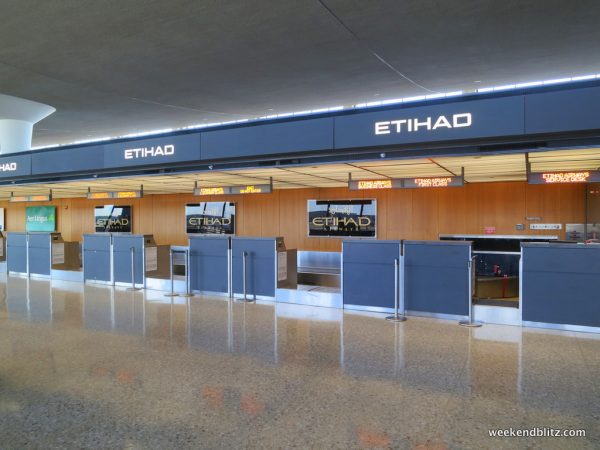 We were the 2nd Business/First passengers to check-in, although there was already a decent line of people waiting for economy.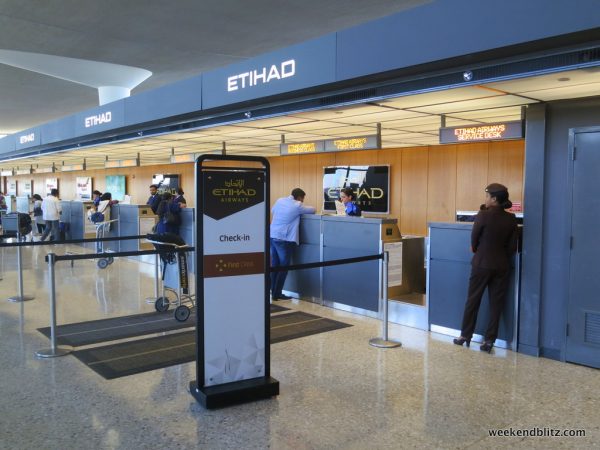 Check-in was a breeze with very friendly service. I seem to think they were actually a bit surprised that our final destination was Abu Dhabi. Maybe they're used to people that look like us just connecting through on the way to the Maldives or something?
We went through security to spend a bit of time in the lounge: Etihad First and Business Class Lounge Washington, DC-IAD.
Here's a shot of the main boarding area: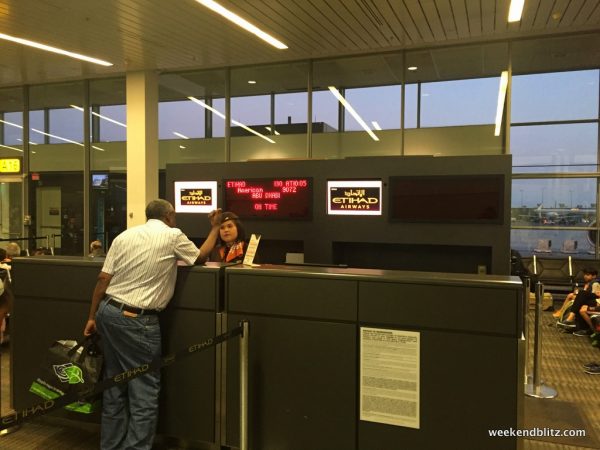 BOARDING
Boarding was quietly announced in the lounge around 9:05 so there wasn't a mad rush but people were able to casually get up and board as they desired. We jumped up pretty quickly to make sure we could get a few shots of the cabin before the masses piled in.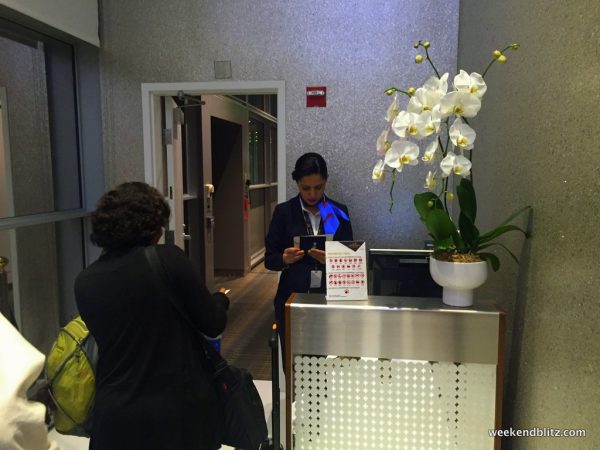 They held off general boarding for a few minutes to give first/business a head start. The single boarding door on the 787 was just aft of the first class cabin, which also has 1 row of business class. We took a right at the gallery and entered the main business class area.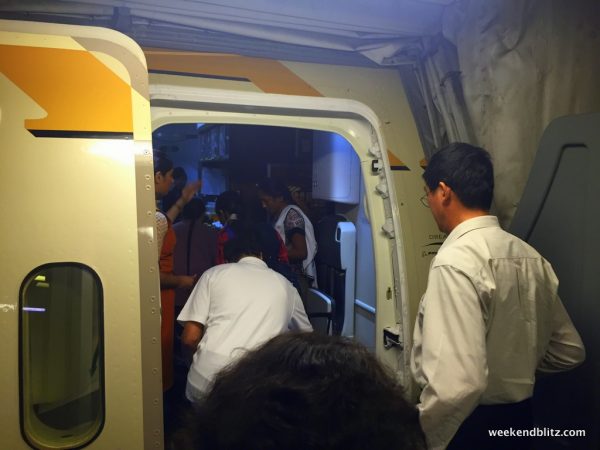 Our aircraft for the flight was A6-BLA, Etihad's first of 71 Boeing 787s on order.
SEAT
Our first impression, which we had already largely formed from looking at pictures online, was that the seat is much nicer than the first class cabins on most airlines. We had seats 11F and 11E– forward facing center seats that are side by side.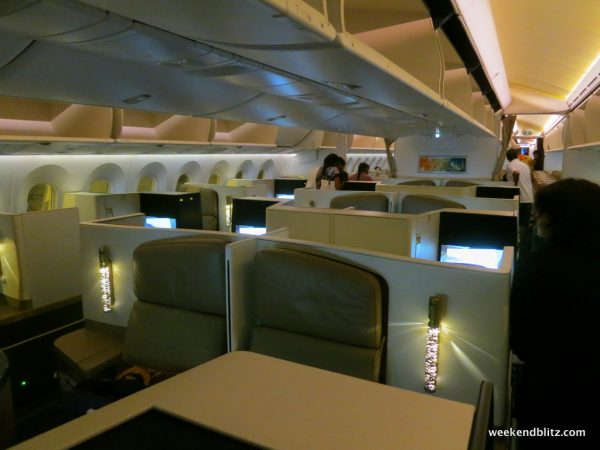 The seats were nice, cubby-like… "suites" for lack of a better word. I guess Etihad said it best. The arrangement provides an enormous amount of privacy for a business class seat. There was also a nice divider between the center seats if it turns out you don't know your neighbor.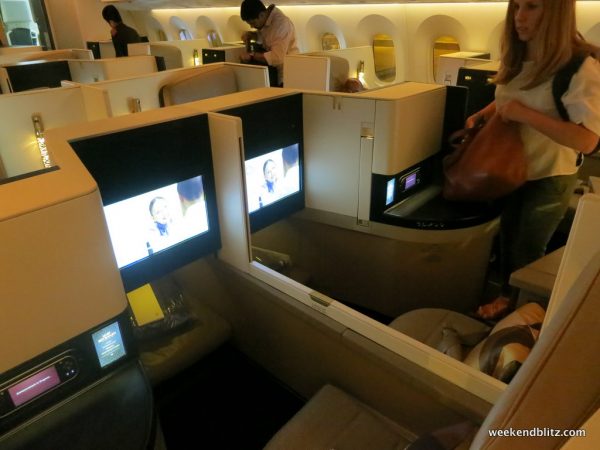 There are a total of 28 "Business Studio" seats on the B787s, 8 near the First Class section and the remaining 20 on the other side of the galley.

As a result of the business class seating layout that is designed for privacy, of the 28 seats, there are really only 8 that are truly side by side. Another 6 are side by side but separated by large tables. The remaining 14 are true solo seats.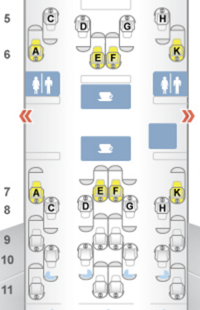 The seat literally has 3x touch screen LCDs. There was the main 18.5″ LCD touchscreen display and another handheld mini controller that allows you to control the monitor without the pain of leaning over. Reaching is for the peasants in the back of the plane.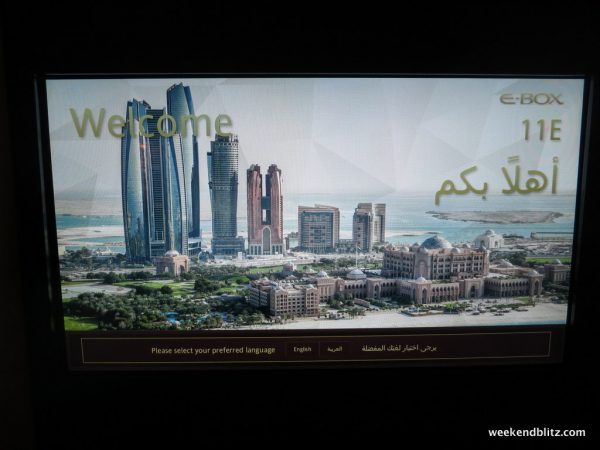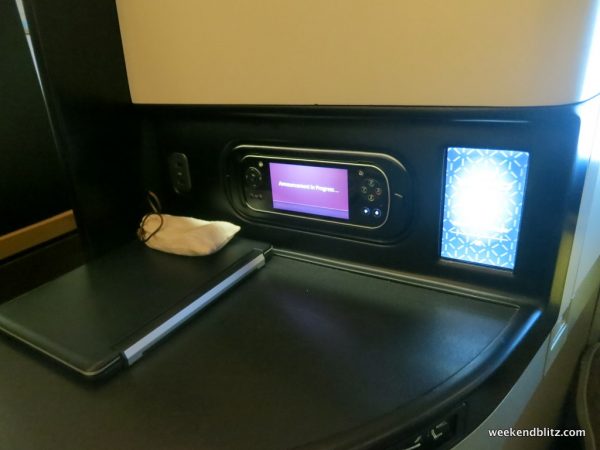 Then there was a 3rd LCD touchscreen that controls things like the lights and the seat including, but not limited to, cushion firmness, massage, recline, forward movement, etc. And, if that wasn't overkill, there are tons of light combinations: table lighting, seat mood lighting and reading light.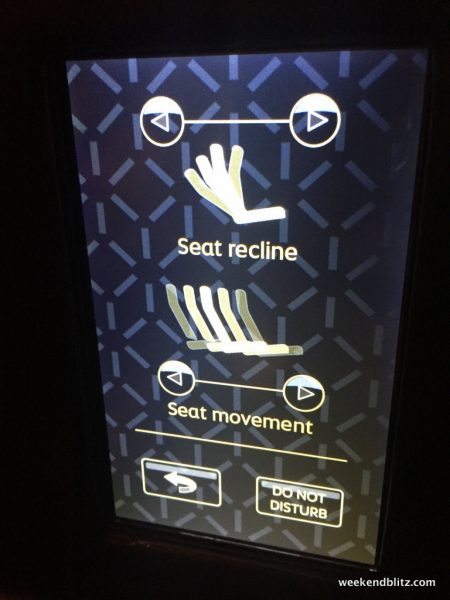 If the 3x touch screens aren't enough, there's another set of buttons to handle popular items like recline and reading lights.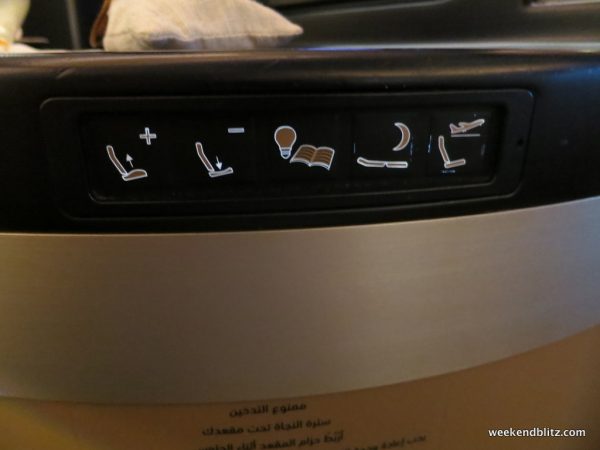 The Business Studio seats are said to be 22″ wide and give around 6 feet 8 inches of space when fully reclined.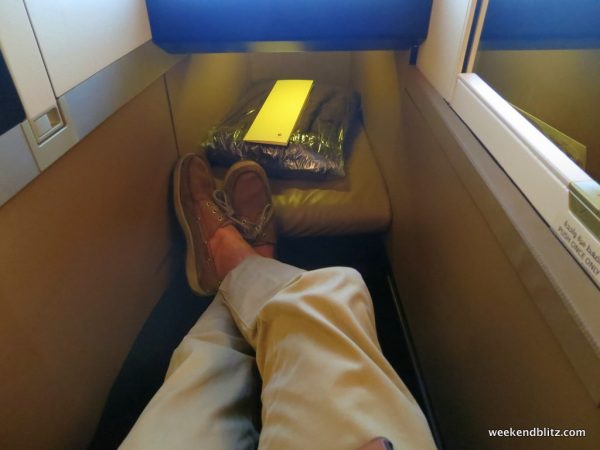 The soft brown leather seats by Poltrona Frau make the cabin look amazing and very inviting.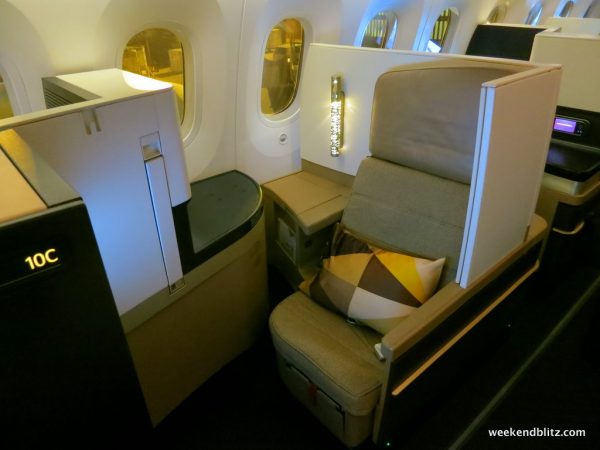 We also found plenty of storage and charging plugs: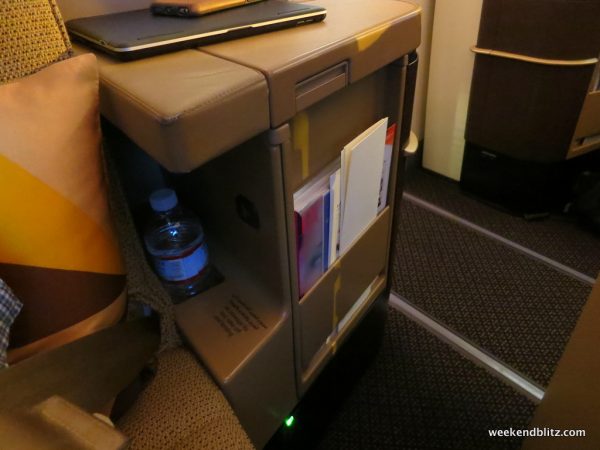 The cabin had soft lighting and cool decorations like this: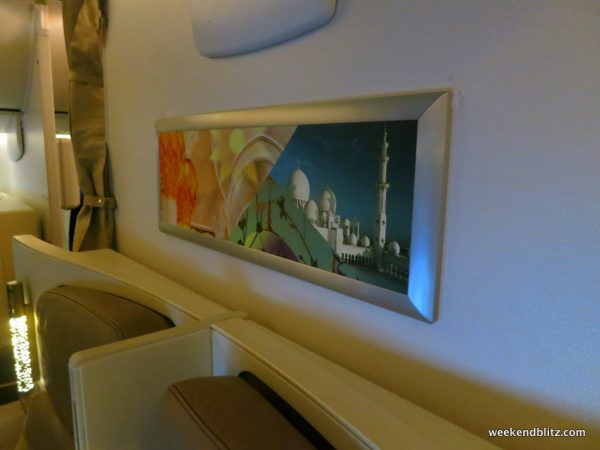 Also, I love the windows on the 787s, they are 65% larger than normal airplane windows and are also dimmable. This means you literally can't close them but can dim them to darkness.
Before the masses headed in, I snuck a peak at the economy class cabin: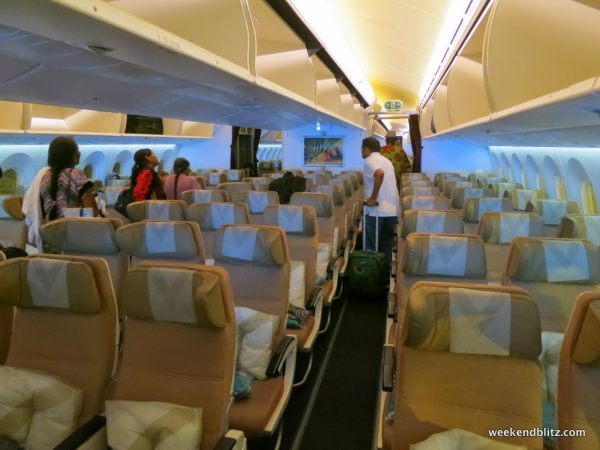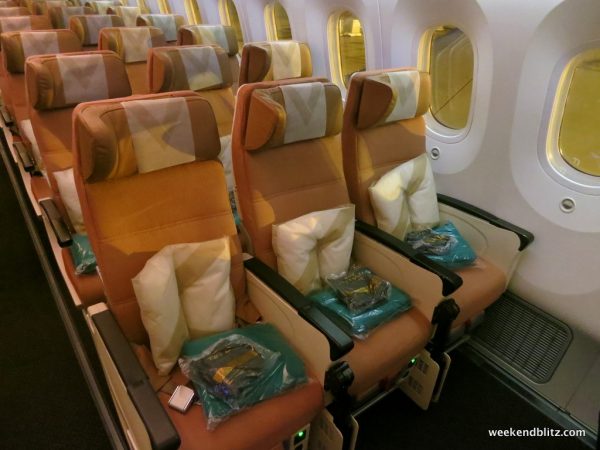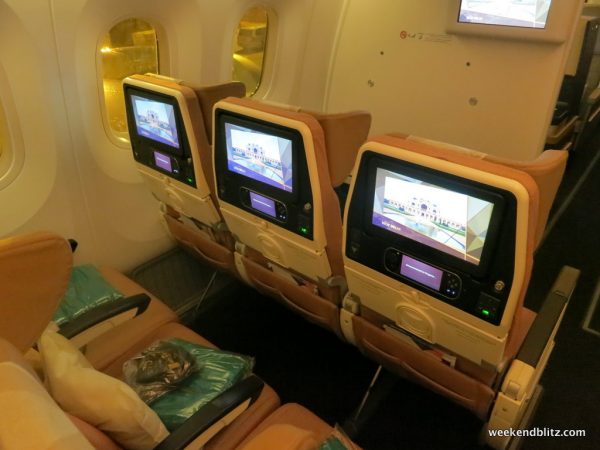 AMENITY KITS
Here's a look at the amenity kits that were distributed: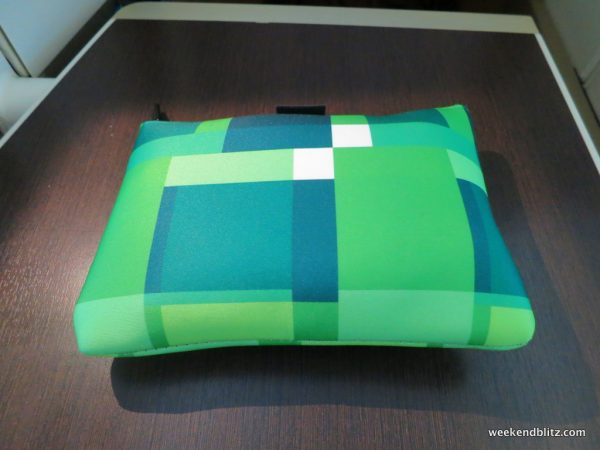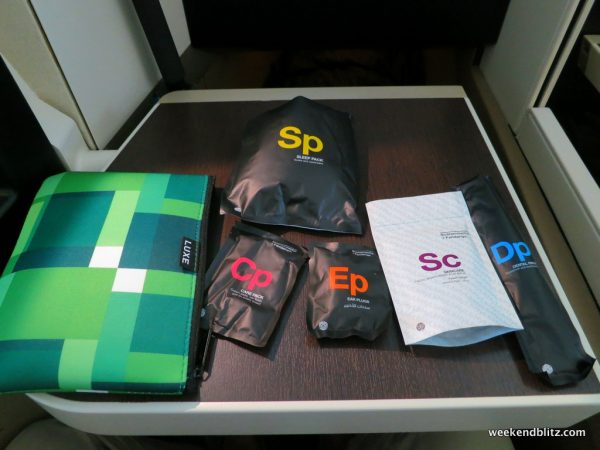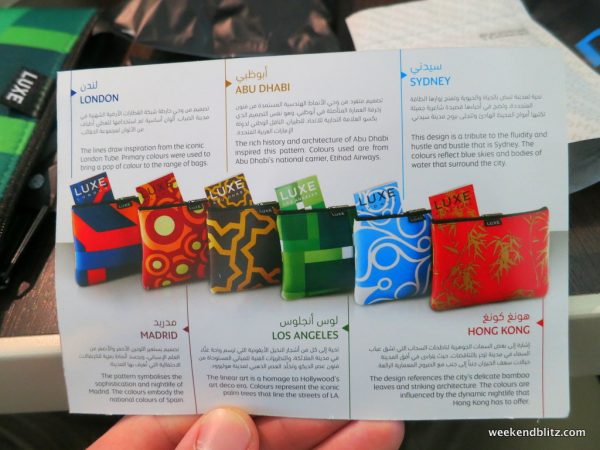 IN-FLIGHT ENTERTAINMENT
As we settled in, we got ready for our 12 hours 42 mins of flying time: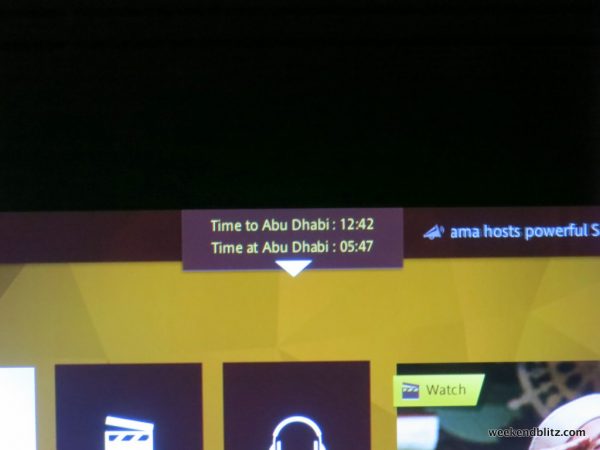 Shortly after the boarding doors had been closed, Etihad issued their prayer from the Koran which I understand they do before each flight: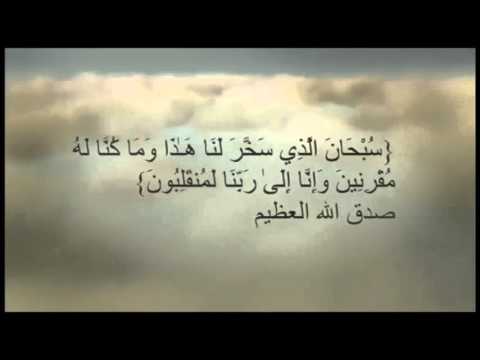 Also, we could easily find the direction of Mecca at all times via an app on the entertainment screen: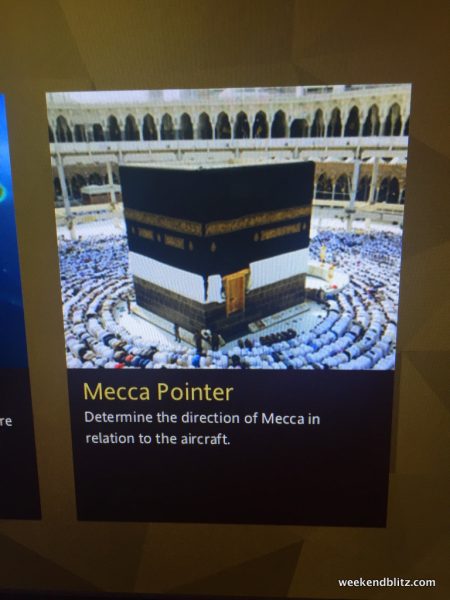 Etihad's in-flight entertaiment is called "E-Box" and it offers movies, TV shows, audio and games. We found controls and variety of screens offered to be fantastic. The system was very easy to use.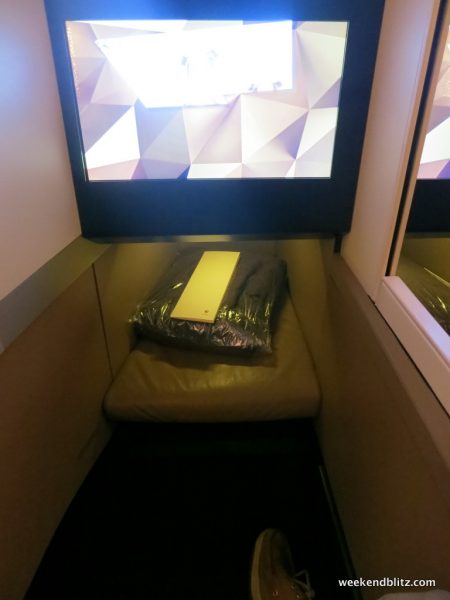 The selection, however, left a bit to be desired. There just weren't that many Hollywood new releases to choose from.
Our plane was also "Wi-Fly" equipped, which didn't just include the internet. You could also make and receive phone calls once connected.

We were too entranced with looking at the seats and eating and drinking to login.
MEAL
After getting settled in a bit, a flight attendant came by and explained their "anytime dining" meal service style. We were told we could order whatever, whenever. As it was already past 10pm, we opted for a few dishes "right after takeoff".
We were handed a warm towel and went ahead and place our orders for the dinner service.
Warms nuts and a drink were served shortly after take off.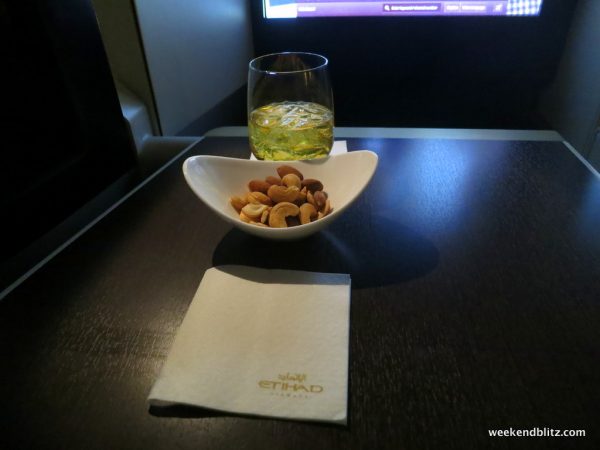 I started with the "Caprese salad with sun blushed tomato, mozzarella, kalamata olive tapenade and Parmesan crisp." It was so refreshing and delicious. A bit deconstructed with everything in its own pile, but getting a bite of tomato, mozzarella, basil and balsamic together was amazing.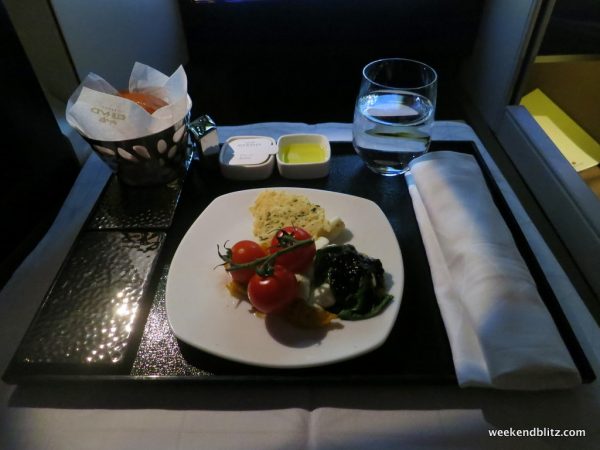 Next up was the "Arabic lamb kofta with sautéed squash, courgettes, red onion vermicelli rice and spicy saffron tomato sauce." The dish was packed with flavor and was absolutely delicious. The lamb sausages were rich and very well cooked and seasoned.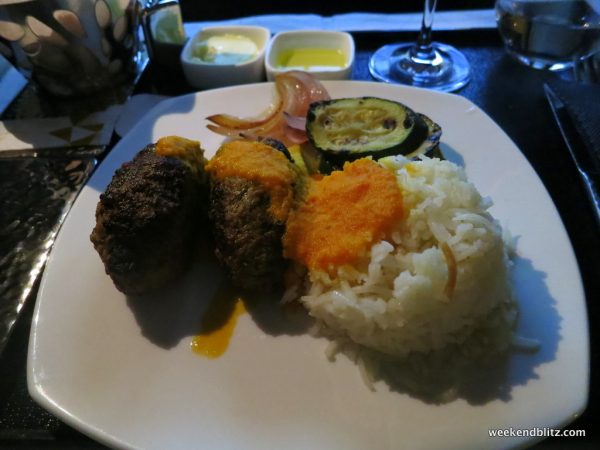 McCown decided to venture out and try the Puri bhaji  as a starter. It was described as "puffed bread, potato curry and chickpea cake." The dish had a nice spicy flavor. The curry was delicious – spicy but not hot spicy, just lots of flavor. The puffed bread left a little to be desired as it was a little bland, but was a good compliment to the extra-flavorful curry.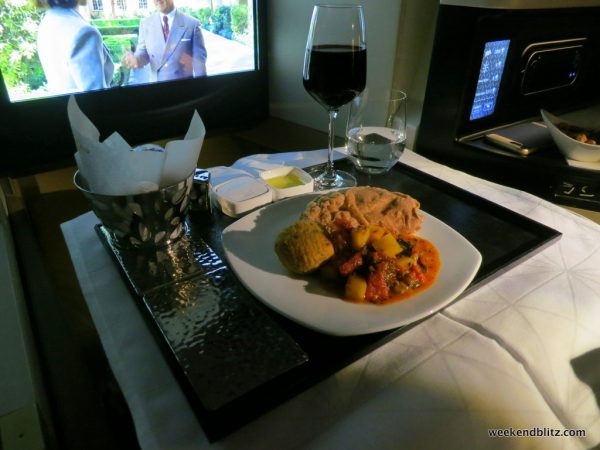 Next up for McCown: the "Malai paneer: cottage cheese in cashew nut sauce, pilaf rice and kidney bean masala." While the cheese chunks were a little sketchy, the masala sauce had a good kick and left you wanting more. The "cottage cheese" was more like regular cheese than the gross texture of actual cottage cheese. The kidney bean masala was the spiciest of them all– if you don't like spicy-hot foods, this dish could be a little alarming.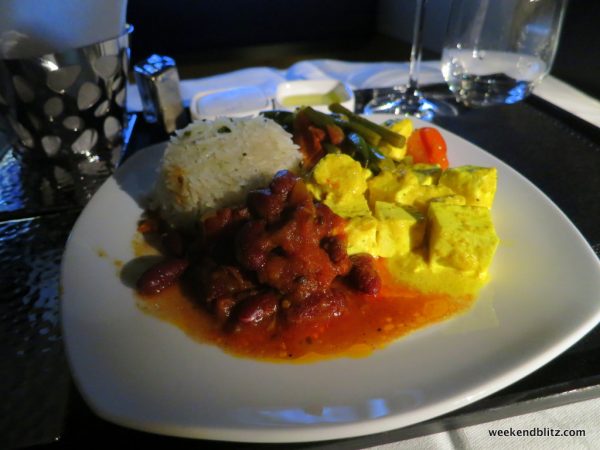 What's that, do we want dessert? Uh, while I can hardly physically eat any more, I am determined to try everything offered to me. I opted for the cheese with a glass of Graham's 10-year-old Tawny port.
There were two kinds of cheese served with grapes and crackers. One was a smoky blue and sharp cheddar. The blue was unusual but quite delicious.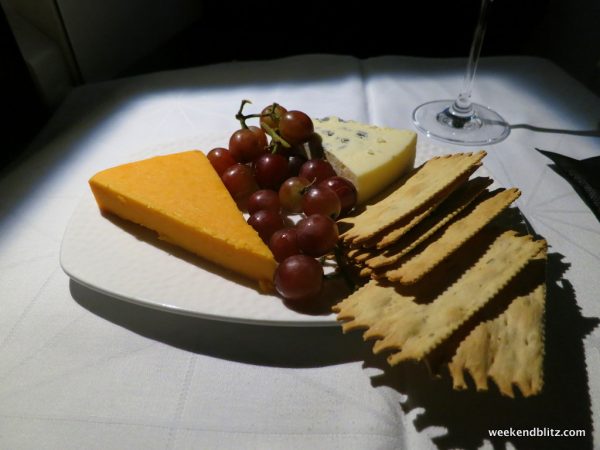 If I could do it over again, I would have only had a light snack (perhaps just the Arabic mezze) in the lounge instead of a full, 3-course meal and saved a bit more room for the in-flight food. I found the in-flight food to be much better than the lounge's food.
As it got later and later into the night (US time), it was evident that some sleep was in order. We changed into our Etihad pajamas and settled in.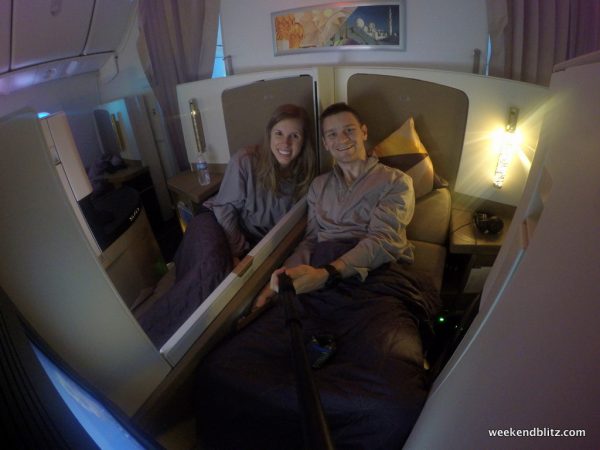 We were both easily able to sleep for the majority of the flight and got some great (probably too much, really) shuteye before landing.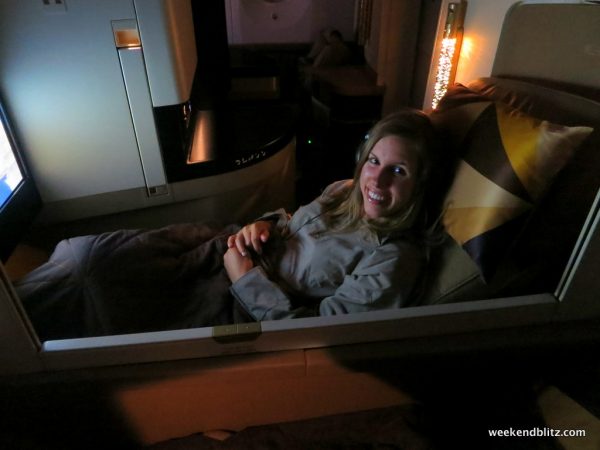 As we approached Abu Dhabi, we were offered breakfast. Seeing as how it was around 4-5 pm Abu Dhabi time, I hardly see how breakfast is the most appropriate meal to adjust to the time change, but McCown went along with it.
McCown tried the "Scrambled eggs with cherry tomatoes, scallion rosti potato and asparagus. Overall, we determined it to be okay. Nothing extraordinary. It was served with an excellent warm chocolate chip muffin and croissant which were surely the highlight of the meal.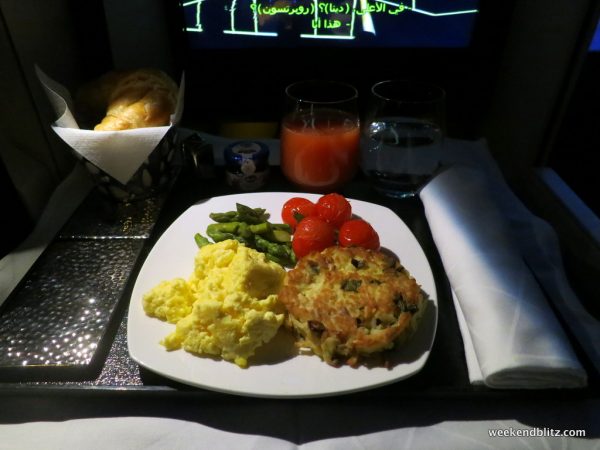 By the time McCown had ordered, I had remembered that it was an "anything, anytime" dining situation, so I went with something a bit more time-of-day appropriate. I had the "Pulled barbecue beef brisket panini with cheddar cheese and tomato" which, like the eggs, was alright, but nothing to write home about. I also gave the "Beetroot, orange and ginger energiser drink" a try because… why not?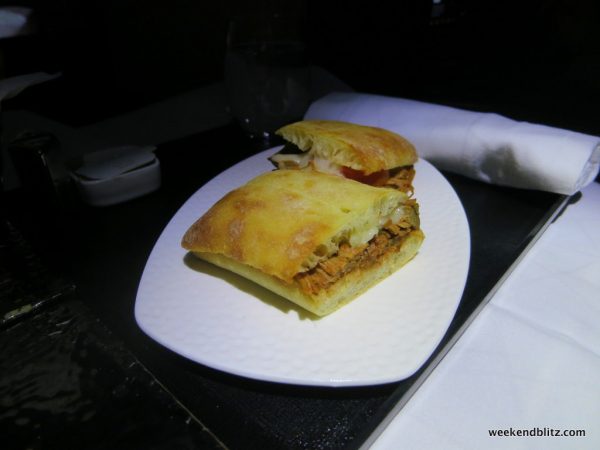 We also enjoyed a cappuccino before landing:
In the end, I'm not sure that I'm a big fan of the anytime dining plan. In traditional transatlantic or transpacific flights, they'll serve you a meal right after take off, dim the lights for a solid chunk of sleep and then begin another meal service a few hours before landing.
With this system, people generally ate right after takeoff but then people slept and lounged the entire rest of the flight. There wasn't a distinct "wake up and turn on all of the lights period" which I found annoying.
BATHROOM
The bathroom was spacious and also well designed and luxurious.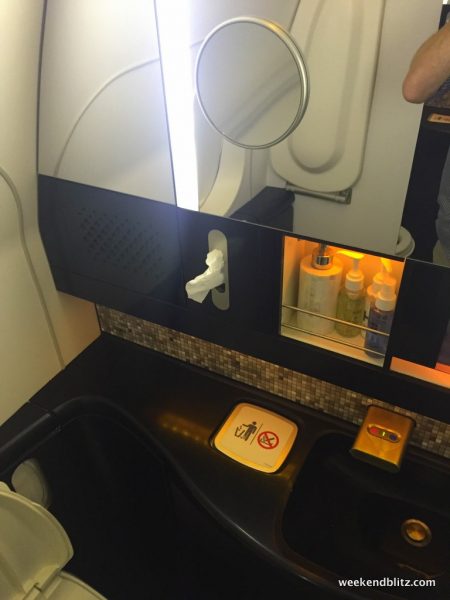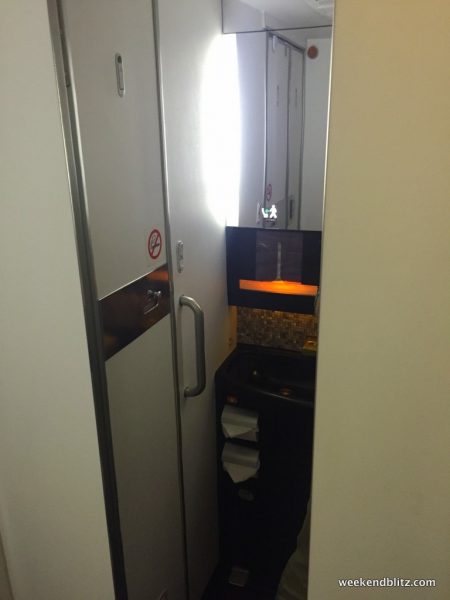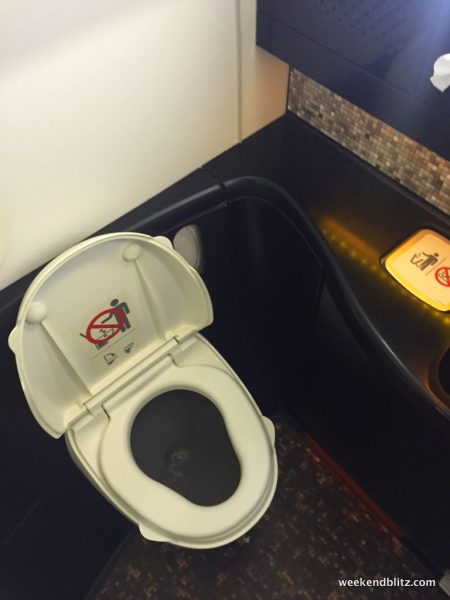 Since we weren't near a window, the bathroom was actually the only place to take pictures outside and actually have a chance at seeing the sun: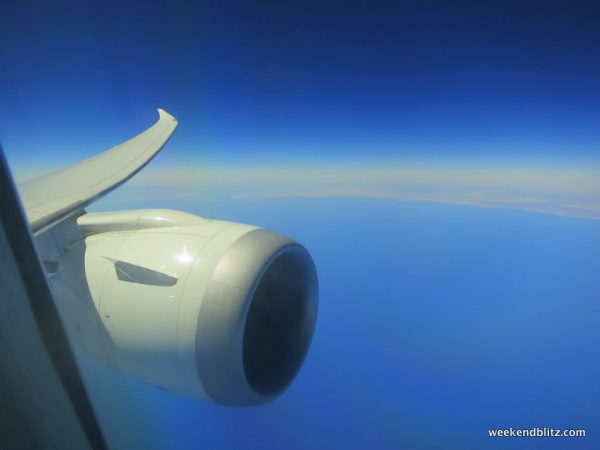 SERVICE
Although the flight attendants are friendly enough, there is a distinct difference between other business class services we've been on — Thai Airways is still the most service-oriented airline that we've flown. Not that these flight attendants were rude; they just didn't go above and beyond like some other carriers do. We found that while some of the Etihad flight attendants were great, others had a bit of an attitude.
At the beginning of the flight, they made an announcement outlining the various nationalities of the crew and languages spoken, here are the few I was able to jot down: French, Hindi, Thai, Romanian, Italian, Arabic, English….and many more. This certainly gave us the impression that it was a very international airline.
As we began our descent, we were presented with Fast Track Immigration Cards: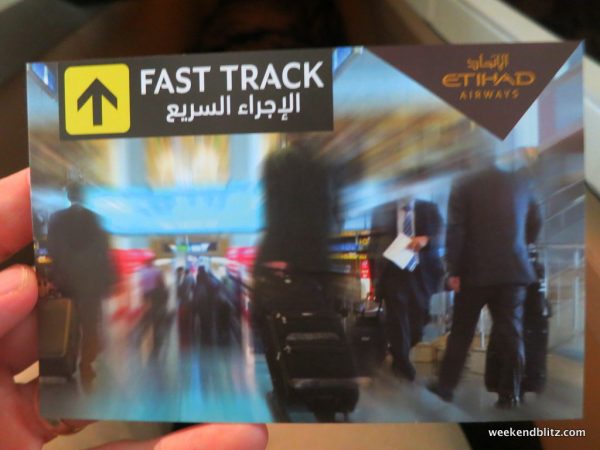 After touching down, we had quite a lengthy walk to baggage claim.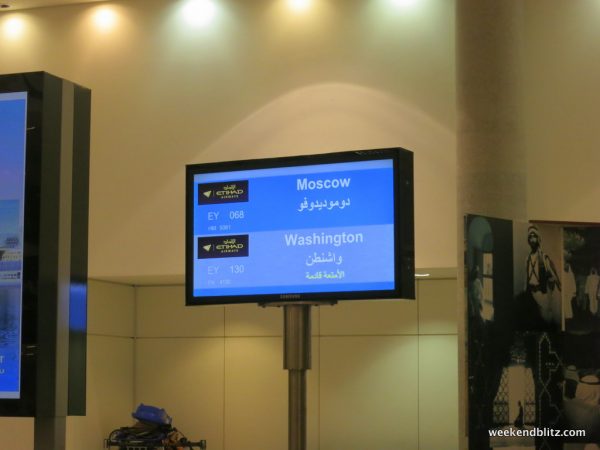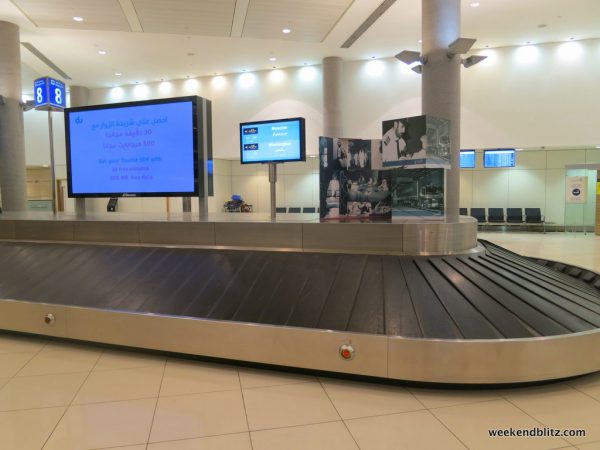 We cleared customs quickly and popped into the Arrivals Lounge for a few minutes before tracking down our chauffeur to Dubai.
BOTTOM LINE: Our experience in Etihad's B787 "Business Studio" was fantastic. I would gladly go out of my way to fly this business class cabin over just about any other carrier when flying to or through this part of the world.