Etihad First and Business Class Lounge Washington, DC-IAD
After getting to Dulles way too early for our flight out to Dubai, we were extra-eager to finally arrive at the Etihad First and Business Class Lounge. This was one of our (many) highlights of our upcoming trip, and it didn't disappoint. The Etihad lounge is located at A16, right next to their gate. Because they have just one gate at Dulles, Business & First passengers can board directly from the lounge which is super, super awesome (and a first for us!).
As soon as the sliding doors closed behind us, it didn't feel like we were at the airport anymore. We immediately found it much fancier than most other airport lounges and, honestly, it already felt like we'd left the States. We found the service from start to finish to be friendly, personable and much better than most. We asked the front desk to check that our "limo" was reserved in Abu Dhabi, and she was able to look it up and confirm it for us– quite reassuring as we'd be landing in Abu Dhabi around 7:15 pm their time after a 13 hour flight, then need transportation to Dubai immediately (a little over one hour's drive).
The lounge is two levels, but the top level was closed when we arrived at ~6:25 pm. The second level never opened up while we were there – I guess they typically don't open it? I mean, max premium class pax they might have is 8 first + 28 business = 36 total. So, if they sold less than 36, they might have between 20-30 people total at a time, which the ground level can easily accommodate. Either way, it was still very comfortable with just the one level open. There is a bar area, a dining area with tables and then a typical seating area with the news playing and comfortable arm chairs.
As I mentioned, we'd checked into our flight the very second the check-in desk opened, so we weren't shocked to find that we were the first people in the lounge. Once we were seated, two very friendly attendants came to greet us with a tray full of dried dates and Arabic coffee. Although I haven't had many dried dates in my life, I found these to be an especially delicious, sweet treat and the snack paired perfectly with the strong coffee. It was a nice touch to welcome us with our first glimpse into Arabic culture.
Once we'd sampled the dates, we were eager to see the rest of the lounge, so we moved over to the dining tables. Of course, like every other place where we find ourselves with an abundance of free food, we ordered off the a la carte menu at our seats and, then (while waiting on our food), couldn't help but sample everything from the buffet, too — a bit like it was our last meal on Earth… when, in fact, we knew there was another fancy, multi-course meal waiting on us on the airplane.
We each ordered a glass of red wine. Their choices included merlot, pinot noir, and a Bordeaux. The server did seem a bit confused about the wine choices, but we think she was brand new on the job, so obviously deserved some slack.
The buffet's mezze included eggplants, hummus, baba ghanoush, tabbuli, olives, a selection of cheeses, etc. Soon after trying all the appetizers, our actual appetizers we'd ordered arrived– part of the a la carte menu, the appetizer tasted like a fried dough ball, so there's not much that can go wrong there.
Jeffrey ordered the cod as his main dish, which was served over sautéed spinach with a tomato sauce and a side of basmati rice. I ordered the sirloin, which was a bit overcooked but otherwise delicious.
For dessert, we split the cream puff with chocolate syrup, served with lemon sorbet. It was a nice end to the meal because the lemon sorbet was light and refreshing. We ordered cappuccinos (no decaf espresso available).
Once we finished our meal, we rolled back to our original seats to finish charging our devices and get ready to board, so we were only in the lounge long enough to enjoy a long dinner despite arriving so early.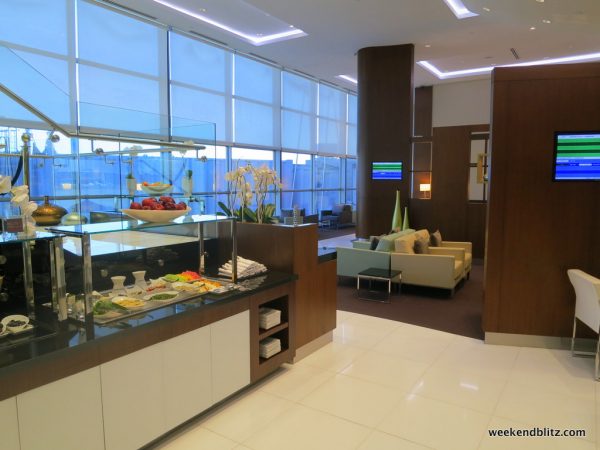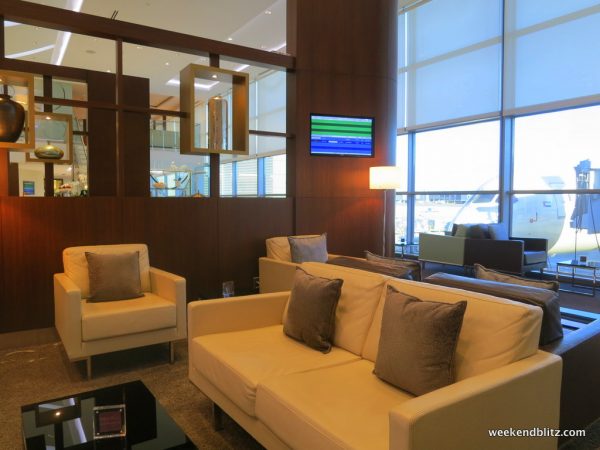 Boarding was quietly announced and we proceeded to the lounge's very own boarding gate: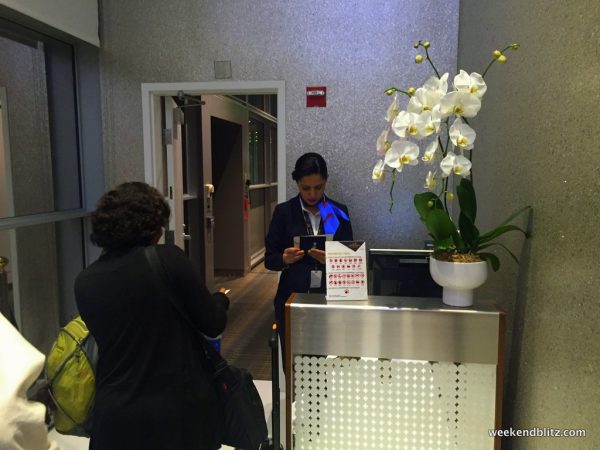 BOTTOM LINE: We found the lounge to be nice and well-appointed with a clean, fresh space and hope to visit again one day soon. For us, it was the perfect intro for our upcoming trip to the UAE and made us really excited to arrive in the UAE just a few hours later!