Dune bashing and camel riding in the Dubai desert
Even though we were only in Dubai for 3 days before heading to Australia, we were trying to see as much of the city and surrounding area as we could in such little time. Of course, the center of Dubai is pretty impressive, with the world's tallest building, indoor ski slopes, etc., but we really wanted to see outside the city, too.
Especially after taking the culture tour of Ramadan (here), we learned that Dubai used to be a small fishing village– and, of course, it's right in the middle of the desert, so we wanted to see a type of terrain that we were unfamiliar with. We'd also just visited Arizona, so we were curious to compare that desert climate with the UAE's.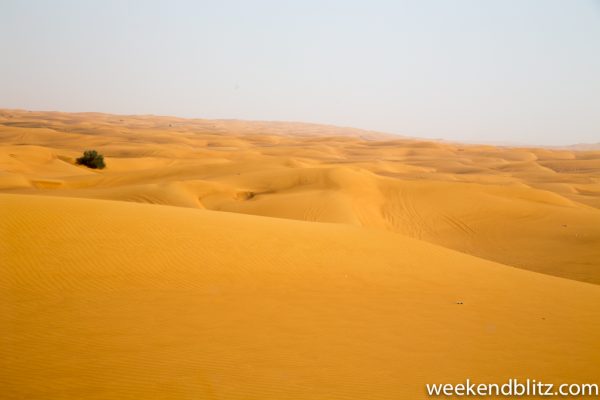 After reading a few TripAdvisor reports, we settled on booking Oceanair Travels & Tourism's Morning Dubai Dune Bashing Safari and Camel Riding with sand-boarding in Dubai Desert for $68 each. It was designated as "semi-private normal dunes," meaning we were expecting to have a few other people on our tour. However, it turned out to be just the two of us and the driver, which was an unexpected treat. What's also great is that they'll pick you up straight from your hotel (we stayed at the Park Hyatt Dubai–review here).
We headed out of Dubai and drove for about an hour until we were pretty far out of the city. Soon, the desert pretty much took over and we were driving with dunes on either side. Turns out, you can see a bit of this while driving between Dubai & Abu Dhabi, but, when we'd flown into Abu Dhabi and driven to Dubai, it was after dark.
Map of drive from Dubai to the dunes:
Soon, the driver turned off the road and into the dunes. He let some air out of his tires and off we went.
He started off slow and let us tell him if we preferred him to drive faster or slower. I was sitting in the backseat and it felt just like a roller coaster. One second, I could see nothing but sand in front of us as we drove downhill and then he'd swerve and all I could see was sky. I was trying to take some video on my iPhone, but kept getting moved so much that the video was pretty terrible…but does attest to the crazy spins.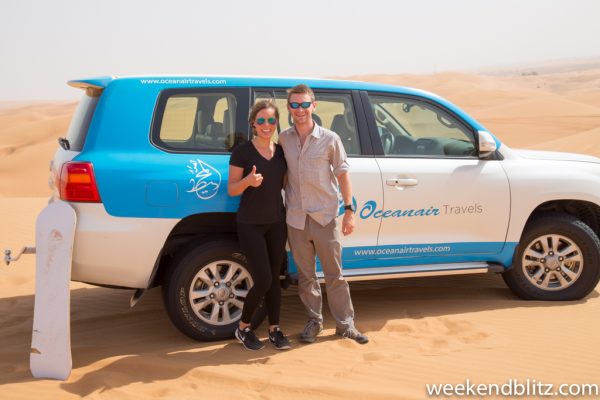 Neither of us really get carsick at all but soon enough we were ready for a break from the dune bashing and we stopped at the top of some dunes. At that point, we were so deep in the desert that you couldn't see anything or anyone from any angle except more sand dunes. Pretty crazy.
We got to try sand-boarding and our driver was so great at taking so many pictures and videos of us (way more than we requested). Because it was a private tour, we were able to start and stop activities whenever we wanted, which was nice but definitely not necessary (we still would have been more than happy to go with a group).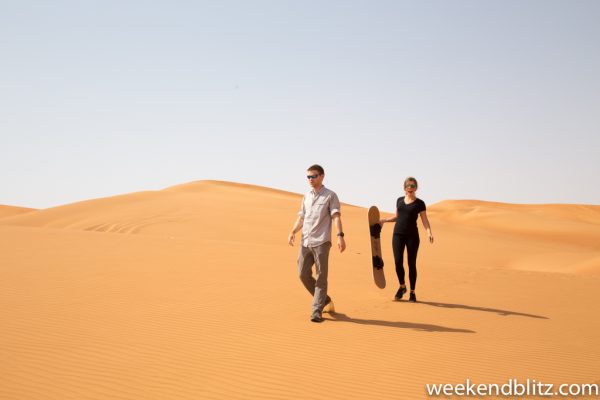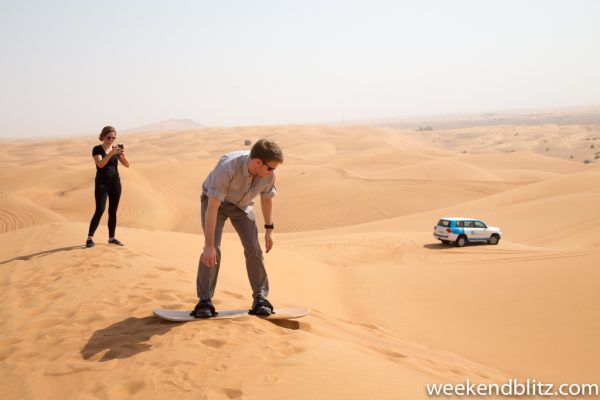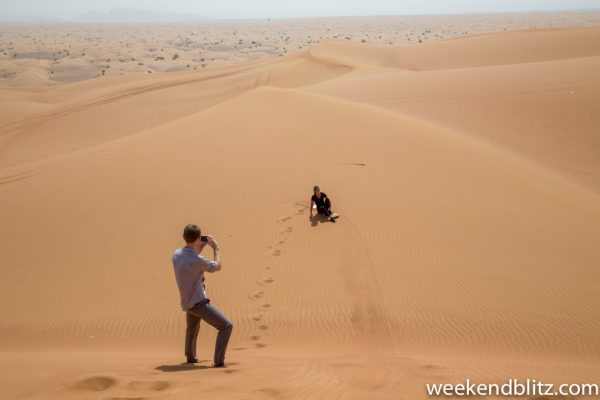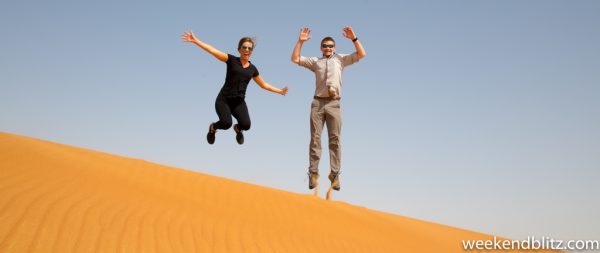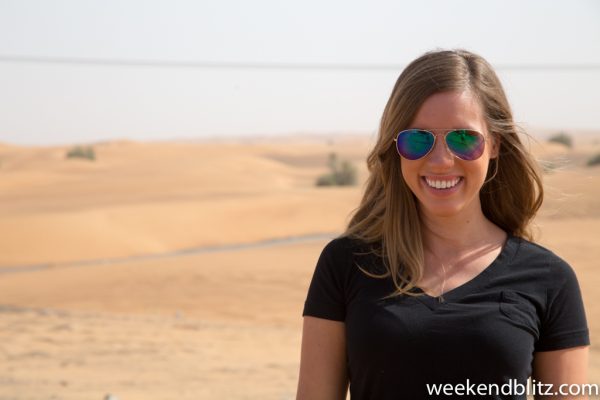 Here's the map of the part of the desert we drove in: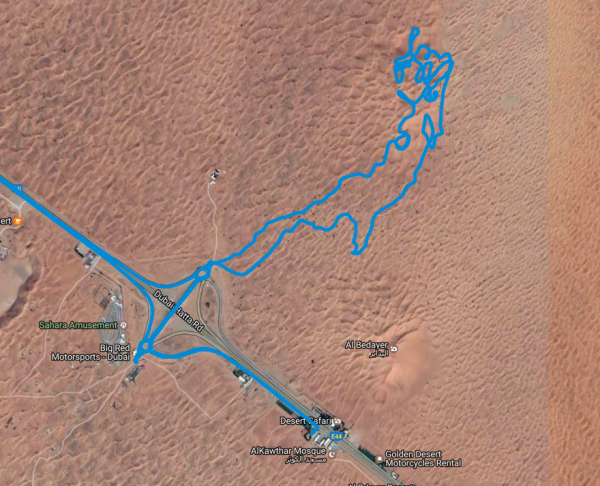 When we'd had about enough, we left the dunes and headed nearby to the camel farm for lack of a better word. This part definitely felt very touristy and like it was made just for us, but it was still pretty cool to see a camel up close. Again… a little weird to wake up about 10 men from sleeping in the sun just to get one of them to go get the camel saddled up… but, nonetheless, a neat experience and pretty cool picture, too.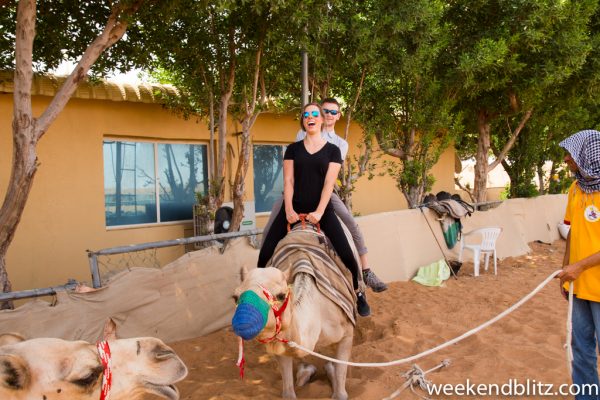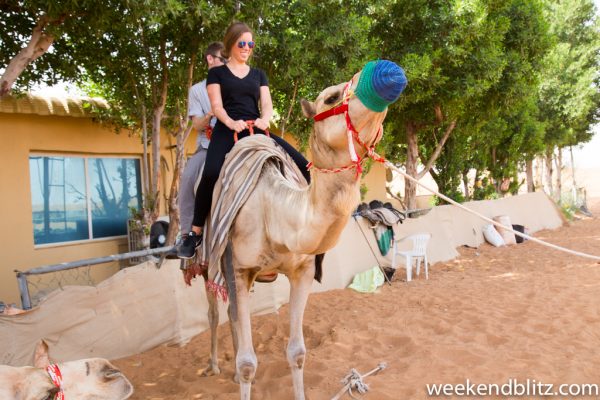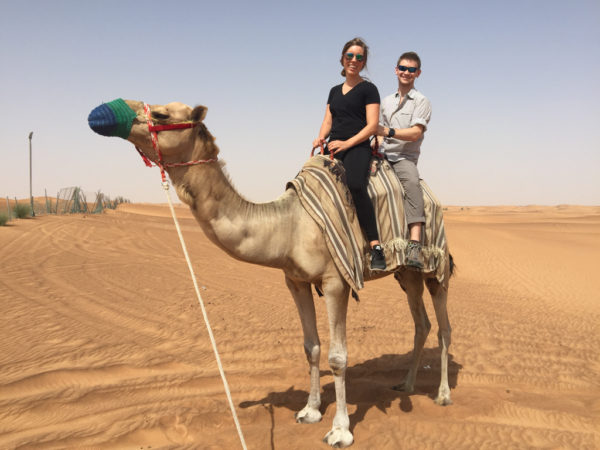 While at the camel farm, we also were told to try on some items from their store– they even made us try us some traditional garments and took photos of us: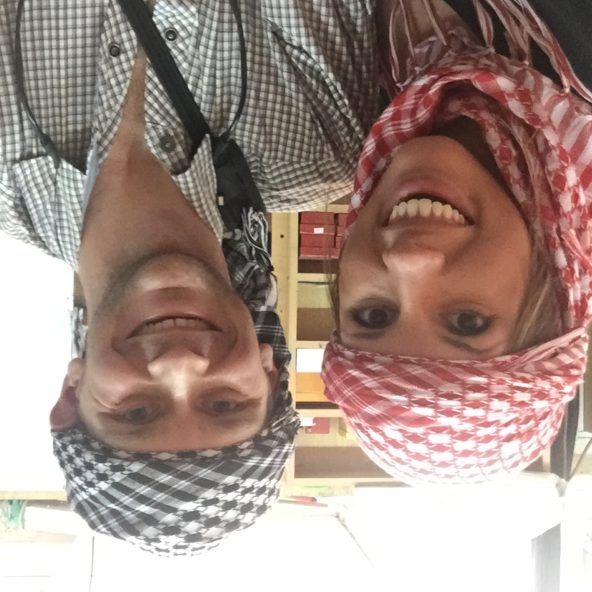 We were delivered back to our hotel that afternoon and were grateful to get a feel of the UAE outside of the tall skyscrapers. I think it added an extra dimension to our trip to see outside the big buildings and fancy shopping malls. You can picture Dubai before the big buildings and oil money… just lots and lots of sand.