Tour of Dolmabahçe Palace – Istanbul, Turkey
We walked across the Golden Horn Bridge one morning after trying to take the tram to the "newer" area of Istanbul, along the European side of the Bosphorus River. No one knew why the tram never arrived, but, later that day, we found out that someone had suicide-bombed a police station, so they had closed all the tram lines as a pre-caution. Yikes.
After walking around the newer area, we headed to Dolmabahçe Palace, Turkey's largest palace, which is located right on the Bosphorus River and was used as the center of the Ottoman Empire between 1856 – 1922.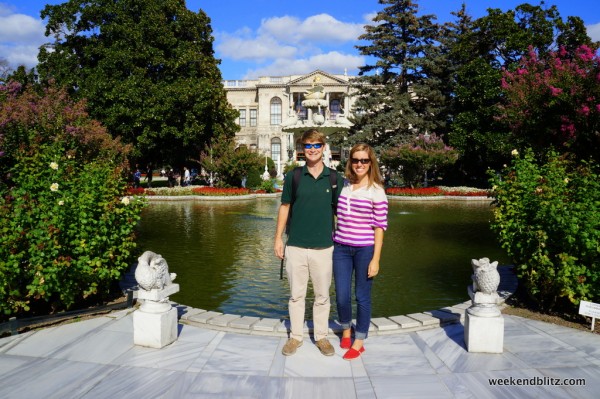 It was ordered to be built by the sultan, Abdulmecid I, as his current residence, the medieval Topkapı Palace, wasn't modern or luxurious enough when compared to European palaces. The palace was home to Turkey's last six sultans. Although Topkapı Palace is located in the old part of town (where we were staying), Dolmabahçe is in the newer part of Istanbul. The last sultan lost power in 1923 (he chose the wrong side in WWII because he was buddies with Kaiser Wilhelm II of Germany), and Ataturk became the Republic of Turkey's first president. Ataturk lived at Dolmabahçe until his death in 1938, then the palace became a museum.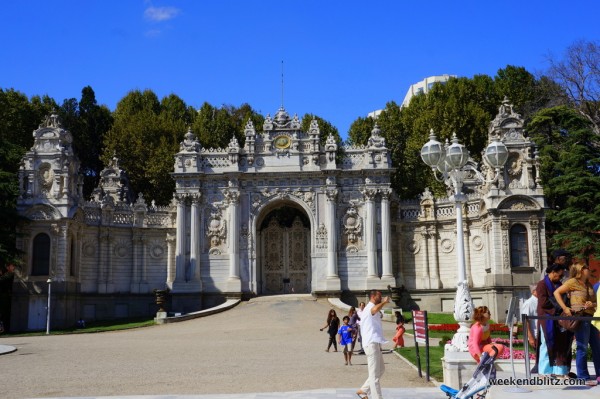 When we arrived, the entrance line snaked all around the front. It was 40 TL/each for a guided tour of both Selamlik and the Harem. Interestingly, everything is half off for Turkish residents, and all students with an ISIC card pay only 5 TL – impressive savings.
The gardens surrounding the palace are pretty extraordinary and, in fact, that's what Dolmabahçe translates to in Turkish: "filled-in garden."
Given its history, all the furniture looks just like it did in 1930. The palace was pretty similar to most European palaces I've visited– larger than life decor in gigantic rooms. Jeffrey suggested that one of the sultans visited Versailles and copied it, with ornate furniture, HUGE crystal chandeliers (the 2nd largest in Europe is housed at Dolmabahçe) and fancy ceilings.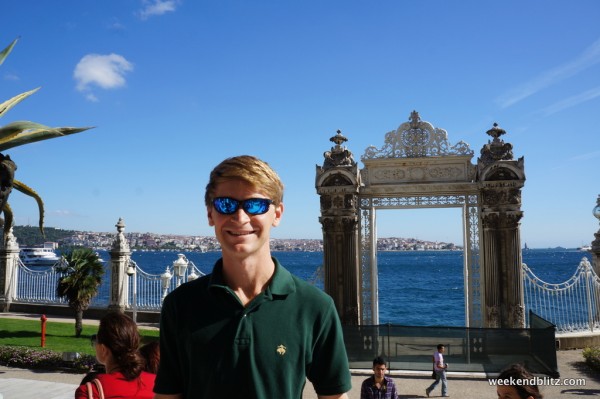 The coolest thing I saw was a gift from Saudi Arabia in the main stairwell: two huge elephant tusks (I didn't even think elephants were that big) made into candlestick holders. The very fanciest room was the Grand Ceremonial Room, and women weren't even allowed inside (they could only look through the windows from the top story. Not my idea of fun.
Visiting Dolmabahçe during our time in Istanbul was one of the best things we while there because it gave us some insight into Turkish culture from years past — and, who doesn't love googling at humungous chandeliers and over the top elephant tusks?