Dead and Company – June 10, 2016 – Charlotte, NC Review, Setlist and Videos
Dead and Company 6/10/16 Review – June 10, 2016 – PNC Music Pavilion –  Charlotte, NC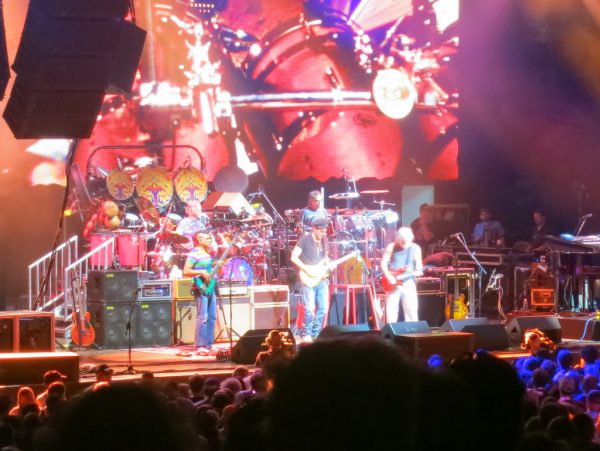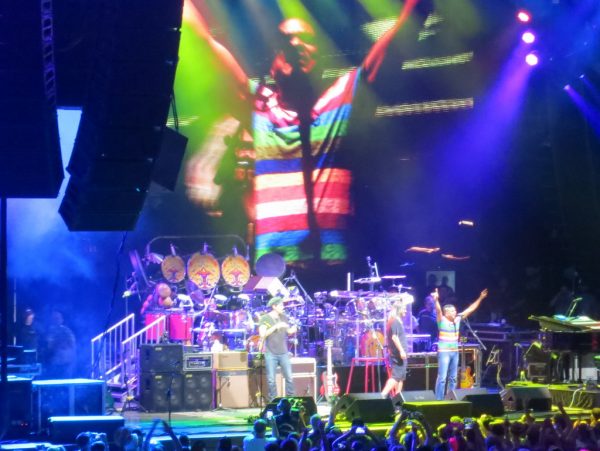 See below for videos– the audio quality on the camera was pretty bad so most videos are using audio from chrisdavis' source available for download here: http://bt.etree.org/details.php?id=586987. Thanks for the audio, chrisdavis!
Here's an excerpt from the JamBase review:
Grateful Dead members Bill Kreutzmann, Bob Weir and Mickey Hart brought their Dead & Company project featuring John Mayer, Jeff Chimenti and Oteil Burbridge back on the road on Friday night. The six-piece kicked off a 24-date Summer Tour on Friday at PNC Music Pavilion in Charlotte, North Carolina where they worked a debut into the setlist and plenty of lengthy jams…

The late era Garcia/Hunter gem "Liberty" was a Dead & Company debut and was the 100th different song the band has played since first taking the stage back on October 29, 2015 in Albany. Weir handled vocals on the debut as he did on the evening's opener, "The Music Never Stopped." Mayer took his first turn fronting the band by leading Dead & Company through "Cold Rain & Snow." Keyboardist Jeff Chimenti shined on the "Friend Of The Devil" that followed ahead of the aforementioned "They Love Each Other" and "Liberty." It was "Cassidy" that featured the night and tour's first expansive improvisational segment. Dead & Company toyed with the tempo throughout a languid jam. Bobby and John showed off impressive interplay, while the drummers and bassist Oteil Burbridge moved the speed from slow to super-slow and back to a more healthy tempo before the sextet nailed re-entry to the end of "Cassidy." Chimenti stole the show with a rollicking piano solo during a set-closing cover of Chuck Berry's "The Promised Land."

"Eyes Of The World" opened the second set and contained plenty of jamming. Once again, Chimenti starred with a frenzied piano solo that was propelled by Oteil's masterful bass skills. Burbridge displayed a sense of lead bass that is a signature of Phil Lesh's style throughout the smoking "Eyes." John Mayer also shined on the 20+ minute "Eyes" by stringing together Jerry-esque leads throughout the song's second jam. Mayer and Chimenti were then at the forefront for the "Deal" that followed complete with a pair of scorching guitar solos from John and powerful organ solo courtesy of Jeff…

The instrumentalists took the music "out" for a few minutes before connecting on a melody that eventually gave way to "Feel Like A Stranger." Weir's chunky rhythms were at the heart of Dead & Company's version of the tune. From there, the group took on one of Jerry's ballads as Bobby sang "Black Peter." At this point it was becoming clear the band was running into the 11 p.m. curfew and they ended the encore-less show with a quick romp through "Turn On Your Lovelight." Dead & Company now heads to Bonnaroo to headline with two sets on Sunday night.
Dead and Company – Charlotte, NC
Dead and Company – "The Music Never Stopped"
Dead and Company – "Eyes of the World"

Dead and Company – "Estimated Prophet"

Dead and Company – "Turn on Your Love Light"

Audio of full show on Archive.org: