Turkish Air Flight TK 8 – Washington-IAD to Istanbul-IST
Our journey started off in Charleston-CHS on a small United Airlines commuter flight to Washington-IAD. We couldn't have been more thrilled that the seat-back magazine, Hemispheres, featured article that was titled, "Three Perfect Days in Istanbul"–off to a good start!
We made it to Dulles from our connecting flight with about 3 hrs to kill before takeoff. I had a few United Club passes that I wanted to use before they expired, but we wanted to stay in Terminal B. Unfortunately, you're out of luck when it comes to United Clubs in Terminal B.
The next best bet is using Priority Pass to gain entry to the "BRITISH AIRWAYS GALLERIES LOUNGE," located in Terminal B. This would have been perfect if it weren't for this caveat, listed on the PriorityPass website:
Opening Hours: 07:00 – 14:00 daily. Cardholders will not be admitted to the Lounge outside these hours.
So, again, no club. Guess we'll have to slum it with common folk. We posted up at one of the restaurants to kill the time:
From: McCown
To: Family/Friends

Hello from our first leg of the trip! We are having dinner/we're not really sure which meal to get on our new time schedule. We board the plane in about an hour. Here's the bad news: we booked our seats with a seat in between us hoping to get the whole row to ourselves. We've just found out that the plane is completely booked. Looks like I'm facing another 10+ hour plane trip stuck in the middle.

Here's a pic of us eating dinner.

I think my next few emails will be more entertaining and (hopefully) more visually stimulating.
Turkish Airlines Flight 8 – IAD to IST – Airbus A340-300 -11:25pm to 4:40pm (+1 day)
With takeoff scheduled at 11:25pm, we moseyed back down to the gate around 10:30pm and boarding was already well underway! We had planned to be the first on the plane in an effort to trade around seats, if possible, but this flight was 100% full!
The economy cabin is configured as "2 – 4 – 2". Typically, we would just bite the bullet and take a window and an aisle so as to not have to have any additional passengers right next to us, but, when I booked the seats (just a few weeks prior to departure), the plane appeared to be wide open! So, I used the strategy of booking an aisle and middle seat on one of the sections with 4 seats across in the hopes that we could spread out across the empty seats. Well, no dice on this trip. When I checked the seat map on the day of departure, the cabin was showing 100% capacity! Guess that plan backfired on us.
Despite being full, boarding was pretty smooth and painless and we made it back to our seats: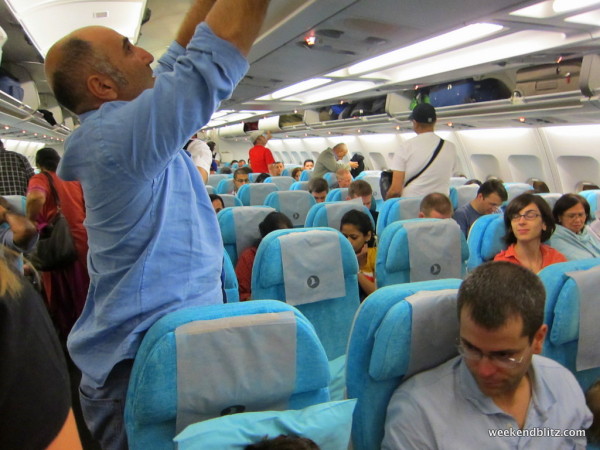 The Seat
The seat was fine. Nothing special, but no complaints either. The interior was nice and relatively new looking. Those bright blue seats are pretty unmistakable for Turkish Airways.
I was just pleased to have personal in-flight entertainment with a decent-sized screen: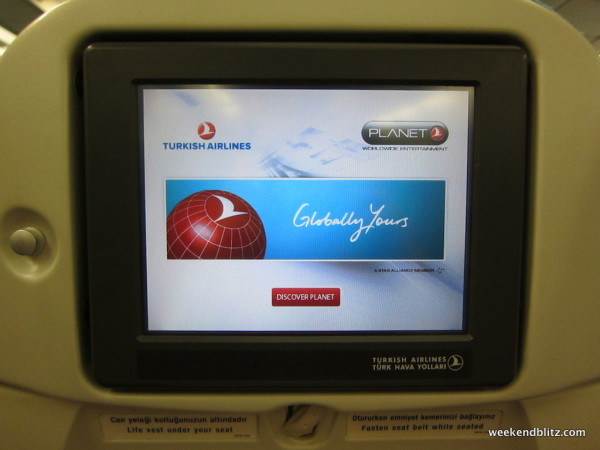 The TV/Movies selection, however, left a bit to be desired:
The Food
Immediately after reaching 10,000 feet, the flight attendants came through the cabin distributing menus for the meal services: Dinner then Breakfast:
Dinner consisted of:
Smoked salmon with horseradish sauce
"Shepherd salad" with white cheese
Choice of

Grilled kofta with sautéed vegetables and rice
Grilled chicken breast with fried eggplants in tomato sauce and polenta

Apricot cake
The meal service started around 12:10am ~ 45 minutes after takeoff and lasted until appx 1am. I went with the kofta option and found it to be pretty good:
Kofta is essentially a grilled lamb meatball of sorts. Turkish Air's variety had a good flavor, was spiced well and all around delicious. The rice was pretty bland but that's standard practice for plane food:  serve it bland and you can salt and season yourself. We washed it all down with a mini bottle of Ancyra, a nice red wine from Turkey. Overall, this was a pretty quality meal.
By around 1am EST, the meal service was over and we were able to get about 6.5 hours of (restless) sleep in the economy seats. By 7:15am EST / 2:15pm Istanbul time, the breakfast service was starting. On the menu this time:
Fresh fruit salad
Cheese tray: white cheese, cheddar cheese, black olive, tomato and cucumber
Cheese omelette with grilled tomato and panfried potatoes
While ok for economy, the breakfast wasn't nearly as good as dinner–guess it doesn't help that it had been sitting in the warmer for the past 8+ hours.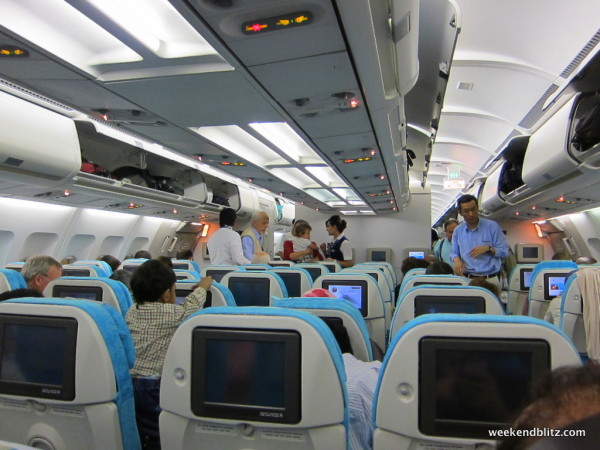 Service
The service was fine. Not too rushed but our flight in Thai Airways economy from Phuket-HKT to Hong Kong-HKG was much better. The Thai Airways staff delivered much more detailed, personal service than Turkish Air. That being said, the Turkish Air service was leaps and bounds better than any US airline's transatlantic service in economy. But, then again, it could have just been the fact that TK still serves free alcohol on international flights.
The amenity kits were distributed the same time as the menus, right after takeoff:
We landed at the Istanbul Atatürk Airport on time and were soon on our way through customs. A 90-day visa for Americans cost us $20, payable with USD at the airport. Immigration was a huge cluster and the Eastern European/Turkish line forming has begun with lots of push, shoving and cutting in line. But hey, if you can't beat em'….
BOTTOM LINE: Turkish Airlines has a pretty good long-haul product. The food, seats and service were all above average and definitely worth flying again. I'd pick TK over Delta or United for transatlantic flights any day.