Singapore Airlines B777-200 First Class Jakarta-CGK to Singapore-SIN (SQ 953)
Singapore Airlines
Flight # SQ 953
Jakarta-CGK to Singapore-SIN
Dept: 8:25 am Arr: 11:00 am
Duration: 1 hr 35 min
546 miles (879 km)
Boeing 777-200
First Class: Seats 1E and 1F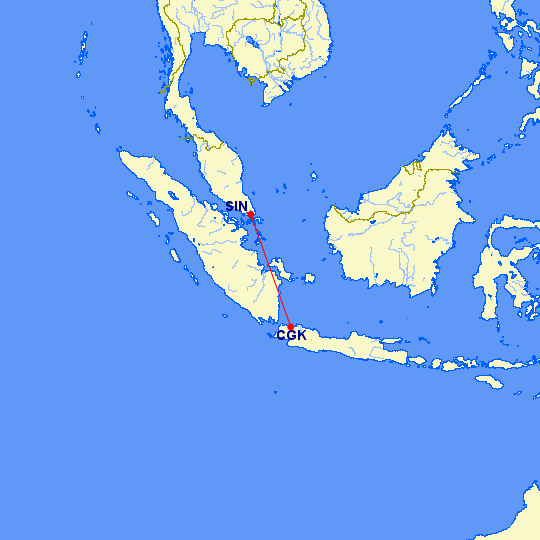 Our trip continued with an early morning departure from the Keraton at The Plaza Hotel in Jakarta to the Soekarno–Hatta International Airport. The departure time was 8:25 am so we found ourselves up and out of the door at a dreadfully early hour. The good news is that we were in the car on the way out by 5:15 am and made it to the airport in record time since there was no traffic!

BOOKING
We booked our ticket using United MileagePlus miles and, since it was a First Class award, we were eligible to take this flight in the premium cabin as well, even though it was quite short. Here are the other flights we had taken as part of this award:
CHECK-IN 
Our driver dropped us on the curb and we made our way into the check-in counters: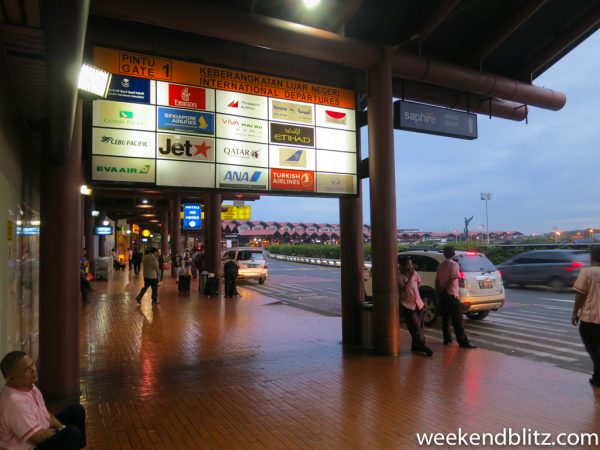 The security was quite thorough and had a few stages, the first was just a quick scan to get into the check-in area:
The First Class cabin had a dedicated lane and we made our way to the very friendly and helpful Singapore Airlines agents: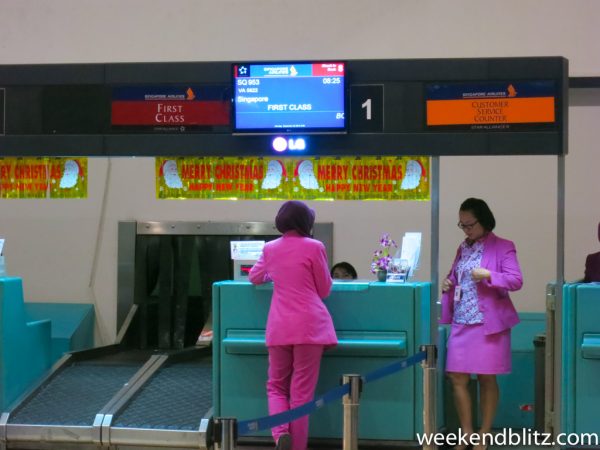 With boarding passes issued and bags checked, we headed through a 2nd and quite thorough security check.
After security, we cleared immigration and had to pay the 150,000 IDR departure tax (~$9.58 US). This is no longer necessary, beginning Feb 2015 airlines have been required to include this tax in their ticket prices.
Making our way through the airport, we found the lounge: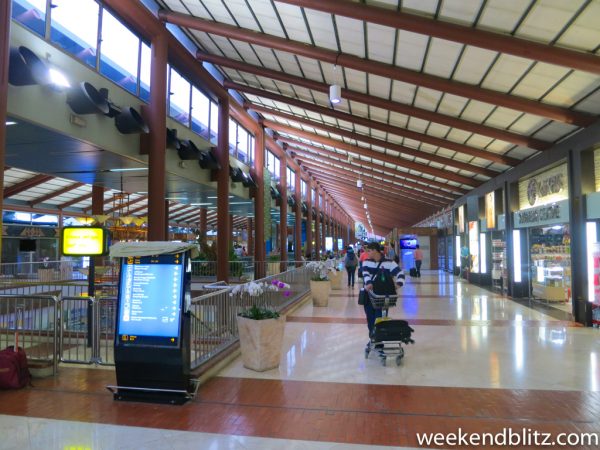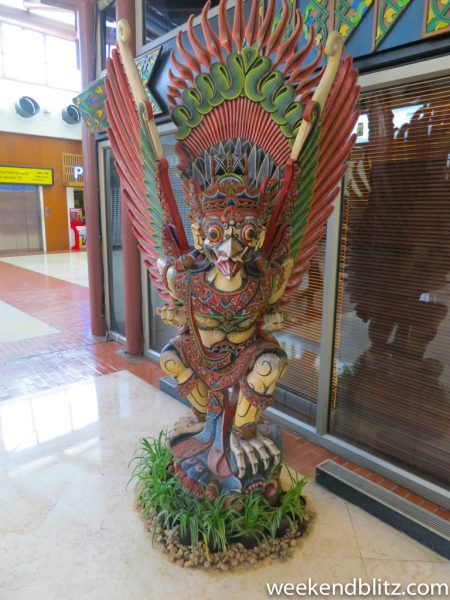 We were entitled to use the Esplanade Lounge, you can find our full review of it here: Esplanade Lounge – Jakarta-CGK International Airport.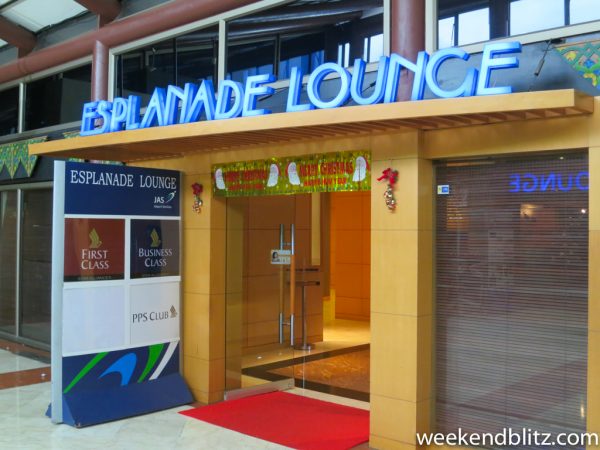 The lounge was exclusively for Singapore Airlines customers: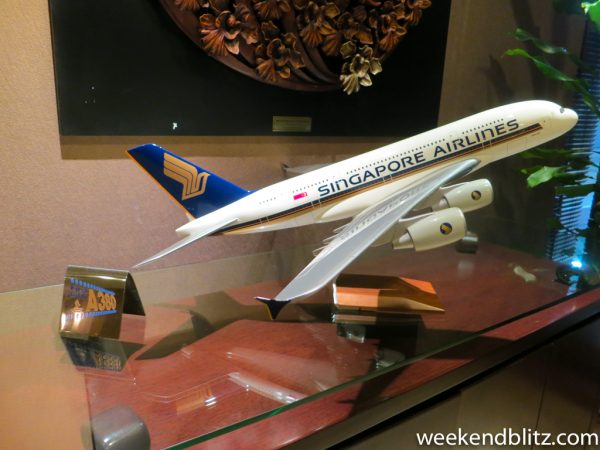 BOARDING
Around 7:30 am we made our way to the boarding gates. There was a ticket and passport check before gaining entry to the waiting area.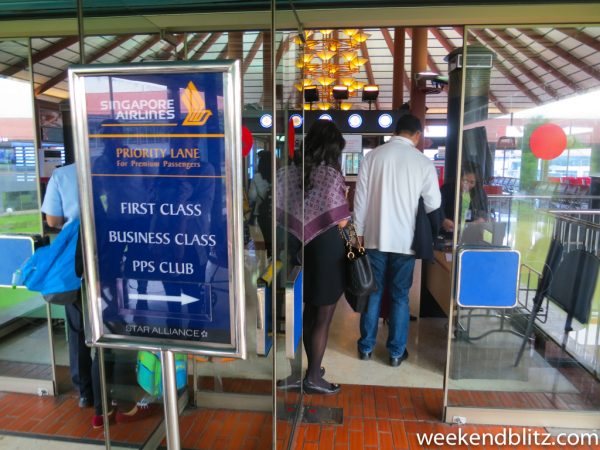 We enjoyed a dedicated boarding door and for just the First and Business Class passengers.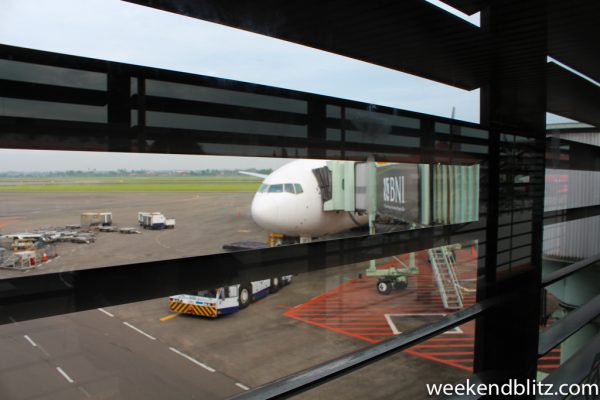 SEAT
We entered the cabin and found quite an ancient interior but quickly settled into our seats, 1F and 1E: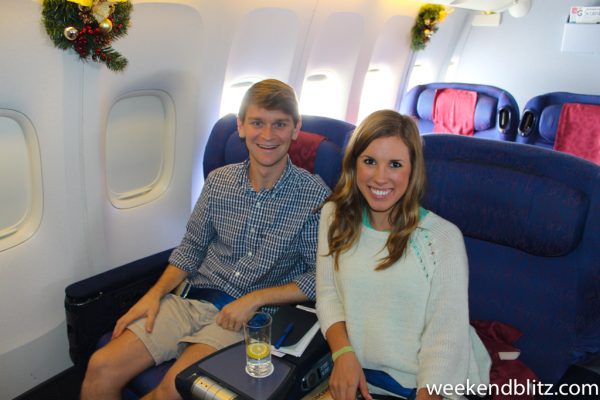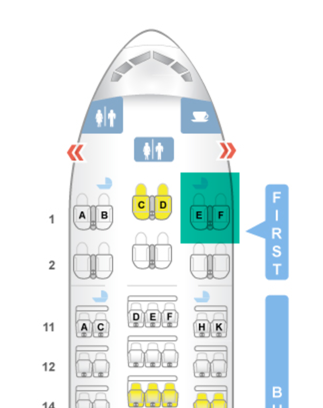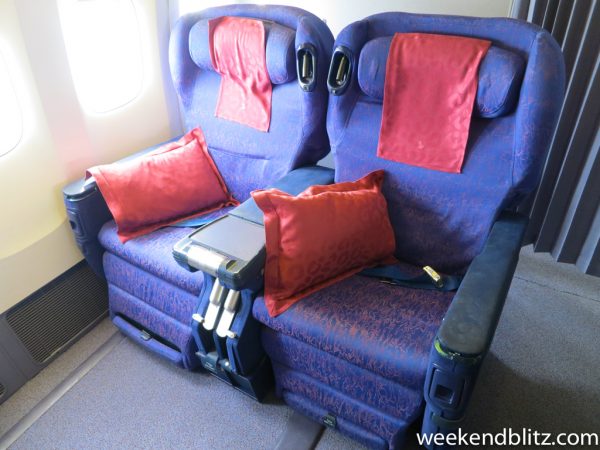 The cabin had certainly seen better days and was far from anything nice or exciting. There was a nice festive touch as they had installed Christmas wreaths throughout the cabin.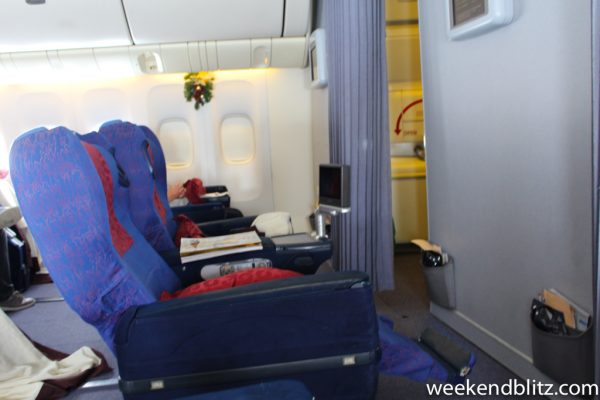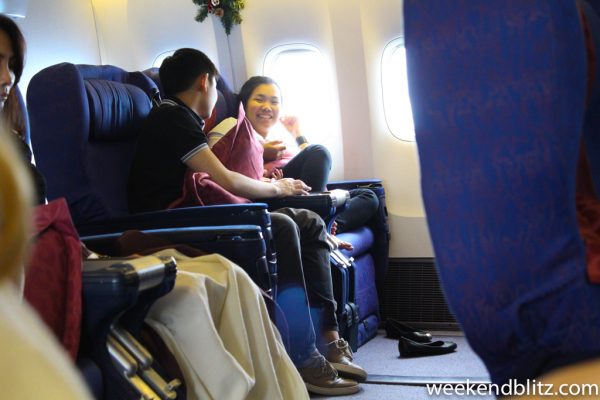 The seat had some pretty serious 1980s throwback mechanical adjustment levers: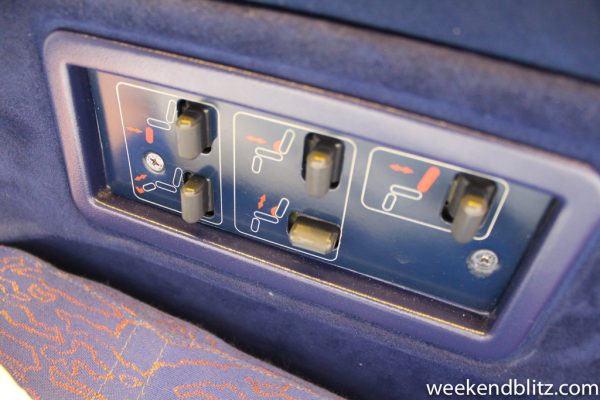 Although the seat is listed as fully flat, it was far from it when we tried it. Although it did end up being a decent cradle style angled flat seat and certainly did the trick for our very short ~550 miles (~880 km) and 1 hr 35 min flight!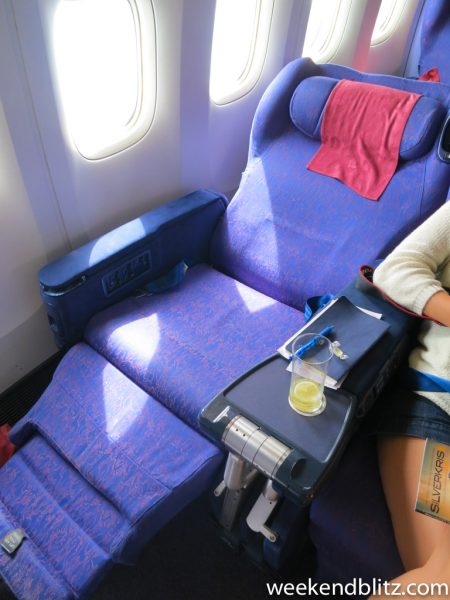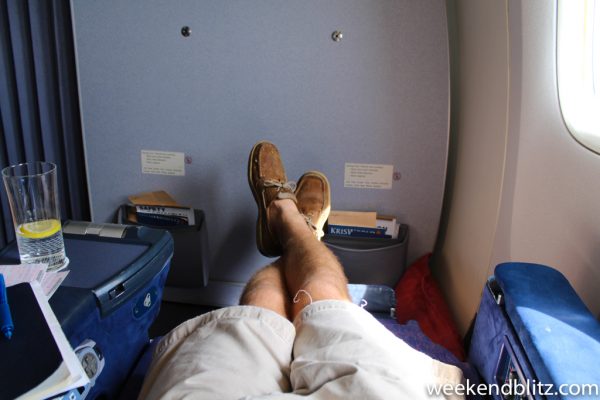 IN-FLIGHT ENTERTAINMENT
Given the seats, it should come as no surprise that the IFE was ancient was well. Once we unfolded the screens, we found tiny old school 4:3 displays: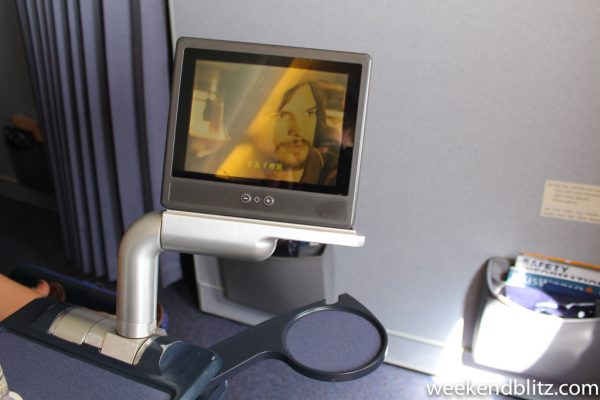 And they certainly weren't touch screens, it's all grimy remote control for switching channels.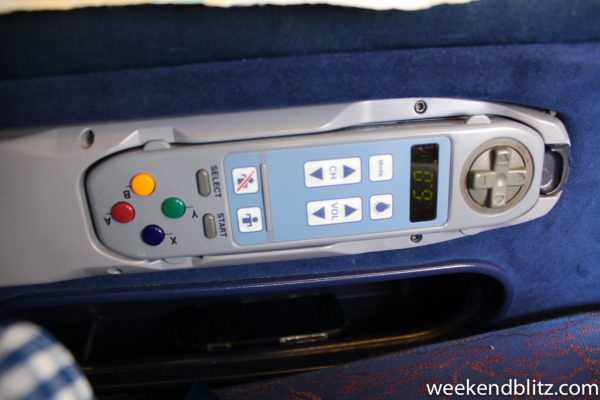 There were also monitors installed on the bulkhead that displayed our flight map: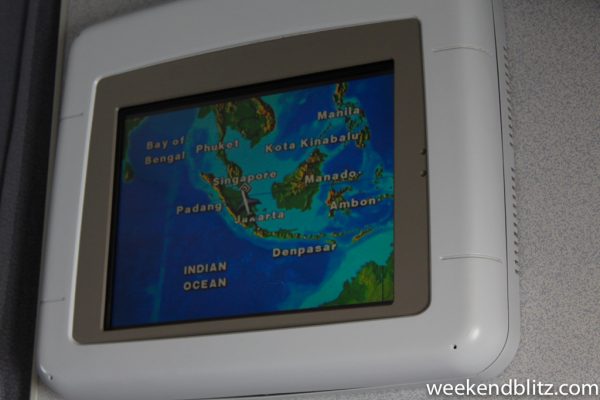 MEAL SERVICE
After being seated we were served piping hot towels and pre-departure beverages.
Shortly after take off, we were presented the breakfast menu which had the following choices:
Malay style prawns in red chili paste with spiced vegetables and steamed rice
Seared tournedos of beef with thyme juice, roasted vegetables, and seared asparagus
Scrambled egg with chopped chives, grilled chicken sausages, sauteed mushrooms and hash brown potatoes.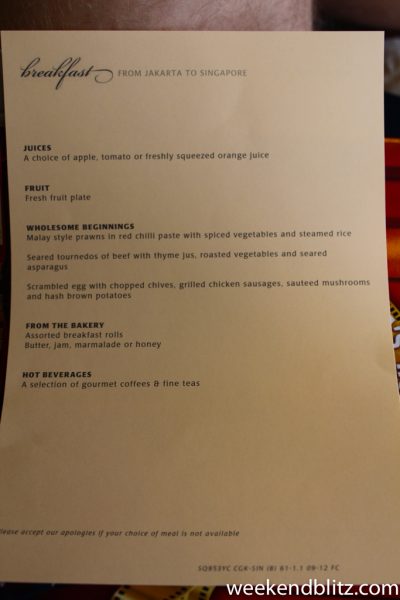 After ordering, the table was set and fresh fruit and pastries were served.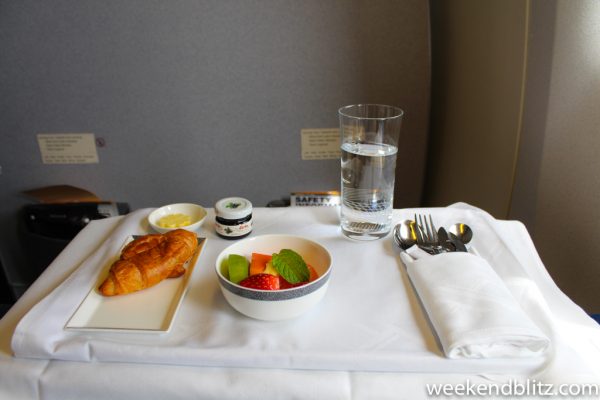 For the main course, I ordered the Malay style prawns and found the choice to be terrific: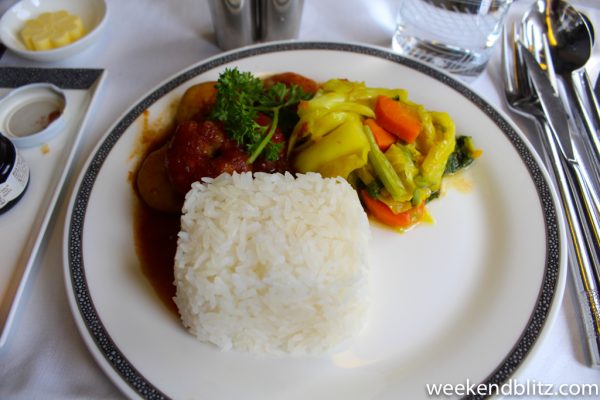 The red chili paste had a healthy amount of heat and tons of great flavor.
Even with such a short flight, we had plenty of time to window gaze!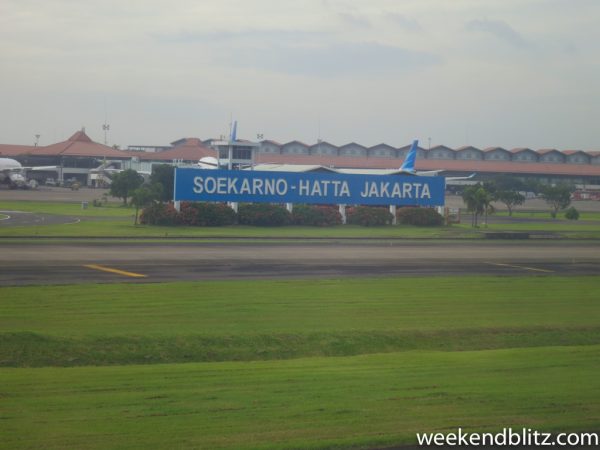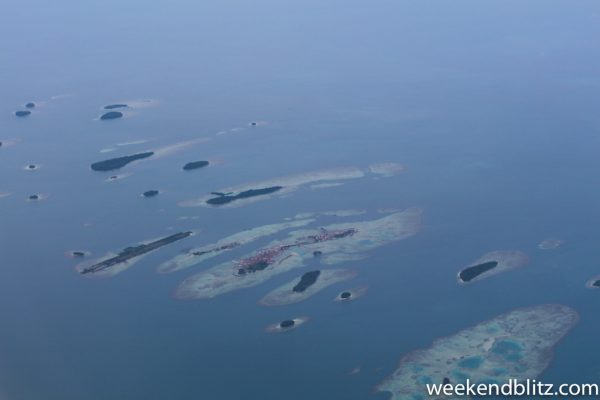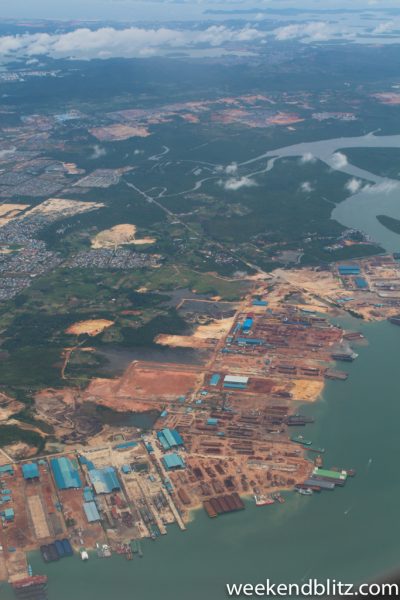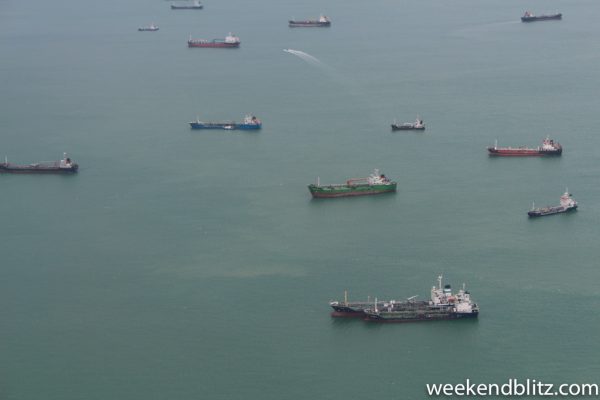 And after about an hour, touchdown at Singapore's Changi airport!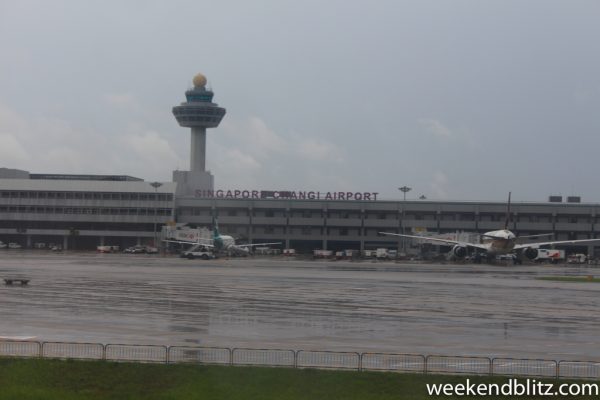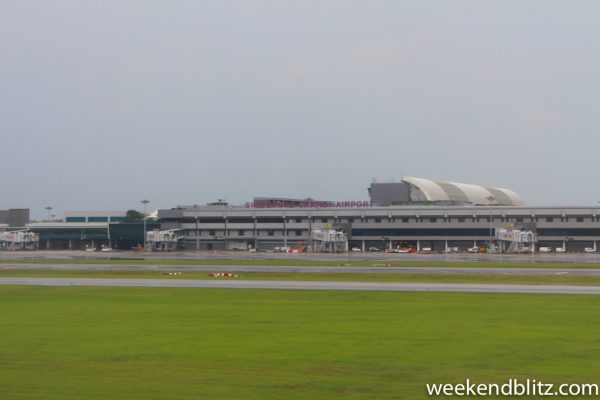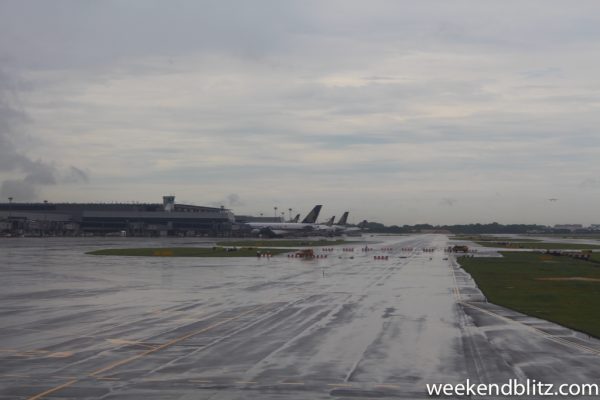 SERVICE
At every encounter, we were addressed by name and found the flight attendants to be extremely professional, courteous and attentive. Even where the hard product might have been lacking, they certainly made up for it on service.
Once off the plane, we scurried into the city for just a few short hours before our next flight at 8 pm later that evening: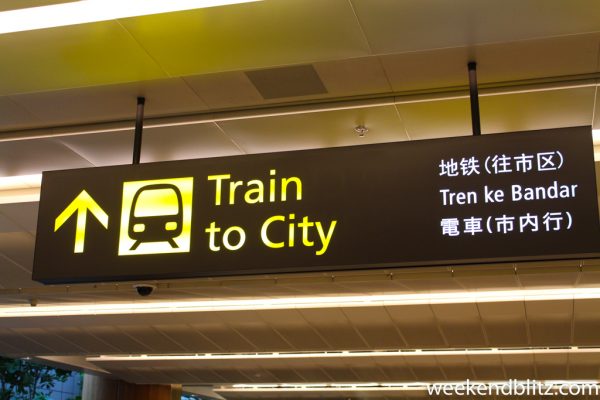 BOTTOM LINE: While it was an old aircraft and a short flight, we certainly got a good taste of Singapore Air's award-winning service and enjoyed our quick hop over to Singapore.