Our 71-Hour Trip From Hell During Southwest's July 2016 "IT Meltdown"
Real quick TL;DR version of this post: Southwest had an IT failure on July 20th causing 2,300+ flights to be canceled over a 4-day period. We were stranded for 3 nights in Chicago with very little answers or help from Southwest and ultimately had to book a 1-way United flight to get home. As a result, we incurred $1,400+ of additional expenses to simply complete our trip home. I'm sharing this story in an effort to reveal how deeply flawed Southwest Airlines can be in the event of hiccups, big or small.
---
We were involved in the Southwest Meltdown/debacle/giant cluster f*** of July 20th. The technical glitch caused 2,300+ cancellations & thousands of delays (FlightStats estimates over 8,000) over a 4+ day period. In fact, with all systems crashing around 1-2pm EDT on Wednesday, 7/20, service wasn't fully restored until Sunday morning, 7/24.
I'll also include in this post upfront that I travel a decent amount for work– nothing crazy, but it has earned me A-List status with Southwest and I'm on target to hit A-List Preferred status by the end of 2016. Also, most of my travel is booked on Business Select fares, on which I benefit from the enhanced change/cancellation policy when my travel plans need to be more flexible. I also have earned a Companion Pass on the airline which allows my wife to travel with me for free. This was earned by a combination of flying and spending on the airline's co-branded Chase Southwest Rapid Rewards Credit Card.
I type all of this info upfront not to brag or to sound entitled — or encourage some jackass feeling of "DYKWIA" — but to simply point out how badly Southwest failed during this outage. If they're not willing to help me, a total Southwest A-Listing, Business-Select-fare-buying, Chase-credit-card-wielding fan-boy, then why would they have any interest in helping the family of 4 taking their annual flight to the beach that booked the "Wanna Get Away Fares" for $49 a few months ago?
Also, I'm sure that there are others that were more inconvenienced than us. We certainly sympathize with those that were traveling with small children or on their way to do something more important than us (think weddings, funerals, businesses meetings, missing events, etc…). In fact, we encountered many other (disgruntled) Southwest passengers being treated just as poorly as us, from families with small children (at 1am) finding out their flight was canceled to a woman who completely missed her business meeting and had to cancel her trip altogether – not to mention the Southwest flight crews that were forced to sleep in airports or pay for their lodging out of pocket.
And one last aside, the Southwest employees were all (generally) great during our nearly 72 hours of constant interaction with them. They were overworked, just as tired as the rest of us and, just like us passengers, also victims of poor corporate policies and ineffective management.
So, we start this trip in Portland International Airport (PDX) in Oregon…

0 hours: 11:32am PST Wednesday 7/20
We arrived at the airport with plenty of time to get some work done before our 2:40pm departure to Chicago-MDW. The line was a bit long at check-in which didn't seem too unusual for Southwest.
In my years of flying the airline, I've often found very long lines at check-in because A) bags are free to check so people tend to go wild and B) there's a lot of family/non-business travel, which translates to infrequent travel, so people generally just take longer.
We enjoyed the privilege of using the expedited A-List/Business Select lane and were able to walk right up. The agent said that they were having issues with their computers but they seemed to be working well enough to start checking bags again at that point. In hindsight, I should have turned around at this point, enjoyed another evening in Portland and booked the first Delta/United flight out the next day.
Even with the computer issues, we had our bags checked by 11:40am.
The oddest part over the next 3 hours was the lack of information and how obviously disorganized Southwest was. We walked over to the gate and saw that everything was showing as on time and the airport monitors confirmed this. It wasn't until an hour later that we checked our inbound flight on Flightaware to see that it had not yet left Las Vegas-LAS. Given this, we knew there was no way that it would be on-time.
We wandered back over to the gate to see if an agent could help us and that's when we first heard rumblings that all Southwest flights had been grounded by the FAA. We asked the agent if our flight was on-time and she said they had no way of checking and had no idea. Crazy! I told her that I checked Flightaware and that the inbound didn't take off before the FAA grounded the flights, so it was still on the ground in Las Vegas-LAS. News to her…
In an effort to get ahead of any possible tight connections, I tried to switch us to the Baltimore-BWI flight but she said there was nothing that could be done since the computers were down. So much for being proactive. Guess we'll simply be putting our faith in the abilities and goodwill of Southwest to get us home safely…
3 hours: 2:40pm PST Wednesday 7/20
Our scheduled departure time comes and goes, still no official update from Southwest about the actual status.
Shortly after, the terminal monitors updated and Southwest agents made announcements that the new departure time had moved up to 4:15pm. At that rate, we would certainly miss our connection but we were already out of options. And, our connecting flight was showing that it, too, had been delayed by 2 hours. I started to get the impression that Southwest pushed the entire schedule back by 2 hours and that everything would work out fine.
5 hours: 4:48pm PST Wednesday 7/20
Flight # 1701 departs for Chicago Midway-MDW appx 2 hours late.
9 hours: 10:13pm CDT Wednesday 7/20
We land in Chicago 2 hours after our expected arrival. The Southwest website and app are still down but Flightaware still shows that our connecting flight to Charleston-CHS is delayed but scheduled to depart.
We deplane and enter what appears to be quickly shaping into a war zone. A quick glance at the monitors shows a tremendous amount of red, tons of delays and plenty of cancellations littering the screens.
As we try to find our gate, we see that flight # WN 2246 to CHS has also been canceled.
The most frustrating part is not having any clue what to do next. It is quite clear that we won't be getting out tonight and will be spending the night in Chicago. And, from our outbound flight from Charleston to Portland on July 15th, I already know while Southwest will provide hotels, at some point they "can't get any additional rooms." I'm not really sure what this means because, when I check, there are rooms in the Chicago area so it must be that the 2-3 hotels they have contracts with are full.
In fact, we approached a Southwest pilot that was trying to check the internet at one of the gate computers and asked his advice and he said this is the worst he's ever seen and that many of his pilot colleagues tried to contact Southwest about hotels and were told that there were none available. He said that they were forced to book out of pocket. So I knew if that's how the airline was treating its own pilots, there was no sense in even asking for a room.
From here, we called Southwest customer service and got through rather quickly but, once we explained the situation, they said that their systems were down and that there was nothing at all they could do to help. They said the only option was to speak to someone at the airport.
We took a quick peek around and realized waiting in line at the airport would be many, many hours so walked out hoping that the main check-in lines were shorter on the other side of security:
We were wrong. But we didn't want to leave the airport without having boarding passes for the next day so we stuck it out and waited in line for a few hours and left rebooked the next day on a 5:05pm flight via Baltimore-BWI that will get us into Charleston at 10:20pm.
11 hours: 12:26am CDT Thursday 7/21
We get to our hotel, a 25+ minute ride from Midway. The front desk agent smiles really big and greets us, "Ah, you must be more of the Southwest refugees." I guess our lack of luggage and late night check-in gave us away… or maybe it was the scowls on our faces?
19 hours: 8:16am CDT Thursday 7/21
I woke up to an email that was sent at 6:50am CDT that our flight from Baltimore-BWI to Charleston-CHS, scheduled for 8:45pm EST later that day (nearly 13 hours later!) had already been canceled. Ugh!

Guess it's back to the drawing board….
22 hours: 11:32am CDT Thursday 7/21
After 1+ hours of hold time, I finally get through to Southwest Customer Relations. Generally, they are apathetic and seem unwilling/unable to get anything too seriously accomplished. When I express my displeasure with this entire debacle and how we've been treated, they offer to refund my fare. This, understandably, really makes my blood boil. In situations like this, you want an airline representative to take charge and get you home as soon as possible. Offering a refund is merely letting them off the hook. I counter that I still need to get 2 people from Chicago to Charleston and that a measly refund won't begin to cover the cost of booking a same-day fare on another airline. They say that there's nothing they could do about the fare difference if I take the refund. I tried to maintain my patience as I understand that management is solely responsible and had not equipped front-line staff with the tools to solve the problem.
We settled on rebooking on the first available flight later that night: the dreaded WN 2246 which was canceled the night before departing at 9:50pm CDT landing in CHS at 12:50am EST.
Heard that:
(2) the best @SouthwestAir would do is refund the flight. Now it's too expensive to fly anywhere else. Where's the #SouthwestHeart?

— Mike Dougherty (@wickedjava) July 22, 2016
30.5 hours: 7:59pm CDT Thursday 7/21
We Uber back over to the war zone that is still unfolding at Chicago Midway airport. The check-in lanes are still outrageously long but since we haven't seen our bags (or fresh clothes) in well over a day, we are able to breeze through. Thanks for not burdening us with that, Southwest.
Once we got through security, we had the unfortunate task of having to go talk to the gate agent and get our actual boarding passes. Something about the Southwest rep on the phone earlier that day having to issue an "ITA" when they rebooked us…who knows? This would be a rather simple and painless procedure on any day other than the biggest fumble in the airline's history. Instead, we found ourselves in line for well over two hours.
At 7:23pm CDT, we got an email that the flight had already been pushed to 10:35pm.
By 10:05pm CDT, the flight had been further bumped to 12:55am CDT.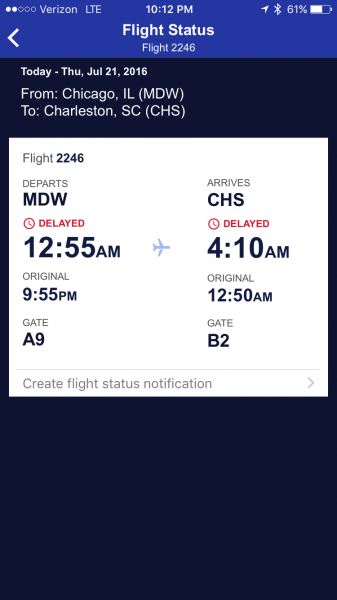 34.5 hours: 11:49pm CDT Thursday 7/21
At 11:49pm CDT, the email that I had been secretly expecting deep down arrived in my inbox: WN 2246 had been canceled.
It was at this point, after 3 canceled flights in less than a 24-hour period, that we totally lost faith in Southwest. Fool me once shame on you, fool me twice shame on me, fool me a 3rd time then just f*** you, Southwest.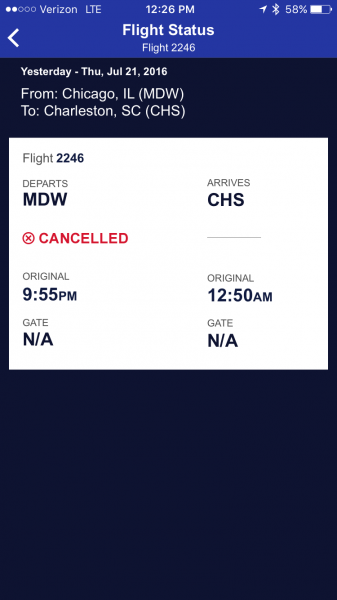 Exhausted, defeated and at our wit's end, I placed a futile call to Southwest in the hopes that someone could get us on the next flight home or offer some sort of assistance. "Hey, we've been trying to get home for 34+ hours and just learned that our 3rd flight home was canceled. Can you please help us get on the next flight to Charleston and help us out with lodging for the night? What's that, no, you can't do either? Ok, thanks so much, that's about what I've come to expect!"
Before calling in, I took a look at the available flights on July 22:
Ok, so what about Saturday, July 23:
The first available? Sunday, July 24.
Quite literally ZERO choices for us. I pleaded with the agent that they find a way to put us on the 12pm flight WN 3581: "sorry sir, that flight is sold out." "Right…as are they all, can you not oversell it? We really think enough is enough and just need to get home already." "Sorry, but that's not an option, there is no way for me to even oversell the flight in the system. We can refund your fare though or rebook you on the next available flight." Ok, well when is the next available flight? (which I already knew the answer to). "Sunday." Hahaha. You do realize that Sunday is 3 days away? "Yes sir, I'm sorry but that's the next available flight."
AHHHHHGHHGHGHGHHH! Just get me home! And, I must not understand how oversold flights work well enough but, if it's "impossible to do in the system," then how in the world does it ever happen in the first place?
Did I say above something like, "It was at this point… that we totally lost faith in Southwest"? Well, if that's true, then this was the moment that we realized that the airline's core principle is farcical: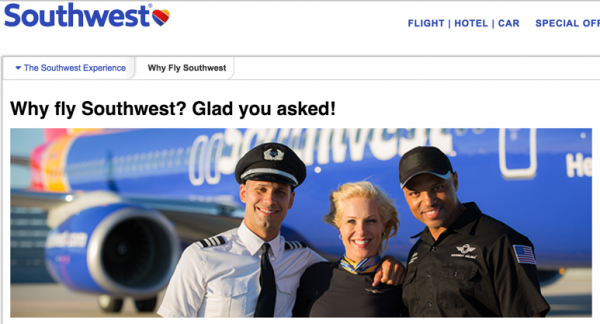 And the VERY FIRST item on the list: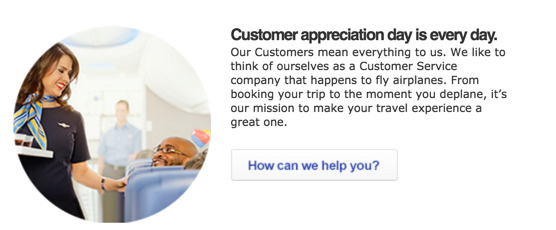 LOLZZZZZZ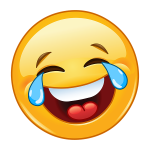 But in their defense, the Southwest Mission Statement doesn't technically include actually getting you to your destination:

In fact, while I realize that I'm picking at something not in the way it was intended to be read, in light of this most recent disruption, this passage from Southwest's Customer Service Commitment is exceptionally hilarious:
"Foremost, we want you to know that it is never our wish to inconvenience our valued Customers. We tell our Employees we are in the Customer Service business— we just happen to provide airline transportation. It is a privilege to serve your air travel needs."
36 hours: 1:50am CDT Friday 7/22
At nearly 2am, the Uber drops us back off at the same hotel, in the same situation, exactly one day later… in the most déjà vu/nightmarish situation possible.
Having come to the full realization that Southwest wouldn't be getting us home, we researched our options. Before leaving the airport, we had already tried to simply rent a car and start the 14+ hour and nearly 1,000-mile drive home. In hindsight, we wished we had done this much earlier that day. The issue was that none of the car companies were allowing one-way rentals outside of the Chicago area. There was a long line of people ahead of us trying to drive to Indianapolis, Milwaukee or even Detroit but it was a no go. I suppose we could have rented it anyway but there's no telling if the rental company will wind up charging us an additional $100 or $1,000 as a penalty for changing the drop-off and making it a one-way.
After exploring a number of cost-mitigating options, including driving to Indianapolis flying low-cost on Allegiant from Indianapolis-IND to Savannah-SAV and then driving to Charleston-CHS or flying non-stop to a neighboring city to Charleston and then making the drive, we settled on booking the first non-stop flight available from Chicago to Charleston on Saturday, July 23 on United. Booking next day was significantly cheaper than booking same day, especially when multiplied by 2 tickets and it prevented us from having a connection on Friday.
This was by far the sentiment we heard expressed by everyone:
Always been .@SouthwestAir fan but 3 days stuck Baltimore w 4 small children, no luggage, no answers, no empathy brakes my #SouthwestHeart

— Alex (@AlexAAdema) July 23, 2016
46 hours: 11:42am CDT Friday 7/22
I, begrudgingly, place a call to Southwest's Customer Relation Department (again, LOLZ) at 855-234-4654.
I was actually connected rather quickly this time. I found a very pleasant and highly apologetic agent on the other end. I explained our situation that Southwest had made it clear that it was incapable of transporting us home and that we had relied on United Airlines to complete what they were inept at finishing.
The agent insisted that management identified that this was a huge mistake and inconvenience and that they were doing all that they could to make it right.
By the end of the call, I felt it necessary to thank this particular agent for her refocus on customer service (maybe they finally got in a well-rested crew?) and let her know that it was a breath of fresh air in a horrible situation.
She said that she would help process the refund for our flight from Portland-Charleston, although refused to refund the full roundtrip from Charleston-Portland-Charleston. I argued that the commitment was to get me from Charleston to Portland and back and that, by failing to be able to complete their commitment, I should qualify for a full refund. Again, the agent outright refused.
At some point during the call, the agent mentioned something about vouchers; I jumped on this right away and reminded them that Southwest vouchers aren't legal tender accepted by United, Hyatt, Uber, etc… The joke fell on deaf ears…
The question we all have:
#SouthwestHeart @Southwestair you cancelled my flight 7/21 IAD- ATL I had to buy $700 Delta tickt get to AtL Do you pay me difference to me?

— Brian_PGTEK (@Brian_PGTEK) July 23, 2016
By the end of the call, the agent provided me with a case # and said to send all receipts scanned into their email address. She stressed again that management was going to do all that they could to right this situation and that "all receipts would be considered." While this doesn't give me any warm and fuzzy feelings from a group that has continually let us down at every turn over the past days, I was encouraged that her tone seemed to change dramatically.
71 hours: 2:18pm EST Saturday 7/23
Exactly 71 hours and 46 mins after arriving at Portland's airport to check-in for our Southwest flight, we land in Charleston.
That's nearly 3. full. days. later.
To put that into perspective, had we just rented a car and driven the 2,891 highways miles, we could have made the trip in 42 hours: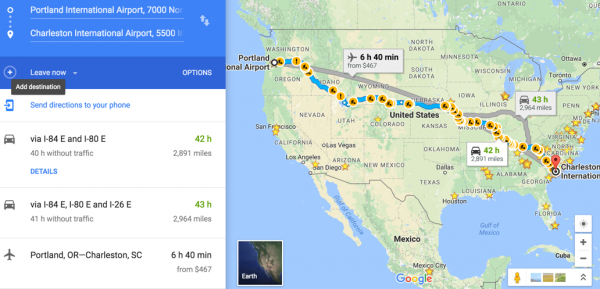 Even Greyhound, the nation's notoriously slow (but cheap!) bus service could have gotten us home with 3 hours to spare!

This was the scene at the baggage office in Charleston, an absolute zoo:
Haha, this guy hasn't learned yet:
How do I get my checked baggage off the flight you've canceled?? @SouthwestAir #midway

— LizLimon44 (@lizlimon44) July 22, 2016
In the wake of this situation, I have received a number of gestures from Southwest in an effort to restore their customer's faith, including a 50% off coupon code for a future booking, flight vouchers, and 10,000 Rapid Rewards points. I'm afraid this is all too little, too late. All that we really wanted in the first place was to receive the A+ customer service that we've come to expect on Southwest. And, while all of those gestures are absolutely appreciated, they are the part that should be trying to win me back once I've been made whole. I'm still out of pocket $1,400+ that coupons, vouchers or points just won't repay. Again, if only United and Hyatt accepted LUV Vouchers as legal tender…
Thoughts/takeaways from the Southwest meltdown:
Despite being the 2nd largest airline in the world (in terms of 2015 passengers carried), Southwest is a lone ranger out there. They don't allow their prices to be displayed on the OTAs and they certainly don't interline with other airlines. If they had this agreement in place, then maybe, just maybe they could have assisted in booking passengers on Delta, American or United to get home. But Southwest doesn't play by those rules.
I am struggling with my thoughts on whether Southwest should have prioritized people on a "first in, first out" basis or not. The biggest struggle when each of our 3 flights was canceled was that the next few flights were also already sold out. This kept putting us to the end of the queue. I am sure that there were plenty of people flying from Chicago t0 Charleston on the 12pm flight that flew on out, totally unaffected by the meltdown. Should the airline have confirmed us a seat on the next scheduled non-stop and subsequently oversold the flight (which would have triggered asking for volunteers / bumping passengers and then issuing vouchers)? I'm not sure of my opinion. In some sense, I bet they would rather have one irate passenger and one happy passenger than 2 unhappy passengers.
Once you hand Southwest your bag, it will be going to your final destination, with or without you. Flight canceled at origin? Too bad. Missed your connection and want your bag back? Tough luck. Surely this can be remedied, I can think of cases where Delta has found a way to reroute my bag up to baggage claim when the circumstance required it.
I suppose that, ultimately, my decision on whether or not Southwest has learned from this mistake and is worthy of our trust is how they handle the refund of my additional expenses incurred from their incompetence.
And, just a few more of my favorite tweets floating around:
Third day canceled flight…. have your ceo wear his underwear for three days and then have them email me #SouthwestHeart

— Mandy (@OMGitsmandles) July 21, 2016
Cold and hungry kids sleeping on the floor! @SouthwestAir #SouthwestAirlines #SouthwestHeart ?? pic.twitter.com/oi7oaDn4iS

— Greg Sudor (@GregorioSweat) July 21, 2016
@gary_kelly has failed to give his employees the proper tools to help stranded customers at Midway Airport right now,@SouthwestAir is a joke

— UAB Secrets, [Inc.] (@Joey35209) July 22, 2016
ANNNNDDDD @dcbigjohn for the win:
Dear @SouthwestAir Please kindly go fuck yourself with a chainsaw. Sincerely, everyone at Midway Airport

— john r stanton (@dcbigjohn) July 22, 2016