Blitz Deal: Southwest Airlines Dec 2014 – Feb 2015 Fares on Sale From $49
Southwest has just announced its Winter 2014/2015 sale with fares starting at $49 during December 2014 and Jan/Feb 2015.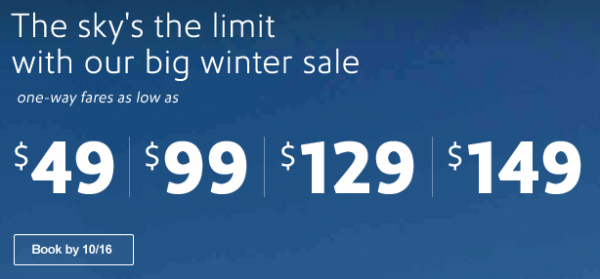 The Deal
Southwest's big seasonal 3-day sale, now through Thursday Oct 16, allows booking tiers of many flights at either $49, $99, $129, or $149. The sale allows travel dates between December 3-17, 2014 and January 6 though February 11, 2015 — however, Fridays and Sundays are excluded.
With the exception of San Juan, Puerto Rico-SJU, its international/caribbean destinations are largely excluded from this sale.

How to Get It
Head to this site: Southwest Airlines Winter Sale
Click on a city/route pair to search the low fare calendar.

You'll then see a calendar of low fares, making it easy to drill down to a suitable travel day.
You can also view the flights priced out in Southwest Rapid Rewards points. This might be useful for some since a cross country flight from Baltimore-BWI to San Diego-SAN would price out to ~17,000 RR points, whereas Delta, US Airways or United would charge you a minimum of 25k miles.
Now, you're ready to book your Dec, Jan and Feb travel dates–no special promo codes are needed.
You can always book and cancel later–your Southwest credit will remain in your account for 1 year.
Don't forget:
The full day/week exclusions are listed here: "Travel is valid every day except Fridays and Sundays. Travel to Florida or Nevada is valid Sunday through Wednesday only. Additionally, travel from Florida or Nevada is valid Tuesday through Friday only. Travel between Nevada and Florida is valid on Tuesdays and Wednesdays only."
"Fares are nonrefundable but may be applied toward future travel on Southwest Airlines, so long as you cancel your reservations at least ten minutes prior to the scheduled departure of your flight. Failure to cancel prior to departure will result in forfeiture of remaining funds on the reservation."
BOTTOM LINE: With regional flights as low as $49 one-way and transcontinental flights for under $299 round trip, there are some great deals to be had on Southwest. Not sure of your travel dates? The worst case is you book now and get to keep your Southwest credit if you have to cancel later.