SNCF Intercités Train Review – Bordeaux to Nantes
After a wonderful few very sunny and warm days in Bordeaux (more on the Bordeaux trip here: Walking Tour of Bordeaux, France), we headed north to the region of Pays de la Loire to visit my sister, Leslie.
BOOKING
We purchased our tickets at the Bordeaux train station, aka Gare de Bordeaux-Saint-Jean, about an hour before departure. We made sure to skip booking way in advance using a USA-specific site such as Rail Europe (read more about the best way to book a French train ticket in advance here: How-to: Booking French Trains (RailEurope vs SNCF)).
We were able to book our tickets for 37.30 euros each (~$46.43 USD); in contrast, the RailEurope version of the tickets would have been closer to $60+ each.

THE ROUTE
The Intercités routes means non-high speed trains on all of the classic, original French rail lines. Where the TGV won't take you, Intercités should get you there. In fact, "since December 2011, the Téoz (long distance trains with reservation obligatory) and Intercité de nuit (overnight sleeper train) brands have been re-integrated and the Intercités brand now covers all non-high speed SNCF national-network passenger services." Here's a map of the route network:
By the numbers, Intercités by SNCF operates:
35 lines in all of France
345 cities and 21 regions served
12 night train lines, useful for saving a night in the a hotel and arriving well-rested in the morning
23 daytime lines
The stretch that we were on runs daily service from Toulouse <–> Quimper:
INTERCITÉS 3854 BORDEAUX-NANTES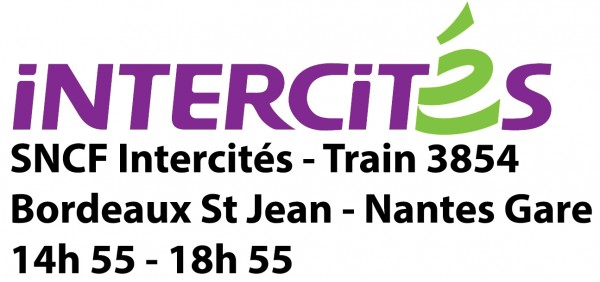 After boarding right on time, we pulled out of the station just a few minutes late (exactly 3 minutes late to be precise), right at 2:58pm. While this wouldn't pass muster with the Swiss, it is extremely prompt in my book.
Because we had a rather poor experience on our first train ride (SNCF TGV Train: Paris CDG to Bordeaux), this somewhat run down train felt (relatively) newer and fresher and immediately left us with a good impression.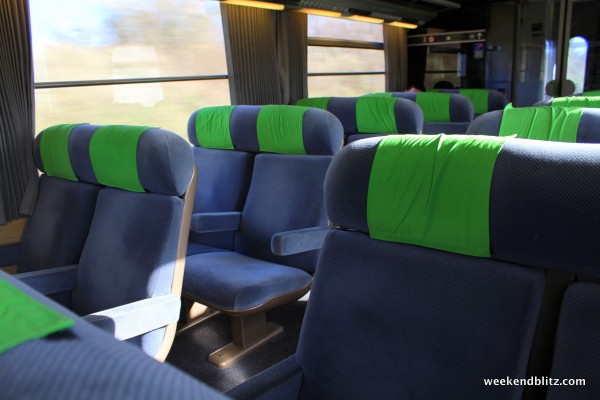 Although we thought it was a free-for-all, general admission style seating, the train was partly reserved, which we learned the hard way after a few minutes into the ride. We walked through a few cars looking for empty seats and promptly plopped down at the first available. Within minutes, we had a very confused French family confronting us, fortunately my increasingly limited but still somewhat useful French, got us out of the situation.
So, the moral of the story was that seats with a ticket above them are reserved. If you have an unreserved ticket either look for seats scattered about in the reserved cabins without a ticket (but someone might be coming for them eventually?) or you'll likely find an entire car for unreserved seats at the very rear of the train.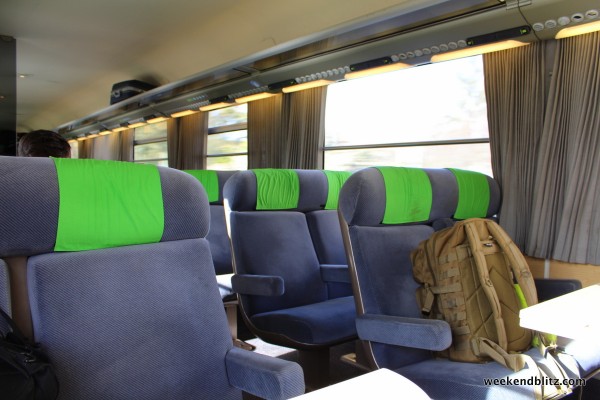 Seats were just as comfortable if not more comfortable than the TGV with the exception of not having a recline. There was very little luggage storage space and the space that we did find was already full of large rolling bags. There are just a few slots in each car and a small area in the middle. You're best off getting there first to ensure a slot.
The ride was quite pleasant and we made it to Nantes about 3 minutes early.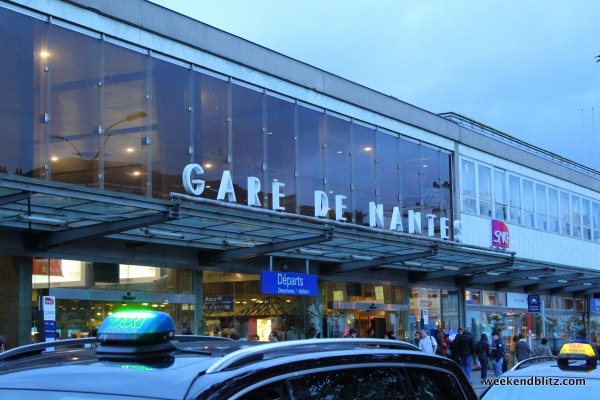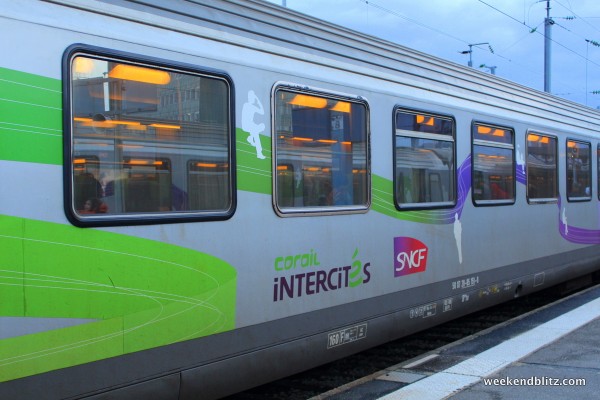 This was a far more relaxing option over driving. Not including the car rental cost, this route on the road would have been about 57 euros including tolls and fuel. Although this route was 74 euros for the two of us, the convenience of not having to worry about renting a car, parking, rental insurance etc.. was worth far more than the additional 17 euros we had to pay.
TRAIN STATS
If you're looking for the (self-admittedly) nerdy train stats, here ya go: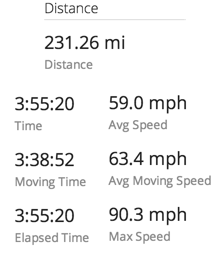 BOTTOM LINE: Although driving would get you there in just 3 hr 19 mins vs 4 hr 00 mins on the train, you'll be hard pressed to have a more relaxing experience with a full cafe, power plugs at every seat and a price tag of just 37 euros/person.