Park Hyatt Mendoza Review – Mendoza, Argentina
When we arrived in Mendoza (after bussing over the Andes – see our review of our bus trip here), we took a cab to the Park Hyatt Mendoza. The front facade of the building is perfectly gorgeous and majestic, just like many of the other Park Hyatts we've visited (have I mentioned it's my favorite hotel brand?!).
The 5-star hotel is a bit smaller than several other Park Hyatts, but it's perfect for a small city like Mendoza. I really love how Park Hyatts stay true to the culture and history of the city and especially loved the restored 19th-century Spanish colonial façade.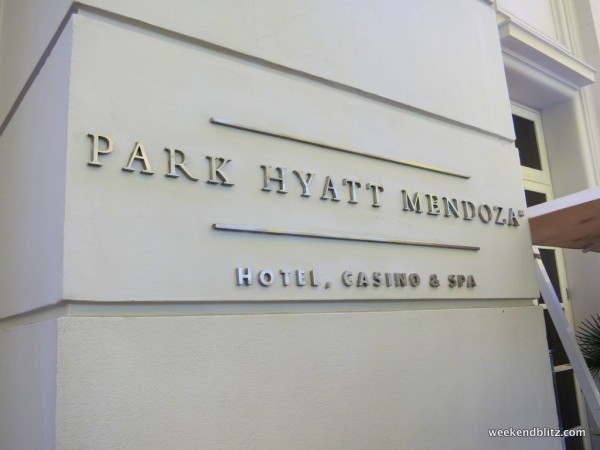 The hotel lobby is grand and full of marble, with large, floor-to-ceiling windows and a beautiful dining room.
We were shown to our room and felt like we were staying in a palace. Since Jeffrey used one of his Hyatt Diamond Suite Upgrade Awards, we had been upgraded to a suite, so we had SO MUCH ROOM! The room and the hotel were very nice, but arguably not as fancy as, say, the Park Hyatt Vendôme in Paris.
We had breakfast each morning at the M Bistro, the hotel's dining room, where breakfast is included for Hyatt Diamond members.
The only choice was the buffet, which included made-to-order eggs — all we need for a filling and delicious breakfast. They also had a great selection of pastries, bacon, sausage, cold cut meats, cheeses, and even a smoked salmon bar (with capers, cream cheese, egg whites, lemon slices, etc.). The fresh-squeezed fruit juices were also a treat for us  — whenever fresh-squeezed carrot juice is available, Jeffrey drinks about 5 glasses.
The best part is that breakfast is served until 11am, so sometimes we'd show up right at the tail-end for an early lunch — perfect for saving a bit of time and money.
The hotel's location was perfect for a few nights' stay in Mendoza – it's just across the street from a beautiful park – the Plaza de la Independencia – and within walking distance to many delicious restaurants and shopping. The Plaza de la Independencia has plenty of green space, fountains and a few museums – it's a great place for people watching and orienting yourself with a new city, as locals are strolling through and enjoying life with their friends and families, too.