Delta SkyMiles to Argentina: How to book Aerolineas Argentinas Award Space
My sister, Elizabeth, is studying abroad in Argentina this semester and we just finished up booking a trip to visit her soon. I needed to book 2 tickets, one for me and one for McCown, and wanted to use either Delta SkyMiles or United MileagePlus miles. I really preferred to burn my Delta SkyMiles first, given their impending devaluation/restructuring in 2015: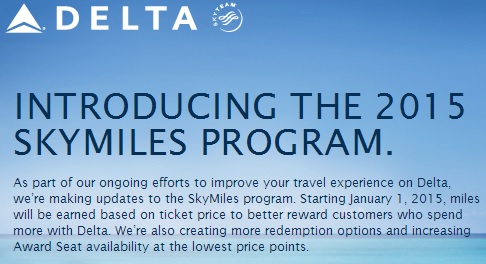 I quickly ruled out United– they're down to only 1 daily flight from the U.S. to Buenos Aires-EZE out of Houston-IAH and the award availability is pathetic, even in economy. The only other choice is to connect in Panama City-PTY using their Star Alliance partner, Copa Airlines, but that got pretty cumbersome and availability was also pretty bad getting from the U.S. to Panama City (although the connection onward to EZE had pretty good space)… It ended up with something like Charleston-CHS –> Washington-IAD –> Panama-PTY –> Buenos Aires-EZE with lengthy connections and bad flight times–no thanks.
Flights to Argentina on Delta proper (aka Delta metal)
Delta flies only 1 daily non-stop to Argentina: Delta flight 101 (DAL101) ATL-EZE and the return DL# 110 EZE-ATL.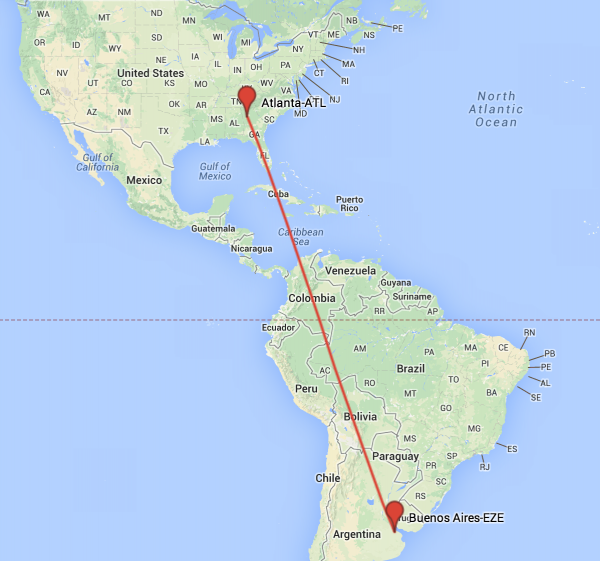 If you go a few months out, award availability really isn't all that bad: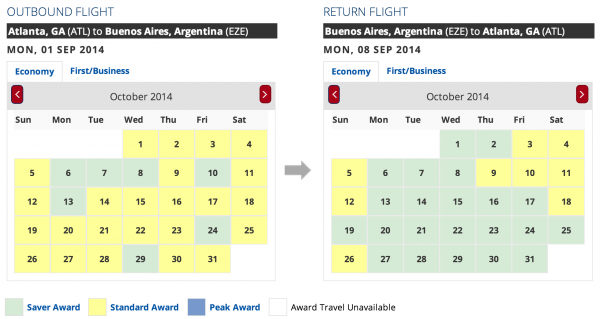 Flights to Argentina on Aerolineas Argentinas
While the Delta award space isn't half bad, throwing in the Aerolineas Argentinas award space will increase your options by 3x:
New York-JFK to Buenos Aires-EZE on AR Flight 1301 (ARG1301) 11hr 15min flight from 3:25pm to 4:40am, return flight AR 1300 (ARG1300) EZE-JFK 11hr 05min flight from 11:00pm to 8:05am
Miami-MIA to Buenos Aires-EZE on AR Flight 1303 (ARG1303) 9hr 00min flight from 8:30am to 7:30pm, return flight AR 1302 (ARG1302) EZE-MIA 9hr 10min flight from 11:15pm to 6:25am
Miami-MIA to Buenos Aires-EZE on AR Flight 1305 (ARG1305) 9hr 00min flight from 5:40pm to 4:40am, return flight AR 1304 (ARG1304) EZE-MIA 9hr 10min flight from 8:30am to 3:40pm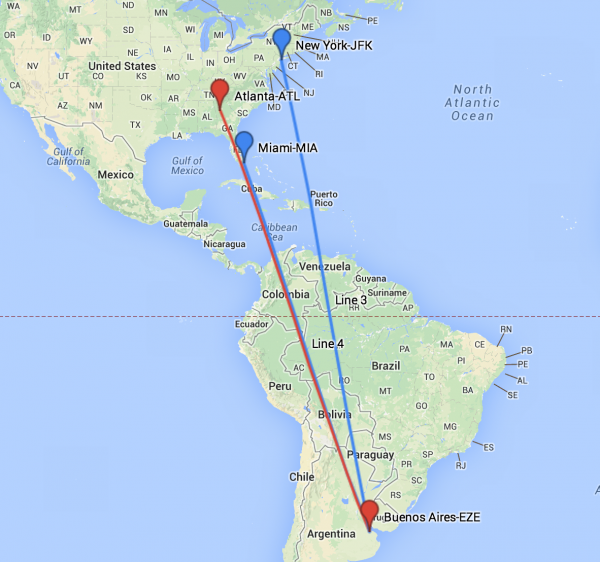 Searching Award Space on Aerolineas Argentinas with ExpertFlyer
Unfortunately, yet no surprise to anyone, Delta.com will not allow you to search AR award space. One way to search Aerolineas Argentinas is by using ExpertFlyer (expertflyer.com), here's how:
Create an ExpertFlyer account (or ask us to help you with it in the comments below!). Because you're checking award availability, you'll need ExpertFlyer Pro, which is a paid service. If you're just booking the one trip, signup for a free 5-day trial and you'll likely be able to get all you need. Otherwise you can subscribe for $4.99-$9.99/month.
Search "Awards and Upgrades"

Enter your flight info –> ONLY "Economy – Promotional Award (X)"  and "Business – Award (O)" will be bookable using Delta SkyMiles, these book at the saver low price

Check to see all available award space. We see that for this flight (AR 1300 on Dec 6, 2014) there are 4 award seats available in Business class ("O" fare class) and 7 award seats available in Economy ("X" fare class).

NOTE: Any space that appears under the "X" fare class should be bookable with Delta SkyMiles at the "Saver Award" level. Please note that Delta will NOT allow you to mix and match Standard Award or Peak Award space with Aerolineas Argentinas "X" class award space, i.e. you cannot price out a Delta itinerary from ATL-EZE on Delta metal at the 77,500 SkyMiles rate and then return on Aerolineas Argentinas from EZE-JFK using the "X" class economy award space.
If ExpertFlyer proves to be too cumbersome or expensive, you can also try searching for available award space on Air France/KML's Flying Blue website.
Searching Award Space on Aerolineas Argentinas with Flying Blue
Many might find this method easier:
Booking Aerolineas Argentinas award space with Delta SkyMiles
Using either the ExpertFlyer, Flying Blue or native Delta award search methods above, you should have all the tools you need to search for available award space to Argentina. The next step is booking your award. As you might have guessed, because Delta doesn't allow you to search for Aerolineas Argentinas online, they also don't allow you to book award space online. So, you'll want to completely piece together your itinerary by hand and then call them up: 800-323-2323. You should have ALL DETAILS of your desired award trip ready and available before calling, for example:
– Wed Dec 3 – CHS-JFK – 10:55am to 12:55pm – DL 6051
– Wed Dec 3 – JFK-EZE – 3:25pm to 4:40am – AR 1301
– Thur Dec 11 – EZE-MIA – 11:15pm to 6:25am – AR 1302
– Fri Dec 12 – MIA-ATL – 7:45am to 9:43am – DL 1460
– Fri Dec 12 – ATL-CHS – 10:45am to 12:01pm – DL 1463
Make sure you have all of these details ready! And, don't forget that all Delta inventory will have to be at the "Saver Award" level if you want to mix in Aerolineas Argentinas flights.
Award Pricing
North America to Southern South America will cost you 60,000 SkyMiles roundtrip in Economy or 125,000 SkyMiles roundtrip in Business class: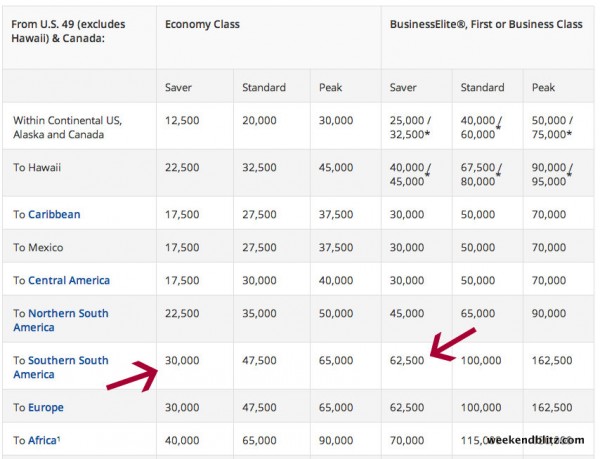 DON'T FORGET: Delta SkyMiles will allow you to have 1 stopover and 1 open-jaw, so don't waste this opportunity! We'll have more info on taking advantage of this in Argentina in a later post, but here's the itinerary we were able to book:
Day 1: Fly Charleston-CHS to Atlanta-ATL to Santiago-SCL on Delta
Day 3: Take bus from Santiago, Chile to Mendoza, Argentina
Day 5: Fly Mendoza-MDZ to Buenos Aires-AEP on Aerolineas Argentinas
Day 10: Fly Buenos Aires-EZE to Atlanta-ATL to Charleston-CHS on Delta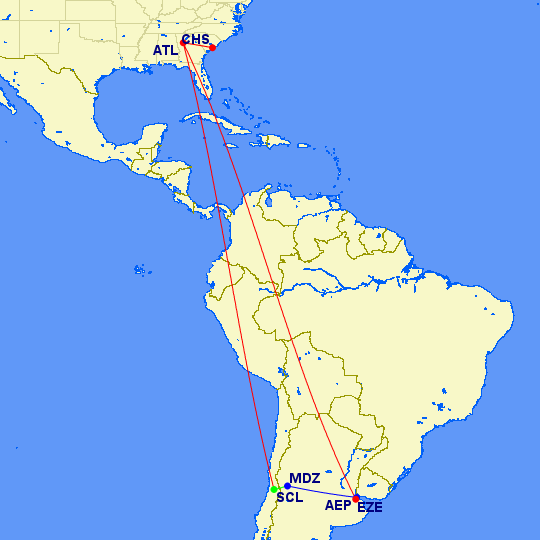 BOTTOM LINE: Booking award travel using Delta SkyMiles to Argentina is easier than I thought; I was surprised at the award availability and number of options once you factor Aerolineas Argentinas' space into the equation.