Delta Flight 147 – Atlanta-ATL to Santiago-SCL – B767-300ER
Our first flight of the trip was Delta flight # 1543 from Charleston-CHS to Atlanta-ATL; Delta Gold Medallion status doesn't often get me too much, but in this case it did get me an upgrade on the short, 41 minute flight. The only issue is that McCown, for some reason, wasn't grouped with me for the upgrade pool so I ran over to the gate counter and tried my best to get an additional upgrade. We almost had one of these situations on our hands: Damnit Delta, why are you trying screw me?!
The gate agent was nice enough to add McCown to the list…here's a note we had jotted down mid-flight:
Well, off to a good start. When leaving Charleston, we both got an upgrade to Altanta-ATL. Well Delta, how many Bloody Marys can I suck down in 43 mins of flying time? 3. The answer is 3. Hope you didn't think that was rhetorical.
BOARDING
Once in Atlanta, we made our way over from Terminal B, one of Delta's main domestic terminals to Terminal E, the old international terminal, which is still operating some foreign flights. Despite being the World's busiest airport by passenger traffic, Atlanta-ATL is always a breeze to navigate and, despite the low ceilings and aging design, quite a functional airport.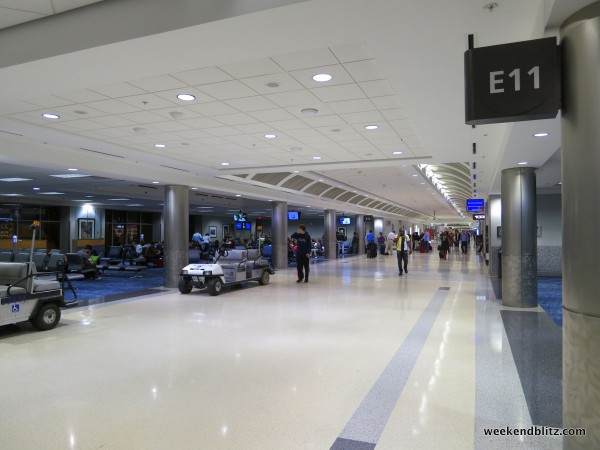 We made it on over to our gate, E12, with plenty of time of spare before the 9:56pm scheduled boarding time–but also not quite enough time to go to the Delta SkyClub (free with the American Express Platinum card and free for SkyTeam Elite Plus, via Delta Gold Medallion status). We instead waited around to see if we could try our luck with another sympathetic gate agent for an upgrade to BusinessElite. This proved to be a waste of time. I approached the gate when a younger looking, hopefully reasonable Delta agent was there and free and, right as I got to the stand, her older and much crabbier colleague walked up to relieve her. She was extremely unimpressed that I was bothering her with an upgrade, especially after she discovered that we were traveling on an award ticket. Oh well, good thing I have no shame.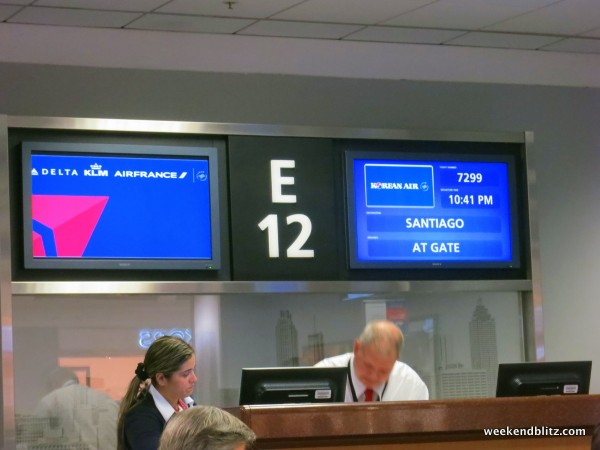 Sarcastic rant: But seriously, why didn't you give me an upgrade that I don't deserve for free?!
In Delta's, and everyone's really, defense, we're already doing pretty well, given that we booked an award ticket, i.e. paid just taxes on the flight (around $110) and everyone else is paying $1200+ for discounted economy and others much, much more … and we're literally PISSED OFF that Delta does't want to give us a free upgrade to BusinessElite. Some people. But, then again, and in our defense, economy sucks and we're just not accustomed to it. How do you expect me to sleep on anything other than a fully FLAT bed? I digress…
Boarding started a bit late (probably closer to 10:15pm) as maintenance was still working on cleaning the aircraft from the last flight.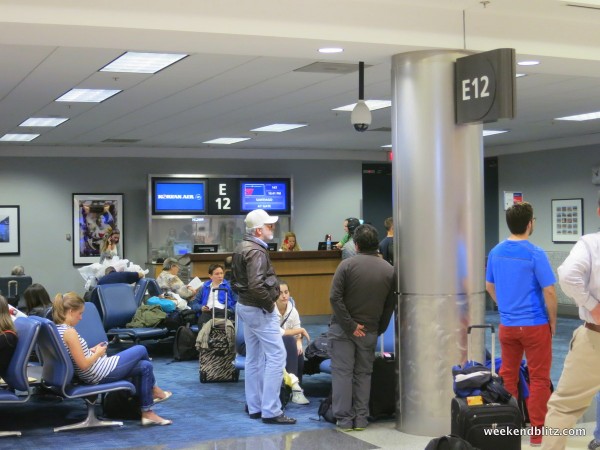 I would say that the worst part of boarding this Delta Boeing 767-300ER when flying economy is that the boarding door is directly behind the cockpit, so we had the pleasure of walking past all of the BusinessElite-rs getting settled into their awesome-looking seats. The only redeeming factor of this depressing, envy-inspiring march was that we got a great look at the B767-300ER's newly refurbished premium cabin and have some pics of it:
We made it back to ours seats, 23 F&G, right of the wing on the right side of the plane. Again, painful that I have a clear eyesight of both BusinessElite and Economy Comfort, both of which Delta doesn't want to give this Gold Medallion member a shot at. But, not due to lack of trying or raw effort.
The Delta app was showing ~80+ seats available in economy as we boarded, which means plenty of room to spread out. Worried that we'd pick the wrong "empty seat" and then be booted (it has sort of happened before with unfavorable results on our Turkish Airlines flight from Washington to Istanbul), we decided to just be happy that we had a window and an aisle and just relax.
THE SEAT
The seat is part of they newly refurbished Boeing 767-300ER fleet. This means brand new seats, entertainment system, etc….
I'm not ready for a formal accusation Delta, but the new "slimline" seats most definitely feel like they've robbed me of an inch or two of leg room. But, I was willing to look past it as I was distracted by the new, great looking IFE system. Between the new IFE, a USB port at every seat and a power plug at 1 in 2 or 1 in 3 seats, I was a happy camper.
Call me crazy, but the seats do seem less comfortable than I remember. To sound like a total jackass, it has been a while since we've flown in international coach, but these things seem like they're lacking a bit of cushion?
Economy Comfort was mostly empty, and, right as we were eyeing a quick move to the seats with more legroom, we saw a woman get kicked out by one of the flight attendants–guess they take that section pretty seriously. It then became evident as to why when they walked around the cabin attempting to sell upgrades to the E+ cabin. I didn't bother to ask how much they would be, and apparently no one else in our shoes did either as there was no movement after their sales pitch. It's tough to sell upgrades to people who are enjoying a relatively empty cabin; I mean, those who were lucky enough to snag an entire middle row of 3 seats to themselves have it almost as good as the business class cabin.
IN-FLIGHT ENTERTAINMENT
As I mentioned above, the entertainment system refresh was a good one. We had a fairly large touchscreen at our disposal with 1x power plugs per 2 seats and a USB at every seat. The one awkward part of the newly designed IFE is that the headphone jack plug in is at the screen, not at the armrest, meaning you'll have to unplug every time your neighbor needs to pass over you. It also makes sleeping with the music on a bit more difficult.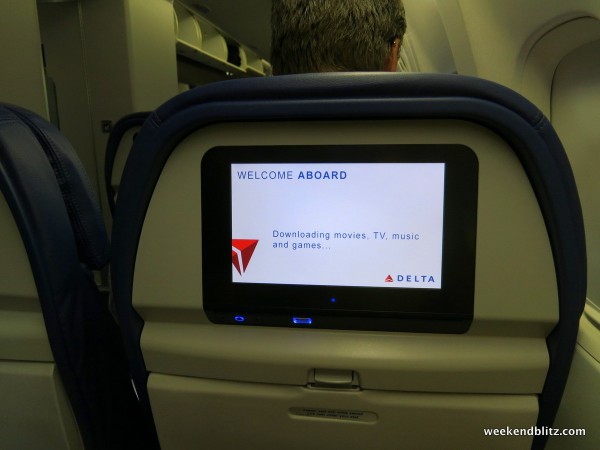 At 10:45pm of our 10:41pm departure, forward boarding door was closed. By 10:46pm, we pushed back from gate and we had a wheels up time of 10:58pm — enroute to Santiago-SCL!
About 30 mins after take off (around 11:17pm), the flight attendants came around to distribute hot towels–ok, well really more like a luke warm paper towel. A half hour after that (appx 1 hour after pushing back from the gate, at 11:43pm), the dinner and drink service had arrived.
DINNER
The dinner options (no printed menu for this flight) consisted of a "hot chicken dish with rice, pasta or a cold Southwest salad." We glanced at our neighbors' and got a waft of the chicken, which actually smelled delicious and both opted for the same choice. It had a great flavor, sort of Southwest with lots of cumin?… and something that made it a little sweet. Steamed white rice was served in the middle and a blend of corn, lima beans and red peppers on the side. In McCown's own words, "the food was the best airplane (economy) food I've had in recent memory….a very flavorful chicken and rice dish with vegetables and a decent chicken meat (not sketchy what-the-heck-is-that-really? cuts). It filled me up and left me ready to fall asleep … and what more can you ask for with an airplane meal?"
I had totally forgotten that Delta has started offering complimentary wine, beer and spirits on long-haul international flights and was pleasantly surprised to save some cash on the wine. I guess I was under the impression that Delta started giving it out for free on Transatlantic  and Transpacific routes but somehow discounted the South American service. Either way, it was a nice touch and a step in the right direction from the "race to the bottom" that most airlines are going through in a quest to improve their bottom line at all costs.
BREAKFAST
Some time around 12:30am, about 1 hr 45 mins after takeoff, our meal was cleared and the cabin lights dimmed. As always, the cabin lights were back on way too soon, but a heavy sleeper would have been able to get a solid 6.5 hours of sleep–not terrible at all.
The breakfast was announced at takeoff to be served "appx 1.5 hours before landing" and, by 7am, the cabin's lights were on and, just a few minutes later, the flight attendants had rushed around and distributed most of the breakfast trays.
Breakfast consisted of a small tray complete with a warm egg and pepper jack cheese croissant, Yoplait Greek Yogurt and a few ounces of OJ. The breakfast sandwich actually had a good bit of kick to it and wasn't anything to complain about. Again, bravo on the food service, Delta.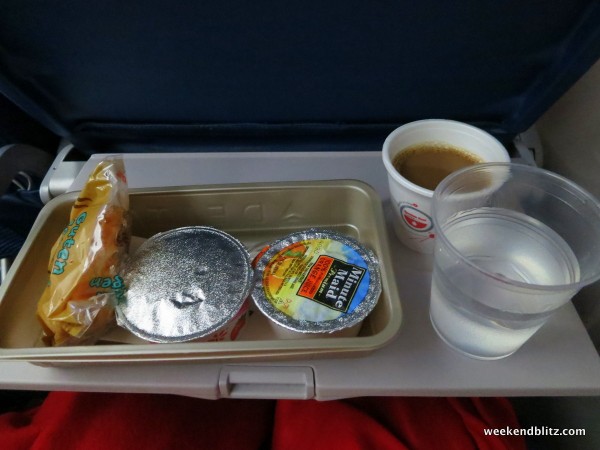 By this point, we were quite close to Santiago and began descending as we made our approach.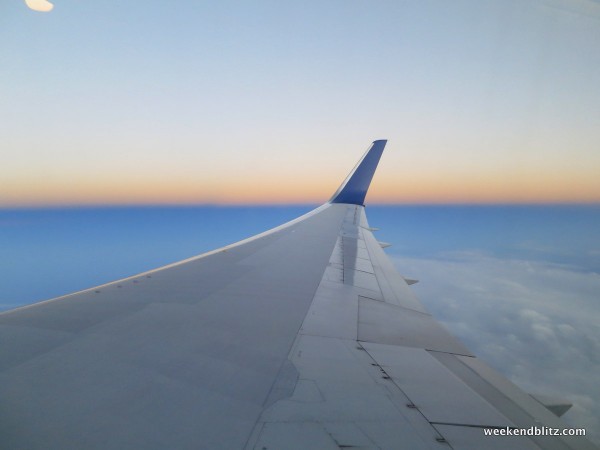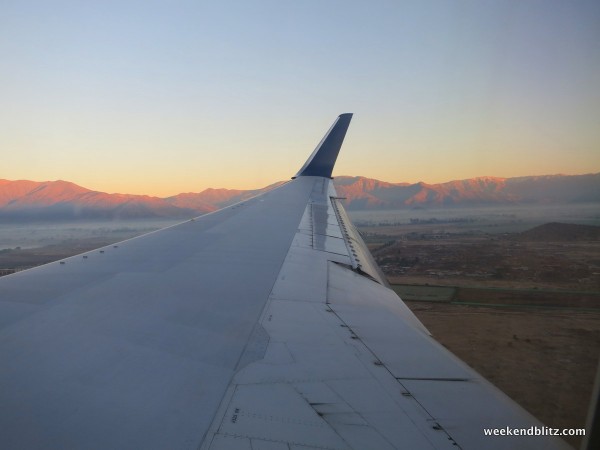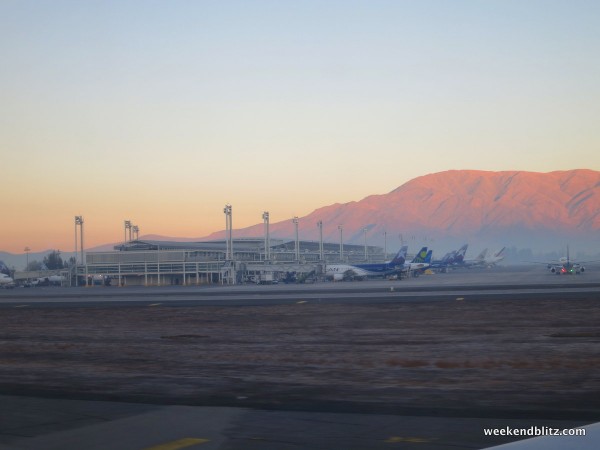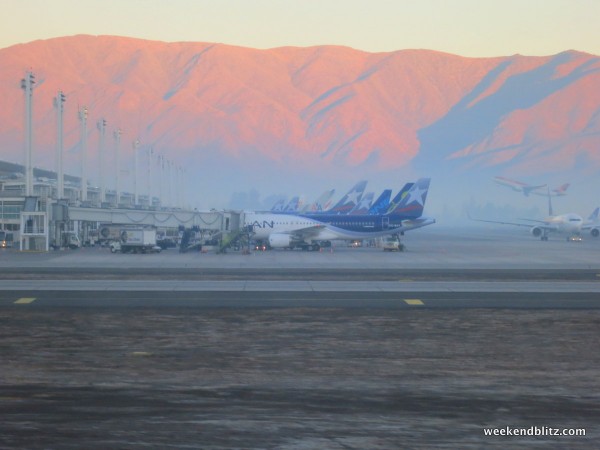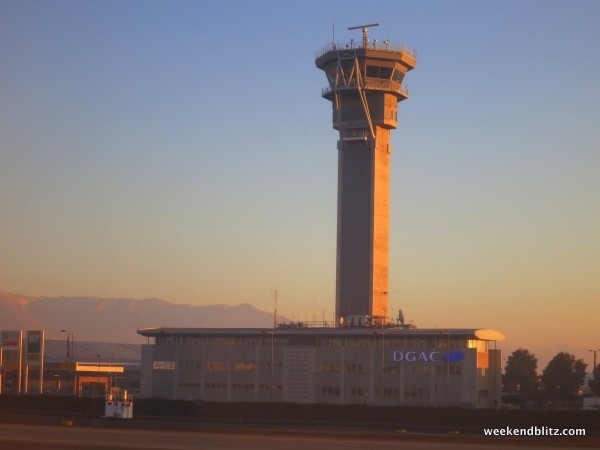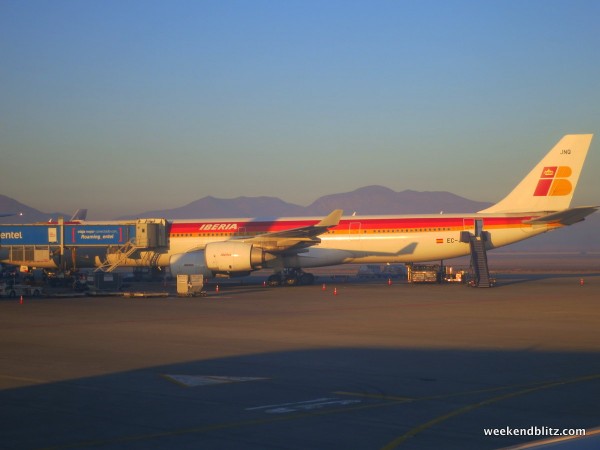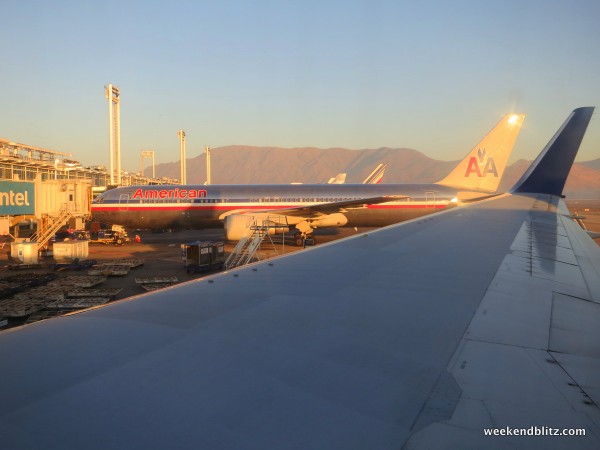 Touch down was smooth and we had a quick taxi over to the gate. Despite the slightly delayed departure, we arrived in Santiago a few minutes before our scheduled time of 8:15am.
BOTTOM LINE: Free booze and a decent entertainment system made this flight abroad Delta's new-ish B767-300ER long-haul service seem bearable–almost enough to make me overlook the reduced legroom with the "enhanced" seats.