Time to Renew Your Reciprocal Hyatt/M Life Status
Back in June 2013, Hyatt and MGM announced a partnership that extends reciprocal benefits to the members of each other's loyalty programs. In practice, this means that Hyatt Gold Passport Members will earn Hyatt points in addition to M life points aka "tier credits" when staying at any of the 12 MGM properties in Las Vegas. Similarly, MGM M life members will be able to earn M "tier credits" when staying at any Hyatt property worldwide.
The new partnership also rolled out the following status matching scheme, where members can receive reciprocal benefits:
Hyatt Reciprocity Chart:
Hyatt Member <–> M life Sapphire
Hyatt Platinum <–> M life Gold
Hyatt Diamond <–> M life Platinum
M Life Reciprocity Chart: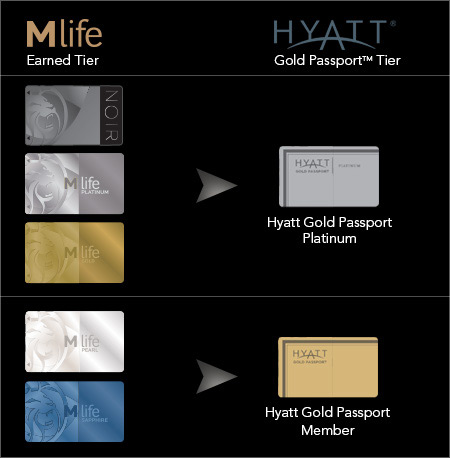 Well, it's already been 1+ years since the promo began and it's now time for many to login and re-register for the benefits.
Follow these steps to ensure that your Hyatt/M life benefits continue for the next year:
If you're a Hyatt member and want to match to M life, head to the Make Vegas Yours With Hyatt Gold Passport And M life website.
Click the link to opt-in:

Click to sign in to your M life account:

Success! "Your profile has been updated. You have successfully aligned your M life tier status with HGP tier."

For more info relating to the Hyatt / M life benefits, check out some of our other posts: