Review: Experience with the MGM M Life / Hyatt Gold Passport Partnership
As I wrote about last year (How-to: Match Hyatt status to MGM M life status), Hyatt and MGM Resorts have teamed up to give reciprocal benefits to the members of each other's award programs. At the time, I viewed this as a great promotion and was hoping to get some great value out of it.
Here's how the statuses translate:
Hyatt Member <–> M life Sapphire
Hyatt Platinum <–> M life Gold
Hyatt Diamond <–> M life Platinum
This meant that, with a simple registration, I was able to turn my Hyatt Diamond status (which I obtained very easily by doing a Hyatt Diamond Status Challenge) into M Life Platinum status instantly. If you're interested in doing the same, check out this guide:  How-to: Match Hyatt status to MGM M life status.
Technically, if you're a Hyatt Elite and matching to M Life, then you should expect the following benefits: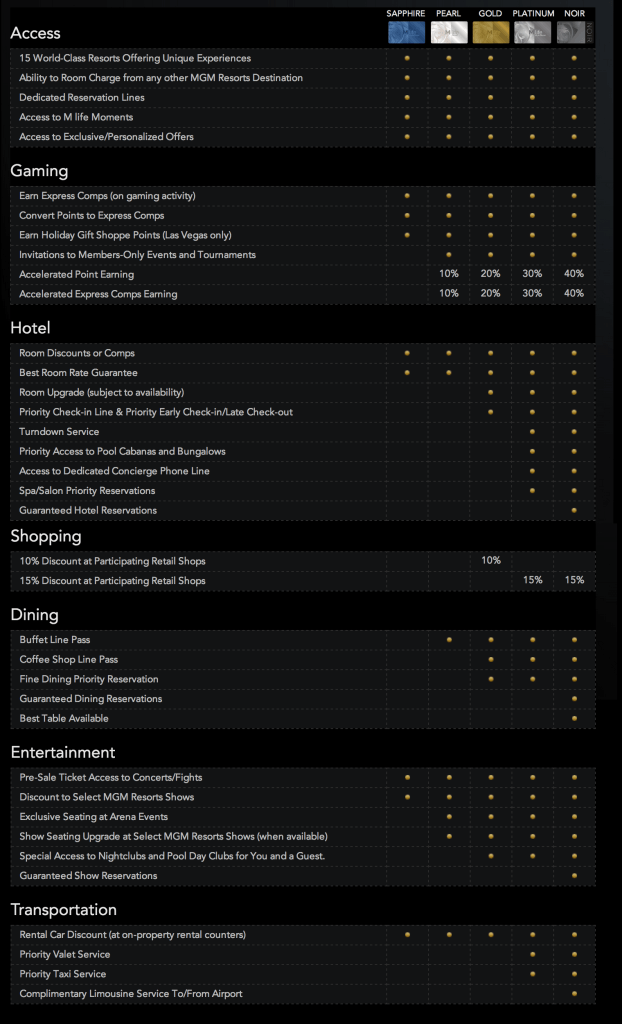 My Experience
With my new M Life Platinum status in hand and eager to try the new program out, I headed to https://www.mlife.com/ to book a room for an upcoming trip to Las Vegas:

Benefit: "Room Discounts or Comps": A+
I used the MGM website and booked a room at the Bellagio for 2 nights. Even on a busy weekend, I was able to book a Standard Room for ~$164/night + a highly inconvenient $25/night "resort fee" that covers internet (should be free for Platinums anyway), the fitness center (should be free for all guests), free local calls (just in case you forget your cell at home?) etc… I'm never a fan of the resort fee but, in this case, it adds 15% to the room cost — which is more than excessive.
Either way, it looks like being a M Life member will save you around 25% on the room over booking as a non-member. Here are a few data points:
I have no idea if the 25% off was coming up for me as a Platinum member or if you can get the discount just for registering in the M Life award program at the Sapphire level.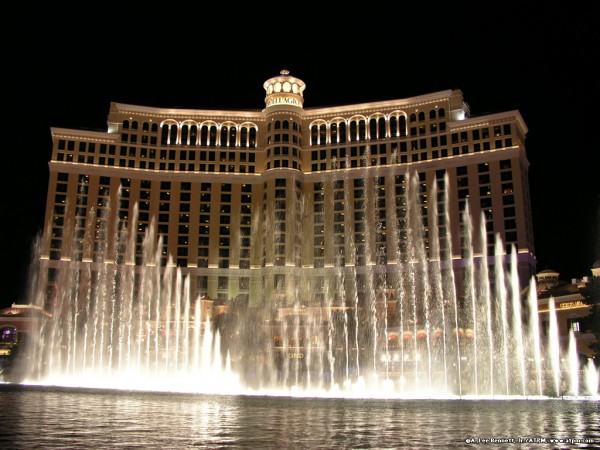 The benefits in practice?
Benefit: "Priority Valet Service": D

In theory, Platinum members should be able to access the "Priority Valet Service" but, in practice, the valet parking area was a cluster and there's no way for them to know if you're an Elite Member or not when you're driving up. Plus, it wouldn't matter anyway because there will likely be a sea of cars in front of you, waiting to get it.
Benefit: "Priority Check-in Line & Priority Early Check-in/Late Check Out": C-
I got to the Bellagio around 5pm and I was shuffled around for about 30 minutes with the rest of the world trying to check into a Las Vegas hotel on a Friday afternoon. There was no "Priority Check-in Line" or at least it wasn't visible enough for someone unfamiliar with the property to find it after a few minutes of searching. So, far we'll call this one a fail.
Benefit: "Room Upgrade (Subject to Availability)": C

So I finally made my way to the check-in counter and handed over my ID and credit card. While she was working on the computer, I asked about upgrade availability; she did the (seemingly) fake thing where she "check their system" and quickly replied, "we're not selling any upgrades tonight, sorry". Oh well, but then I remembered that she hadn't mentioned my Platinum status yet– maybe it wasn't showing in the system? I subtly asked if they had my M Life number and ask her to confirm my status. She confirmed that they showed me as Platinum and gave me a brochure when I asked about benefits. She then assured me we had the second best room style since it's a pool facing, high floor room. I'll grade this one as a "C" because I can't say for sure how M Life or Bellagio upgrades work but, with Starwood, if you see that a suite is bookable on the website, they should give it to you. I made sure to check a few minutes before check-in and saw that suites were available for the dates of our stay, so I guess that "we're not selling any upgrades tonight" really means, "we know what the benefits say, but we're busy so tough luck." 
Benefit: "Turndown Service": A
We were given room 22110 (yes, this 3000+ room mammoth hotel needs 5 digit room numbers), a 2 Queen room on the 22nd floor. The room was luxurious and in good shape. Size-wise, it was just standard, nothing special and certainly not an upgrade of any kind. It had a good view of the pool/I-15.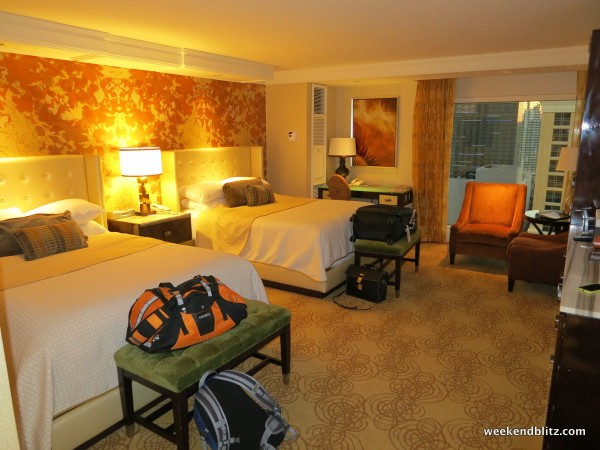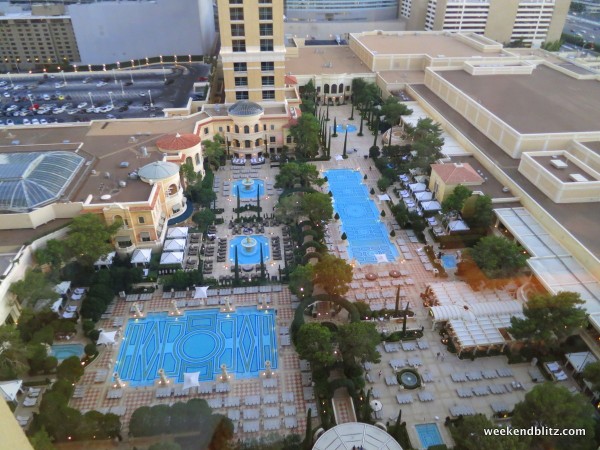 When we got back to the room later in the evening, the turndown service had been completed with chocolates on the pillows.
Benefit: "Accelerated Point Earning:  30% Bonus"
I can't really give this one a rating since I was never able to see a breakout of the points I earned for the weekend. All I know is that I spent a few hundred dollars on the room and now have ~10,000 M Life Tier Credits but, in principle, getting a 30% bonus on anything is a decent benefit (even if I have no idea what those increased points can do for me).
Other benefits:
Things like the Priority Taxi, Priority Valet or Priority Check-In might be useful for those people who have earned elite M Life status the old fashioned way: by spending a lot of time at the casinos. For those of us, like me, who are largely unfamiliar with the properties and how to use the benefits, it just becomes something that has been promised and that either isn't delivered upon or is hard to figure out.
Other benefits like "Coffee Shop Line Pass" or "Buffet Line Pass" seem to be a little gimmicky and ridiculous; I mean, if you're the type of human than likes a buffet, do you really need to get to the trough any earlier?! And, besides, cutting someone in line for a cappuccino proves to be a little awkward in reality.
BOTTOM LINE: The Hyatt Gold Passport and MGM M Life partnership sounds good on the outside but, in practice, might not deliver all that much. Your experience may vary but my trip hasn't made me necessarily excited to try out M Life again. Maybe I'll try my luck with the Starwood-Caesar's partnership.