Planning My Very First Trip to California
Planning My Very First Trip to California
On the eve of Jeffrey's & my big Asian Adventure, I wanted to spend some quality time with my mom before Jeffrey and I packed up and headed out for months.
Disclaimer: I'm an idiot and haven't signed up for the referral to make any money off any of the below credit card offers. This is this genuine advice as I see things. I have both of the cards listed below, however, take my advice with caution: I'm far from an expert on financial/credit matters, but happy to help where I can!
My mom had just applied for the US Airways Premier World MasterCard over Thanksgiving, so she received the Companion Certificate in the mail in late December. A little more on the Companion Certificate: this certificate is good for up to two passengers traveling with the card holder on a round-trip Coach Class ticket on US Airways operated flights (so, no partner flights allowed). The credit card holder purchases his/her ticket at regular price and then (on the same charge) purchases up to two companions' tickets for $99 + tax each. Again, this certificate is only valid for flights within the continental US, so it's a better bang for your buck to purchase the most expensive ticket (i.e., cross-country) to get a higher percentage off with your companion pass. It looks like the US Airways Premier World MasterCard is still around (there was some talk that it would be a thing of the past come January 2015), and it's still advertising a Companion Certificate. I was under the impression that the Companion Certificate would also be going away in 2015, but maybe they've decided to let it stick around a bit longer?
Side Note: My mom originally applied for this credit card for the awesome 50,000 bonus points with first purchase and payment of $89 annual fee (no need to spend thousands of dollars in the first few months to get the bonus!). These points will become American Airlines AAdvantage points in the second quarter of 2015 and, coupled with the Citi AAdvantage Platinum Select MasterCard she applied for at the same time (which got her an additional 50,000 American points), she'll have a whopping 100,000 points in the bank — enough to visit Europe twice (or Asia once, with enough points leftover to warrant a free domestic US round-trip!). So, this California trip is a bonus that we didn't even consider before she applied for the credit cards.
We wanted to take as much advantage of the companion ticket as possible, so we were looking for somewhere pretty far from South Carolina (while still staying within the contiguous 48 states). We settled on southern California because, quite frankly, the weather in much of the rest of the US (excluding the Southeast) is pretty frightful in early February. And, with Winter Storm Juno rolling in the week before our departure (with another snowstorm right on its heels), our sunny destination couldn't have been better.
We ended up booking my mom's ticket about six weeks out from Charlotte (CLT) to San Diego (SAN) at $390 and tacking my Companion Certificate on for the additional $99 + taxes, which came out to be $141.20 extra — a pretty significant savings from buying two normal tickets.
The weather forecast for the first week in February looked like the peak of spring time on the East Coast: highs in the low-70s and lows in the mid-50s. I'll take it!

I set out to plan a fun and relaxing trip with my mom — with a bit more emphasis on the relaxation portion of the trip, keeping in mind that my companion for this trip was my mom and not my ADHD-husband who never stops exploring! Because we'd be flying in and out of San Diego, exploring this big city and its surrounding areas was an important part of the trip, but I also wanted to venture a bit farther out for my first trip to California. After much research, we focused on San Diego and the Santa Barbara area.
Our itinerary ended up looking like this:
2 nights in San Diego
3 nights in the Santa Barbara area
1 night in San Diego
We'd heard great things about Coronado Island (just across the harbor from downtown San Diego), so I knew we wanted to stay there. The famous Hotel del Coronado (a Victorian wooden monstrosity — as in, the second largest wooden structure in the US) was a bit out of our price range at $400+/night, so I did some Trip Advisor-ing and ended up booking our first two nights at the Hotel El Cordova, just across the street from the gigantic "Hotel Del". At almost one-quarter of the price, the location is just as fabulous and its a charming little Spanish-style hotel.
El Cordova Hotel sits overlooking its more famous counterpart and, interestingly, was actually the private home of the main builder of the grander hotel in the late 1800's. The Spanish-style mansion has been converted into motel-style rooms ranging in size. The lobby is on the street facing the Hotel del Coronado and is just steps away from the beautiful beach and cute shops and restaurants. The rooms are circled around an inner courtyard with plenty of Spanish tiles and bright, colorful flowers to drool over on your walks to and from the lobby.
The quaint and quite romantic hotel is perfect — even the breakfast is just right: a small continental breakfast is included, and the best part is that it's served in the courtyard, surrounded by beautiful flowers, delicate succulents and beautiful weather.
Check out a few photos from our stay at El Cordova: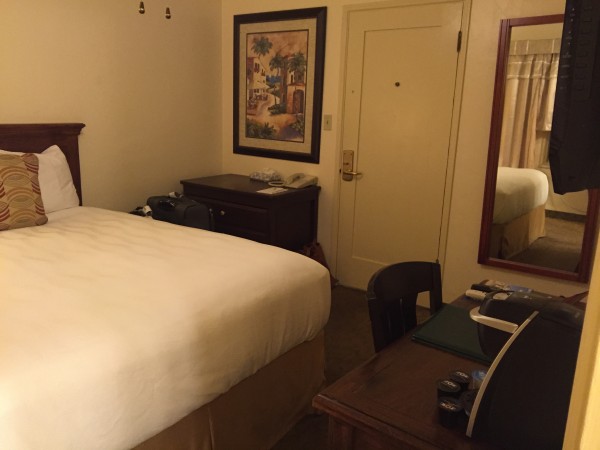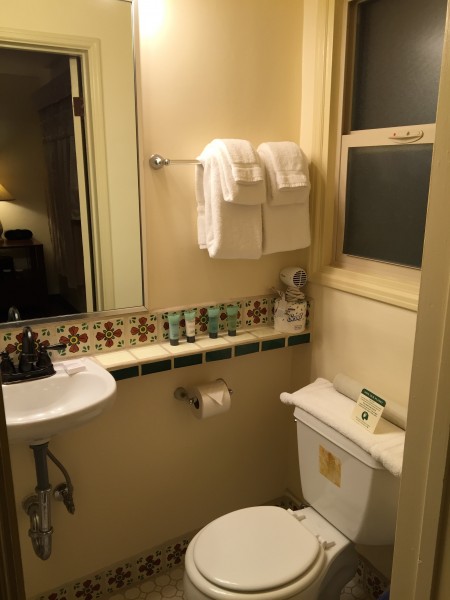 There'll be more details to come soon, but our only full day in San Diego looked a little like this:
Balboa Park
Old Town for lunch (Casa Guadalajara)
Harbor Tour
Exploring the Hotel del Coronado + Coronado Island
After a packed first day, we planned to finish our time in San Diego by exploring La Jolla, a nearby island and beach with sea caves and seals. Yes, please. Although I'm sure we could spend days in La Jolla alone, our week-long trip to Southern Cal was starting to get booked up quickly, so we planned our second day like this:
Morning in La Jolla with brunch + sea caves
San Juan Capistrano Mission
late lunch in Malibu
Pepperdine University
Drive into Ventura, CA
Although we would have loved a little more time in San Diego, we wanted to start heading up the coast toward Santa Barbara to give us time to stop along the way. We have a friend who lives in the area who insisted we drive through Pepperdine, calling it the prettiest university campus in the US. With helpful tips like Pepperdine and the San Juan Capistrano Mission, we had another jam-packed day ahead of us, but it really helped to break up the drive up the coast.
We arrived in Ventura in time for dinner and an early night to rest up for our next day of adventures. As you may have read about, Jeffrey's recently gotten the Club Carlson credit card and this hotel chain's Winter 2015 promo was the best of the bunch, so we settled on the Country Inn and Suites in Ventura for our nights in the Santa Barbara area. Although the hotel is about 25 minutes south of Santa Barbara, it was much cheaper than any other hotel that week because of the Santa Barbara International Film Festival, plus we earned an extra 30,000 bonus points for our 3-night stay– enough for several free nights in nicer Carlson hotels around the world! For more info on the Club Carlson Winter 2015 promo (going on through March 29), click here.
The next morning, we had planned to drive back down toward San Diego about 45 minutes to Simi Valley, CA — not the most ideal plan, but we booked hotels and planned our stays then had to reschedule a little in order to meet up with a friend from our hometown for a tour of the Ronald Reagan Library, which was on the top of my mom's list. That day, our itinerary looked like this:
Ronald Reagan Presidential Foundation and Library
Drive back up toward Santa Barbara
Explore Santa Barbara, including the Old Mission, antique shops + the pier!
On the next day, we were headed up a little north of Santa Barbara:
Morning at the Gainey Winery in Santa Ynez, CA
Afternoon on a ranch in Lompac, California with some friends
On our final full day in California, we needed to make our way back down to San Diego for our flight on Monday morning. We'd booked a hotel on the northern outskirts of San Diego so we didn't have to drive all the way into the city the night before, giving us a little more time to explore on our way back down the coast. Our last day's itinerary looked like this:
Santa Monica Pier
Lunch in Hollywood
Looking for stars before the Grammy's!
We made our way back down toward San Diego with our final night's stay booked at the Hyatt Place Vista/Carlsbad. We were trying to balance easy location with affordable cost and settled on the Hyatt Place because it was on our way back into town, so we didn't need to pay the high premium of staying in the city if we were getting in late and leaving early. For our last dinner, we tried a fun wine bar in Encinitas, CA.
More details on our stops and tours coming up soon!