Le Hobbit Bistro Review – Québec City, Canada
Le Hobbit Bistro Review – Québec City, Canada
Ok, so, admittedly, we looked forward to dinner all day long because it was a good excuse to get out of the freezing cold. We pulled up Urbanspoon and found that Le Hobbit Bistro was a good mix of everything we were looking for: good French food, a walkable location, a lively atmosphere, not too cheap and not super expensive. We made reservations but when we arrived we noticed that we probably didn't need them.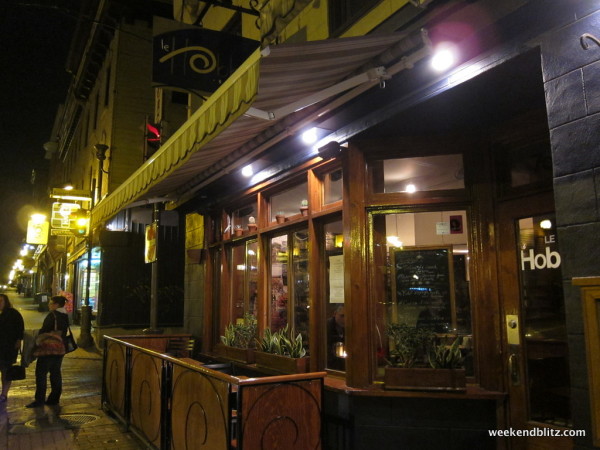 We walked from our hotel to the restaurant. While very walkable, it was outside of the walled city and a decent ways up Saint-Jean. Although Urbanspoon qualifies it as "late night," we noticed that it was only open until 10pm on the Monday that we visited. Maybe it's just late night on the weekends.
The restaurant is pretty fancy with seating for around 20 people – so it's got a romantic, intimate feeling. Even though the restaurant had plenty of open tables, they led us to a table with a "réservée" sign on the table – I guess to give the impression of status?
As far as the menu goes, it seems like they listed quite a bit of repeats. Nearly all of the bistro menu repeated its items under other sections of the menu. Why? It seems more logical to list each dish only once. And, while it did have French dishes on the menu, it was definitely more bistro-style and less French-bistro-style.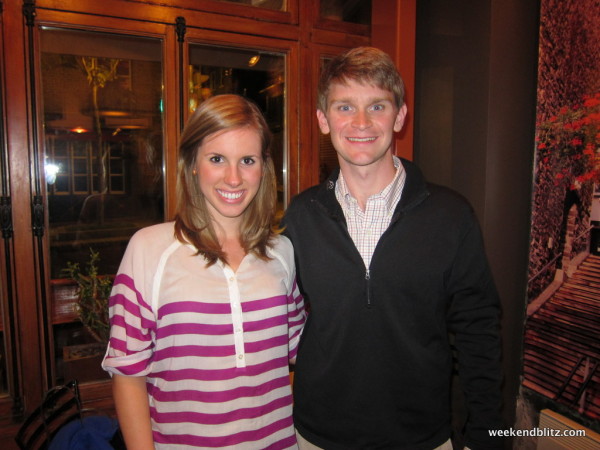 We started with the TARTARE DE CANARD ET QUINOA ($13 CAD). Can you even eat raw duck?! Well, we Jeffrey did, served with hand-cut waffle fries on a rustic stone plate. I couldn't bring myself to try this very adventurous dish. Although we didn't see any quinoa, Jeffrey really enjoyed the duck, saying it was refreshing and cold, but super salty with a nice spice and strong aftertaste. It was served with onions and pickles.
Next, we tried the SOUP À L'OIGNON GRATINÉE ($8 CAD), a very traditional and very thick layer of swiss cheese with a loaf of thick, moist bread over a tasty broth with thick slices of onion. Overall, it was a fantastic attempt at a classicly French dish.
He hadn't enough enough of the raw meat, so Jeffrey ordered the TARTARE DE FILET MIGNON DE BŒUF ET ŒUF DE CAILLE ($22 CAD) as his entree. I'll take his word for it that it was very similar to the duck. Same sauce, onion/pickle mix and flavors- just different meat. Both options were delicious, but it's a bit much to get both as an app/entree combo. The tartar came along with great fries that gave shoestring potatoes a new meaning because they were so thin. They were much lighter than any other fry we tried in Quebec – maybe the oil was changed more often? The ketchup had a nice spice, too — sweeter than normal ketchup. Maybe it was made in-house?
I tried my luck with the cooked duck and tried the CANARD CONFIT ($21 CAD) as my entree. It was standard duck confit (one of my favorite dishes), although maybe a little dryer than normal. Still, even being a little dry, I really enjoyed the dish and would order it again. The duck was served with a side of asparagus and freshly made scalloped potatoes with a strong flavor of nutmeg. I could tell that these potatoes were made from scratch and it made all the difference in the world.
BOTTOM LINE: If you're looking for a romantic date night in Quebec City, head to Le Hobbit Bistro for an intimate setting. And, if you're in the mood for raw meat, they've got everything but sushi.