O'Noir Restaurant Review – Montreal, Québec
O'Noir Restaurant Review – Montreal, Québec
1631 Rue Sainte-Catherine Ouest, Montréal, QC
Bistro, American
$$
Having heard about those restaurants that deliver entire meals in the dark, we decided to check out Montreal's local venue, O'Noir.  It added a lot of extra excitement to the night's dinner, and we both looked forward to the experience all day, discussing what we thought it'd be like.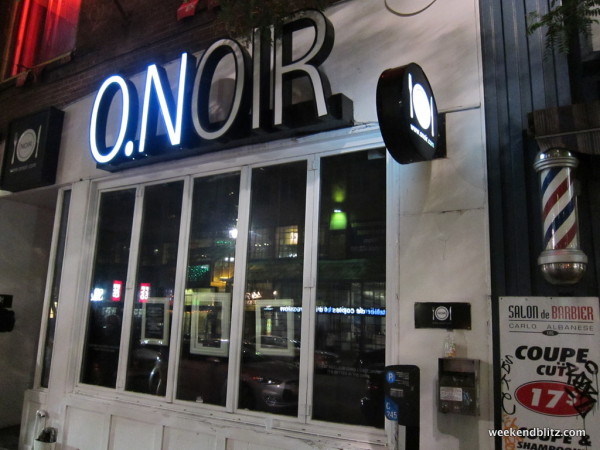 Reviews stated that the food was, at best, average, but what you're really going for is the experience. Although going to a restaurant for something other than food is…well, strange, we remained excited about the "activity."
You don't just stumble upon this restaurant; in keeping with the theme, the black sign is barely noticeable on the street, and the windows are covered with black curtains — so, an unsuspecting passer-by wouldn't give the place a second look. But, I guess it advertises itself—after all, we found it.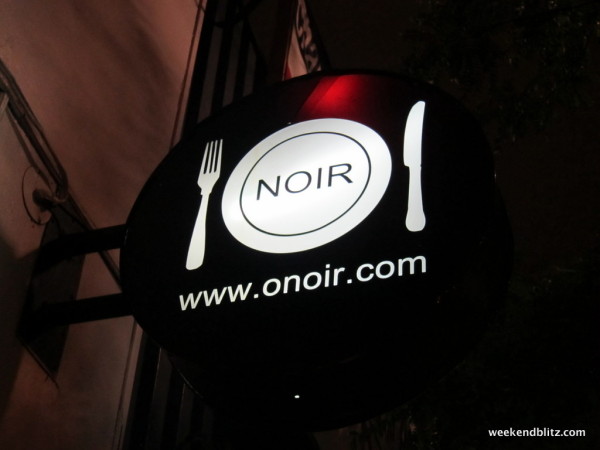 Not quite knowing what to expect or what to do, we walked into the very dimly lit "waiting room" – purgatory, if you will – and greeted the hostess, who had us put our valuables in a free locker and showed us the menu and specials so we could place our order before heading into darkness. We decided to do one THREE-COURSE MEAL ($41)  – with all three "surprise" dishes, and one TWO-COURSE MEAL ($34) of something we had chosen and were expecting.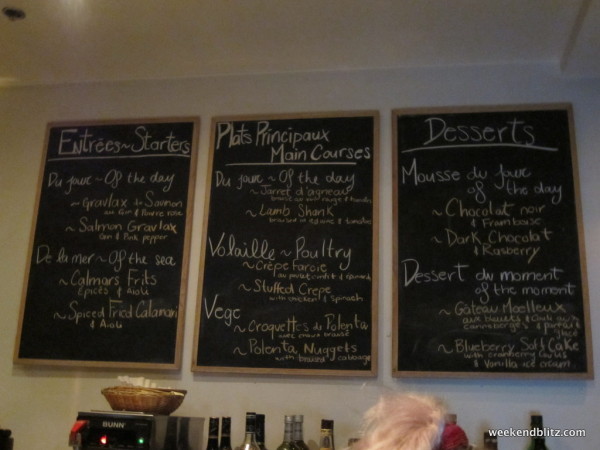 As soon as we'd finished ordering, our waiter met us in the waiting area wearing all black and sunglasses. We formed a train with our hands on each others' shoulders and he led us to our table. Even if you're expecting the darkness, the complete and utter blackness is an experience that you just can't fully imagine until you're actually in the moment. We weaved around tables, never touching anything but I completely lost all sense of direction very shortly into our walk.
We were seated side-by-side at a table and the waiter joined our hands together so we could get a sense of space.  Sitting side-by-side made a lot of sense given you're relying solely on talking for communication. It would have been so hard to sit across the table. The saying that you can't see your hand in front of your eyes couldn't have been more true. My eyes were playing tricks on me as they continued to try to adjust to the darkness, but could never quite get there. Jeffrey felt around and found that he was seated next to a wall. We heard people around us, but how many people? How close were they? Was the restaurant full? Empty? How big was the restaurant? It really made you aware of how much information you were lacking from not being able to see.
And, you know how your eyes eventually begin to adjust to the darkness and you can start seeing shadows…a little bit? Not here. It was pitch black dark the whole time.
The bread was in front of each of our place mats. Jeffrey attempted to spread butter with his knife, but quickly switched to the dipping method to find, on the next bite, that he had eaten all the butter (he says he should have just spit it out…no one would have known).
The waiter soon brought us our glasses of red wine (which I immediately regretted ordering once I understood the high possibility of spilling…I could barely bring my glass to my lips!) and our starters. I ordered the EGGPLANT, TOMATO, GOAT CHEESE AND CAVIAR and Jeff got the surprise. It was SO hard to eat—we switched over to using our hands and didn't look back. All I could really taste was tomato, but maybe that's because Jeff reached over and said he ONLY tasted a huge clump of goat cheese. There was a little bit of something the consistency of hummus—maybe the eggplant. Who really knows?
Jeff's surprise starter was pretty spicy. He thought it was some type of shredded pork or beef – like cold BBQ, served with lettuce and what seemed like a lot of black pepper. When I tasted a bite, I knew it was raw because it sort of chewy, but we were confused because we agreed it didn't taste like any kind of fish. When the waiter said it was beef tartar, it all added up.
I'll stop here and talk about the absolute necessity to use our hands instead of silverware. I know you're thinking that, while a little harder, it'd still be possible to use forks or spoons, but, no. It's just not. For example, the first – and last – three attempts at using my fork left me with no food in my mouth, some food on my cheek and most of the food in my lap. Hands it is… Plus, it gave us another sense to use to try to figure out what the heck we were eating.
As time went on, we did begin to develop a sense of our surroundings. The only people I had ever seen before were Jeffrey and our waiter. So, I had a good mental image of them, but, for everyone else you hear, you just develop an image in your head of what the restaurant's atmosphere probably looks like. You also get a feeling for the room, how big it is, etc…half way through our dinner, they would sit another table behind us or to our right, completely turning my impression of the restaurant upside down.
Our entrées came out almost immediately after we finished our starters. I ordered the special, LAMB SHANK, with potatoes and cauliflower. The potatoes and vegetables were totally average. The lamb shank was slow cooked and the meat just fell off the bone. Luckily, because, when I first got it I tried to cut into the meat with my fork and knife and that is, quite frankly, impossible. I again reverted to two-years-old and used my fingers – easy to determine what I was eating (by consistency) and the only real way to transport the food into my mouth without spilling it everywhere.
The surprise entrée tasted like "fish sticks," but with pork and BBQ sauce. Essentially, our guess was correct. The waiter confirmed it. They were served with mashed cauliflower, which we guessed were mashed potatoes – so, it turns out mashed cauliflowers are a healthier option and this experience confirms you literally can't tell the difference. Steamed carrots and celery completed the dish – easy to guess and you can recognize the horrible taste of celery even in the dark. Steaming it makes it extra stringy and hard to eat—and just as unpalatable as raw celery.
Soon into our dinner, the band started playing – a band is a perfect combination with a dark restaurant because your sense of sound and appreciation of music is immediately increased. Another factor we didn't even consider before going into the restaurant was that it might be pretty loud. Everyone gets louder and louder without sight– you're more dependent on it. Think about it, in a group, how do you know if your have the groups attention when story telling, etc. if you can't make eye contact?
We split the dessert, which we agreed from the start was some type of lemon custard with pieces of mint. Wrong. It turns out the flavors were strawberry and mango? I'm still shocked at this one…
After we finished, we were still feeling just a bit uneasy with all the darkness and didn't linger around to enjoy the atmosphere. We were led out by our waiter in the same fashion that we were led in – and left in the waiting room to collect our valuables and pay the hostess. We learned that all of the waiters and waitresses are 70 to 100 percent visually impaired, which is, I think, is a perfect opportunity for these waiters to help others literally walk in their shoes for a night. Jeffrey adds (cheesy pun ahead):  This experience really opened my eyes to their plight. Zing.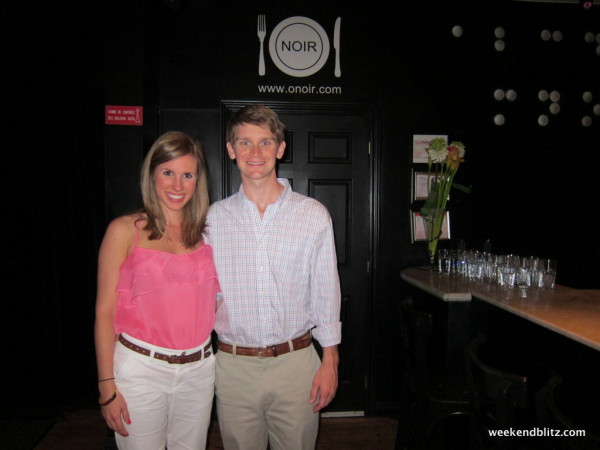 BOTTOM LINE: First off, if you've never been to an eat-in-the-dark restaurant: GO–it's a worthwhile experience! But be warned that we left hungry and the experience is so quick. Because we ordered ahead of time, they bring it out disconcertingly fast—no way is it cooked to order. It's pretty expensive for what you get, but, just remember that you're paying for the experience and not necessarily the food. Being in a new city, it was fun and exciting to have a new experience, too.
Caution, cheesy pun ahead: You'll likely go once or twice and then not again for the foreseeable future.