Blitz Deal: Hyatt Winter 2014 Promo: "Endless Possibilities"
Don't miss out on Hyatt's 2014 Winter promo "Endless Possibilities":

The Deal
Choose one of two tracks for stays from January 15 – April 30, 2014:
For every 5 nights you stay with Hyatt, you'll earn 1 free night (for any Cat 1-4 hotel), up to a maximum of 4 nights. MUST BE USED BY JULY 31, 2014!
OR
Earn bonus points after every 5 nights for a maximum of 50k bonus points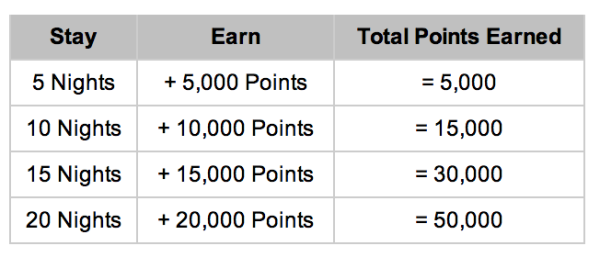 How to Get It
Register for the 4 free nights promo here or head here to register for the 50k bonus points promotion no later than March 31, 2014

Book your Hyatt stays between Jan 15 – Apr 30, keeping in mind that for either promo you'll earn bonuses in multiples of 5 nights
Your free night certificates or points will post within 2-3 weeks following your 5th night
How to Decide Which Promo
As jpdx points out on flyertalk.com, you'll need to choose wisely and base it on your travel plans for the first 1/3 of the year:
I would think that for anyone staying the maximum number of nights (20), points are the better option. You earn 50k points vs 4 free nights (worth a maximum of 60k points if used at Cat 4 properties). Considering the much greater versatility of points (no expiration, can be used at any category), the difference between points and nights isn't big enough to warrant choosing nights for most people. Free nights only make sense for those who have very firm travel plans (by 7/31) that include staying at properties that are exactly Cat 4 (can't use them at Cat 5/6/7, points are a better deal for Cat 1/2/3).

However, for anyone only hitting the 5, 10, or 15 night threshold, free nights may be a much better alternative:

5 nights –> 5k points vs 1 free night (worth 15k)
10 nights –> 15k points vs 2 free nights (worth 30k)
15 nights –> 30k points vs 3 free nights (worth 45k)
To help you decide, here's a list of all Category 4 hotels that Hyatt operates: http://www.hyatt.com/gp/en/awards/hyatt_category_display.jsp?category=4
A sample booking at the Hyatt Regency Washington on Capitol Hill is quoting me $617 for a 2-night stay from July 11-13. If you stay 10 nights on the promo, you'd earn 2 free nights and this stay would be free–that's a pretty good deal! Opting for the points would only net you 15k points = 1 free night at the property.
Similarly, the Hyatt Regency Jersey City On The Hudson is returning a total price of $954 for Memorial Day weekend, May 23-26, or free if you can earn 3 free nights through the promo. If you opted for the points, you'd only get 30k for 15 nights Hyatt stays = just 2 free nights at this property.
Don't forget: 
Hyatt's new "Cash + Points Award" options does count as an eligible night for the purposes of this promotion!
Per the T&Cs (available in full here): "You may not register for both Offers.  You will not be permitted to change your Offer selection after you have made your selection." But it does sound like you can wait until March 31 to register and still earn bonuses retroactively.
BOTTOM LINE: Of all of the promos running for the first half of 2014, this one seems like it might be the best. If you're thinking about choosing the free nights, just make sure you'll have an opportunity to use them by July 31 and get on Hyatt.com to scope if it makes sense, or if you'd be better off with the points.