Lincoln Restaurant Review – Washington, D.C.
1110 Vermont Ave. NW, Washington, D.C.
American
$$$
Jeffrey and I were in DC recently and happened to stay just around the corner from Lincoln. After doing some quick research on Urban Spoon, we decided on the Lincoln because of its close proximity to our hotel and its good reviews (92%!).

When we walked in, true to its name, there were penny's inside the floor. Pretty cool touch for a restaurant that takes its name from the President whose face is on the penny. The restaurant had a laid-back atmosphere with plenty of people, but it didn't seem crowded at all. And, it's not too nice — it wasn't quiet and you don't have to dress up — but it's not your typical cheap eats. In fact, it's not cheap. If you're looking for a good, casual place to eat on a Saturday night, this is your spot.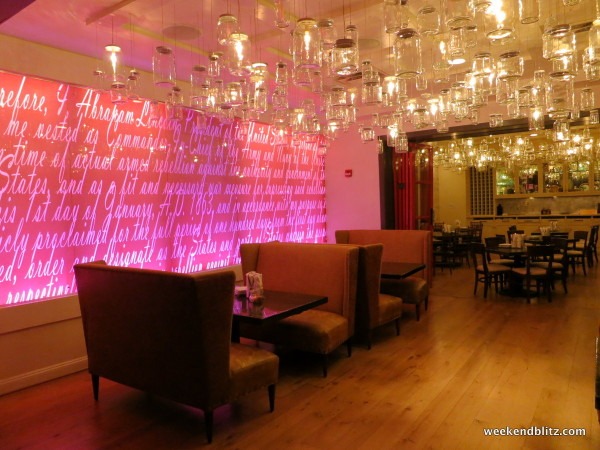 The signature drinks aren't bad either, with plenty of choices. Jeff tried the LINCOLN SOUR ($11), not too sweet but far from strong on bourbon. It was rather lemon-y. He'd get it again.
We started with a few small plates, including a cheese plate called THE PANTRY ($12 for 2 choices, $18 for 4 choices). We chose the black and blue cheese, which didn't have a very strong flavor but was fresh and good. We paired the black and blue with prosciutto and duck breast. The duck breast was surprisingly delicious, even though it didn't look too much like the duck I'm used to.  Finally, the bread, jelly, mustard and pickles that were included on the side were typical, but who can mess up pickles?
As far as food, there's plenty of tasty American options here, too. We split the SLOW BRAISED SHORT RIBS ($14), which were served in a cool mini pan. The generous hunk of beef was served over potatoes and mushrooms in a semi-bland sauce. The horseradish topping brings it all together and adds plenty of flavor.
The real star of the evening, however, was the SEASONAL RISOTTO ($12). It's all you could ever want in a risotto:  creamy and rich. It was complimented perfectly with charred, sweet grapes – a bit strange but delicious – and candied shallots.
BOTTOM LINE: If you're headed to DC and don't want to spend all your money on Saturday night's dinner, head to Lincoln. You'll find a taste of DC without the mega-expensive bill at the end. And, don't forget to try to risotto!