The Macintosh Restaurant Review – Charleston, South Carolina
479B King
American
$$$$ – Plan on dropping some cash here
Part of Indigo Restaurant Group: Includes Oak Steakhouse, O-Ku, & The Cocktail Club
The Macintosh is one of Charleston's highest-rated restaurants on Urbanspoon. Coming in with a 90% rating, you'd expect the food to be good.
The good news is: you'll be right. It may very well get my vote for the best dinner in Charleston. At the very least, it's secured a top-three rank. And, in 2012, it earned a nomination from Bon Appetit magazine as one of the 50 Best New Restaurants in America.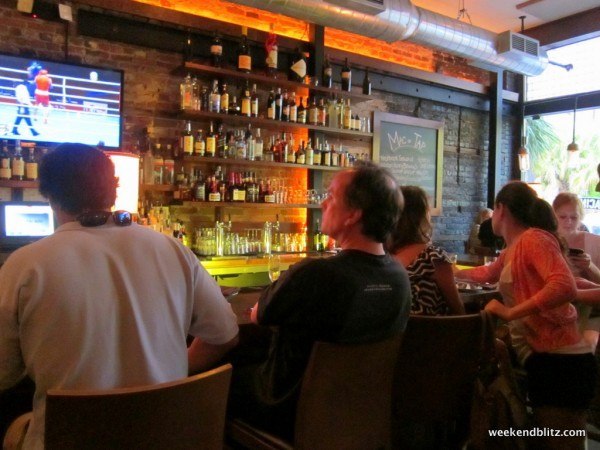 Located on Upper King, the big glass doors showcase the inside from the street, but, when we first walked in, we were surprised at the casual dress of most of the other diners. Lots of shorts, blue jeans, etc. for what we had assumed was a pretty fancy place. A good thing to note: you don't want to be TOO dressed up.
We had a drink at the bar while we waited on our table (we made reservations, and they tend to book up fast). The bar is long and wide, taking up the first half of the restaurant. A great place to sit while waiting on a table, and the only place with street views.
And, trust me, you'll be waiting. We waited for a while even at 8:45 p.m. on a Thursday. People love this place.
I tried the MEXI-TAL FIZZ ($10), which was really good and very spicy, with habenero chili juice, Campari, OJ, elderflower, prosecco & Espolon Tequila. It wasn't sweet at all, and I was pretty sure Jeff was going to steal it from me — but the dark pink, grapefruit color from the Campari and the fact that it comes in a martini glass kept him from taking it as his own. Luckily.
He tried THE BUFFALO JELLY ($10) with Buffalo Trace Bourbon, orange marmalade, orange bitters, and vermouth cherries. I found it to be very bitter, similar to an old-fashioned, but not quite. Not the drink for me, but he liked it (just not as much as he liked mine).
While at the bar, we noticed the "uniform" of all the waiters and bartenders. And by uniform, I mean matching Brooks Brothers shirts. Fratty. I'm just glad Jeff didn't choose that shirt out of his own closet for that night.
Once seated, I have nothing but great things to say about our server. He was very friendly (but not too much), and knew an impressive amount about each dish. Really great service, which made our experience all-the-more fantastic.
Another note about atmosphere: I'd liken it to Husk, but a little less formal. In fact, it's more of a younger, hipper Hall's Chophouse, with customers who are a bit less stuffy and a little more fun. But still willing to dish out $30 per entree.
For our first appetizer, we tried the SALAD OF HOUSE CURED LONZINO ($12), a house-made cured pork loin with a great smoky flavor that's pretty strong. The sweet peaches mellowed out the salty, cured pork loin. All-in-all, a very tasty dish made from the freshest of ingredients.
Next up, we tried the HOUSE MADE RICOTTA GNUDI ($12). Again, homemade, and similar to gnocchi, but instead of being made with potatoes, this stuff's made with ricotta cheese. It's steamed, so it's very light, especially when compared to the much more dense gnocchi we're all familiar with. Served over chorizo, English peas, cherry tomatoes and aged Sherry vinegar, it almost looked like Shepard's Pie, but this stuff is much better than what you're expecting. Just try it for yourself.
For our entrees, Jeff tried the GLAZED CONFIT PORK SHOULDER ($26), which was excessively rich, but the portion size was the perfect amount. It comes with a side of field peas, frisee and Sea Island red peas (which have a great, thick molasses-style bacon sorghum jus) and fennel marmalade, adding to the richness and great, dense flavor of the dish. It came out piping hot, and was very good.
The pork, though, couldn't compare to the 7 oz. GRILLED DECKLE ($32). Our server explained what cut of meat this was: one of the two parts of a rib-eye steak, but it's the part that's typically overlooked because it has a pretty large strip of fat and some connective tissue. Sounds gross, but it turns out this cut has made a comeback recently, prized for it's flavor. We agreed it is the best steak we've had in ages. It was served with a thick Romesco sauce and a side of roasted caper berries, warm fingerling potatoes and Ambrose Farms' kale salad. It was so amazing I just couldn't stop eating.
If there's anything bad to say about The Macintosh, it's the DESSERT. It's by far not the best. What we tried was two way-too-thick slices of what tasted like a very dense wheat bread, with an icing in the middle topped with fruit. We ended up just eating the fruit. But, really, we may have just eaten a little too much of our entrees to enjoy dessert, regardless of how tasty it was or wasn't.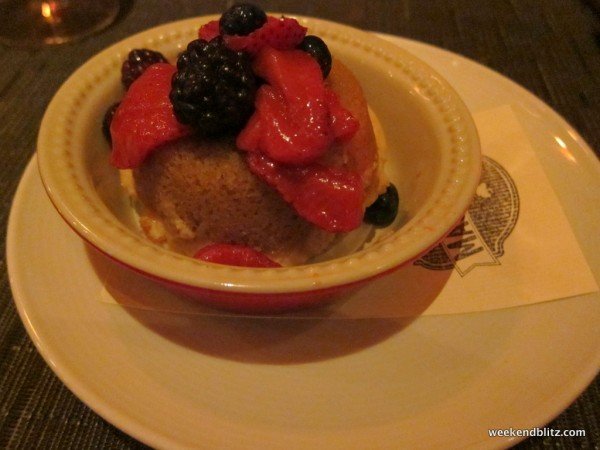 BOTTOM LINE: The Macintosh really is a cut above the rest. Head Chef Jeremiah Bacon's fine attention to detail on each component of every dish puts it in the category of the best in Charleston. It's a more casual Hall's Chophouse with cuisine more similar to Husk. And the best part? You can try The Macintosh without breaking the bank: we can confirm that the $10 burgers are really good.