Husk – Charleston, South Carolina – Restaurant Review
76 Queen
Lunch, Dinner
$$$
How to save some cash: Try to go during Restaurant Week (if they'll keep participating?), you'll pay $30-$40 for 3-courses vs appx $50-$60 for 3-courses during normal times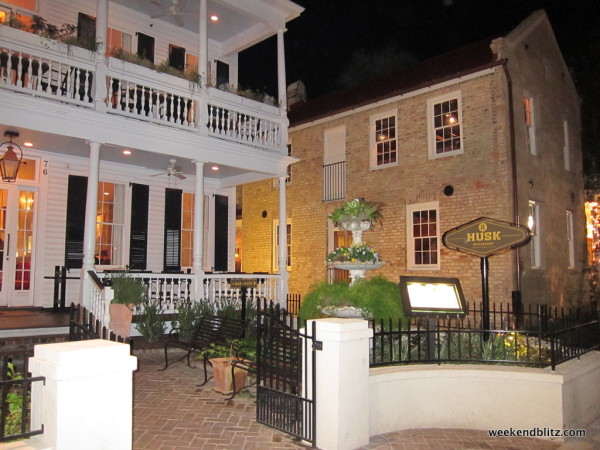 Voted "Best New Restaurant in America" by Bon Appetit in 2011, Husk is one of the most talked-about restaurants in the city–it has been for a few years now and continues to be immensely popular.
After hearing mixed reviews from our friends ("You better like pork before you go in there…" and "I know everyone loves it, but I didn't…"), I was admittedly skeptical that my high expectations may not be met.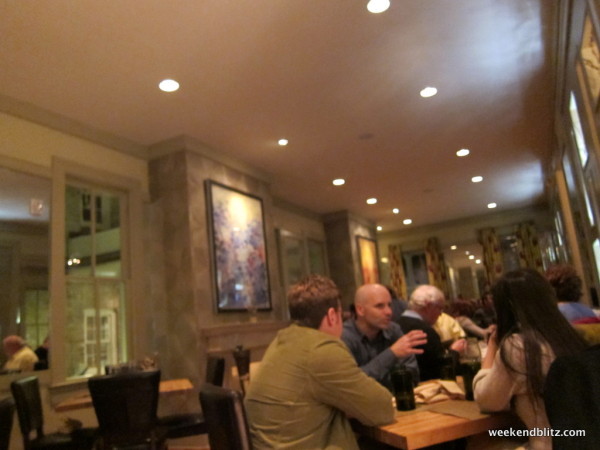 Located next door to the restaurant in a carriage house, we arrived early to check out the bar atmosphere.  When we walked in, we immediately stepped back in time – almost. The rustic-yet-chic décor was inviting, and we sat at the bar surrounded by rustic wooden walls. From what we heard, they distill some of their own bourbon in the barrels sitting around the room. Jeffrey tried the FIRE IN THE ORCHARD which was like a traditional old-fashioned that Husk put its own twist on by adding smoked apple juice, Applejack brandy and a few pickled jalapeño to garnish the glass and add a heat-packed punch. As a result, the last few sips were unbearably hot but definitely worth getting again.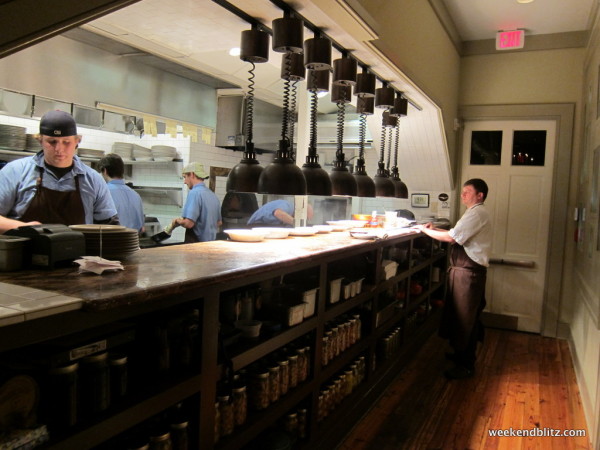 The hostess will call over at the bar when your table is ready, so just make sure when you check in so they know where find to you.
The main restaurant, which was obviously recently converted from a single family home, was packed and lively. The server reminded us that the restaurant changes its menu daily as its a farm-to-table restaurant, collecting most of its ingredients from local farms–we didn't need any reminding as there's a giant chalkboard listing the origins of all the food.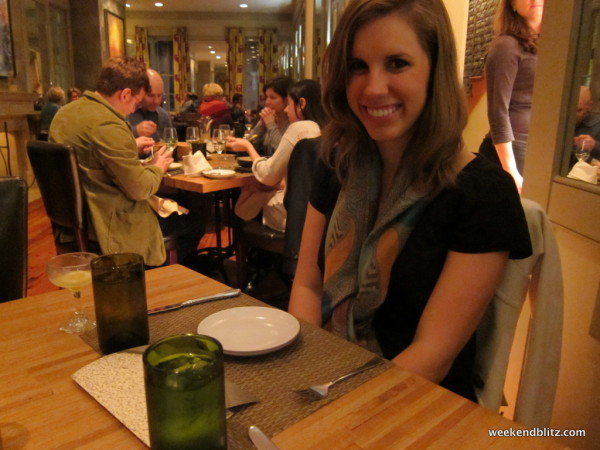 For the first course, we tried the increasingly popular SOUTHERN FRIED CHICKEN SKINS with collard green marmalade and Husk's own hot sauce. It was a 10-year-old's dream. The skin is always the best part! Who would have thought that I would ever be allowed – even encouraged – to eat only the fatty skin with no meat?!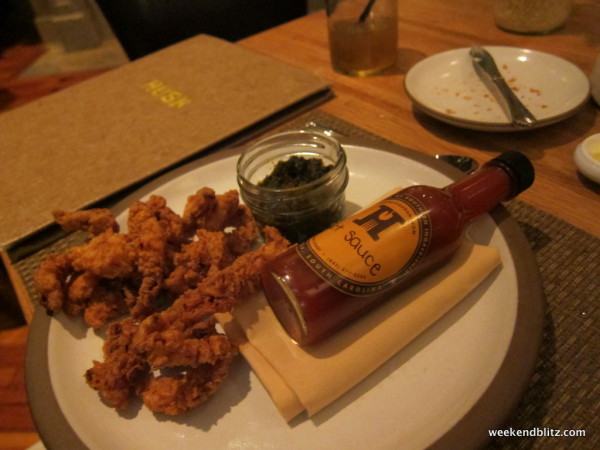 NOTE: That's another thing about Husk. You have to be willing to throw caution to the wind and try things out of the box. Foods coupled that you never would have imagined before- a place where unhealthy options reign supreme.
We also tried the SHRIMP AND GRITS with tomato braised peppers and onions, charred scallions and soft poached farm egg. This was pretty good—the poached egg was a unique touch for an otherwise ordinary Charleston dish.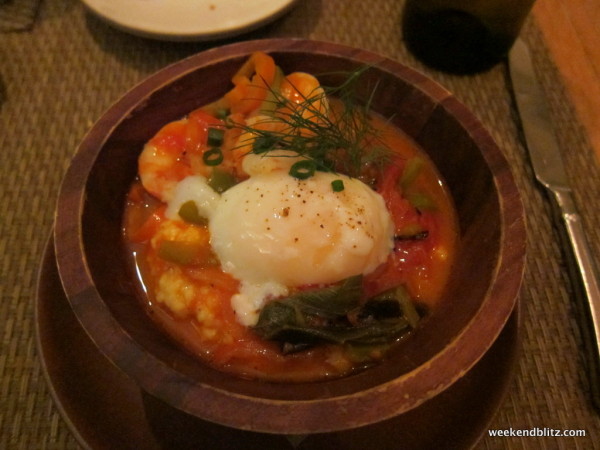 The first entrée (more aptly referred to as "Supper" on the menu) we tasted was the CORNMEAL DUSTED N.C. CATFISH with smokey field peas and pole beans, sun gold tomato gravy and chow chow. Lightly fried to perfection, the moist piece of fish had a great texture complements of the tasty cornmeal breading.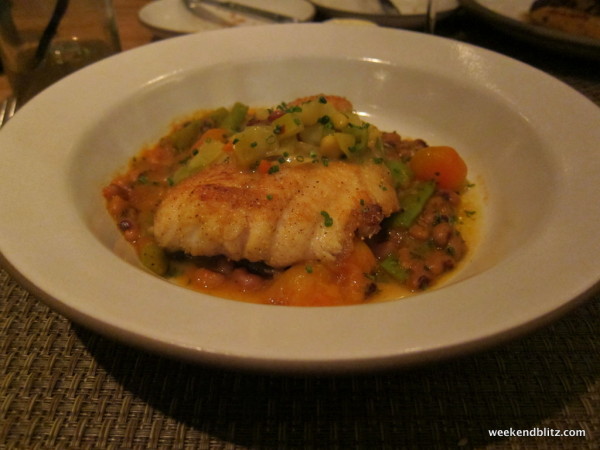 The HERITAGE PORK, cider braised cabbage, baby sweet potatoes and bourbon demi-glaze was another hit. The pork had a crisp, sweet edge/outside, but fell apart almost just by looking at it.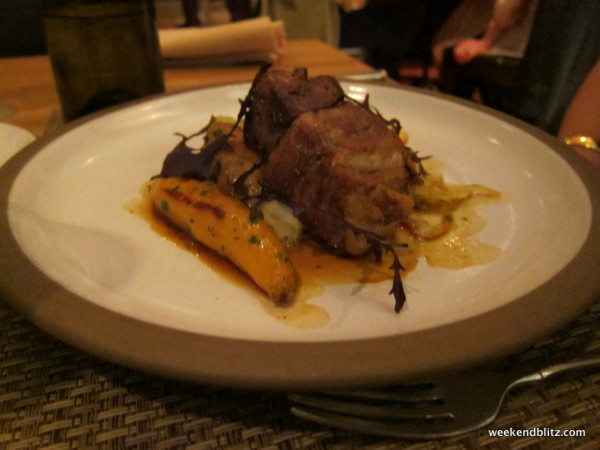 After a rather heavy meal (probably should have skipped the fried chicken skins) we ordered one of the lighter sounding desserts, the BUTTERMILK PANNA COTTA. Overall it was OK, just not really my style–the citrus mixed in made the dish taste a bit too tart. However, the light custard-like panna cotta had a subtle flavor of mint that made it very refreshing.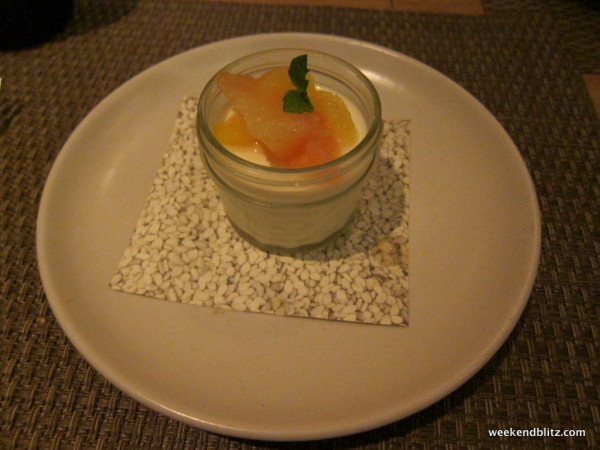 In hindsight, we should have just ordered two OATMEAL PIEs with Anson Mills oatmeal cookie crust, brown sugar custard, fudge sauce and salted caramel ice cream. Our sever described it as a "large, grown-up oatmeal cookie" which was only partially correct as he left out the descriptor "fricken amazing." Thankfully, the portion size wasn't overwhelming either.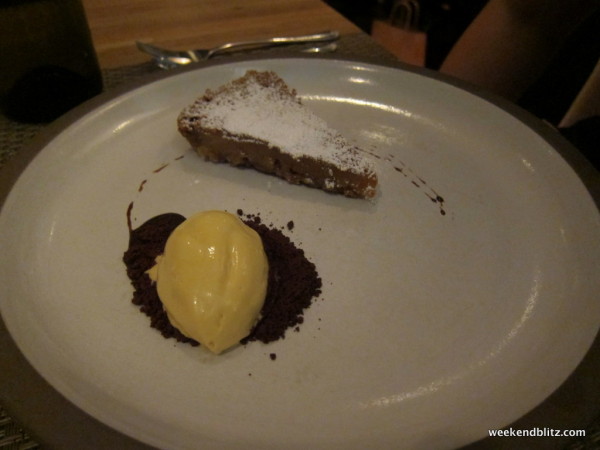 BOTTOM LINE: So did Husk meet our expectations? More like they took our expectations, shoved them back in our faces, telling us we didn't set the bar high enough and then delivered on a whole other level. Well done sir, well done.